A Taste of Bangkok and Conclusions
The flight from Siem Reap to Bangkok was only about 45 minutes. Immigration was also quick. I used an ATM to get some Thai baht (1 USD = about 33 THB). Then I took the Airport Express bus to the Sukhumvit neighborhood, which is a good deal at THB 150. I stayed at the Stable Lodge, which was pleasant enough, though not especially friendly. After having a delicious lunch at Dosa King, where the mint chutney may well be the best I've ever had, I looked at a few of the tailor shops that advertised cheap package deals. Unfortunately, those "3 suits and 2 shirts for $200" deals quickly turn into one suit for that price if you want any sort of decent quality fabric.
Even if you don't have clothes made, Bangkok still has all the shopping in the world. In particular, there are several large malls. I eventually meandered over to the Siam Paragon mall, which had something of more interest to me - namely, Siam Ocean World, which is allegedly the largest aquarium in Southeast Asia. Notable exhibits included the seahorse tank, a deep reef area, otters, African penguins, jellyfish, and glass catfish, which are transparent, allowing you to see their bones and swim bladders.
One of my major goals in Bangkok was enjoying Thai food - and learning to cook a bit of it. So I'd signed up for a half-day vegetarian cooking class at May Kaidee's cooking school. Getting there from Sukhumvit took a Skytrain ride, a boat, and what would have been a short walk if I had any sense of direction. I was glad I'd left myself plenty of time. By the way, both the train and the boat have special seats reserved for monks!
There were 16 people in the class and we started out in two groups of eight, pounding green curry paste with a mortar and pestle. Then we went to the market, where May bought ingredients for us to use. One useful thing I learned was that a vegan mushroom sauce is available, which can be used to substitute for fish sauce in traditional recipes. Back at the school, we paired up and went to our cooking stations. Many people came already paired, of course, but I partnered with a British doctor who was also on his own. We took turns with one person reading the recipe out loud and the other cooking. All in all we made ten dishes - quite a lot for a four hour class! Everything was delicious. My favorites were the Issan vegetables, the ginger fried tofu, and the very unusual pumpkin hummus. I may have had to do half the work myself, but it was the best meal I had in Bangkok! Even if you don't want to cook, you could enjoy going to one of May's restaurants.
I had intended to go to the National Museum, which proved to be closed. I'd checked opening days in guidebooks, but hadn't figured on things closing down for longer in preparation for the New Year. I eventually made my way over to the Grand Palace and Wat Phra Kaew (Temple of the Emerald Buddha). This is definitely more impressive than the palace complex in Phnom Penh, with astonishing amounts of silver and gold used. There are several spiraling towers and large statues of guardians.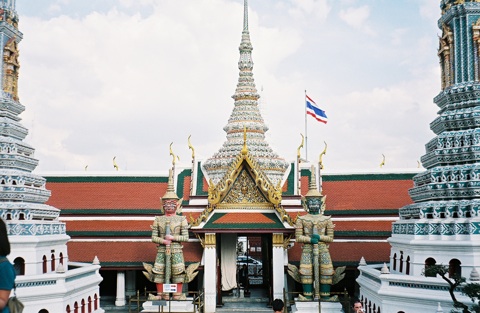 There's no shortage of gold on the other statues within the complex.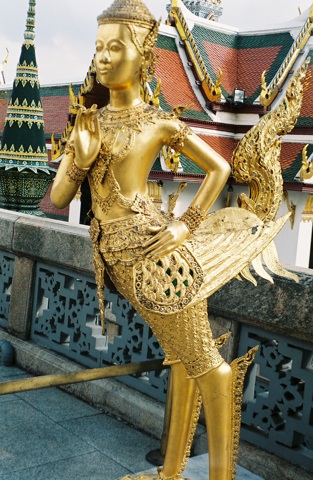 The Emerald Buddha is really jade and disappointingly small. I was, however, interested in seeing the ritual in which people dip flowers in water and then tap them on their heads.

The palace is less ornate, but only in contrast to the rest of the complex. It is, however, nicely landscaped.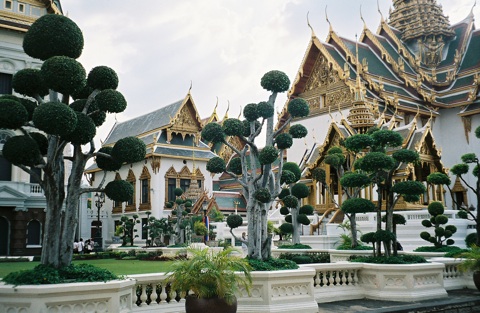 My final day in Bangkok was New Year's Eve - and nothing was open. Except, of course, for the stores and shopping malls. I checked out a couple of used bookstores without finding anything I really needed, but I did find a book of folk tales at a regular book store in one of the malls. I was pleased to find yarn stores, but it turned out that all of the yarn was imported. The food courts are always worthwhile and are something I should explain. You usually pay up front for a booklet of tickets, which you can use at the various food stalls. Some of the food courts give you a plastic card instead. In either case, you can get the unused amount back. I also checked out a few supermarkets and contemplated buying some durian, but where would I eat it? (For those unacquainted with it, durian is a type of fruit which is notorious for its disgusting smell. I'm curious enough that I was willing to try it - but you're not allowed to bring it into many places, like hotels. The whole fruit is large, spiky and difficult to open, but Bangkok supermarkets sell it already peeled.)
I meandered along Sukhumvit Street and spent a little time strolling in a pleasant park. By the way, Sukhumvit Street runs for a few hundred miles, under various names. It is named after a former director of highways, who was the first Thai national to graduate from MIT!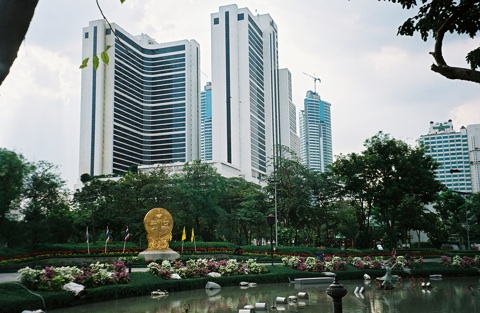 As it turns out, I had my durian tasting experience after all. I had dinner at a restaurant called Cabbages and Condoms, which is run by a charity doing population development work. They advertise that none of their food will cause pregnancy and give you condoms with your bill. It's a bit touristy, but it's a good cause. The food is reasonably good, though a bit pricey by local standards. And they had sticky rice with durian for dessert! I didn't count the durian ice cream I'd had in Vietnam, but this had actual slices of durian, so I think it qualifies for having eaten it. Overall, it tastes fine, but the texture is a bit odd and, while I wouldn't balk at eating it again, I wouldn't really go out of my way for it either.
My trip home was early on New Year's day, so I spent the last night of my trip back at the Novotel. I was truly ambitious with public transit this time, using the Skytrain to On Nut and a bus from there. It worked surprisingly well and only cost THB 65. For the less ambitious, there are taxis. By the way, Bangkok taxis come in garish colors. I saw hot pink, bright purple, lime green, electric blue, and neon orange ones, in addition to the more normal yellow.
The security leaving Bangkok on United was pretty intense, probably because the flight continues on from Tokyo to the U.S. (though I had to change planes). They wanded everyone and checked through all our carry-on bags. We got to NRT in plenty of time for me to connect to my ANA flight to San Francisco. The prime thing to mention about that flight was that I got to see the movie "Departures," an exquisite Japanese film about a failed cellist who goes to work at a funeral parlor. (It later won the Best Foreign Film Oscar, but it hasn't gotten very wide release in the U.S., even on the art house circuit.) We got to San Francisco early and immigration was quick, so I stopped in at the United Red Carpet Club to see if I could get a better routing home than SFO-RNO-DEN-IAD. They couldn't get me a non-stop, but at least I was able to go straight to Denver and get an earlier flight to Dulles than I was originally booked on. I even ended up in first class, in a 3-class plane with the new fancier seats, for the last leg. That's not too shabby an end to a long day of traveling.
In conclusion, this trip was definitely a good use of frequent flyer miles. Cambodia was fascinating and I'd have liked to have spent a bit more time there. Bangkok is mostly a big modern city, and not nearly as exciting. But it's still worth a couple of days, ideally when more things are open.
[Back to Previous Chapter | Back to Index]
---
---
Copyright 2010 Miriam H. Nadel

last updated 14 February 2010
Send comments to mhnadel@alum.mit.edu