Introduction and Phnom Penh
I have a theory that the places that are famous are, in general, famous for good reason. That was sufficient reason for planning a trip to Angkor Wat. Using frequent flyer miles, I was able to snag a business class ticket to Phnom Penh and back from Bangkok. (It was a bit more complicated than that sounds, as there were various schedule changes between getting the ticket and actually traveling, resulting in complicated routing on the return, but that's typical when using miles.) I decided I'd spend a few days in Phnom Penh, take a bus to Siem Reap (to see the Angkor temples), fly to Bangkok (on my own dime) and spend a few days exploring Bangkok. I was able to make hotel / guest house reservations over the internet and even planned a few activities (cooking classes!) that way. It all worked remarkably smoothly for the most part.
My trip started out with flights from Washington Dulles to Narita, Japan on ANA and from Narita to Bangkok on United. I had an overnight stay at the Novotel, which was pricey but convenient. In the morning, I had plenty of time to browse the extensive duty free shops of the Bangkok airport before boarding my Thai Air flight (in coach, alas) to Phnom Penh. It was hard to imagine that the airport had been occupied by protesters just a few weeks earlier.
Cambodia requires Americans to get a visa, but that is easily obtained at the airport. The important thing is to have a passport size photo with you. There's a line of about 8 officials and you hand your form, passport, and photo to the first one. Those get passed from person to person until they reach the end of the line of officials, which is the cashier. To solve the language problem, they hold the passport up so you can see whose it is. That person then goes up and pays (USD 20 for a tourist visa). The whole process took maybe 10 minutes. That was followed by the immigration line, which was even faster.
I had made a reservation at the Dara Reang Say hotel. They claim they will send a car to pick you up for USD 12, but there was nobody there. It's easy enough to just take a taxi (USD 9). My room was not quite ready, so I left my backpack and went to an internet cafe for a while. Internet access is amazingly cheap in Cambodia, with 50 cents an hour being the going rate. I should probably mention that the U.S. dollar is the de facto currency of Cambodia. I did get riel as change for small amounts (e.g. at internet cafes) and the rate seems pretty standard at USD 1 = KHR 4000. When I returned to the hotel, the room was ready and was decent enough. I can't really complain when I'm paying 12 bucks a night for a room in a central location, with private bath and air conditioning. The hotel also has a popular restaurant, where I enjoyed one of the true pleasures of Asian travel - noodle soup for breakfast!
My first sight seeing excursion started with the National Museum. Admission is USD 3. The museum consists of a set of galleries arranged around a rectangular courtyard. Most of the exhibits involve statues of various Hindu and Buddhist gods. A common theme is the Buddha protected from the rain by the naga (a snake god); he sits on the coils of the snake while the cobra head stretches over his head as an umbrella. There are also a lot of stelae, with inscriptions in both Sanskrit and the ancient Khmer script, not that I read either or can even tell which is which. While there are signs in English, the information they provide is fairly limited. Usually, they just tell you what god something is and when the sculpture was made. At various points you are invited to offer jasmine flowers to one Buddha or another. The final gallery has things like swords, textiles, and scenes from the Reamkar (the Cambodian version of the Ramayana, the Hindu epic that tells of Prince Rama rescuing his wife, Sita, from a demon king, with the help of the monkey god, Hanuman. But I admit my favorite part of the museum was its breezy interior courtyard with its koi ponds.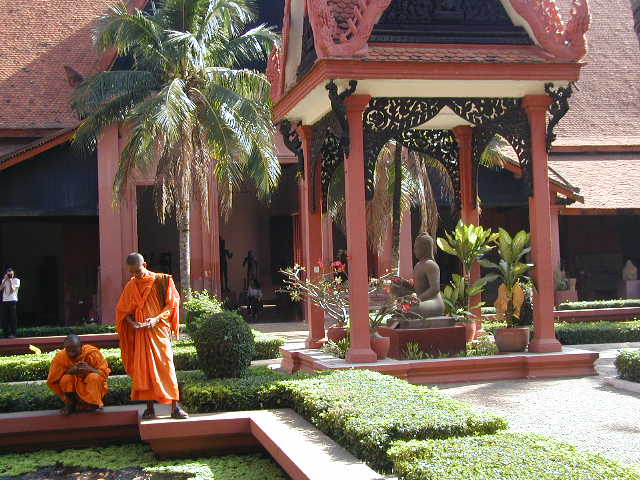 My next sightseeing stop was the Royal Palace and Silver Pagoda. Admission to the complex was USD 6.25, which also gets you a useful booklet in English. The site is large and grand, with the throne hall, various outbuildings, and extensive gardens. It's all quite ornate.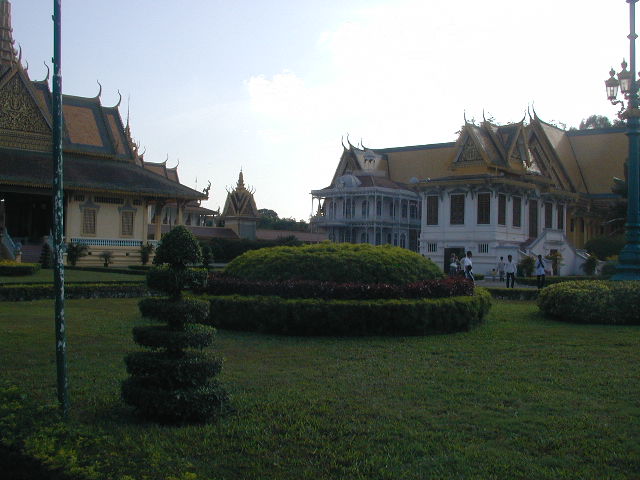 An alley leads to the Silver Pagoda. This is surrounded by galleries, with murals depicting scenes from the Reamkar. There are also a couple of stupas flanking a statue of King Norodom, some formal gardens, a bell tower, and a scale model of Angkor Wat. But the main attraction is the pagoda itself, which houses the emerald Buddha. The Buddha is really green crystal and not emerald, but that doesn't sound quite so romantic, does it?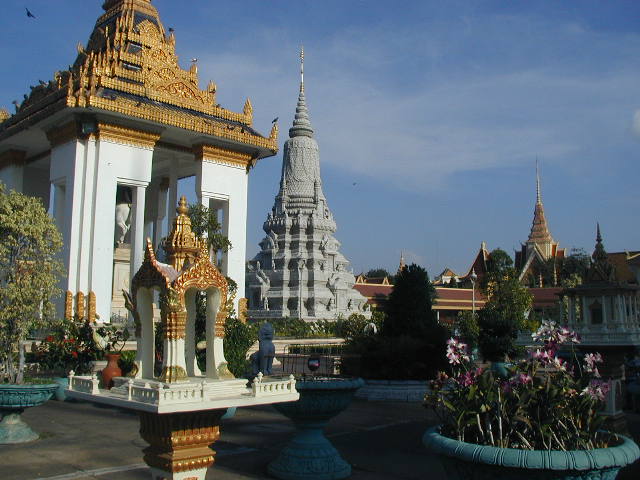 The site has various other museum buildings. The Elephant Place, for example, proved to be a gallery with a collection of elephant-shaped boxes. There's another gallery with pictures of the king's coronation. And there is a film about Angkor Wat, which was interesting primarily for the material on the destruction that Pol Pot's regime caused at the site.
Speaking of Pol Pot, the next day I hired a tuk-tuk to do the obligatory genocide tour. The Choueng Ek Killing Fields (admission USD 3) are a ways south of the city. This was one of the largest mass murder sites under the Khmer Rouge. It is believed that 20,000 people (including many children) were killed there. They've found 129 mass graves. The remains from several of them have been exhumed and arranged on shelves inside a tall stupa, called the bone memorial.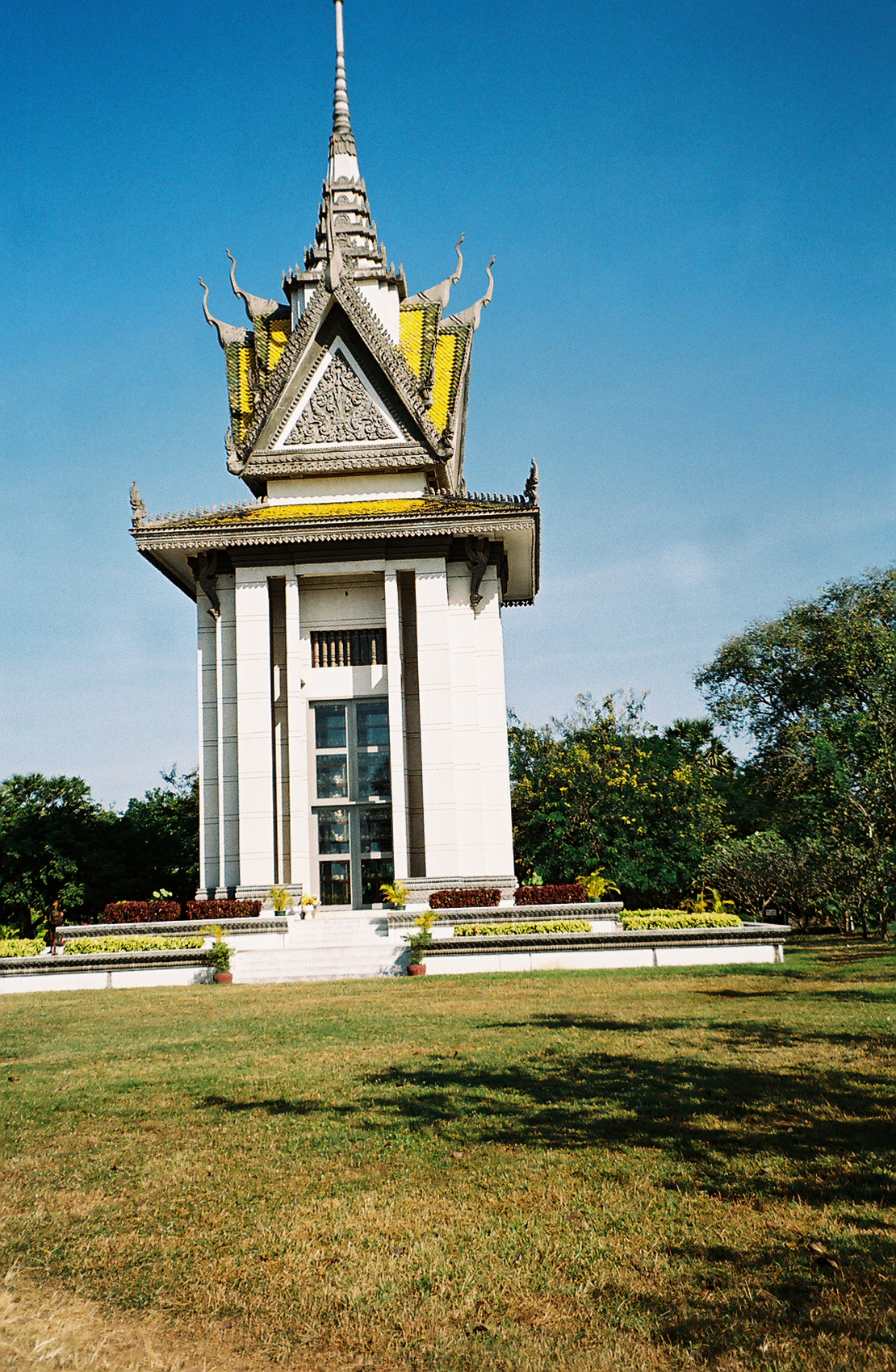 A path leads from the stupa around some of the mass graves and each grave is labeled with a sign indicating how many people were found buried in it. Another sign explained how loud music was played from a loudspeaker hung on a tree, to keep other people from hearing the screams of the victims being bludgeoned to death. Another tree has a sign indicating that children were killed by being dashed against it. A large pavilion tells the story of the site and has a dramatic "never again" inscription.
Back in Phnom Penh itself, the Tuol Sleng Genocide Museum (admission USD 2) tells more of the story of the three years, eight months, and 20 days of the Pol Pot era. The site had been a high school. In May 1976, it was turned into the secret prison S-21, which was used for interrogation and torture. There is a movie explaining the site, not that explanation is really possible for something like the Cambodian self-genocide. The prison guards were primarily 10 to 15 year old children (both boys and girls). A movie they show includes footage of an interview between one of those former guards and Van Nath, an artist who is one of the few prisoners who survived S-21. I found it chilling for the former guard to explain how he mostly just drove the truck and he only beat five prisoners to death.
The main exhibit consists of photos of victims. People were killed for having any foreign contact (e.g a woman who had been a secretary for an NGO) or being educated or even just wearing glasses. The most incredible thing to me was that trials for that era are only now going on some 30 years later. (Comrade Duch, who headed S-21, was tried starting in May 2009 and is still awaiting sentence.)
My other Phnom Penh sightseeing was less emotionally draining. Namely, I made the climb up to Wat Phnom, a large pagoda. It's a steep climb up to the top and the view was rather disappointing given the effort. At least I did get to see the resident elephant. (One can supposedly pay for an elephant ride, though I didn't investigate further.)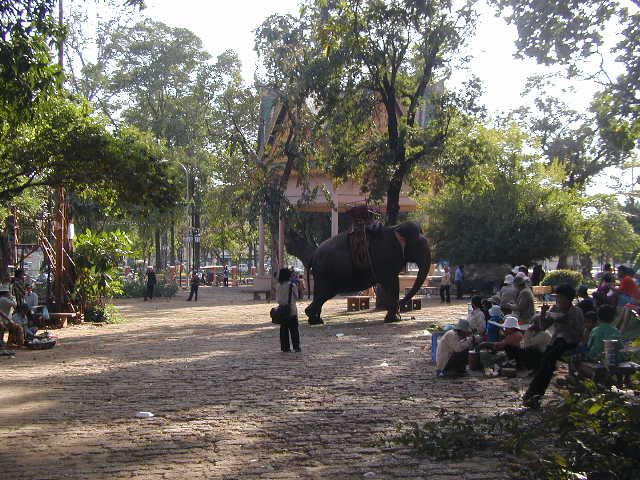 My final day in Phnom Penh was devoted to an important part of any travel in Asia - namely, food! Following advice from my friend, Marc, I'd signed up for Cambodia Cooking Class. We (myself and three other students) met at Frizz Restaurant and started out with a tuk-tuk trip to the market. Our teacher, a 23-year old named Hai, explained various ingredients to us, ranging from herbs and fruits to duck eggs with duck fetuses in them and insects, including spiders.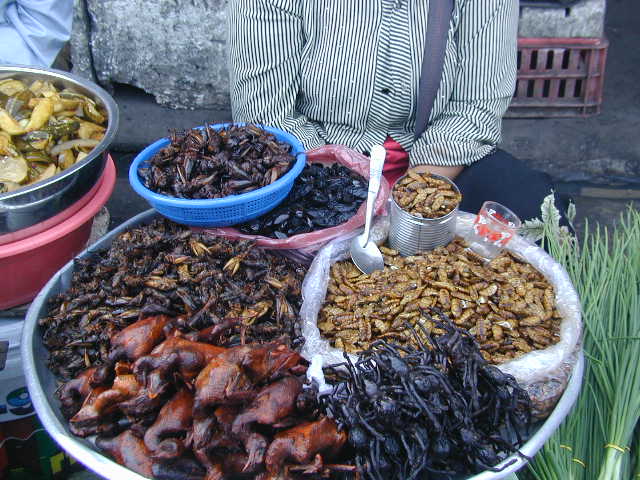 Fortunately, we weren't cooking anything quite so extreme. We went to the actual school (on the roof of the restaurant owner's house), put on aprons, and set to work on spring rolls. These were filled with shredded taro root, carrots and spices, then wrapped in rice paper and fried. The results (which we enjoyed after each course) were delicious. That was followed by banana flower salad, which was also simple and tasty.
While we ate, Hai told us about his life. He had been a street child for two years and was taken in by a charity called Friends, which spent 7 years training him to be a chef. Now he was teaching cooking classes during the day and going to school at night, studying English literature. His story made a hopeful contrast to the horrors of Cambodia's past.
Our next course was amok, the national dish of Cambodia. This involved a lot of pounding with a mortar and pestle to make a yellow curry paste of lemon grass, shallots, garlic, turmeric and kaffir lime zest. Adding some chopped red chili pepper (and more pounding) made that into a red curry paste, which was combined with egg, coconut milk, and fish sauce, before adding pieces of fish. The other tricky part was making little cups out of banana leaves, held together with toothpicks, to pour the mixture into. Hai did mention that one could use bell peppers - which would certainly be much easier! The fish mixture was spooned into the leaf cups and decorated with coconut cream, kaffir lime leaf and peppers and then steamed. The results tasted as good as they looked.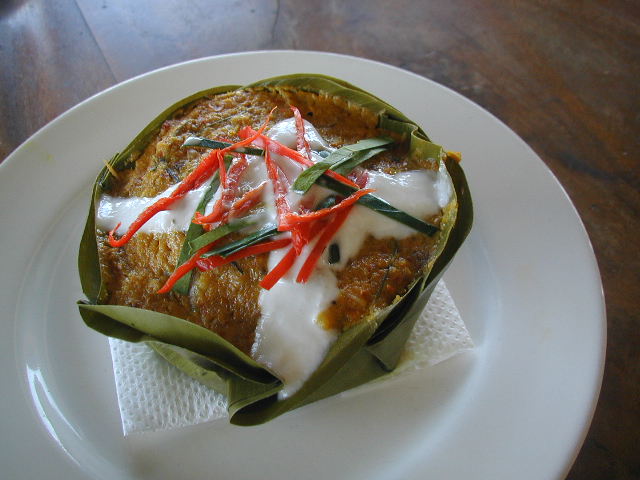 Dessert was sticky rice with mango, which was also tasty. All in all, the class was well worth the USD 20 it cost. (That also includes a recipe booklet, by the way.)
I should mention one other more or less obligatory thing to do in Phnom Penh - namely, having a sundowner at the Foreign Correspondents Club. The FCC offers pricy accommodations and mostly Western food, but it also has a great view over the river and lots of atmosphere. The drink prices aren't too bad as long as you get there for the happy hour special. It may be a tourist cliche to go there, but it's still fun.
But it's Angkor Wat you really want to know about. For that, you have to go to the next chapter.
[Back to Index | On to Next Chapter ]
---
---
Copyright 2010 Miriam H. Nadel

last updated 14 February 2010
Send comments to mhnadel@alum.mit.edu