Bread and Toasts in Georgia
The drive through central Azerbaijan to the Georgian border was remarkable largely for the absolute boringness of the scenery. Gurban used the lack of anything of touristic interest to expound on how dangerous Georgia is, with a particular emphasis on carjackings. Certainly, the border crossing was not a way to get a good first impression. The Azeri side wasn't too bad. It seemed to take a while for them to contemplate my passport, but I didn't even have to get out of the car. The customs guy started to ask to see my bags, but as soon as I got out to open them, he changed his mind. I suspect that he saw how small my pack was and realized that the odds of getting a bribe were slim.
The Georgian side, however, was sheer chaos. There were a lot of vehicles waiting and a lot of people on foot milling about as well. Gurban's attempt to bribe a guard to let us jump the queue (which included driving up the wrong side of a divided road) was unsuccessful, but he had better luck with a trucker. That just entailed driving part of the way up the wrong side of the road and squeezing the car through a space in the divider that had just a couple of inches to spare. The next obstacle was a border guard who questioned the additional visa pages in my passport. I suspect he was looking for a bribe but played dumb and waited him out. Then there was the "medical control" officer. Gurban suggested I should pay this guy $30, but I held firm that the Georgian Embassy in the U.S. had said no such thing and got away with mere paperwork and no bribe. That guy did get rather excited over my having a Chinese visa in my passport and muttered some things about SARS until I pointed out that I'd been in China three years ago. Finally, there was another wait of 45 minutes or so that had something to do with insurance paperwork for the car. All in all, this was one of the nastiest border crossing experiences I've had, but there's not much to do but grin and bear it. On the plus side, I did get a lot done on my needlepoint!
The most immediate change you notice when entering Georgia is that you see crosses and/or churches on just about every hillside. The main highway is not the scenic route and one soon reaches the industrial city of Rustavi. Tbilisi wasn't much further, but things still took a while, largely because (despite his claims to the contrary) Gurban didn't actually know how to find the hotel. Not that he admitted that. Eventually, after we zigzagged across the city several times, he paid a taxi driver to lead the way. All's well that ends well and I was soon comfortably ensconced at the Dzveli (Old) Metekhi Hotel.
Georgian hospitality is legendary and I got my first taste of it within a half hour of arrival. I asked the desk clerk at the hotel where I could change money and, instead of just giving me directions, she had a guy from the staff drive me to an exchange kiosk. After we returned, I walked around the area (the left bank of the Mtkkvari river) for a while, partly to orient myself and partly just to stretch my legs from too many hours in the car. Eventually, I decided I should have dinner and, as I was also tired of too many big meals, I bought some khachapuri. This is translated as "cheese bread" but that doesn't really give much of an impression of what it is. It tastes sort of like what the pizza place in my home town calls "white pie." It's also incredibly cheap. If there were any justice in the world, there would be a khachapuri stand everywhere there's a fast food burger joint.
In the morning I met my Georgian guide and driver, Inga and Irakli, and we set out on a city tour of Tbilisi. We started at the Metekhi Church, which is right next to the hotel. Being a Sunday, the church was crowded with worshippers. That made it hard to see the details of the church interior. But it also provided an opportunity to hear Georgian church music - lovely a capella harmonies.
We continued through the old town, where there were more churches, as well as a mosque and synagogue. Then we drove up to the Narikala Fortress, which originally dates from the 4th century. However, gunpowder was stored there in the early 19th century and a lightning strike blew it up. The Church of St. Nicholas, inside the fortress, was restored fairly recently and was also crowded. There was a sheep tethered outside and Inga explained that it was for a sacrifice. She said that, in the Georgian church, sacrifices are done any time, not necessarily for special occasions.
Our next stop was at the statue of Mother Georgia. This is a huge aluminum woman, who has a sword in one hand (for enemies) and a bowl of wine in the other (for guests). Well, either that or she gets you drunk and chops your head off. There used to be botanic gardens sort of behind the statue, but they were closed as they proved to be too costly to maintain. The hillside provides a good panoramic view over Tbilisi. In this photo, the most visible landmark is the Metekhi Church. The blue building near it, fronting the river, is my hotel.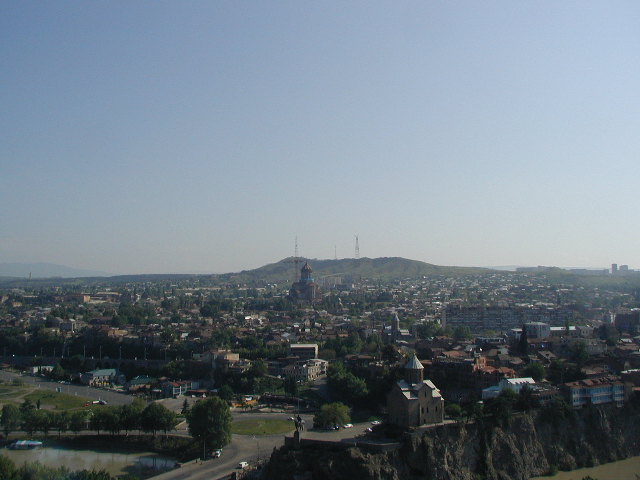 Then we went to the Pantheon, where famous writers (and other famous people - including Stalin's parents) are buried. The most important grave is of the writer, Ilya Chavchavadzhe, who was murdered in 1907. This also used to be the upper terminus of a funicular, but that's no longer functioning. Inga mentioned that, when she was in school, children playing hooky would go there, because the steep hillside made it difficult for adults to look for them.
We were supposed to go to the Treasury, one of the more famous museums of Tbilisi, but it wasn't open. Inga said that it was too nice a day out and they probably just decided that nobody would come to the museum so took off. Instead, we wandered more around Tbilisi, including the central part of the city (mostly government buildings, plus a huge new Marriott Hotel and a McDonald's with a domed roof), Vera and Vake (university and ex-pat district), and a lovely park, where we walked around a lake. That was followed by lunch at a place called Le San Souci. The restaurant was very atmospheric and the food quite tasty, particularly the grilled mushrooms. Georgian breads are also universally very good.
This is a good opportunity as any to mention Georgian lemonade. This is basically a sort of fruit flavored soft drink. I have no idea why it's called "lemonade" because it could have any of a number of flavors, not necessarily lemon. It's not as sweet as American soft drinks and is very refreshing. The most common flavor seemed to be pear and the most unusual was tarragon. The latter is a disturbingly bright green, but is not as weird tasting as it sounds. In fact, I would love to know of a U.S. source for it.
We stopped at a store on Rustaveli Avenue (the major artery of Tbilisi) and I tried, unsuccessfully, to find a book of Georgian folktales in English. I was more successful at my other souvenir shopping and bought a doll for my collection. There are also very nice little silver boxes for sale.
But, this being Georgia, there are always more churches to see and Sioni Cathedral was next on the agenda. This is a cross-cupola cathedral, dedicated to the Virgin Mary. While parts of it date back to the 6th century C.E., most of the existing church is from the 12th century or so, with some additions as late as the 17th. This is one of the most important churches in the country and is one of the ones that Edward Shevardnadze attends on holidays. Even the exterior has exquisite decorations.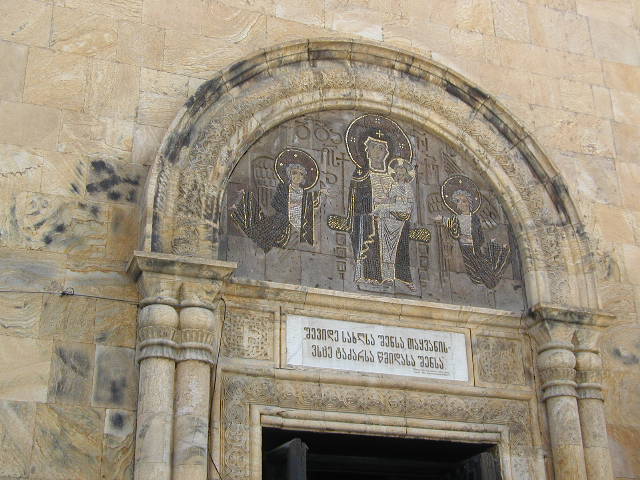 Our remaining tourist stops were the market (a good variety of fruits and vegetables and an interesting array of cheeses) and the "Dry Bridge." The latter has an art market and Inga pointed out painting of other parts of Georgia. Then it was back to the hotel to cool off and rest and relax for a while. I had dinner at place called Mirage (across from the Sheraton). My family has a long-standing joke that my mother is the only person in the world who uses garlic as a thickening ingredient. It turns out that the cook here could rival her abilities at vampire proof cooking. I ate shkhmeruli, which turns out to consist of roughly equal parts chicken and garlic, along with eggplant in walnut sauce and corn bread. Whether it was one of those or the strawberry I'd had in the market earlier (suspect as strawberries can't be peeled and it was rinsed off in local water), something was a dire mistake. That evening I was stricken with one of the worst gastrointestinal bugs I've ever gotten while traveling.
There's no point in recounting the gory details, but the consequences were twofold. First, I had to stick to yogurt, weak tea and an improvised rehydration fluid (cola left to go flat and diluted with bottled water) for about a day and a half. More importantly, I was pretty worn out and not entirely up to appreciating my sightseeing for the next day, which involved the Georgian Military Highway. This started at Mtskheta, where the Mtkvari and Aragvi Rivers converge. Mtskheta was once the capital of Georgia and is the place where Christianity came to the country. The story is that a young woman (St. Nino) came from Cappadocia in the 4th century C.E. and converted King Mirian and his family. She erected a cross made out of grape vines and her own hair on a hillside. The site where her cross stood is where the Jvari Monastery was built a couple of hundred years later.
Mtskheta also has the equally historic and larger cathedral of Sveti-Tskhovelia, which is said to be the largest functioning church in the country. Indeed, it's quite impressive. The legend associated with it is that a Georgian Jew, Elioz, converted to Christianity and took the robe from Jesus when he was crucified. His sister, Sidoni, took the robe from Elioz and dropped dead instantly. Because nobody could remove the robe from her grasp, she was buried with it. A tree grew on her grave and, when the trunk was cut to build a church, the tree didn't fall. St. Nino made the tree whole again and caused it to give out a healing oil.
The church foundations date from the 6th century. There are various graves inside, including those of at least three Georgian kings. There are also a lot of very beautiful frescos. There's a rather gruesome story having to do with the restoration and expansion of the church in the 11th century. The king didn't want the architect who built it to be able to outdo its beauty. So he had the architect's right hand cut off.
We continued about 40 minutes or so up the Georgian Military Highway. Along the way, there were views of Mount Kazbek, which is supposedly the mountain that Prometheus was chained to. If you've forgotten your Greek mythology, he was the guy who stole fire to give to mankind and whose liver is eaten out by vultures. By the way, the road is fairly good, but we had to wait a few times for large flocks of sheep to cross.
Our destination was Ananuri Fortress, which overlooks a large reservoir. There were originally two fortresses, but the lower one was washed away for the most part. There are ornate carvings on the exterior. The large church inside has some remnants of frescoes, including one of Saint George. He's one of the more popular saints in Georgia and, when I commented to Inga that he would be, given the name of the country, she corrected me. The name "Georgia" really comes from "geo," meaning earth. And, in fact, the Georgian people call the country "Kartveli."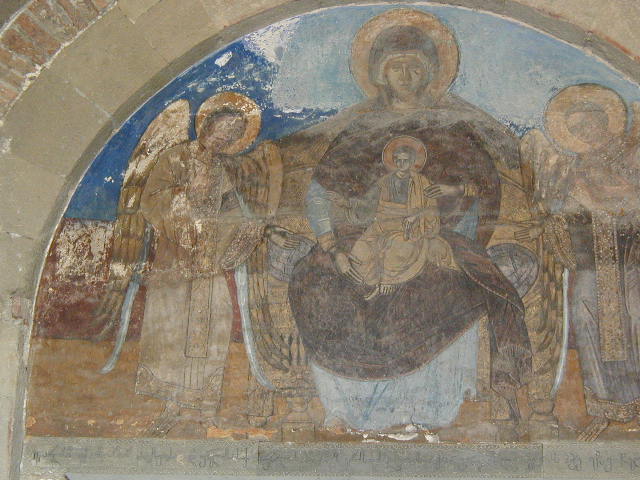 We returned to Tbilisi and, after lunch (yogurt and tea in my case), I went to Prospero Books, which has a very good Internet cafe. They also have a fair selection of books in English, including lots of appropriate travel reading (e.g. the same sort of genre fiction you can buy in all the finest airport shops in the U.S.). We also stopped at a supermarket to get more yogurt and cola. Then it was back to the hotel, where I managed to get more rest than I had during the night.
Fortunately, I was feeling somewhat better the next day, which was a long driving day with several stops. First, we drive through Gori, stopping to photograph the statue of Stalin in front of the city hall. Then we went to Uplistsikhe. This is a cave city about ten kilometers from Gori, down a very bad road.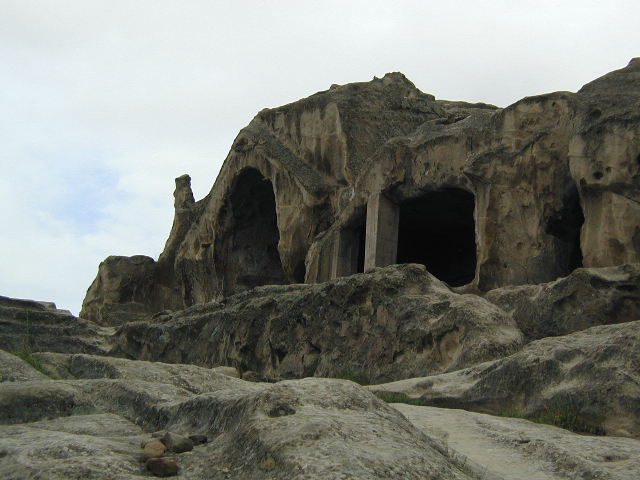 Uplistsikhe was a major stop on the silk road up to about the 12th century. At its peak, 20,000 people lived there. As you climb up, you first see an ancient theatre with a ceiling decorated in the Roman style. Further up, there's an assembly hall and temple. The latter has columns with four sides on the top and eight on the bottom, which is also said to be a Roman style. There are also chambers that were used for animal sacrifices, holes for communication between parts of the complex, storehouses for wine, and a sort of oubliette prison. At the very top, there's a church. That's not surprising in and of itself, but I was somewhat surprised that it's still used. I should also mention that the path is fairly steep and, for people like me who are terrified of heights, the climb down is moderately scary.
We returned to Gori to visit the Stalin Museum. There's a certain style of museum touring that I consider unique to the former Soviet Union. It entails being led around by a guide with a pointer who has a fixed spiel for each exhibit. Those exhibits also tend to be particularly heavy on newspaper clippings and light on things I'd consider actual museum exhibits. Inga emphasized that she would translate what the guide said, but did not necessarily agree with it. I'd say that the early history (Stalin's expulsion from the seminary, his various arrests and escapes, etc.) is fair enough, though I'd never before heard him praised for his skill as a poet. His behavior after gaining power was glossed over though. There was no mention, for example, of little things like purges or of his non-aggression pact with Hitler.
After all the clippings and photos, you get to a dimly lit room which contains a death mask. Then you can see various gifts to Stalin (and later ones to the museum) before going outside and seeing the actual house he was born in, including the bed he was born on. Finally, there's his private railway carriage, which looks quite comfortable. The most interesting thing there is that there are two compartments with two bunks each for his bodyguards.
We had lunch at a restaurant a short distance into the countryside and I was able to eat a little bit. Then it was a long drive into West Georgia. The "official" dividing line between east and west is the Rikati Pass. There's an old road over the pass, but we used the faster tunnel, which is the only toll road I experienced on the entire trip. It wasn't on the formal itinerary, but we stopped at the Ubisi Monastery. This is a 9th century basilica. There are some later frescoes and an interesting watchtower.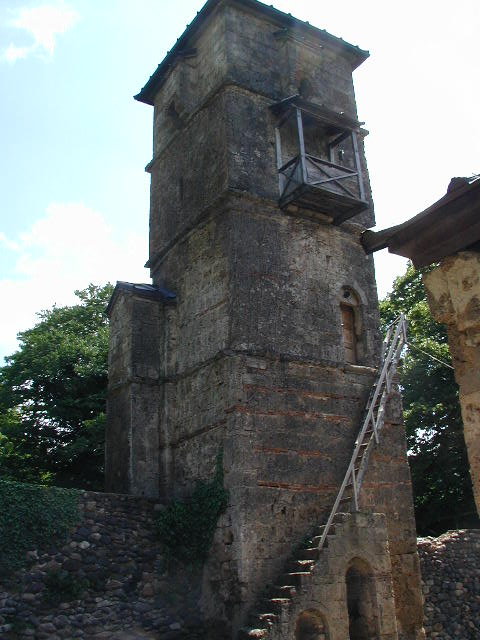 The scenery in West Georgia is greener and lusher than in the east. The region looks more prosperous, in general, and the houses are better maintained. There are also a lot of people selling things along the road. The items for sale are concentrated together. That is, there will be a bunch of kiosks with honey for sale at one place. Further along, it's breads. Then willow baskets, followed by a large pottery market. I contemplated buying some small wine horns for gifts, but decided that they'd be too hard to get home intact.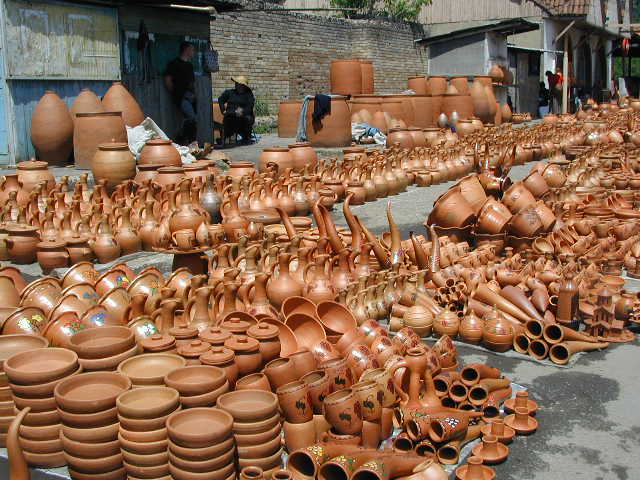 By late afternoon, we got to Kutaisi. This is the second largest city in Georgia and it is not particularly attractive at first glance, being somewhat sprawling and industrialized. However, it was a place I was particularly eager to visit because of its association with the myth of the golden fleece. There's some evidence that the origin of the myth has to do with a local method of panning for gold, using a sheep fleece thrown into a river. Nobody is certain what city was the capital of Colchis, ruled over by Aaetes (who possessed the fleece in the myth and whose daughter, Media, helped Jason obtain it) but Kutaisi is one of the leading contenders. Somewhat later on, the city is heavily associated with Davit Aghmashenebeli, a.k.a. David the Builder, who was crowned king there in 1089. An earlier king there was Bagrat III and it was during his reign that the spectacular Bagrati Cathedral was started. The construction began in 1003. The church was destroyed by the Turks in the 17th century and is only partly restored. The whole thing is simply magnificent, with amazing details on the facades, and it would be quite something to see it fully rebuilt.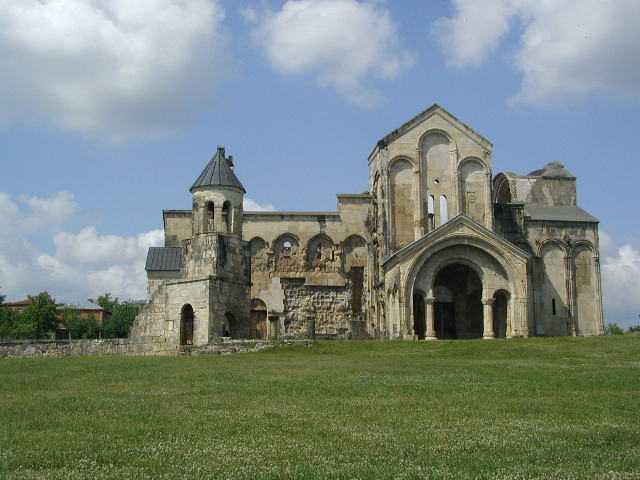 Then it was time to go to Lali's Guesthouse. One doesn't usually expect much of accomodations outside major cities, so I had visions of a small dank room. Instead, Lali's proved to be extremely modern, with huge, spotlessly clean rooms. Fortunately, I seemed to be fully recovered from my illness as the food proved to be excellent too - a soup that was somewhat similar to minestrone, bread, cheese, cucumber and tomato salad, eggplant with walnuts and garlic, fried potatoes, stuffed cabbage, and "cutlet" (i.e. a sort of schnitzel-like meat preparation). There were also strawberries (from Lali's garden) for dessert.
This was all accompanied by homemade wine. Inga said that Georgians find French wine too sweet, but this was sweeter than any French wine I've ever had. It also provides an opportunity for me to write a bit about Georgian wine etiquette. You drink only after a toast and the toasts are all long and eloquent. Irakli expounded at length on various subjects - wishing me good travels and a return to Georgia, toasting our hosts, toasting Lali's drowned son and all the dead, toasting all women, etc.. Apparently the full up version of this can go on for hours and hours. Incidentally, Georgian men prefer white wine to red on the grounds that it's lighter so one can drink more of it. After dinner we sat in the garden and chatted with Lali's family. I was particularly amused by Irakli making up fairy tales (partly translated by Inga) for the benefit of a young girl in the family, who questioned things like his inclusion of a mobile phone for the prince to call the princess on and who told him to "speak good Georgian" whenever he used a Russian word.
Breakfast was just as good as dinner had been, with delicious blini. I'd brought a few picture books of Washington, D.C. along with me and Lali was delighted when I gave her one of them. Then we set off on another long driving and touring day. Kutaisi has a significant Jewish population and Inga pointed out the Jewish quarter, which has three synagogues. Then we drove up to Gelati. This is yet another monastery complex on a superbly scenic hillside and dates to the early 12th century.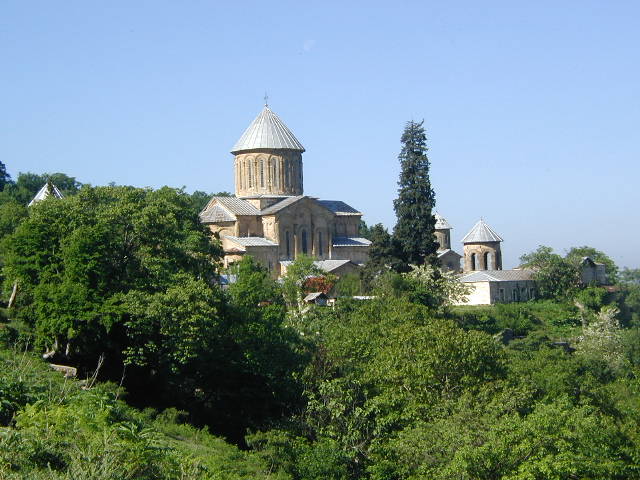 There is an academy building where David the Builder tried to create a new Athens. The students learned classical languages and mathematics. The original entrance to the complex was at the southern gatehouse and that is where David is buried. The idea is that everyone had to respect him by stepping on his grave. As for the main church, it has stunning frescoes, possibly the best preserved ones in the country. You can't take photos inside (and the lighting makes it hard to get a good picture from the doorway), but the fresco in the foyer gives a rough idea of the quality of the work. Note that Georgian frescoes, unlike Russian ones, are generally not gilded. This is important because many frescoes lost when churches were whitewashed during the Soviet era. A lot of modern restoration work is being done by Russians and the style is noticeably different.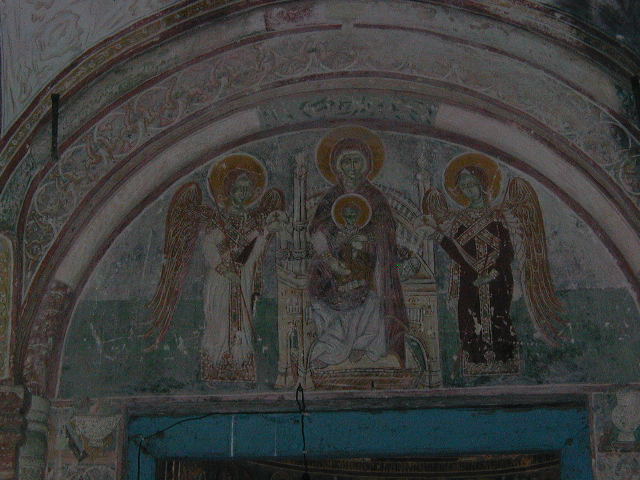 After leaving Gelati, we pretty much retraced our steps for some ways, with a stop at a new church, built in 1998. As always, there were nice views, but I'm not particularly interested in the modern stuff. Our next stop was for lunch, after which we drove to a point (near or at Khashuri, I think) where we changed cars. Irakli's brother brought a "jeep" (actually a Mitsubishi Pajero) and we set off for Borjomi. The scenery is gorgeous conifer forest and the air is very fresh. The catch is that a lot of the forest is being logged. Every night, trucks full of wood set off for Turkey.
We passed through the Borjomi Nature Reserve and up a bad road (hence, the 4 wheel drive) to yet another church. Timotesubani is under reconstruction so, not being keen on scaffolding, I didn't photograph it. By the way, on the way up, we passed a funeral procession. This was interesting because it looked like the entire town was accompanying the coffin, many of the people carrying icons.
Our stop for the night was at Bakuriani, where we stayed at the Apollo Guest House. This was, again, very modern and comfortable. It even has a pool (cold and not particularly clean, but a start) and a sauna. Dinner was quite good there as well - sturgeon, salads, bread, cheese, a sort of potato soup with lots of cilantro, "cutlet" (possibly veal), fried potatoes, coffee, and potato piroshki. By the way, coffee in Georgia comes in two types - Nescafe or Turkish.. I think people were surprised that I prefer the latter, which I tend to refer to as "real" coffee. Tea invariably comes in bags.
After dinner, Irakli offered to take us on a jeep tour of Bakuriani. The town is part of a resort area (as is Borjomi, which is a spa town and the major source of bottled water in Georgia). There are big hotel/sanitorium complexes all over. We also drove to the chair lift for the ski resort. Given that the electricity is not so reliable in winter, I suspect that heliskiing is the way to go.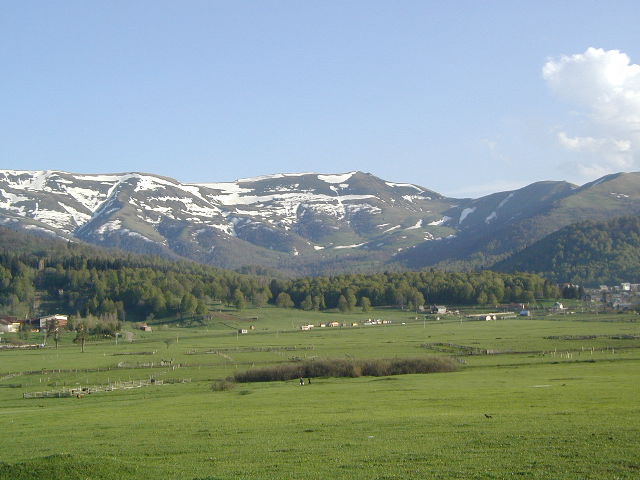 In the morning, we had a breakfast of yogurt (homemade, very thick, and tasty), blini, and cheese pierogi with sour cream. Then we set off on the long drive to Vardzia. This took about three and a half hours, including a stop in Borjomi to buy a couple of bottles of Borjomi mineral water. Parts of the trip were along a fairly bad road. Along the way, Inga pointed out an enclosure that had been a slave market in medieval times. Closer to Vardzia, there was a lake that she said had a lot of leeches. Since she said that men fish for them, I suspect that she was referring to something other than what I'd call a leech.
Vardzia is another cave monastery complex and, once there, we drove part of the way up the hill. That was followed by a fairly stiff climb the rest of the way. The path is very well maintained and the only difficulty is the exertion (and the heat - it was about 90 Fahrenheit).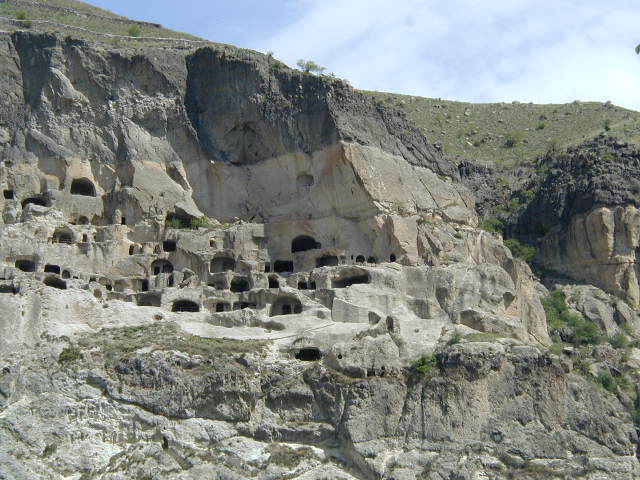 We went into one cave, which had been the refectory where the monks ate. Inga pointed out a storehouse and winemaking areas, as well as water pipes. Then we continued on to the Church of the Assumption, which is the heart of the complex. We'd taken flashlights along, so went down a dark tunnel to a well. The priest said they'd emptied the well the day before and it was full again. I was hesitant to taste the water, however, as I wasn't sure how safe it was.
The church itself is a definite highlight, with beautiful frescoes. The most famous one is of Queen Tamar (David the Builder's great-granddaughter, late 12th century). According to Inga, they know the painting was done before she married because of the colors she is wearing and the style of her head dress. I'll also note that Inga refers to Tamar as "king," not "queen,' because she was "coronated." Her father, Giorgi III (shown with her in the fresco), had her crowned in his arms, as women were not allowed to step on the altar.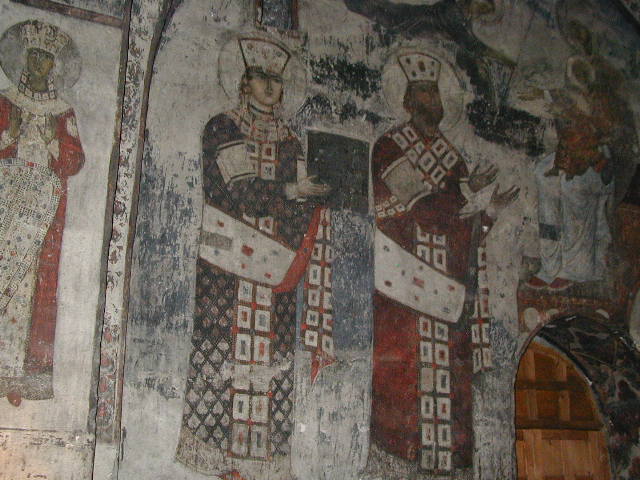 Then came the challenging part of the venture. Off a small side chapel, there's a narrow tunnel that climbs up about 45 meters. Inga asked me if I wanted to climb and, while I was hesitant, I said I'd give it a go. Actually, the narrowness made it easier, as I could hold onto the sides of the tunnel. The only hard part was at the top of one ladder, where there was a very big step that Irakli pretty much hauled me up. At least I'm not claustrophobic. The way down, which is outside, was actually worse, as it is down some fairly steep stone steps. There are, however, handrails part of the way and stone walls at some parts, so my fear of heights was reasonably manageable. We ended up back outside the church and I found out that both the priest and the woman who cleans the church thought that I wouldn't do the climb.
We returned to the car and drove back down the hill, stopping at a picnic table to eat a packed lunch, which turned out to be pretty much the leftovers from dinner. The only complication was the inclusion of small bottles of coke. We didn't have a bottle opener, but Irakli improvised with the edge of a standpipe.
After eating, we retraced our route part of the way, stopping to look at Khertvisi Fortress. Then we turned onto a particularly bad road and climbed to a high flat plateau, stopping in a town along the way for ice cream. Inga said that most of the people in the area are ethnic Armenians. There are also Russians of dissenting religious sects (Dukhabar and Molokan) who were exiled to the region in the time of Catherine the Great. By the way, the area is referred to as "Georgia's Siberia," because it is very cold there. It was also interesting to see several storks nesting on light poles and on the roofs of houses.
We got to the first border post (Georgian customs) about four in the afternoon. This was well ahead of the plan, but Inga said that, in the past, they'd often had problems there and had to pay a lot of bribes. However, someone had recently gotten fired for taking a bribe and everyone was afraid now, so they told her not to give anybody any money. Eventually we continued on to a second border post where we waited a while. There was no problem getting my passport stamped, but they apparently commented that the entry stamp was sloppy. I should note that each of these border posts has a sort of gate that's raised or lowered using a rope. After the second one, you're in a sort of no man's land. There's a ditch that marks the "official" border and some ways further on is the Armenian border post. Inga took my passport in and, while we were waiting, my Armenian driver and guide arrived. I bade farewell to the Georgians, giving tips to them and the novel that I'd finished the night before to Inga. The latter was well-received, as books in English take a long time to reach Georgia and are expensive when they do.
And, now, some random observations about Georgia:
Georgians have a definite instinct for spectacular settings. Even if you aren't particularly interested in churches, there are pretty much always views that make the visit worthwhile.
Speaking of churches, not only is the architecture interesting and the frescoes beautiful, but the Georgian people seem to be genuinely devout. It surprised me to see so much religious feeling among people in, say, their thirties, who would have grown up during Soviet times. For example, Irakli crossed himself frequently, while driving past places of some sort of significance, and, inside the churches, I noticed him kissing icons.
The Georgian language is intimidating. Not only is there a unique alphabet, there are rarely signs in any other alphabet. The language is part of a small and obscure Caucasian group and is non-Indo-European. I managed to learn four words (hello=gamarjobat, thanks=madloba, yes=ko, no=ara) and was glad to learn that much. As you might have noticed from place names, it's hard to resist the overwhelming desire to put the Georgian language on "Wheel of Fortune" so it could buy some vowels.
While there were some bad roads (particularly the one to the Armenian border) and the driving style is aggressive, the conditions were far better than in Azerbaijan. The only time Irakli got stopped was for speeding. Even in Tbilisi, drivers pretty much stayed within the lane markings and obeyed traffic lights, though they could do things like back down a one-way street if it was convenient. In Tbilisi, parking usually required a fee to an attendant. I never figured out if these were official, or if it was just understood that you paid somebody to keep an eye on your parked car.
Georgian wine has a very good reputation, but one thing to note is that Georgians mostly drink homemade wine. It's considered something of a loss of face to have to buy wine, though buying grapes (usually to supplement home grown ones) is acceptable.
I've read a lot of articles touting Georgia as the next adventure tourism destination. Despite that, I didn't see many other Western tourists. Given the inherent interest and beauty of the country, that's really a shame. Throw in the high quality of accomodations, tasty and interesting food, and reasonably low prices, and it's well worth a visit.
The overwhelming reason to visit Georgia is simply the spirit of the Georgian people. Despite the poverty and unemployment, despite the periods of unrest and the no-go areas (shortly after I returned home, a group of U.N. observers were kidnapped near Abkhazia), despite the relatively high crime rate of Tbilisi (though that is still largely property crime), people seem to be happy, in general. It's very much a society where relationships are more important than precise opening hours for museums, which could frustrate some tourists. I just relax and think of it as an excuse to enjoy "la dolce vita."
Back to Previous Chapter | Back to Caucasus Index | On to Next Chapter | Xenophilia Home

Copyright 2003 Miriam H. Nadel

last updated 16 June 2003
Send comments to mhnadel@alum.mit.edu