Here Be Dragons: Cerro Dragon and Espanola
Our first excursion was a panga ride around an area of Isla Santa Cruz called Cerro Dragon. That translates to "Dragon Hill," with the dragons in question being land iguanas. It wasn't long before someone spotted a yellow head amongst the cacti.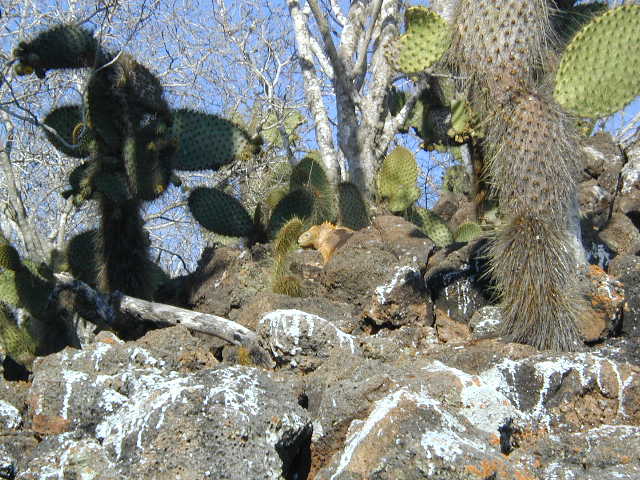 We also saw marine iguanas, sally lightfoot crabs, and a lot of birds, includuing blue-footed boobies, brown pelicans, a great blue heron, a lava heron, a Galapagos dove, frigate birds and a cactus finch. There are probably others that I forgot to write down. It is particularly interesting to watch the blue-footed boobies dive, as they plunge straight down extremely quickly. If you or I tried to imitate them, we'd just get salt water up our noses, but I never saw a single one put out a wing to hold its beak closed! We also saw golden rays in the water and a couple of sea turtles. And, of course, sea lions, which are everybody's leading candidate for the cutest endemic species. If you look to the right in this picture, you can also see a blue-footed booby.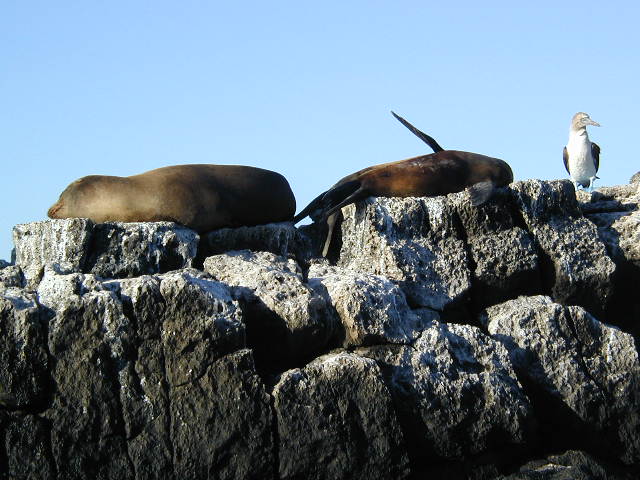 Our next day was spent visiting Isla Espanola, also known as Hood Island. This is the southernmost island and less visited than many of the others. The morning featured a hike at Punta Suarez. The newsletter said, "The trail is the most arduous one of the week, characterized by boulder hopping almost all the way (not recommended for people with balance problems) but the rewards are many, so we encourage you to give it a go." There were pictures posted on the bulletin board to help people decide if they were up to it. Since there was also the opportunity to turn back after the first ten minutes and since I hate to miss anything, I decided I was up for it. It turned out to be what I would consider a moderately difficult hike and I was glad for my walking stick. (I had brought my collapsible REI hiking stick with me; the ship had a supply of sticks for those who didn't have their own.) But it was definitely well worth the effort.
Almost immediately after the dry landing, we were on a beach surrounded by wildlife. There were some American oystercatchers (a small and colorful bird), mockingbirds, cactus finches (not that I can tell the 13 kinds of Darwin's finches apart, but Rafael said they were cactus finches), and Galapagos doves. But the sea lions gathered the most attention, followed by the marine iguanas. The marine iguanas were in bright red mating coloration and there were so many that they created as much of an obstacle on the trail as the rocks did. We often saw them snorting out the salt water that accumulates in their salt glands - an adaptation that allows them to dive and live on algae.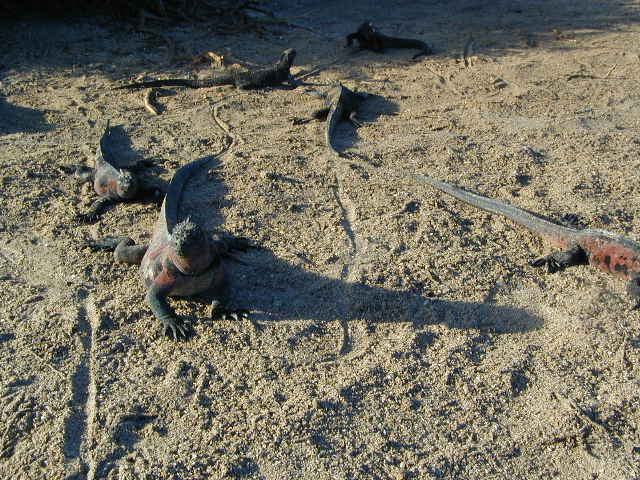 As we continued along the trail, we saw a lava lizard eating the leg of a Galapagos dove, something Rafael said he'd never seen before. We also saw a lot of seabirds. The biggest thrill was seeing a few juvenile waved albatrosses, which are found nowhere else. We were lucky as they go out to sea from about January through March, so sighting them had not been guaranteed. Then there are the Nazca boobies which nest right by (and on) the trail. These were called masked boobies up to about a year ago, when DNA tests showed that they were a separate species.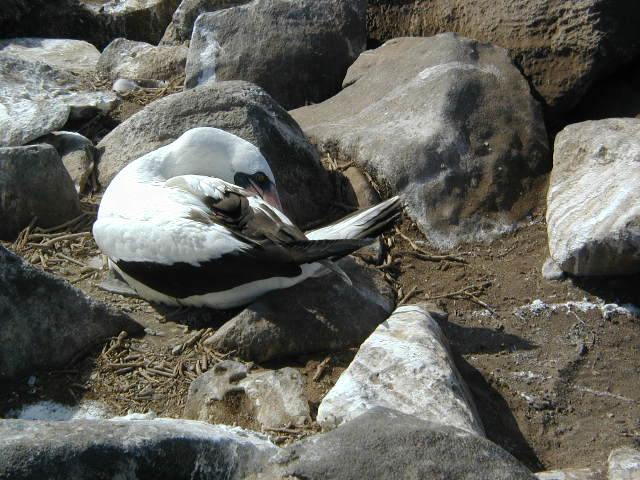 The blue-footed booby is still more popular, largely because it's so much odder looking.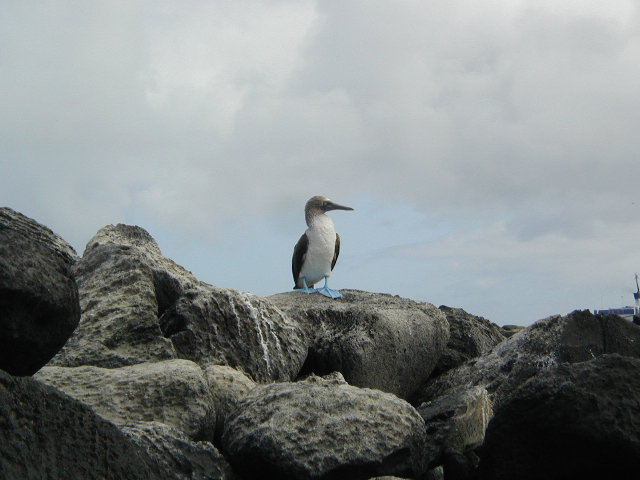 We reached a cliff edge where we could see a lot of seabirds soaring. There was one albatross gliding, looking far more graceful in the air than they do on land. We also saw a lot of frigatebirds and the beautiful red-billed tropic bird, which has two long tail feathers. There is sometimes a blow-hole spouting water near this cliff, but the conditions weren't right when we were there. Still, the two-hour hike led us so close to so much wildlife that I didn't feel the least bit deprived.
When we got back to the ship, there was a snorkeling safety briefing. After which, we were fitted out with snorkeling gear. I had brought my own wetsuit and a mask with corrective lenses (being way too nearsighted to see anything otherwise), but needed a snorkel and fins. The fins proved to be the hard part, as they come only in men's sizes, which are too wide for my feet. The eventual suggestion was that I wear them with socks! After lunch was the first snorkeling trip. While the experienced snorkelers headed to deep water off some rocks, those of us who'd never tried it before went to the beach (Gardner Bay Beach) for a lesson. My first attempt was not horribly successful, as it was hard to get used to the mouthpiece. I got a bit more comfortable with it in a while, but not enough to go out to the deep water. By the way, they recommend you don't wear the fins while learning, so my socks stayed dry for a while.
The ship also carries a glass-bottom boat, which was put down for excursions three times. People could sign up for half hour trips on it - a nice feature for those who didn't want to snorkel. It was also nice just to walk on the beach, being chased by sea lions.
Back on board, we had the routine of the recap (including footage from the undersea camera) and dinner, followed by a showing of the video, "Galapagos, My Fragile World." This was about the nature photographer, Tui de Roy, who has lived in the islands since she was a young child. It was fairly interesting, but the day had been tiring enough that I was glad it was only an hour long.
Back to Previous Chapter | Back to Ecuador Index | On to Next Chapter | Xenophilia Home
---
Copyright 2002 Miriam H. Nadel

last updated 19 January 2002
Send comments to mhnadel@alum.mit.edu