London and Paris
The daytime flight from Washington to London is very convenient and allowed me to get to Robert's flat by about 11 at night. Robert went off to work in the morning (taking my backpack with him). I've enjoyed several of the walking tours from London Walks over the years and set out to do their Eccentric London walk. The theme was, essentially, odd tidbits about familiar places in London. The tour began with Cleopatra's Needle and continued through the Victoria Embankment Gardens to the water gate that had led to the home of George Villiers, Duke of Buckingham. The Villiers house was torn down to subdivide the property after the Great Fire, but he is commemorated by having streets named after each part of his name - including Of Alley.
We continued on to a statue of Oscar Wilde, whose posthumous debt to a cigar store was finally paid by an anonymous donor in 2000. At Trafalgar Square, we heard about the hawk used to scare the pigeons away, as well as about the dinner party on the top of Nelson's column the night before the statue of Admiral Nelson was erected.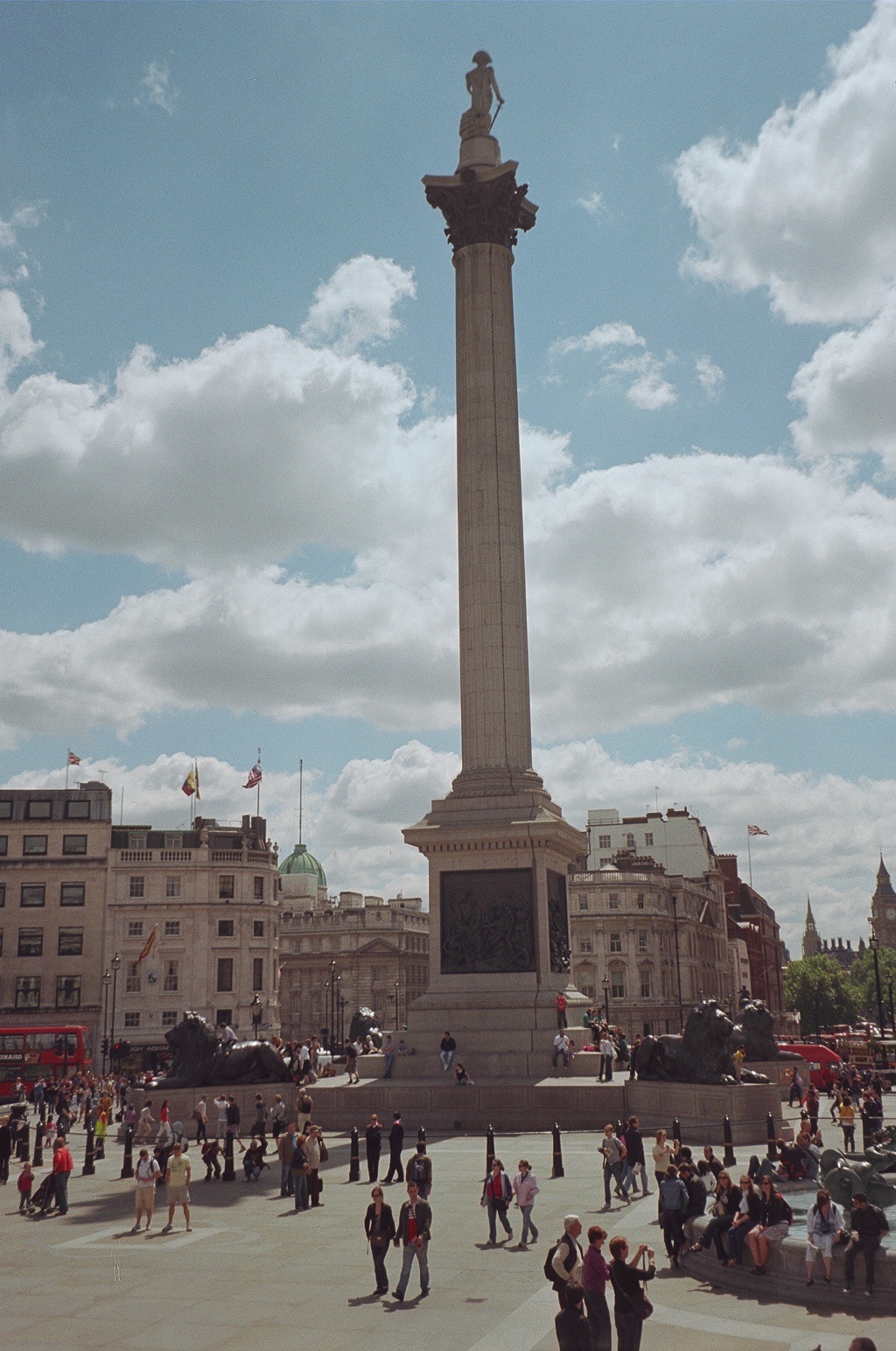 Other stories included the piranha tank in the children's department at Foyles Bookshop and the innovative solution to the historic preservation requirement for using Georgian blue paint on the railings at Barnabas House, a charity for homeless women. They got permission to use black paint as long as it was covered by an invisible coat of Georgian blue.
After returning to Foyles (because I can never resist a bookstore) and having lunch, I stopped in at the British Museum for a little while, mostly to look at the Greek / Lyceian area. The Nereid Temple is particularly notable. I had enough time to look at a temporary exhibit on South Pacific shields before heading off to meet Robert at Saint Pancras station. He had made it slightly more complicated than it needed to be by telling me the train was from King's Cross, but he still showed up at the Eurostar terminal. (The two stations are adjacent but not identical, so it's not all that surprising he was confused). Which is a good thing since: a) he had my backpack, b) he had our train tickets and c) the whole point of the trip was spending a weekend in Paris with him, .
The Eurostar train was comfortable enough and the ride was about 3 hours. We bought a carnet of metro tickets and took an RER train to the Hotel Observatoire Luxembourg, chosen largely for location, price and Robert's insistence on an elevator. We took a short stroll up the Boulevard Saint Michel and found a brasserie nearby. One of the true pleasures of Paris is that you can get a decent meal nearly anywhere. I ate sole meuniere and Robert ate steak frites and we were reasonably content.
Robert's idea of a great vacation is to go to a city he has never been to before, see a few interesting buildings, and eat a few good meals. Accordingly, we started the next day with a leisurely breakfast at the gimmicky but good Breakfast in America, which is about what you'd expect. Then we strolled up to Place de la Bastille and took a quick look at the ultramodern Opera Bastille, which I characterized as an unsuitable haunt for any self-respecting phantom. After I dragged Robert a few blocks out of our way in order to check out an arts and crafts market, we meandered over to Le Marais so Robert could check on the state of Jewish deli food in Paris. We were not the least bit hungry, so he merely looked at what was for sale. We did also look at the exterior of a synagogue and read some wall plaques about the deportation of Parisian Jews under the Nazis.
Eventually, we meandered over to the Pompidou Center.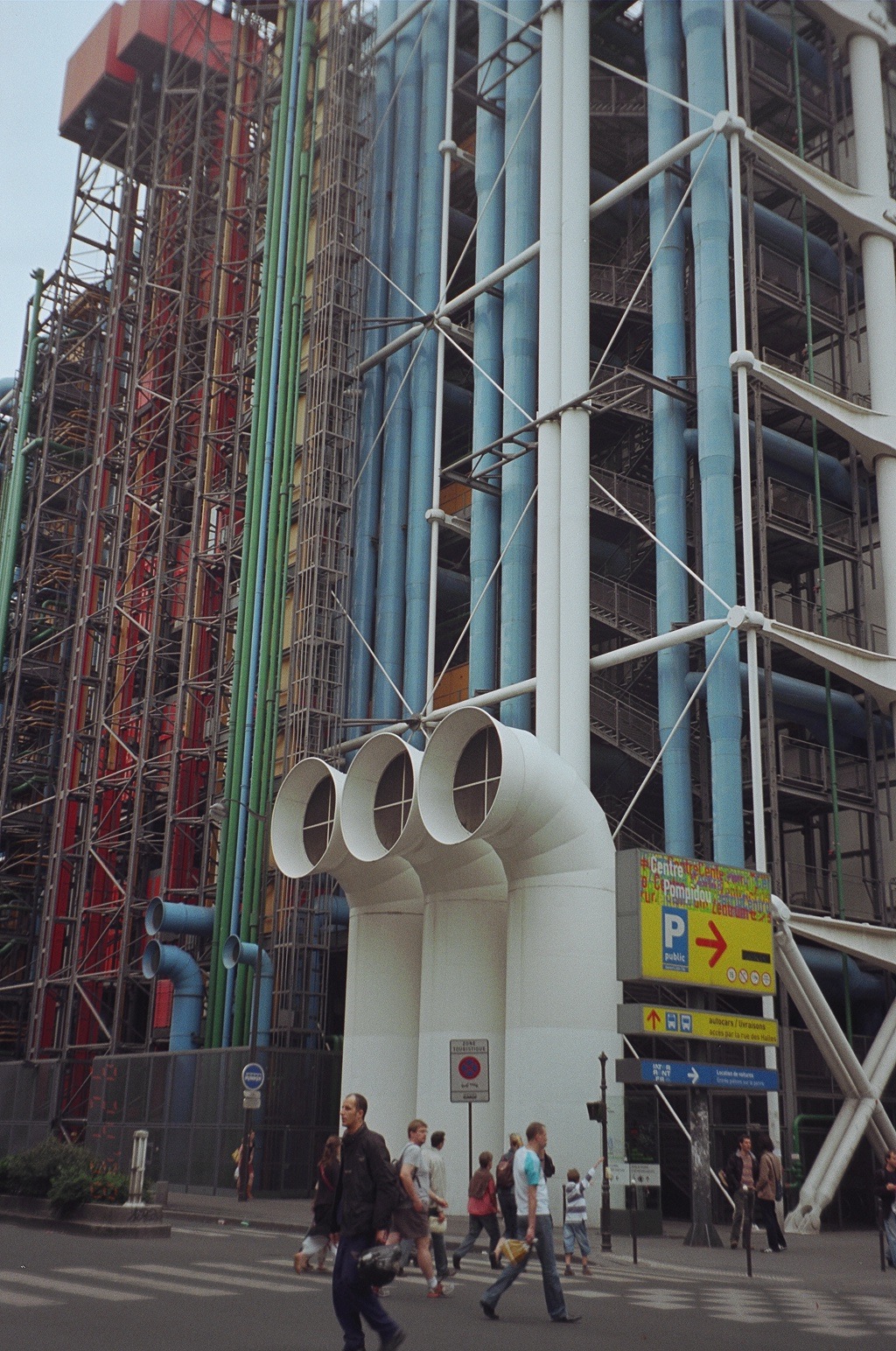 I am no fan of modern architecture and a walk around the entire building convinced me that its other facades are not an improvement. There may be excellent art inside, but Robert doesn't do art museums, so that remains an open question.
Then we walked over to Ile de la Cite, where I could not convince Robert that we should wait in line and pay admission to see Saint Chappelle. But we did make our way to Notre Dame. It was crowded, but Charlemagne didn't seem to mind.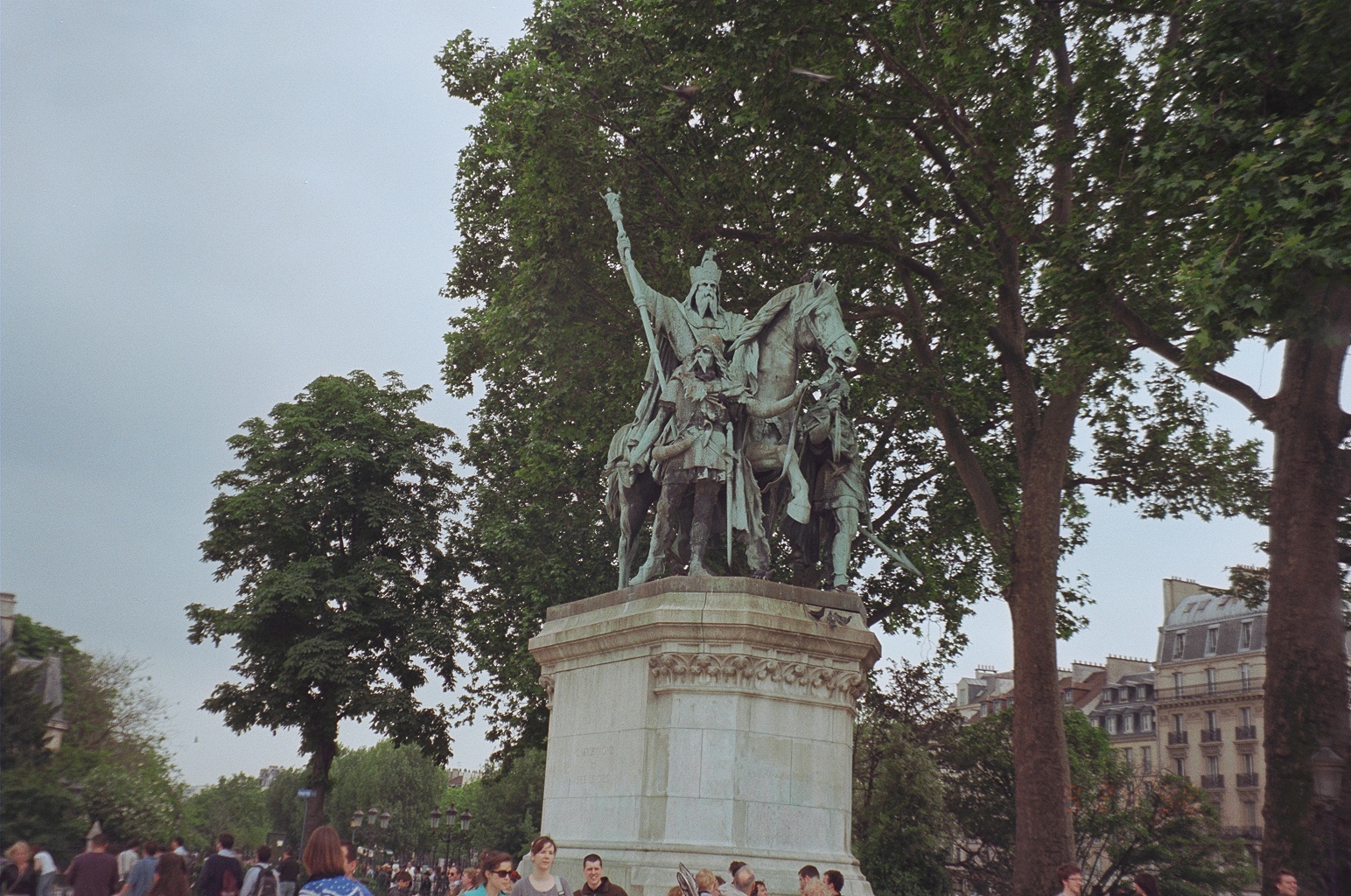 We circled half the building, reading guidebook descriptions of the various portals and the sculptures on them, as well as gawking at the gargoyles. But there was an important side trip before seeing the rest of the cathedral. It's a short walk over to Ile St. Louis and, specifically, Berthillon, a famous ice cream parlor. Oddly, there was no wait for a table, though there was a long line to get ice cream to go. There are numerous options, but we selected the simple and unadorned ones. Robert got three scoops - rum raisin, pear, and blood orange, while I limited myself to a single scoop of raspberry with rose petals. This was quite possibly the best sorbet I've ever had in my life.
Before returning to Notre Dame, we made a brief detour to see a house (36 quai de Bethune) Marie Curie had lived in. Then we walked back to Ile de la Cite, where we strolled through the gardens and looked at the rest of the exterior of Notre Dame. Robert balked at the line to go inside, but I convinced him it would move quickly. And, indeed it did, allowing me the minor victory of having actually gotten him to go inside a tourist attraction.
Getting him into restaurants is considerably easier and, after a rest at the hotel (where the elevator he had insisted was a must was temporarily out of order), we set out for Restaurant Fish la Boissonerie. On the way, we passed an antiquarian bookstore specializing in scientific books, as well as the house where John Paul Jones died. I mention the former because Robert has a theory that science is much more respected in France than in either the U.S. or England. The restaurant, which had been recommended by a friend, proved to be excellent. Robert had risotto with spinach and cheese, followed by dorado, while I opted for linguini with salmon and zucchini and a glass of wine. For dessert, he got rice pudding, while I had a lemon and orange tart. The meal was excellent and not too outrageously expensive (about 80 euros). It was also leisurely enough that the hotel elevator had been repaired by the time we returned.
We got a late start in the morning, so ate brunch at a cafe near the Eiffel Tower, our primary destination for the day.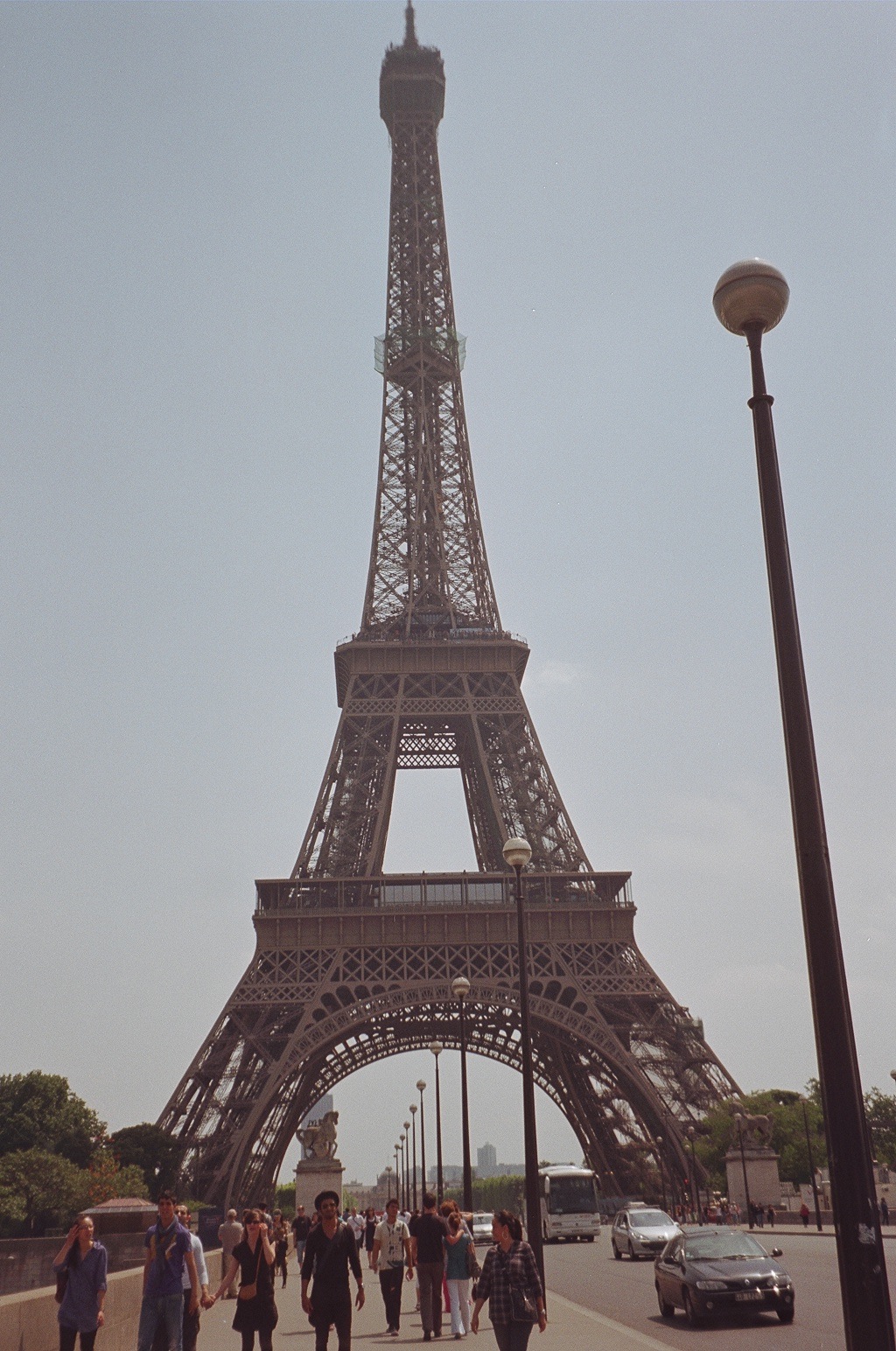 Neither of us had much interest in going up in the tower. But Robert was excited when I pointed out the names of the 72 scientists engraved on the borders of the four facades. I'd anticipated this and had printed out the list from the tower website for his perusal. I still made him listen to my rant on the injustice of not having included Sophie Germaine.
It was hot out, so we stopped for cold drinks on the way to the Arc de Triomphe. After viewing that monument, we finished Robert's tour of Paris by strolling down the Champs Elysee. He had a late afternoon train back to London and we got to Gare du Nord in plenty of time, so had time to make sure we got our annual minimum dose of sitting in cafes. After seeing him off, I had time for a brief walk through the Tuilleries Gardens before a long stroll back across the Seine to the hotel. After a nap, I walked over to Boulevard St. Germain and had a casual cafe dinner. I was amused by an American couple at the next table who were confused when escallope de turkey was turkey and not the Turkish style scallops they were expecting. Even my French isn't that bad.
In the morning I went over to Gare de Lyon for my train to Dijon. But that's another chapter.
[Back to Index | On to Next Chapter ]
---
Copyright 2011 Miriam H. Nadel

last updated 29 January 2011
Send comments to mhnadel@alum.mit.edu