Preliminaries - Getting There, and Nadi
Getting There
Earthwatch handled the local arrangements for the trip, of course, but I still had to get to Fiji. I couldn't get flights using frequent flyer miles, alas, so had to actually pay for tickets on United and Air New Zealand. I spent a day in L.A. on the way, mostly to make the travel more relaxed, and arranged to arrive in Nadi on Friday morning, giving me a little time to recover from jet lag before the expedition started on Sunday. For sheer convenience, I booked a room at the Hotel Mercure in Nadi, since that was the expedition meeting place. Sometimes the path of least resistance makes sense.
There were no problems getting to Los Angeles and my flight was even slightly early. I had a bit of a wait for the hotel shuttle to the Renaissance, where there was also total chaos in the lobby as two large groups were checking in at the same time as I was. Still, my Marriott status did net me a room on the club floor (which mostly means you get a free continental breakfast) and it was a comfortable place to spend a night.
In the morning, my friend, Audrey, picked me up and we went off to the Gene Autry Museum of Western Heritage in Griffith Park. She wanted to see a photography exhibit there. As I had never been there before, we went through the permanent collection, too. There was an interesting exhibit on Gene Autry himself, which emphasized how good a businessman he was. The main exhibits included material on Western films, settlement by various ethnic groups, and day to day life of cowboys and Indians. The photography exhibit was the highlight, with photos of indigenous peoples taken by members of their own group. There was one section which included display cases of objects next to photographs including those objects, which is an interesting concept. My artistic preference is more modern and I was particularly struck by a piece that was part of an "Apache in New York" series.
After lunch and a browse in the museum shop, we stopped briefly in Studio City where Audrey wanted to go to a cheese store, but it proved to be closed. We continued on to Santa Monica, where we walked out on the pier before going over to the new library so I could see what they'd done. That also provided an opportunity to visit with another storyteller, Donnae, who was working in the children's library.
In the early evening, Audrey dropped me off at the airport and I got to see how badly arranged Terminal 2 has become, as Air New Zealand's lay-out meant having to go back outside to get from check-in and baggage drop to security. While boarding was called by rows, that only got us onto a bus out to the back forty to board the plane. Inevitably, people joked that we were going to drive all the way to Nadi. Overall, I wasn't very impressed with ANZ's service, with remarkably poor seat pitch and no choice of movies. The former was partly mitigated by the seats not reclining; however, that doesn't make for great comfort on an 11.5 hour flight. A real peculiarity is that the display of the time at the destination throughout the flight was off by an hour (which, admittedly, I didn't realize until the pilot announced the time when we arrived). My best guess is that New Zealand changes clocks for the summer and Fiji doesn't, but I never confirmed that.
Nadi
Fiji is highly dependent on tourism and that is reflected in fairly efficient entry formalities. I got some Fijian dollars from an ATM (1 FJD = 0.66 USD, roughly) and set off to find the shuttle to the Mercure. I found the area where shuttles arrived. However, finding the right shuttle proved a bit challenging, since they back up to the terminal, making it impossible to read the signs on their sides. You could stand outside off to the side, I suppose, but it was pouring rain. I did eventually get a van to the hotel and settled in. My smart move was asking at the hotel travel desk how to get to downtown Nadi. One could take a taxi from the hotel for FJD 7, but there's a bus stop not very far away and the fare is only FJD 0.65. The bus was of the typically crowded and cramped style found throughout the developing world. It's a short enough ride for that not to be a real problem.
This is as good a time as any to mention an oddity of Fijian orthography. I knew (from reading) that Nadi is pronounced as if it were spelled "Nandi," but it wasn't until after I got home that I learned the more general rules. According to the preface to the folklore book I bought as a souvenir:
c is pronounced th
b is pronounced mb
d is pronounced nd
g is pronounced ng
q is pronounced ng-g
I'm not sure who came up with this system, but I suspect he was trying to avoid writer's cramp by coming up with Cibaciba vs. the (English) phonetic Thimbathimba.
Nadi is not a particularly attractive city, but it is the commercial center for Fijian tourism. There's no shortage of restaurants, souvenir shops, etc., though there is a shortage of actual tourist attractions. The Sri Siva Subramaniya Swami Temple is the most distinctive building in town and worth a brief look.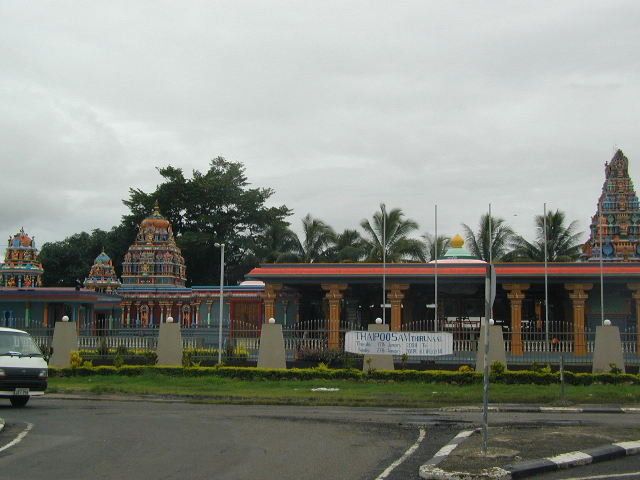 I did have a minor bit of shopping to do. The Earthwatch briefing had suggested the purchase of a sulu (i.e. a sarong) and a case of bottled water. Both were easy enough to obtain, though it was rather a trudge from the bus stop back to the hotel carrying 9 liters of water. It wasn't actually necessary to do any of that shopping, as it turned out. Still, it was a good excuse for a wander around town and it was something to do on a rainy day.
The next day was less rainy and, needing something to do, I arranged an excursion. The Garden of the Sleeping Giant got its name from the appearance of a nearby hillside. It was built by the Canadian actor, Raymond Burr, and consists of the usual sorts of tropical plants - palms, orchids, and so on. It's worth a bit of time wandering around the paths with their lush greenery.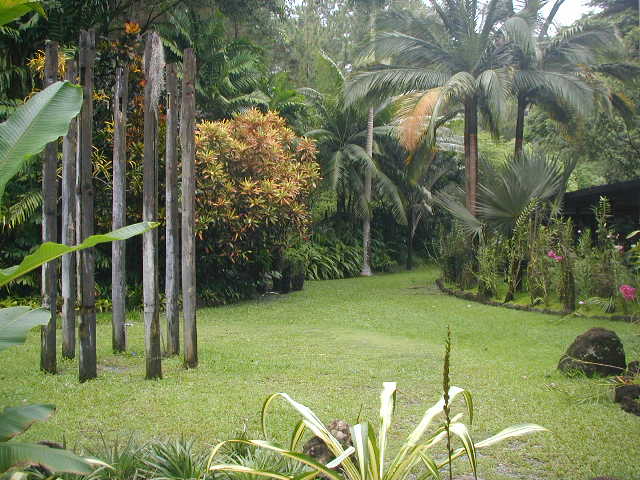 On the way back, we stopped at the Vuda lookout, which has a panoramic view of Nadi Bay.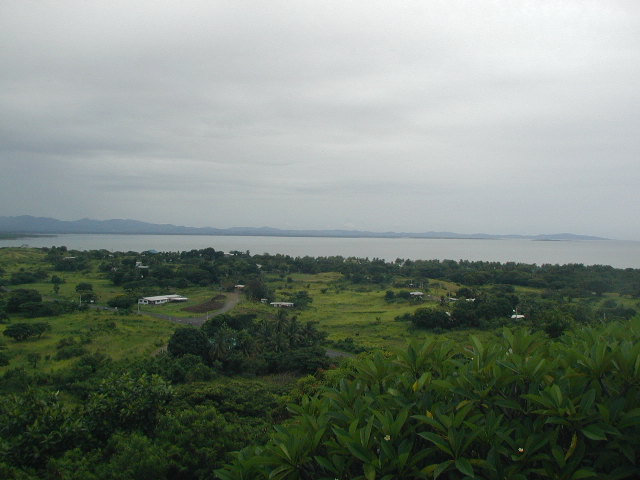 None of this was highly exciting tourism, but it was all attractive enough and filled in a few hours. Had I but known what the next couple of weeks would be like, I might have had a greater appreciation for the rest and quiet. The next chapter will explain.
[Back to Index | On to Next Chapter ]
---
Copyright 2008 Miriam H. Nadel

last updated 18 February 2008
Send comments to mhnadel@alum.mit.edu