Italy - Flooded Streets and Scaffolding
---
I flew to Venice on Lufthansa, via Frankfurt. Having lots of frequent flyer miles let me do the trans-Atlantic leg business class and, as I've said before, the real advantage of that is access to the business class lounge at the airport. At Dulles, Lufthansa uses Northwest's lounge and one peculiarity of that was that we actually boarded the plane directly from the lounge. (Well, using a "moblie departure lounge," but the point is that we didn't have to go out to the actual gate.) Alas, there had been only coach seats available on the leg from Frankfurt to Venice, so I was forced to endure the bleakness of that airport for two and a half hours. Lufthansa does provide free coffee and tea and newspapers, which made it tolerable, but I also walked the length of the terminal several times. In the course of that, I realized that there really aren't any ATMs within the security area of the airport. The airport shops do take a variety of currencies, but it would have been nice to have been able to get some euros while I had nothing better to do.
Flying into Venice is dramatic, as you see the entire lagoon spread before you. There was a long line to use an ATM there, so I took advantage of a shorter line at an exchange booth. Then I took the Alilaguna ferry (EUR 10) to San Marco. It may be chaeper to take a bus or train, but the ferry makes one feel more immersed in the atmosphere of Venice. By the way, it stops along the way at Murano, Arsenale (where there's an interesting view of the hospital and ambulance boats), and the Lido, before arriving in San Marco. It was a short walk to my hotel. I'd chosen the Violino D'Oro on the grounds that it was centrally located, reasonably priced, and (amazingly for Italy) entirely non-smoking. It proved to be an excellent choice. In addition to the reasons for my choice, the staff was friendly and helpful and the room was surprisingly large and comfortable.
My approach to conquering jet lag is keeping myself moving the first day away, having an early-ish dinner, and then collapsing. Venice is a very walkable city, so that proved easy to do. People often complain they get lost there, but it's easier not to get lost when you're not trying to get anywhere particular. Well, I did have a goal, as I had been in Italy over an hour and hadn't had any gelato yet, but that was a goal that was easily satisfied in nearly any direction. Eventually, intentionally or not, one ends up in Piazza San Marco, which is as close to perfect a public space as any city has.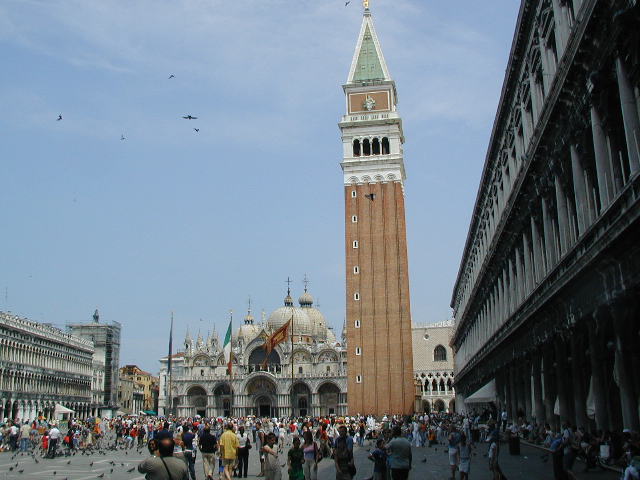 You can wander around, listening to music from the cafes and just gawking at how beautiful it is. You can also look across the water to the church of San Giorgio Maggioro and gawk at how beautiful that is. (You might notice a theme developing here.) Some people feed the pigeons, which are not particularly beautiful.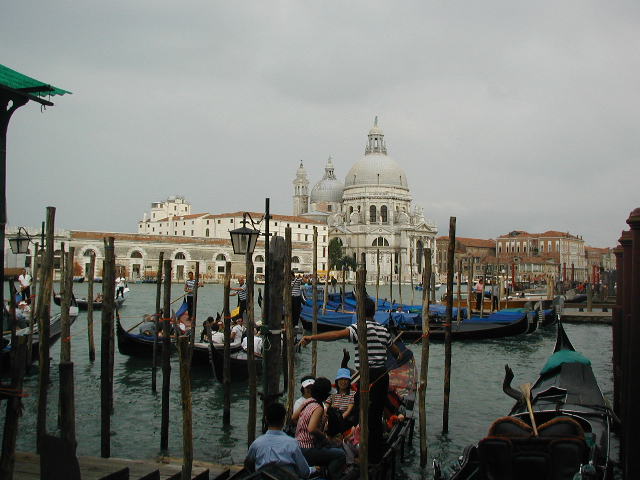 But it's the Basilica San Marco that's close at hand to take one's breath away. I braved the long line to go inside. By the way, I noticed that, despite warnings, they don't actually seem to turn anyone away for wearing shorts or sleeveless tops (not that I was wearing either). While there are some striking mosaics (gold leaf over glass tiles) inside, it's really the exterior that's the highlight. Perhaps I'd feel differently had I been willing to brave the crowds (and fees) to go to the treasury or the pala d'oro. You can gawk at the rest, including the details of the exterior - including for free.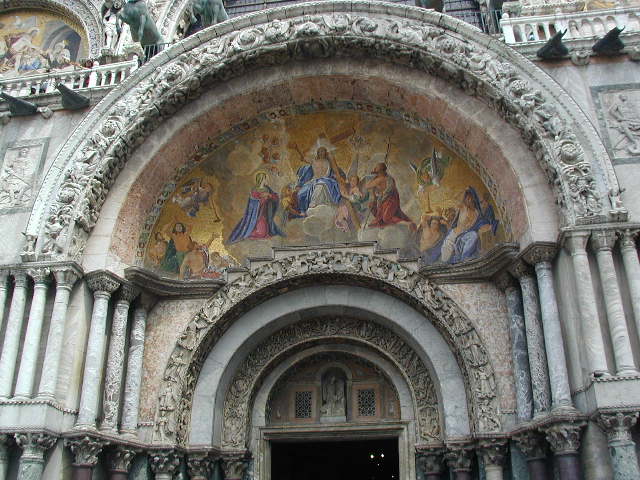 My other actual sightseeing venture of my first day, aside from random meandering and gawking, was to the Music Museum (free admission), which had an exhibit on the life of Antonio Vivaldi. They also had a number of old violins, lutes, and a saltiero (psaltery). While there, I bought a ticket for a Vivaldi concert the next evening. I should note that Venice is a very musical city in general, and there was music pouring out of many of the cafes, as well as street musicians playing here and there. Vivaldi, being local, is particularly popular, but there seemed to be at least one or two concerts of some sort on offer every night. And, yes, the gondolieri sing, too.
A dinner of tasty grilled monkfish and a good night's sleep got me firmly onto Italian time. In the morning, I set out to run one errand. The Trenitalia desk at American Express was near at hand and costs no more than buying a ticket at the station, making it a convenient place to purchase my ticket to Milan. Mission accomplished, I walked over to the Rialto. The top of the bridge offers a grand view of the Grand Canal.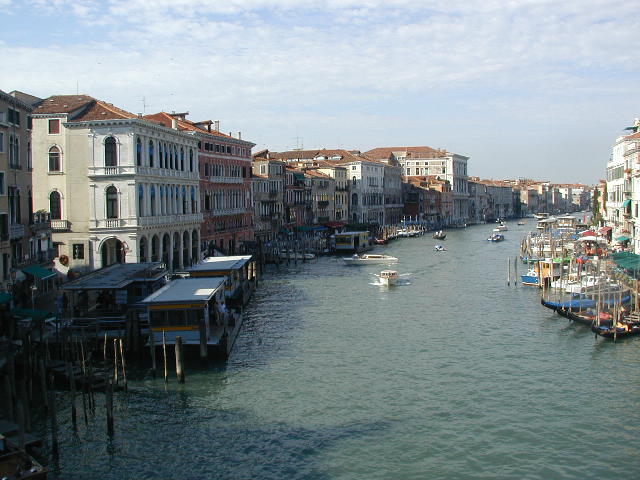 At the other end (i.e. on San Polo) I meandered past the small, but attractive, produce market. Had I actually done my homework, I'd have realized that the fish market is closed on Mondays. Continuing to meander around San Polo and onto Santa Croce, there was nothing specific to see, but it was a pleasant and quiet walk. Another of the things that makes Venice so special is the lack of vehicles on the land. I suppose this is as good a place as any to make the obligatory joke that Venice is beautiful, but the streets are flooded. There were a few times that I turned down a street only to have it dead-end at a canal, forcing me to retrace my steps until I found a bridge. Eventually, I made my way to the Ponte degli Scalzi, taking me to Cannaregio.
It was just a few more minutes walking to the Jewish ghetto. While it was just after 10:30 by my watch, the 10:30 English language tour of the synagogues hadn't started yet, so I was able to sign up for that. It costs EUR 8, but is the only way one can get into the synagogues, short of actually going to a service. There are five synagogues and the tour included three, as well as providing some general background on Jewish history in Venice. The first synagogue we visited was built by German Jews around 1500. In 1527 Jews got the permanent right to live in Venice, but were confined to the ghetto, which was originally one island. (The word "ghetto" comes from an iron foundry there, and was originally "getto" with a soft "g", but the Germans couldn't pronounce that.) As more Jews arrived, they were eventually given two more islands. However, the confined space still required them to build tall buildings with seven or eight stories.
Anyway, the German synagogue is baroque in style, with lots of fancy panels of what the guide called "marbelino," a material used because Jews were not allowed to use real marble. The irony is that marbelino is now fashionable for how light it is and is, therefore, more expensive than marble. The guide also mentioned that the actual labor of building the synagogues was done by Christian artisans, as Jews were not allowed to join the crafts guilds. The only jobs open to them were money lending, selling second hand goods, and being physicians.
We walked through the museum to get to the next synagogue, built by Ashkenazi Jews from Provence. The museum has the usual array of shiny ritual objects (e.g. candlesticks, kiddush cups, spice boxes, etc.) but is not particularly exciting. The Provencal synagogue is fairly unusual for a series of bas reliefs showing Bible scenes, e.g. the parting of the Red Sea. The last one is supposed to be of Jerusalem, but it's a Jerusalem with a suspicious number of canals.
Going outdoors and around the corner, the guide pointed out a Holocaust memorial. Only a few Venetian Jews survived the Holocaust and the community now numbers about 450, only a handful of whom live in the ghetto. However, the ghetto remains the heart of Jewish life and the two Sephardic synagogues are still used. (The fifth synagogue was built by Italian Jews and we didn't visit it.) The Lebanese / Syrian synagogue is used in winter, as it has central heat. Otherwise, the Spanish and Portugues synagogue is used. We went into the former, which was also recently used in a new film version of "The Merchant of Venice," starring Al Pacino.
After the tour, I meandered around the rest of Cannaregio. The highlight of that was finding Il Gelatone, one of the gelato places that had been recommended to me. The bacio (chocolate and hazelnut) was, indeed, memorable. But woman does not live by gelato alone and I had another basic need to satisfy. I meandered my way back to Piazza San Marco, where I visited Cafe Florian, alleged to be the first coffee house in Europe. It opened in 1720 and is decidedly atmospheric, though quite expensive. To start with, there's the EUR 5 cover charge. The menu says that's for music, though I prefer to think of it as paying for ambience. You can also get food and, if it costs you EUR 20 to become part of the beautiful scene that other people are gawking at, surely that's worth it.
But, pleasant as the music and coffee may be, there is inevitably more sightseeing to be done, and the Palazzo Ducale (Doge's Palace) is obligatory.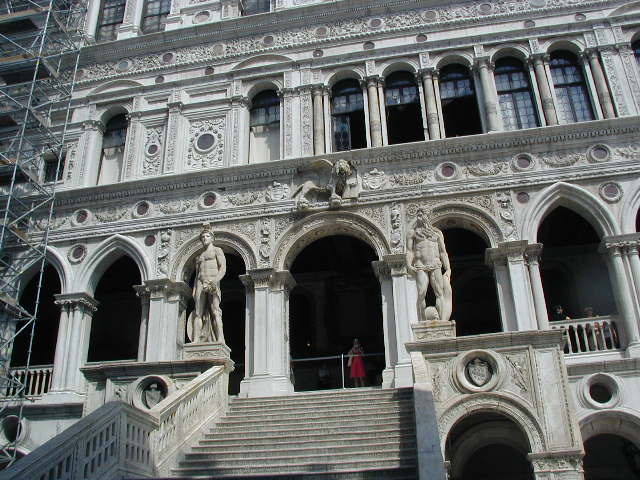 The best bet is to buy a combined museum ticket (at EUR 15.50), because that will encourage you to do more sightseeing, instead of just lounging in cafes for the rest of your life. Within the Doge's Palace, the opulence is everywhere. The Scala d'Oro (Golden Staircase) is particularly gawkworthy, but photography is not permitted inside, so you'll just have to trust me on that. The most interesting piece of art was a bizarre and creepy Bosch triptych. You also see the Bridge of Sighs and the prison it leads to. Inevitably, some teenager feels obliged to try out ghostly moaning while looking at that last glimpse of the Venetian lagoon.
Remember that combined museum ticket? A number of the other museums are conveniently right at Piazza San Marco and I moved on to the complex that includes the Museo Correr (essentially an art museum), the Museo Archeologico (archeology, if you are truly Italian-impaired), and the Sale Monumentali Biblioteca Marciana (big room that used to be a library). The highlights of these were the Canova sculptures and an ornately carved narwhal tusk.
After a bit of a rest, I set out to find the Chiesa San Vidal, where the evening Vivaldi concert was being held. I had dinner at a pizza place nearby in Campo Santo Stefano and made a minor strategic error. Namely, I decided that my second gelato of the day could wait until after the concert. The actual concert, by Interpreti Veneziani, really included just two Vivaldi concerti, along with pieces by Bach, Corelli, and Haydn. It was quite enjoyable and I did whatever the auditory equivalent is of gawking at how beautiful it is. I particularly enjoyed the Corelli piece, largely because the cello took center stage for it, rather than violins. As usual, the poor violist got to play just a few notes here and there. The concert ended about 10:15 and, to my utter shock, nearly everything was closed or closing. Not a gelato to be had! It turns out that Venice, perhaps because tourists outnumber residents by at least two to one on any given day, doesn't go in for the afternoon siesta and late dinner pattern I've experienced elsewhere in Italy. There was no choice but to go back to the hotel and go to sleep at a decent hour.
That meant I was nicely refreshed for the next day, when I bought a full day transport ticket for EUR 10.50. There is also, by the way, a 72 hour ticket, which is good value at EUR 22. I took the vaporetto to Murano, getting off at the Museo stop. Murano is the island of glass making and the Glass Museum was included in the combined museum ticket. The first floor had archaeological exhibits, which surprised me for the complexity of such ancient pieces. Upstairs exhibits focused on Venetian glass specifically. One room was technical, showing tools and techniques, with sample formulas. The other rooms were arranged by century (from 15th century to the present). The finest glass was from the 17th through 19th centuries, with the most notable pieces being centerpieces that consisted of entire gardens of blown glass pieces.
After leaving the museum, I paid a brief visit to the nearby church, which has elaborate gold glass mosaics over the altar, as well as a huge glass crucifix. Then I meandered around the residential areas, eventually stopping for a drink at a cafe. Which brings me to another subject. A few years ago I went to Malta and discovered a soft drink called "kinnie," which seemed to be unique to that nation. I've since learned that this rather bitter citrus and herb based drink is essentially the same as what the Italians call "chinotto" and, more to the point, that it can actually be purchased not very far from where I live. (Wegman's, out by Dulles Airport, sells it for curious Washingtonians.) What I hadn't known until this trip, however, is that the Coca Cola Corporation, who insist on selling only their least interesting products in the U.S. make chinotto flavored Fanta. Their failure to sell this at my local stores is clearly an injustice almost at the level of their failure to sell Stoney Ginger Beer outside of Africa.
After enjoying my chinotto, I did a bit of obligatory shopping. Or, more precisely, browsing. There are any number of inexpensive glass animals on offer - entire families of frogs and penguins and what have you can run under EUR 10. The problem was that everything I liked carried a much higher price tag. Like EUR 250 for a single wine glass. Given that glass is inherently a pain in the neck to transport and there was nothing I thought was so sensational as to be worth having shipped, I confined myself to the browsing.
Then I caught a ferry to the island of Burano, which is known for lace making. There is a lace museum, but it was closed on Tuesday. Gelato places, however, don't close. Neither do the shops selling lace and I did buy a small picture of two kittens playing with a ball of yarn. Incidentally, the local style is a type of needle lace, not bobbin lace, and I only saw one woman working at it. At any rate, the island is a pleasant place to wander, with lots of colorful houses.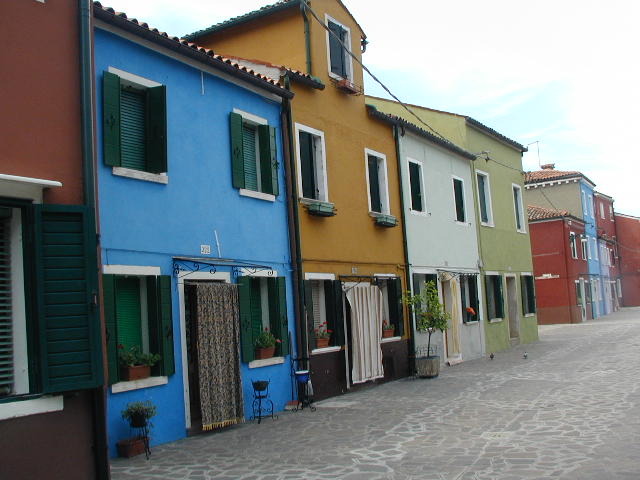 For my final night in Venice, I decided to explore a restaurant I'd heard about that specializes in historical food. Le Bistrot de Venise is gimmicky and a bit pricy, but is a bit of an experience. There are a couple of fixed price options, as well as ordering off the menu. I have to admit that sampling 15th century recipes (e.g. fish with almonds and peaches) was interesting, but mostly led me to conclude that I'm a 21st century gal. Fortunately, the dessert is modern and I enjoyed my tiramisu immensely.
All in all, I really enjoyed Venice and would have liked a little more time there. I never got to the Accademia Galleries, the "house of the Moor," or two recommended gelato shops, for example. I'd also have liked a better guidebook. I used the Eyewitness Top 10 Travel Guide and, while it did cover the basics, I'd have preferred more detail. In fact, the "regular" Eyewitness Guide (and they do have one for Venice and the Veneto) would have been a better choice, despite being quite a bit bulkier to carry.
But I needed to get to Milan. I took a vaporetto down the Grand Canal to the train station. The Eurostar train service was excellent, extremely comfortable, with drinks and snacks included. The train rolled through green countryside, stopping in Padua, Vincenza, Verona, and Brescia, before arriving in Milan. Arriving in Milan was a bit of a jolt. The station is huge but does not appear to have any organized tourist information. (There is, actually, a friendly and helpful tourist information center near the center of town, but one has to actually figure out how to get there first.) In fact, I couldn't even find a map. I ended up asking directions of some passersby, who pointed me towards the Hotel Delle Nazioni, where I'd made my reservation. Alas, there was some mysterious problem with the room, so they walked me to another hotel, the Hotel Flora. This was adequate and friendly enough, but nothing special. On the other hand, I can't say I expect all that much for EUR 39 a night. I left my bags and set out to do an afternoon's sightseeing.
I quickly discovered that Milan is the only major city in Europe without a single sign pointing the way to its major sights. I had managed to obtain a map at the hotel and that let me find my way to La Scala. The opera house may be a famous site, but I couldn't actually visit it as it was also a hardhat area. I quickly concluded that the city emblem of Milan is scaffolding.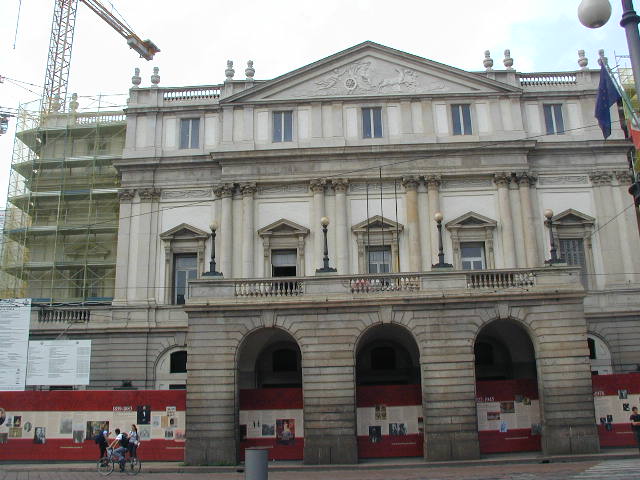 Milan is also famous for the fashion industry. That means that the Galleria Vittorio Emmanuele, which is, essentially, a shopping mall, is ornate and impressive. Unfortunately, all of the stores were closed for the summer holidays.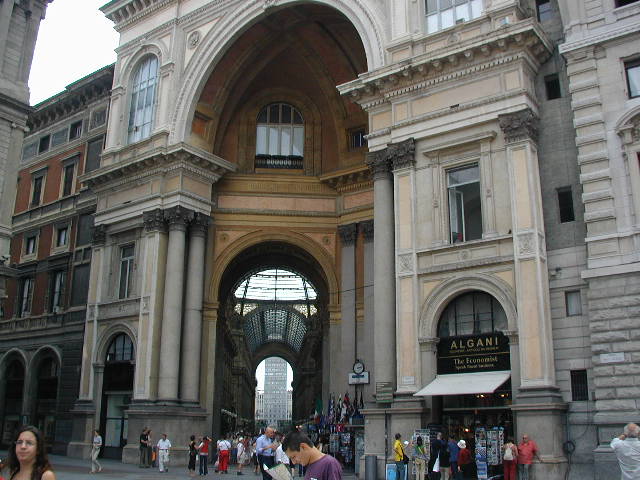 Another major site of Milan is Il Duomo. As soon as I got there, I saw that the entire western side of it is covered with scaffolding. The other sides are, however, impressive.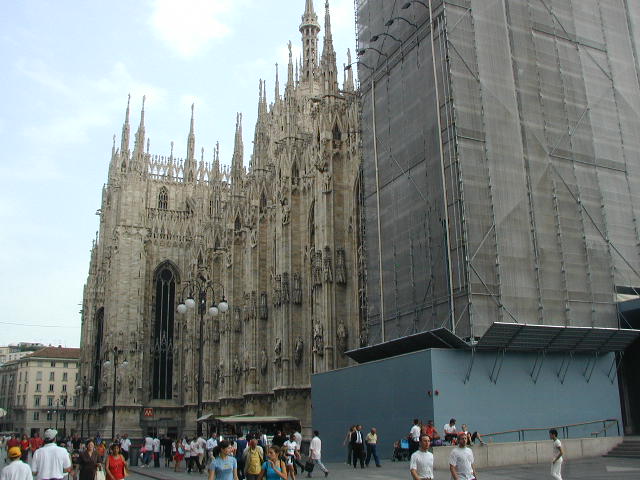 Inside, there's a bit of fan vaulting and lots of exuberant stained glass. And, astonishingly enough, no scaffolding!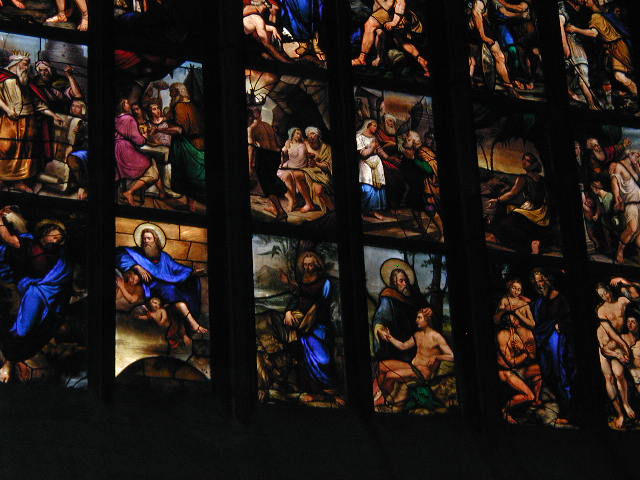 I fortified myself with gelato before heading to the other big tourist attraction in Milan. Namely, the Last Supper. Alas, one needs a reservation to see it, as well as EUR 6.50. I had the money, but tickets for the day were entirely sold out. I gave up and headed to an interenet cafe, where I caught up on email, before having dinner and a relatively early night.
In the morning, I was off to Linate Airport and my Aegean Airlines flight to Athens. It was fairly easy to find the airport bus (to the side of the train station) and there was even some entertainment in the form of a lively argument between the driver and a man who tried to board the bus after all the seats were taken. My Italian is too limited to have caught more than a few words, alas, but it was clearly very very exciting and the driver continued to yell loudly (at other passengers, as the target of his wrath had not actually gotten on the bus) all the way to the airport.
On to Greece | Back to Index
Xenophilia Home
---
Copyright 2004 Miriam H. Nadel

last updated 4 September 2004
Send comments to mhnadel@alum.mit.edu