Warsaw Stories
While I had done almost all of the travel arrangements, I had left Mom in charge of getting us from her house to Kennedy Airport. I had, however, given her a suggestion and it did, indeed work out. Uncle Herbie (Mom's brother) not only drove us to JFK, but brought us the passport of one of my grandmother's brothers (Uncle Murray). That would prove useful in identifying obscure untouristed villages to pursue our roots in.
One of the great pleasures of flying business class is access to the appropriate airport lounges. Mom was especially impressed that we could check our email there. I was pleased to have a note from Michal, who runs The Storyteller Museum in suburban Warsaw and who I'd met fairly briefly at the National Storytelling Network conference in July. He said there was a concert of folk music and storytelling at the Royal Castle the afternoon we arrived and offered to take us there and then show us around a bit after the concert. I quickly emailed back agreeing.
The flight itself was fine, though Lot's business class is not quite as luxurious as some. The immigration and customs formalities were quick and we had time to change a little money before meeting our driver. The exchange rate is roughly 3 zloty (abbreviated PLN, and the "l" is really an l with a bar and pronounced as an English "w" by the way) to the dollar. At any rate, it was a comfortable ride to central Warsaw and the Hotel Sofitel Victoria, which was even more comfortable, particularly as we had an entire suite. Michal called while I was in the shower and we made arrangements for him to pick us up in the afternoon.
Michal (along with his wife and daughter) arrived and we headed off to the Royal Castle. We heard one story and several songs in the courtyard, then went inside to a very ornate room for another story and more music.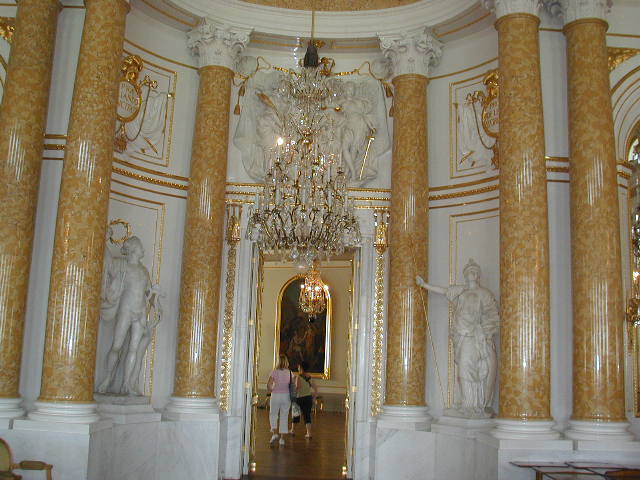 Incidentally, the stories were in Polish, but Michal translated them for us. And the second one turned out to be what is probably best known to storytellers in the U.S. from Doug Lipman's version as "The Sword of Wood." Michal and some of his friends are contemplating the castle as a venue for a festival, so we all meandered through several rooms there, including some that are not open to the public. Afterwards, we walked through the Old City and had an early supper at a "Jewish" restaurant called Pod Samsonen. I used the quotation marks because the restaurant has just a few Jewish dishes on its menu (e.g. tzimmes) and is decidedly not kosher. But the food was good and the conversation flowed. On the way back, Michal revealed himself as a true kindred spirit by being unable to resist stopping at every bookseller we passed. All in all, it was a very pleasant way to recover from the long journey!
I should also mention that Mom told everyone about how both her parents were from Poland but didn't meet there. Throughout the trip, she repeated the story of how my grandparents met to pretty much anybody who would sit still long enough to listen. There might be a tribe on an outer island of Vanuatu that is so remote that they've never heard the story. The short version is that my grandmother, who had emigrated to New York with her parents and siblings, had only two criteria in a man. He had to have his own hair and his own teeth. She was engaged to a man and one day came to his apartment early. He answered the door, sans teeth, and she got very upset. A neighbor suggested she take a vacation and think about what to do and mentioned knowing someone in Havana, Cuba who she could stay with. In the meantime, my (future) grandfather had left Poland and made his way to a yeshiva in Petach Tikva (near Tel Aviv), earning money for his studies by tutoring children along the way. He became a rabbi, but his brother (who had moved to Havana in the part of the story that's never actually explained) wrote to him, told him rabbis in America were starving, and offered to host him if he'd become an apprentice to a watchmaker he knew. Lo and behold, my great-uncle was grandma's neighbor's friend so grandma and grandpa met. She mailed her engagement ring back to Toothless in New York and married grandpa two weeks later.
In the morning, we had an indulgent breakfast at the hotel, where the buffet included several types of herring to keep Mom happy and cucumbers and cheese for me to feel very European with, as well as potato latkes that were almost as good as Mom's. Then we met Tomasz, who would be our guide for the next four days.
We started our tour with Jewish Warsaw. Well, first, we drove past the University and the Church of the Holy Cross, where Frederic Chopin's heart is buried. But our first actual sightseeing stop was to see the remains of the ghetto wall. A few bricks have been removed and brought to Holocaust museums throughought the world.
Then we drove to the Nozyk Synagogue. This was built by the Nozyk family around 1900 to thank G-d for their son having survived a serious illness. It is the only active synagogue in Warsaw and survived destruction only because the Nazis put it to use as a horse stable. A movie was being filmed inside, which created a scene right out of Fiddler on the Roof. Which was, by the way, the featured show at the nearby Jewish theatre.
Our next stop was the cemetery. The original Jewish cemetery of Warsaw had been torn down by the Russians in the 17th century, with the gravestones used as paving materials. This one was started in the 19th century. It included several Holocaust memorials, including symbolic mass graves to victims of the ghetto. There were also graves of several prominent people, including L. L. Zamenhof (the creator of Esperanto). The most impressive tombstone was that of a wealthy merchant, with symbols of his economic influence carved on the front and scenes of Jerusalem carved on the back.
We left the cemetery and drove to the Monument to the Heroes of the Ghetto.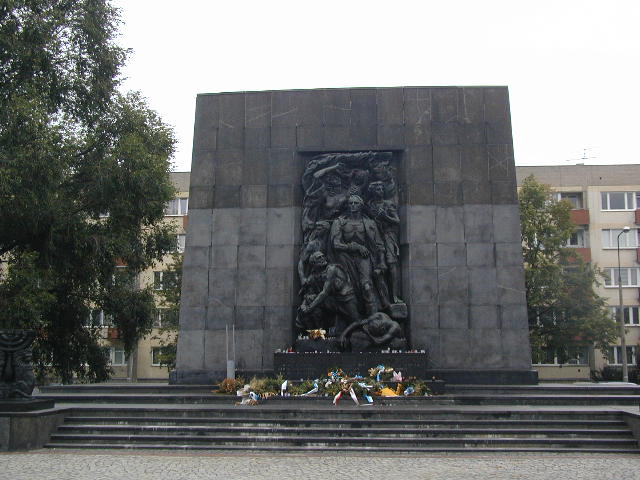 We continued on to Mila 18, where the leaders of the ghetto uprising committed suicide after being trapped in a bunker. Next was the Umschlagplatz Monument, which marks where the railway siding was for the trains used to deport Jews to the concentration camps (primarily to Treblinka). Finally, we went to the Jewish Historical Institute where we saw a film about the ghetto and looked at photos.
Normally, tourists would go next to the Royal Castle, but we had been there the previous day, so Tomasz just pointed out a nearby statue of Herbert Hoover. Apparently, Hoover advocated Polish independence during the negotiations for the Treaty of Versaille after World War I, so he's better liked as an historical figure there than he is here. We continued retracing our route of the previous day by walking up to the New Town, with its square dominated by a statue of a mermaid.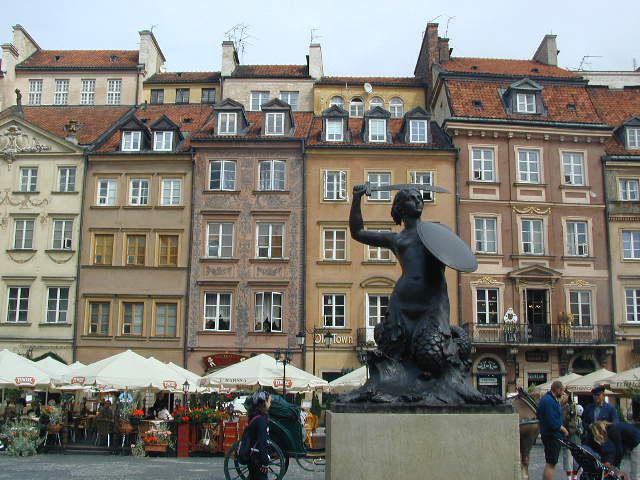 We had delicious cabbage and mushroom pierogi for lunch at a restaurant there. While we ate, I showed Tomasz Uncle Murray's passport. He translated the description on it and I was amused to learn that, in addition to dark blonde hair, Murray had eyes "the color of beer." Tomasz wrote down town names for our next day's excursion, but I'll write about that later.
We walked a short way up Freta Street to Marie Curie's house. It's now a museum, but was closed as it was a Monday. So we returned to the car and drove to the Lazienki Palace. Our first stop was the Palace on the Water, built over the original bathhouse. It, too, is a museum and it, too, is closed on Mondays.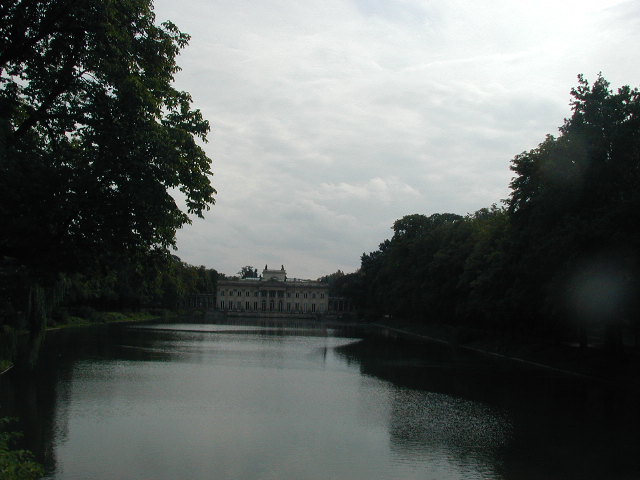 The setting is just as lovely from every angle.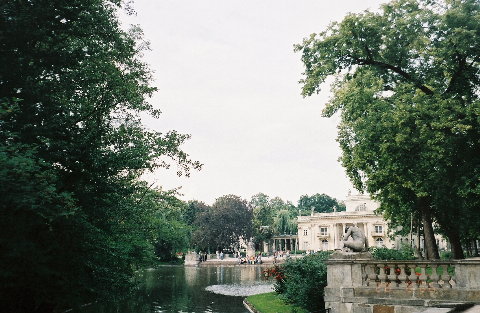 We walked around to the Theatre on the Island, built in imitation of an ancient temple in Lebanon. Note the peacocks strutting around the stage.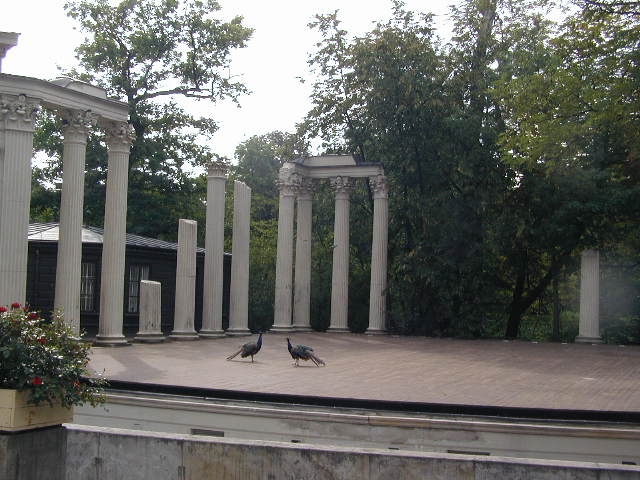 Then we drove around the other side of the park. We looked briefly at the Belvedere palace, which had been the official residence of Polish presidents after World War I and is now used for foreign dignitaries. The more significant attraction is a famous statue of Chopin, sitting under a willow tree for inspiration.
Mom was pretty worn out at that point, so we returned to the hotel. I, of course, have boundless energy and napped only in sympathy with her. When she got up, we went out to get dinner. But first she had to check out the hotel casino. To my relief, she found that it was too much hassle and didn't visit it again for the rest of our stay. As for dinner, we meandered down Nowy Swiat, trying to find somewhere Mom was willing to eat. We ended up at a decent enough Italian restaurant. We returned to the hotel, where we discovered they had turned down the beds - and left us chocolates. I fulfilled my other role on this trip by opening coffee and creamer packets for Mom, before going to bed. I wanted to be particularly well rested, as the next day was our excursion to the ancestral villages. But that's another chapter.

[ On to Next Chapter | Back to Index]

Copyright 2006 Miriam H. Nadel

last updated 5 November 2006
Send comments to mhnadel@alum.mit.edu