| | | |
| --- | --- | --- |
| | | Is Manitoba Unbearable? Not at All! - November 2000 |
---
This travelogue describes my trip in November 2000 to Churchill, Manitoba to take the "Lords of the Arctic" class at the Churchill Northern Studies Centre. It's divided into sections for easier reading. If you just want to see polar bear photos, you want to look at Saturday and Monday. Otherwise, read on!
Tuesday and Wednesday - De Train! De Train!
If This Is Thursday, It Must Be Winnipeg
My long term readers know that a lot of my travelogues start with a section on why. The question is particularly relevant when you consider that the week before Thanksgiving saw several members of my group at work taking vacation. My boss stayed within California. A colleague was off to the sun and sand of Cancun. And I was gathering all of my warmest clothing and heading off to northern Manitoba.
Why? I first became aware of Churchill, Manitoba out of my fondness for train travel. The route between Winnipeg and Churchill was mentioned in a book on North American rail travel that I read roughly a decade ago and I was intrigued by being able to take a train somewhere that you couldn't drive to. Further research revealed that Churchill was well-known as the "polar bear capital of the world" and was an excellent place to see the aurora borealis. I've always liked bears in general, and polar bears in particular - just ask anybody who's ever gone to a zoo with me! I've also been mildly obsessed with seeing the aurora for a while and was thwarted on a previous attempt when the skies over Fairbanks, Alaska were uncharacteristically overcast the entire time I was there. The prospect of seeing polar bears in the wild, a reasonable chance of aurora viewing and an opportunity to take a classic rail journey pushed Churchill high onto my list of vacation destinations.
The decision to go to Churchill was easy enough, but figuring out the best way to do it was more complicated. The search resources of the Internet are a great boon. I quickly learned that there are any number of companies offering travel packages that seemed geared primarily to getting people to Churchill for a quick look at the bears and getting them home again in a day or two. That may be what some people want, but it isn't my style. And, then, I read a USENET post in rec.travel.usa-canada from someone who had once volunteered at the Churchill Northern Studies Centre. (I'll use the abbreviation CNSC throughout the rest of this.) A look at their web page suggested that there was a more suitable alternative. It wasn't long before I'd signed up for one of their "learning vacations." The program (Lords of the Arctic) would include two tundra vehicle trips, a helicopter flight, a dog sled ride, and a day in town - not all that unlike the conventional tours. But there would also be evening lectures, providing an opportunity for better understanding of bear behavior and a greater appreciation of what I'd see. It didn't hurt that the price was also considerably lower.
The course fees including accommodations and meals, but there was still the matter of transportation. I knew I wanted to take the train one way, so I started with Via Rail. Sleepers are expensive and are often booked up far in advance by the tour companies. I was willing to sleep in a seat for two nights, but decided it was best to do that on the way home. Then came arranging the air travel portion of the trip. A call to Canadian (not quite merged fully into Air Canada when I was making my bookings) got me a rather convoluted route - LAX to Toronto to Winnipeg on Air Canada and Winnipeg to Churchill on Calm Air (which is the major regional carrier). A better alternative from the West Coast would probably include an overnight in Vancouver or Calgary, by the way. For symmetry, my return from Winnipeg was also via Toronto. I didn't trust the train to be on time, so I left myself a day in Winnipeg on the way home.
I'll mention briefly that the accommodations were basic, but comfortable. Because there were only a small number of people in our group, we each had our own rooms. More to the point, the small group meant no lines for the showers. Since there were just two showers in the lady's room, I'd imagine that could be an issue with a large crowd. The food was surprisingly good. Apparently, Paul (the cook) had worked at a fancy restaurant in Ontario at one time. His desserts were particularly notable and responsible for more than one meditative moment of appreciation!
The trip up to Churchill was smooth enough, albeit tedious, with a lot of waiting around for connections. I should also note that the Toronto airport has particularly bad signage. There was also a delay at Winnipeg for deicing. The Calm Air flight proved to be on a Saab 340B. This was a minor disappointment for two reasons. First, this is one of the noisier turboprops around, even with their active noise reduction. More significantly, I'd read that Calm Air flies Hawker Siddeley 748s and I always like the chance to fly on an aircraft I haven't been on before. Still, the important part is that we arrived safely. I'll also note that Calm Air serves excellent cookies!
Two other course participants were on my flight (two had come by train and the rest were on the later flight) and we were met at the airport by Mike, who turned out to be the executive director of the CNSC. The CNSC is several kilometers east of the airport (which is east of the town of Churchill) and, on the way there, we saw - and nearly ran over - an arctic fox. We checked in and were shown around by Carly, a co-op student who was the main program coordinator. (We'd later meet Melissa, the CNSC director, and Matt, another staffer.) We expected to be sharing dorm rooms, but the small size of the group meant we could all have our own rooms. There was a quick mention of bear safety, with the main rule being not to go outside without a staff member. Dinner included a lesson in using the dishwasher, something else that people on the luxury tours don't get to learn about! The evening flight was also late, so our first lecture was delayed. We introduced ourselves and I was pleased that many of the other participants also identified seeing the aurora as a high priority. I'll note that the group included a crew from the magazine, Real Simple - two photographers, a creative director, and a freelance writer, along with the writer's husband and 11 month old son. I don't normally buy magazines, but I'll probably pick up the February 2001 issue to see their piece.
Our instructor was Terry DeBruyn. Terry is an expert on black bears and the author of the book, Walking With Bears, about his research on and relationship with a bear he habituated to his presence. His initial lecture was, essentially, an introduction to polar bear biology. Bear trivia for the day included:
Polar bears and brown bears can breed with each other and have fertile offspring.
Black and brown bears have white skin. Polar bears have black skin.
Males can be up to 12 feet long and up to 2000 pounds in weight, while females can be up to 9 feet long and up to 1000 pounds in weight.
There are about 15 discrete populations of polar bears in the wild. About 12-1500 bears live in the Hudson Bay region.
About 50-60% of cubs die in their first year. If they survive, a typical lifespan is 20 years. The biggest threats are killer whales and walruses in the water.
Two or three cubs is the most common litter size. Cubs in a litter can have different fathers. One of the really interesting things about bear life cycles is delayed implantation; fertilized eggs only implant if the female has enough body fat to support the pregnancy. (We all agreed that if you could substitute money for body fat and this would be a great adaptation for humans!)
Females nurse the cubs for about two and a half years. Bear milk is high in fat - about 47% (vs. roughly 4% for cow milk or human milk).
The major food of polar bears is the ringed seal. Bears wait at the seal's breathing holes and get them when they surface. Usually, they strip the skin and fat and leave the red meat, which other animals (including female bears and cubs) scavenge.
The reason that Churchill is such a good place to see bears is that they're forced to come ashore when the ice in Hudson Bay melts. They fast while they're on land, since the effort of hunting wouldn't be worth the calories in the food they could get. When the bay is refreezing in October and November, they gather at the shore, waiting for the ice to be solid enough for them to get out onto it and hunt.
Just as we were finishing breakfast, someone called out that there was a bear by the building. We all went to look out the windows and saw three bears - a female and two cubs. They were beautiful, but we did understand why they had to be chased away (via dog and gun with cracker shells). Unfortunately, I didn't have my camera handy, so had to wait until our official excursions for bear photos.
Friday's program was a trip to the town of Churchill. On the way into town, we saw two arctic foxes. Mike described them quite accurately and amusingly as being animals that are the size of cats with their fur and the size of chihuahuas under it.
Churchill is a very small town, but a fairly interesting one. There's been a lot of work to keep bears from coming into town and there's a "polar bear jail" for bears that do come to town. The bears that land in jail are either trucked or flown further north. Another point of interest is the port. Grain is sent up to Churchill by train and shipped via Hudson Bay, primarily to Europe. And then there's the one building which serves as administrative hall, school, hospital, swimming pool and skating rink - a pretty clever solution to the harsh climate.
The morning was divided between drinking tea at Gypsy's (a nice bakery/restaurant) and shopping. The stores sell pretty much the same tourist oriented goods, little of which interested me. I liked the music playing at one shop, but the salesclerk couldn't identify what tape or CD it was, making it impossible to buy. Limited luggage space also helped keep me from buying books and stuffed animals, despite the considerable temptations. An obligatory stop was the post office, where I got my passport stamped. (You can also have them stamp a book or just a piece of paper, should you wish.) But, overall, the single thing I think I spent the greatest amount of time doing was wiping off my glasses, which fogged up every time I stepped into a heated building from the frigid outdoors.
The afternoon started with watching three videos at the Parks Interpretive Centre. The first video was on the history of the Hudson Bay Company and centered largely on the British versus French rivalry in the fur trade. The second video was about the effects of global warming on the polar bears. Since they feed on ice (and mostly fast while on land), this is a significant concern. Without a lengthy enough freeze on Hudson Bay, fertility is lower and more of the cubs that are born will starve. A very dramatic example of the difference has to do with the year that Mount Pinatubo erupted. The ash cloud cooled the atmosphere - and "Pinatubo bears" (i.e. bears born that year) are noticeably larger than others. The final video was about Arctic life in general and its main effect on me was to awaken a desire to see narwhals.
We proceeded on to the Eskimo Museum. While there's a wide range of material, many of the carvings are modern, albeit based on real artifacts. In a sense, it was pretty much a small town general museum, with things like a pickled polar bear in a glass jar and an arctic fox skeleton, along with the Inuit material. I found it fairly interesting, particularly because a lot of the explanatory placards included folktales. There's a sizable museum shop, with a particularly good book selection. While we were in the museum, Norbert Rosing, who is famous for his polar bear photographs, came in and several people had him autograph books for them. (By the way, you can see some of his photos in the December 2000 issue of National Geographic.)
The evening presentation was supposed to be about the Polar Bear Alert program, but the Conservation Centre folks were too busy to come. Instead, we had a lecture by Marcus Dick, a researcher at the CNSC. His research involves the effects of tourism on the bears. His work has involved both observations of bear behavior and measurements of fecal cortisol (a stress hormone). He emphasized that his results are very preliminary, but they do suggest that tourism stresses the bears, based on changes in their resting behavior. The effect seems greater on females and cubs. His suggestions included elimination of night tours, restricting the number of vehicles around a particular bear, and limiting the times of helicopter flights.
Out first tundra vehicle trip was on Saturday. Incidentally, you may have heard them called "tundra buggies," but that is the trademark of one of the two companies operating tours. We actually went with the other company, Great White Bear Tours, although CNSC does use Tundra Buggy Tours, too. The vehicles of both companies are essentially the same. Think of a schoolbus. Paint it white and add huge squishy tires, so it can get over pretty much any terrain. The windows open for photography and there's a back deck, too. Fortunately, there's a stove in the back so you can thaw yourself out after taking pictures. Incidentally, the magazine people had one vehicle and the rest of us had another, which meant that there was plenty of room.
The first bears we saw were the same mother and cubs we'd seen hanging around the CNSC on Friday morning. In this photo, you can see the rocket launchers from the days when the CNSC was part of the rocket range, used by NASA for high atmosphere research in the 1960's, in the background.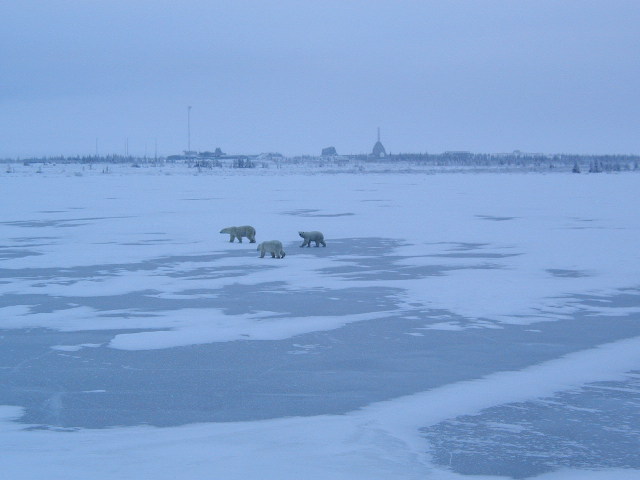 As we drove further, we saw a similar family, nestled under a tree. They were too far off for me to photograph, though. We also saw a couple of arctic foxes. We continued along and then had prime bear sightings.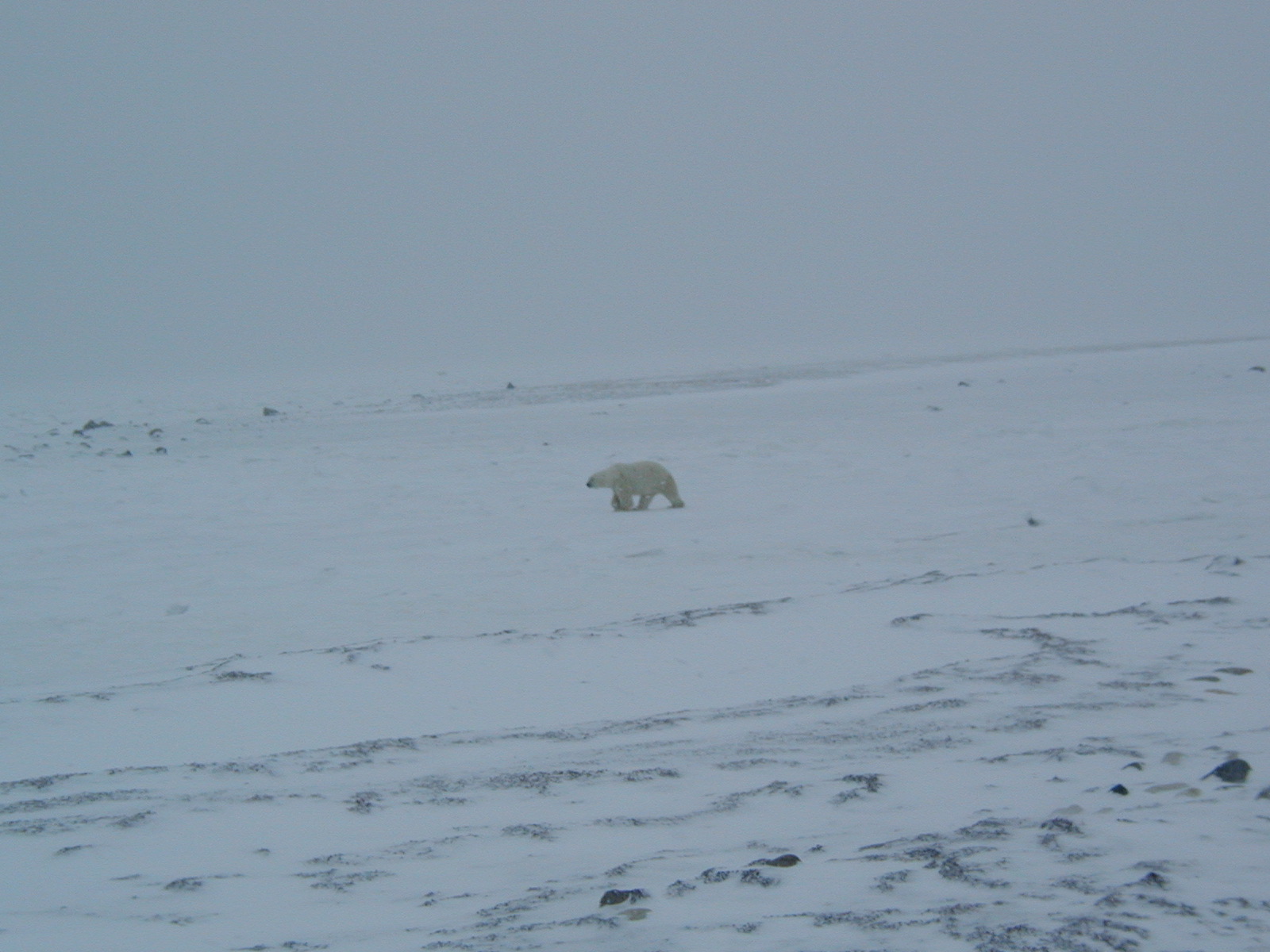 One of the funniest sights (but not within camera distance) was a bear playing with a piece of fabric, possibly a blanket or tablecloth. He was stretched out by the propane tank of one of the "lodges" made up of tundra vehicles and trailers, which enable one to be surrounded by bears full time for a couple of days, at extravagant cost. Obviously the lodges are successful, as they sell out far in advance. While we were watching him, a female and cubs approached and came quite close to us. (Note the lodge in the background of this picture.)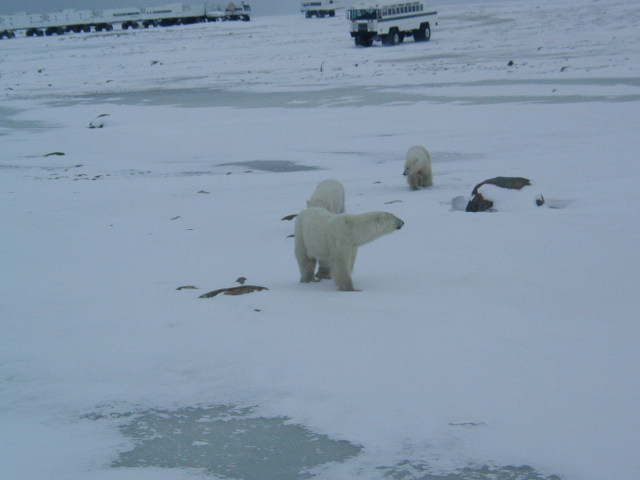 Is there anything cuter than a cub?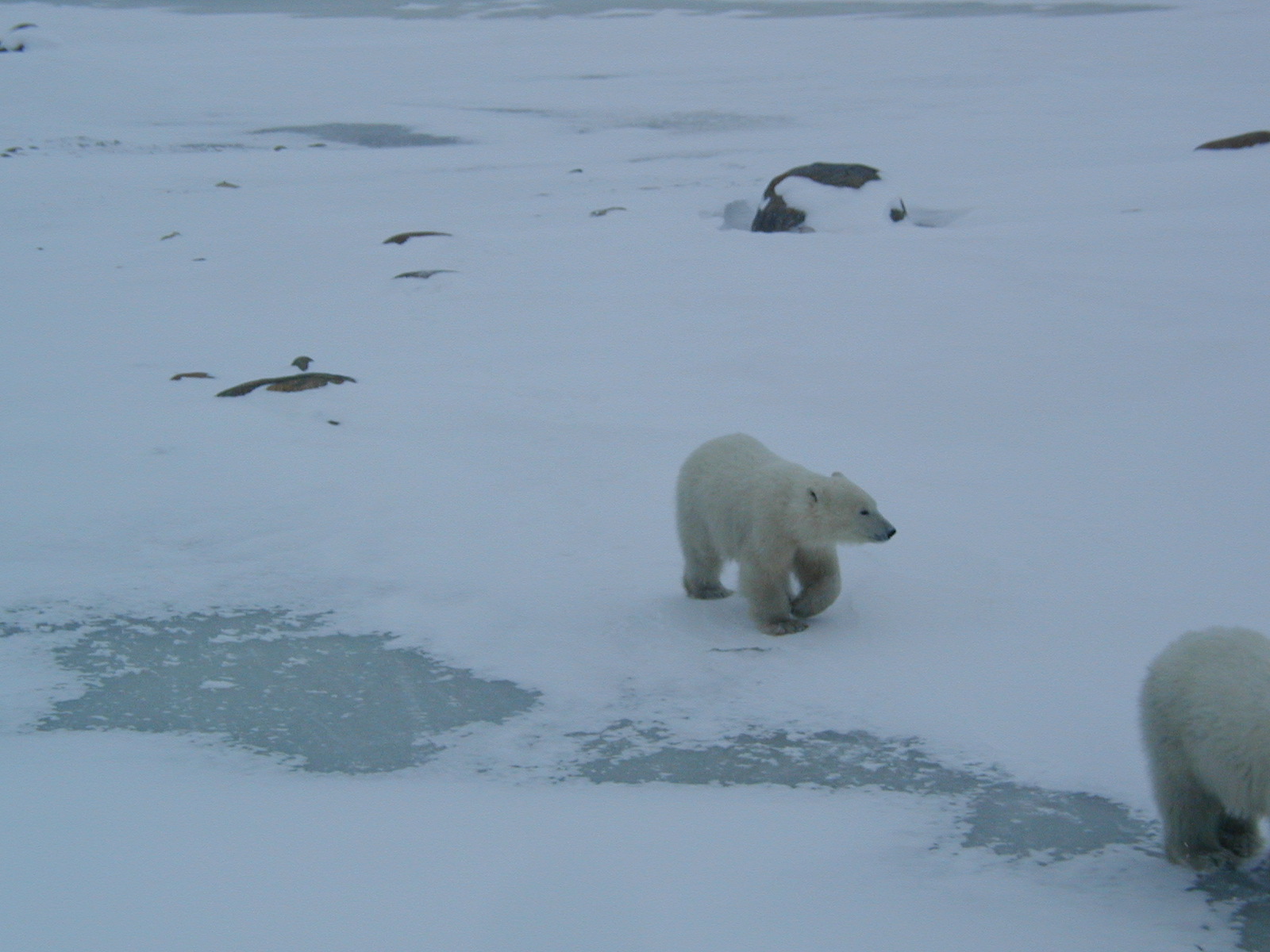 Mother looks on cautiously, protective of her cubs. But it's still impressive how close to us she's willing to get.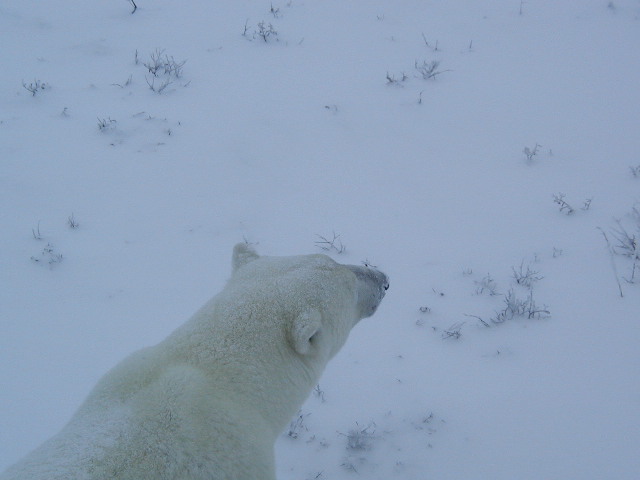 Overall, we saw about a dozen bears, which made the excursion a major success. On the way back from the tundra vehicle launching area to the CNSC, we had our obligatory bit of adventure travel, as Carly drove the van into a ditch. Most of us were able to just hop into a second CNSC vehicle, while the police happened along with perfect timing to bring the rest back. Unfortunately, nobody had bothered to tell the police that they weren't going to town, so there was a minor detour on the way. Still, everyone did get back safely, in plenty of time for dinner and for the evening program, during which Terry talked about his seven years of walking with bears in the Upper Peninsula of Michigan. What struck me the most was his obvious love of and respect for the bears he spent that time with. I was also shocked to learn that it is perfectly legal for hunters to kill research bears. I suppose that, practically, one wouldn't expect hunters to get all that close, but it isn't like radio collars are exactly invisible.
Sunday began with a lecture. This time, Terry talked about how to behave around bears and how to interpret their behavior. When stressed, bears first extend their lips. That progresses to nervous yawning, followed by displaced aggression (e.g. biting a stick), rapid huffs and swatting the ground. The best approach is to make noise. Groups of at least five people are safest, since they look big to a bear. Terry said that pepper spray right in the face can be effective, too, but you need to remember that it just gives you time to get away and the bear will come back. Spraying it around your campsite is entirely ineffective, though, as bears like the taste and will be attracted to it.
After the talk, it was time for our helicopter rides, preceded by a short safety talk. Since it was four passengers at a time, we were in three groups. I was in the final group, so had a lot of waiting around to do. While waiting, I heard some good "would you believe the things tourist do stories?" from the helicopter safety officer and the CNSC staff. The most amusing involved the guy who was determined to see "Arctic giraffes" - and who did claim to see several during his helicopter ride. The ride itself was interesting. First, we flew over the wreck of the Ithaca in Hudson Bay. Then we flew over to Fox Island, where we did see one bear, and spent a fair amount of time looking for a mother and cubs that another pilot had seen. I was particularly fascinated by the patterns in the pack ice.
We were supposed to have a dog sled ride in the afternoon, but it was cancelled. Mike gave a talk about his research on ringed seals to fill in some of the time. He emphasized the nutritional, economic and cultural importance of seals to the Inuit people. For example, a sealskin vest is the height of formal wear for Inuit men. After his talk, Carly and Matt took people out for short snowmobile rides. I'd never been on a snowmobile before and I can't say I really enjoyed it. Hanging on was hard on the wrists and I'm not overly fond of gas fumes. I could probably enjoy driving one, though, assuming I had on a third pair of gloves to keep my hands from freezing!
The evening presentation was a slide show by Kevin Burke. He's lived in Churchill a number of years and has helped with bear research, as well as photographing bears. He started out by explaining that polar bears come in three sizes - "big, really big and holy cow!" In addition to stunning photos, he had some interesting stories, including the time a bear figured out how to open the door of a tundra vehicle. On a sadder note, he talked about the impact of environmental changes on the bears. Researchers are finding high levels of PCBs and other organic chemicals in the fat, blood and breast milk of polar bears. The impact of this won't be known for two generations, but one possibility that has already been observed is a higher rate of hermaphroditism.
The previous days had been cloudy, but Sunday had been bright and sunny. Since it was still clear out when I went to bed, I left the blinds up in my room. Sure enough, around eleven, there was a knock at my door. The Northern Lights were out! I could just see a streak from my window - a bright green arc across the sky. I headed over to the observation dome (within the CNSC building), joining several others there. It turned out that what I'd seen from my room was just the tail of the arc and there was a sort of swirling movement of the light at the other end. We watched for about half an hour, until clouds came in and there wasn't much left to see. But it was great while it lasted.
Monday featured our second tundra vehicle excursion. This time, all of us, including the magazine folks, were in one vehicle. It had gotten quite a bit colder since Saturday and, as we'd seen from the helicopter, the ice was forming up pretty solidly. There was a little sun and we could see "sun dogs" (a sort of halo effect around the sun, which had been more visible on Sunday). When we saw a silver fox, we feared that might be the only real wildlife of the day. Fortunately, we did eventually see a few bears, moving swiftly out onto the ice. They were just specks, even with binoculars, so I was despairing of anything photographable. And then we came across a female and cubs, more or less the last bears still on the tundra, near the Tundra Buggy camp (which was, by the way, being dismantled for the season). We waited, and they approached to check us out. Notice how the cubs have chosen the oh so photogenic tire tracks as their background!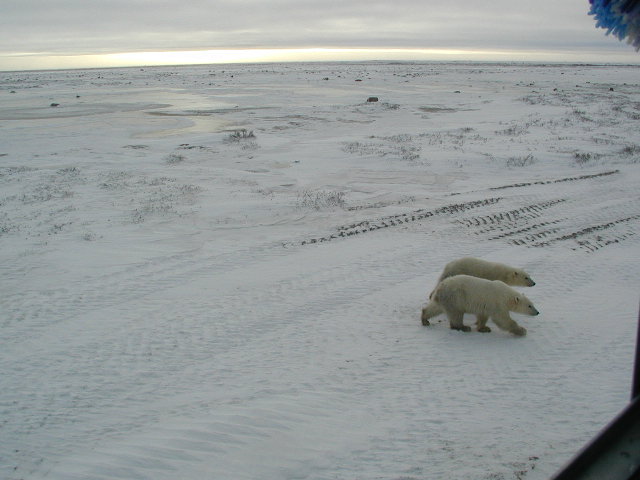 These views give a better idea of just how majestic the bears are.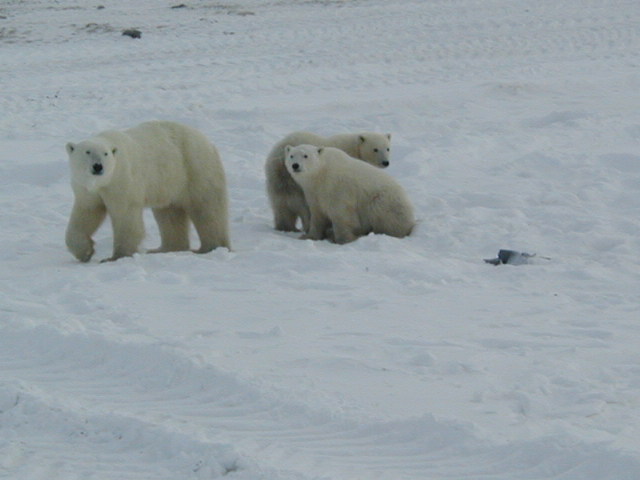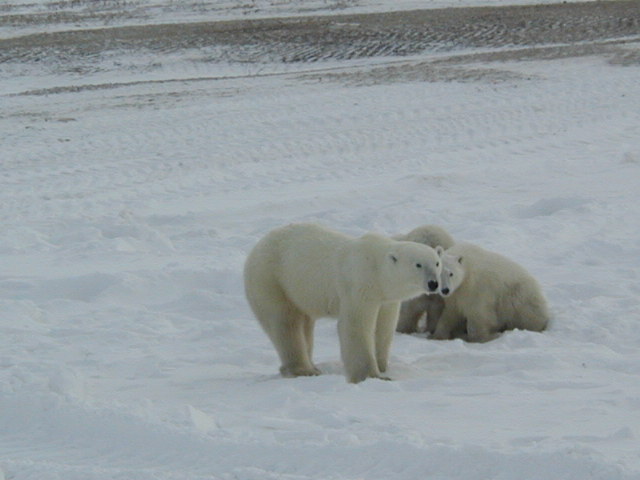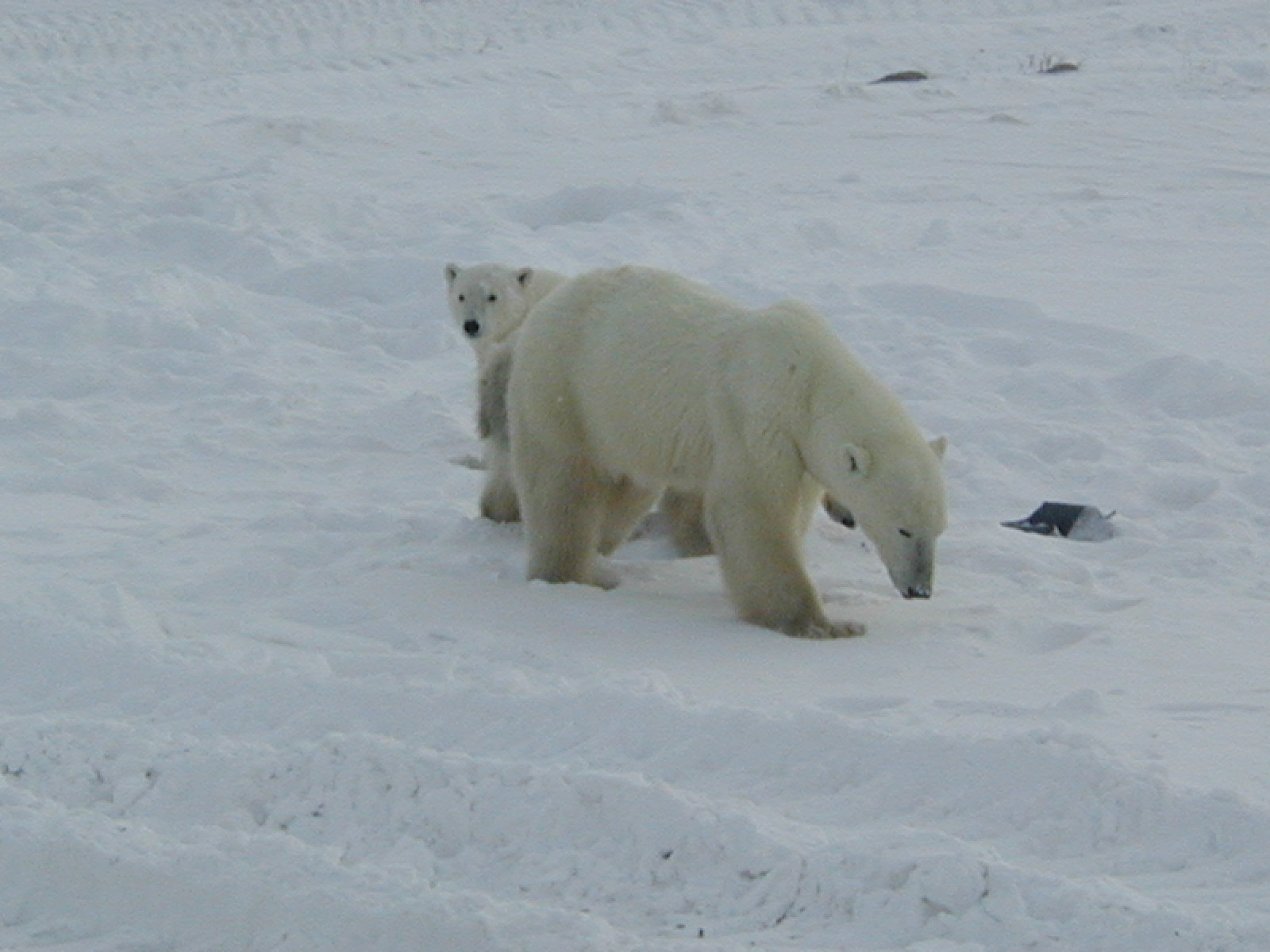 Here the mother takes center stage. You can see how lean she is from the months of fasting on the land.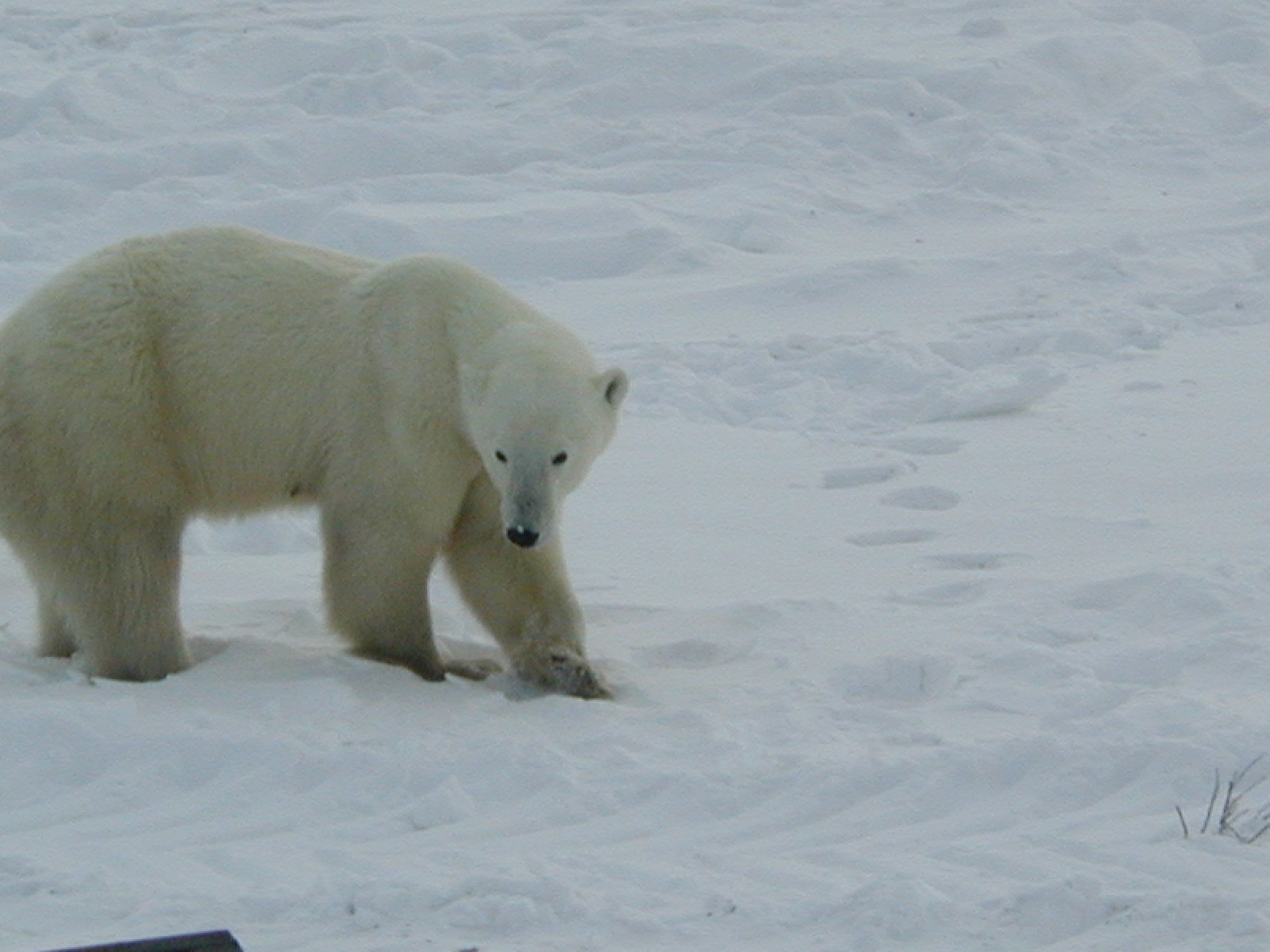 Finally, they turned and walked off, away to the ice for the winter. Seeing them off felt like a tremendous privilege.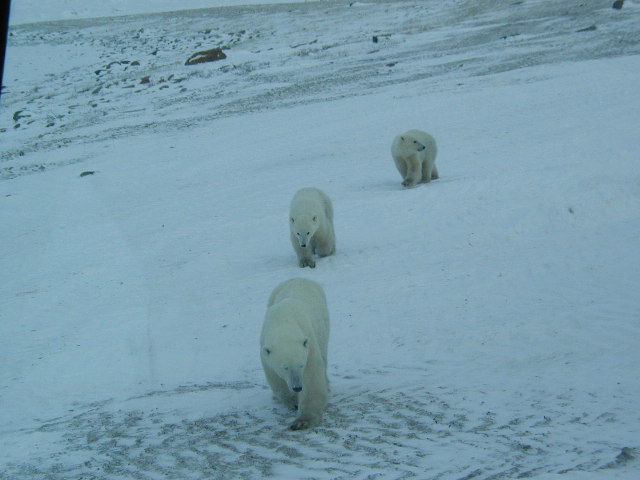 That was it for bear viewing, though we did see a flock of ptarmigan on the way back. The tundra vehicle took us all the way back to the CNSC, so we didn't even get to risk getting trapped in a snow drift! We were back around 2:30 in the afternoon, and Melissa organized a walk for 3:30. It was tempting, but I didn't feel like pulling on all my layers of clothing again, so I caught up on my journal writing instead. After dinner, we had a wrap-up discussion, which ended up focusing largely on environmental concerns. That was followed by wine and cheese, and more conversation.
The sky was reasonably clear, so I left my blinds open and went to sleep with a mental note to wake up if the aurora appeared. My power of suggestion must work well, since I woke up at 1:30 in the morning for no apparent reason. I looked out the window - and saw a streak of greenish white. I woke up other people and headed to the dome. There was a lot more movement than there had been the previous night. Each time we thought things were over, new rays of light would appear in a different part of the sky. We watched for over an hour, in hushed awe. (Well, there was an "oh, wow!" or three in there, so perhaps not entirely hushed!) I'm not particularly good at things that require sleep deprivation, but this was worth it!
Most of the group was leaving by plane, so the news that the sole Calm Air flight of the day was delayed about an hour triggered a flurry of telephone calls to rearrange connections. This was a bigger concern for the Americans than for the Canadians, due to limited availability of alternate flights on the Tuesday before Thanksgiving. After everyone left for the airport, it was dead quiet, with just me and one couple who would be taking the train left from our group. I used the time to read, catch up on journal writing, and write postcards. We left for the train station around 7 in the evening, with a little bit of aurora in the air.
I was pleased that the train was not very crowded, letting me stretch out and sleep somewhat better. I was still woken up around midnight by two women chattering excitedly about seeing the aurora out the window. It wasn't as spectacular as the previous night, but I still enjoyed my final glimpses of one of nature's best shows.
The train takes about 36 hours and the daylight scenery is pretty much through the sort of forest that Russians call taiga. I noticed areas with a lot of damaged trees and thought first of forestry. But then I remembered similar areas in central Alaska that had been attributed to the work of beavers. The two major towns that we passed through were Thompson and The Pas. The latter's name is pronounced more or less "de paw", by the way. At several other stops, we seemed to merely pause by a crossing, where people with trucks and snowmobiles gathered to meet arriving passengers.
Aside from sleeping, I occupied time by reading and chatting with other passengers. I'd have to say that the most typical passenger is a woman from The Pas heading to Winnipeg for a few days of shopping with her friends. I ate breakfast and dinner in the dining car and want to note that the food was good and the prices were surprisingly reasonable. For example, dinner entrees (a choice of pot roast, salmon, or a farmer's platter of sausage and pierogies) were only $11 (and those are Canadian dollars, so even cheaper).
We arrived in Winnipeg about an hour late, which isn't too bad given the length of the trip. I had a reservation at the Radisson downtown and took a taxi over. It would be easy walking distance in warmer weather and with less luggage. I was pleased that I could check into my room right away, since two nights on the train meant that I really wanted a long hot shower.
After showering and putting on fresh clothing, I walked over to the Manitoba Museum of Man and Nature. This is one of the major tourist attractions of the city and I thought it was, generally, very good. The museum is divided into several areas, starting with a bison diorama at the orientation area. You then move through Earth History, Arctic-Subarctic, Boreal Forest, Nonsuch, Grasslands and Urban areas. I was particularly interested in the Arctic-Subarctic displays, which started with a polar bear diorama and had extensive information about both wildlife and the Inuit and Chipewyan people who depended on the Caribou for their traditional lifestyle. The Nonsuch is probably the most popular exhibit, a replica of the ketch that triggered the fur trade in western Canada. There are several display cases discussing the Hudson Bay Company in the same general part of the museum. There was also a large group of schoolchildren, though, making it harder to get to the exhibits. I also enjoyed a temporary exhibit of dolls from around the world.
Overall, I'd say that the museum is as good as any regional natural history museum I've been to and well worth a few hours. There is also a hands-on science museum and a planetarium in the complex, so you could easily fill an entire day (or more - they sell a three day combined pass). I walked back towards the hotel, but continued on via the skywalk system to the Portage Place shopping mall. The skywalks go on for roughly a mile, connecting several downtown buildings and greatly facilitating winter walking. The real reason for this expedition was a large bookstore in the mall. I discovered, alas, that the works of James Powell (a Canadian mystery writer) are just as hard to find in Canada as here. (Actually, the only collection of his stories that I know of is probably just out of print, but I had been hopeful.) Overall, Winnipeg seemed to be a pleasant enough city and I'd certainly like to return there weather more conducive to extensive outdoor walking.
I got home without incident, despite the general chaos of the Toronto airport. One of the oddities there is that you go through U.S. immigration and customs there, instead of on arrival back in the States. The signage for the baggage claim area used for connecting passengers to the U.S. is confusing. And the baggage claim area itself is too small, particularly since all baggage was removed from the belt after one trip around and lined up right where people enter the area, blocking traffic flow. It would also have helped if there was actually somebody at the belt where you are supposed to recheck your bag. I managed to figure this out (there is a sign, but it's not very noticeable), but saw a lot of people looking confused. I'll also note that the immigration and customs forms are only available at the desk in the baggage claim area, with no signs indicating that. So I saw several people have to go back there after waiting in line, because they hadn't gotten forms. None of this was a big issue, since I had plenty of time, but it's mildly annoying because it would be so simple to fix.
Anyway, I went to Churchill to see polar bears and the aurora borealis. Having been successful at both, I was obviously pleased. Whether or not I'd recommend that somebody else go is a tougher question. No travel is without impact, so I'd suggest you think about why you want to go. If you sincerely want to admire one of the most majestic sights that nature has to offer, then go. Consider going relatively later in the season (November vs. October) since the snow and ice mean that the tundra vehicles tear up the land less. Educating yourself about what you see will help you appreciate it better and I can certainly recommend the CNSC in that respect. It may not be the most suitable approach if you insist on luxury, though. But you can still demand environmental responsibility from whoever you travel with.
I'll also note that, while I found the train ride interesting, most people would not want to spend two nights on the train without a sleeper. The main advantage of the train is to gain an appreciation of distance. (This is true of trains over other modes of transportation, in general, of course, and is why I like them.) Going one way by train and the other by air was a good compromise.
Finally, don't overlook the distinctive Northern culture. I was amused every time I heard someone refer to "the South" and realized they meant Winnipeg or Toronto! Churchill is a unique place and it's particularly sad that such a large number of tourists there come for just a day or two. After spending five days there, I'd happily go back.
---
Copyright 2000 Miriam H. Nadel

last updated 3 December 2000
Send comments to mhnadel@alum.mit.edu