Returning to Guayaquil
Our final morning had us circumnavigate Daphne Major. It's a steep volcanic tuff cone, which is famous because of the book, The Beak of the Finch. In brief, a couple who've been researching finches there have demonstrated the effect of natural selection on beak size, based on conditions from generation to generation.
After breakfast, we watched a video in the lounge - a Scientific American Frontiers episode about the Galapagos, starring Alan Alda (and Lynn). This had an unintended effect on me, as Alda read various passages from Darwin's The Voyage of the Beagle. When I went back to reading that book, I found myself hearing Darwin's words in Alda's voice throughout.
Then we got in the pangas for the last time for the trip to the dock at Baltra. There were some final sea lions waiting for us at the dock and I found it amusing to watch one scamper across the road. A short bus ride took us back to the airport and our flight back to Guayaquil. Once there, we were met by the Metropolitan Touring representatives and taken to the hotel, where we had juice and light snacks.
Late in the afternoon, we were taken on a city tour. Guayaquil has a bad reputation, but the tour showed a nicer side to the city than I'd expected. First, we passed a large city cemetery, which was very elegant with elaborate white mausoleums, similar to La Recoleta in Buenos Aires, but with more open space. Then we drove down 9 de Octubre, the main street of Guayaquil. Along the way, we passed Parque del Centenario, a large plaza with mythological monuments at the entrance and a tall central column topped by a figure of Liberty. Next to it, we got stopped by traffic police. The driver may have paid a bribe to avoid a ticket, but I was sitting on the other side of the bus, so I can't be certain.
At Parque Bolivar, also known as the Iguana Park, we got out and walked. This plaza faces the cathedral, which is quite grand - at least, from the outside. In the plaza, there's a statue of Bolivar, an Oriental-styled gazebo, and a lot of gardens with land iguanas.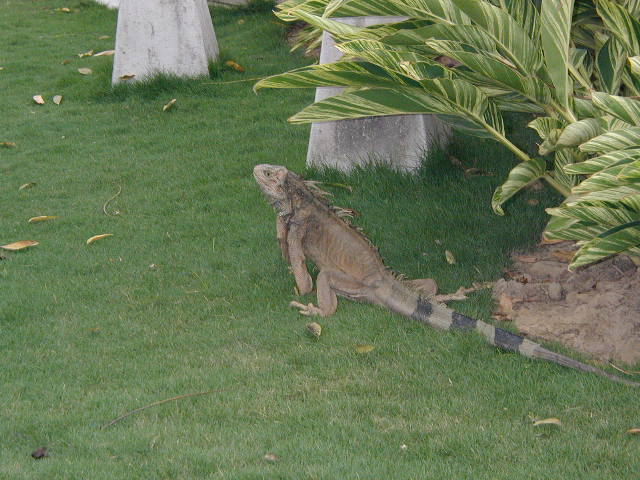 There are also a lot of begging children, alas. We successfully evaded them and reboarded the bus to go to the waterfront, on the Guayas River. Malecon 2000 represents a major urban renewal project. It includes various older monuments, though, including a Moorish-style clock tower originally built in 1770 and La Rotonda, which commemorates a meeting between Bolivar and San Martin.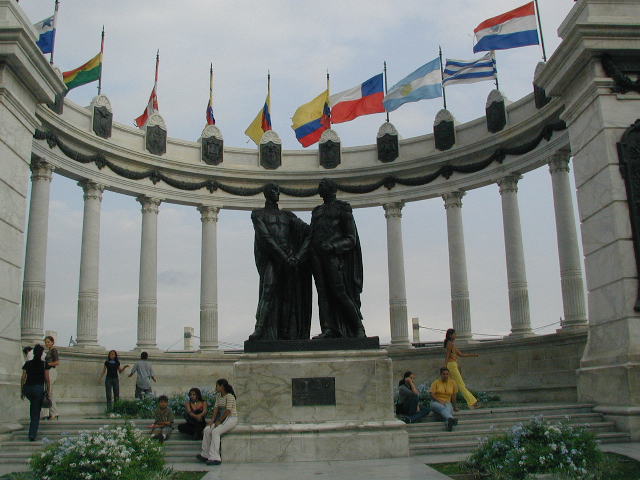 There are also newer statues, representing earth, air, fire and water. In addition, there are several shops and restaurants and new gardens are being planted at the north end. Overall, the Malecon is nicely done and is a pleasant place to stroll. They are apparently planning a similar redevelopment at the canals on the west side of the city and I wish them great success with it.
We drove back, passing La Penas, an older "bohemian" district that is being redeveloped and is brightly painted, along the lines of La Boca in Buenos Aires. We drove past the canals and the cemetery (again) and stopped at a crafts shop a block from the hotel. I browsed briefly, but I had several more days to shop so didn't buy anything.
Back to Previous Chapter | Back to Ecuador Index | On to Next Chapter | Xenophilia Home
---
Copyright 2002 Miriam H. Nadel

last updated 21 January 2002
Send comments to mhnadel@alum.mit.edu