The Toothbrush Trail to Cuenca
In the morning, I rearranged my luggage, reducing my clothing for the next five days to what would fit in my day pack. While everyone else from the cruise flew home, I left my duffel bag at the hotel and set off to the Terminal Terrestre, the depot for intercity bus services. By the way, it is important to negotiate taxi fares in advance in Guayaquil, as drivers have a reputation for overcharging. I asked at the hotel and they told me it should be $3, so that's what I agreed to pay.
The bus terminal is large and chaotic, but not very difficult. The bus companies have ticket offices downstairs and I soon found the section for Cuenca-bound services. Getting a ticket on Super Taxis Cuenca was simple enough, but digging out a dime for the turnstile that leads you to the escalators to the roof (which the buses leave from) was more of a challenge. It turns out that this is considered a departure tax and, had I been better informed, I'd have had it handy in a pocket, rather than having to dig through the front pocket of my pack.
The bus was reasonably comfortable as these things go. While it did get crowded after a while, with people standing in the aisles, there weren't any goats or chickens, for example. There was still plenty of local color in the form of merchants who boarded for a while to sell their wares. Many of these were selling the predictable goods - bottled water, mangos, fried chicken. But a couple had amazing pitches for unexpected products. One man had a fifteen minute pitch on toothbrushes. It was a "grand promotion" and "only one dollar" and "just like in all the big cities in the U.S.A." and so on. He really got rollicking when he approached women asking them if they cared about the health of their children. His merchandise looked like perfectly ordinary Colgate toothbrushes to me, but his enthusiasm suggested that they were magic wands. At any rate, I was amused by his spirit. He was rivaled by the man who sold a vitamin and mineral supplement. That one had a prepared lecture about osteoporosis and the need for women to take calcium supplements. He also mentioned healthy children and said something about eggs and cholesterol that my Spanish wasn't quite up to.
The trip took about five hours. On arrival in Cuenca, I took a taxi to the city center, where I got a room (with bath and breakfast included) at the Gran Hotel for ten bucks a night. It was central, clean and friendly enough, though a bit on the noisy side. Then I set out to explore the city.
Which is rather frustrating on a Sunday as damn little was open. One can still gawk at the architecture, but even that has limitations as it's rather rude to look over church interiors while services are going on. And Cuenca is a city filled with churches. Local rumor says there are 52 - one for each week of the year. I didn't count them, but it wouldn't surprise me if there are more. Eventually, I found a 24 hour internet cafe (Cuencanet, at the corner of Hermano Miguel and Calle Larga) and took advantage of the opportunity to clear out a whole bunch of junk email and answer a little real mail. I also found several ice cream shops in a row on Benigno Malo and sampled the naranjilla flavored ice cream at one.
While Sunday meant things were closed, this was not quite an ordinary Sunday and there was some worthy people watching to do. It was the 6th of January - the Festival de Los Inocentes. I'm not really up on Catholic ritual, so I can't say what is "normative" Catholicism versus what is specifically Latin American, specifically Ecuadorian or specifically Cuencan. What I gathered is that families bring small dolls of baby Jesus to churches to be blessed. The more spectacular twist is that people, especially children, dress in costumes. There were some paper mache masks I assume were more traditional but I saw a lot of the sort of plastic masks we got for Halloween when I was growing up, as well as one adult dressed as Spiderman. There were parades with floats and, later on, fireworks. I imagine there was also dancing until dawn, but I didn't stay awake to find out.
On Monday, Cuenca was considerably livelier than it had been during the day on Sunday. Unfortunately, that also meant the streets were crowded with cars. The colonial heart of the city has narrow one-way streets and they were in a constant state of gridlock. There are few traffic lights, so crossing any intersection requires patience and luck. (I found it was often best to wait for a taxi or bus going in the same direction that I was and having it run interference.) I ran a couple of errands - mailing postcards, buying a plane ticket to Quito for the next day - before settling in to serious sightseeing.
There's a nice walk along the river, past colonial buildings and drying laundry on the riverbanks to some very unimpressive Inca ruins - really just a few remnants of walls. (The major Inca site in Ecuador is Ingapirca, which is a couple of hours north. I didn't make it there but it got rather mixed reviews from people I talked to who had.) There are several museums and art galleries. The modern art museum is reasonably good. All of the signs are entirely in Spanish, but that doesn't make much of a difference when it comes to looking at art. But the churches are the major attraction of Cuenca. And the most impressive of those is the new cathedral.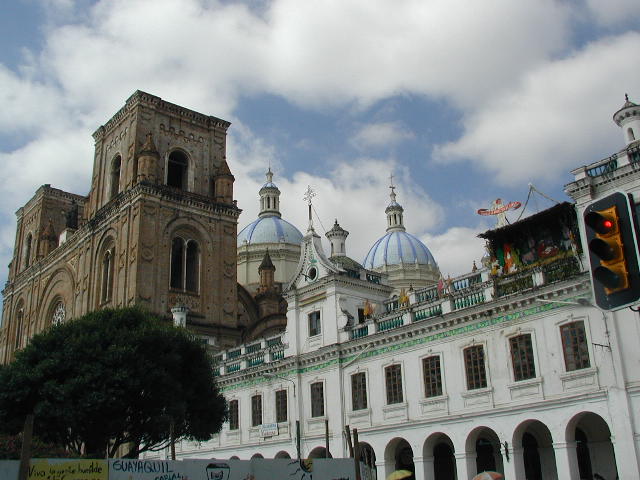 The cathedral is a huge building, with elaborate domes. It was originally planned to be even larger, but a miscalculation meant it couldn't support the planned domes on the front towers. By the way, what makes it the new cathedral is that it was built in 1885, as opposed to the old cathedral across the street, which dates from 1557. The interior is far less impressive than the exterior - just marble and modern stained glass and huge crowds of people.
The other things that Cuenca is known for is shopping. Every other building in the colonial area is either a jewelry store or a handicrafts store. Filigree jewelry is a specialty, but I can't say that I thought much of the quality of what I saw. The best thing to shop for is a Panama hat. These have always been made in Ecuador and the name confusion is usually attributed to Theodore Roosevelt. I've read that the government used to use stationery with the phrase "Panama hats come from Ecuador" printed on it. At any rate, the hats are woven in various small towns nearby and finished in factories in Cuenca. They vary quite a bit in quality, with the finest ones allegedly rolling up so thinly they can be passed through a man's ring. They also vary a lot in price. I like hats and wanted to buy one, but I'm also fussy. I probably tried on thirty or forty hats and didn't find quite the right one.
I should also note one minor incident. In the late afternoon, I started out towards a supermarket I'd noticed earlier so I could buy more bottled water. As I crossed Presidente Cordova, heading south, I smelled acrid fumes. Assuming there was some sort of fire, I recrossed and walked north, to a different store. It wasn't until two days later that I understood the significance of this. For that, I'd have to take a city tour of Quito.
Back to Previous Chapter | Back to Ecuador Index | On to Next Chapter | Xenophilia Home
---
Copyright 2002 Miriam H. Nadel

last updated 27 January 2002
Send comments to mhnadel@alum.mit.edu