The Center of the Earth is a Riot: Quito and Saquisili
The flight from Cuenca to Quito (which cost all of $57, by the way) was pretty hassle-free. My camera was examined, but nobody seemed to care about the nail scissors that I'd forgotten were in my toiletries bag. An official scrutinized my passport thoroughly, but didn't seem to take any interest in anybody who looked like they could possibly be Ecuadorian. TAME's flights to everywhere except the Galapagos are open seating and I was fortunate enough to find a window seat. The flight was about forty minutes and quite scenic, with the tops of several volcanoes peeking above the clouds. At the Quito airport, I took a metered taxi to The Magic Bean, a well-known restaurant. While The Magic Bean has a few rooms, my real destination was a hostel across the street called Crossroads. There were no single rooms available for that night, but I took a bed in a dorm and was able to move to my own room for the other two nights I'd be there. The dorm bed cost $6, while the room (with its own bath) was $14 a night. Overall, I thought that Crossroads was excellent value - clean, friendly and convenient, as good as any backpackers' hangout I've stayed at.
After chatting for a while with a couple of other people in the dorm, I headed out to explore the city. My first stop was a block away at Papayanet, a cybercafe which actually has good coffee to go with their internet service. By the way, internet cafes in Ecuador are surprisingly inexpensive, with the going rate under a dollar an hour. Using the internet to make international calls (net2phone) is also quite popular there. The problem is that one still has to deal with the unfamiliar Spanish language keyboard. It's tolerable if all you're doing is clearing the spam out of your mailbox, but I can't write extensive missives if I have to actually look at the keyboard.
For tourist purposes, Quito is conveniently divided into the Old City and the New City. The area of the New City that everybody ends up in is called La Mariscal (or Mariscal Sucre) and was the trendy residential area in the 1940's. Nowadays, it's a mecca for international tourists. There's a mix of lodgings (at all price ranges, from $3 a night dorms to major international chains), restaurants, travel agencies, souvenir shops and Spanish schools. All of which makes it a convenient area to stay in, but not horribly interesting since there's nothing unique to Ecuador there. I suspect that if you sat long enough sipping coffee at a garden table at The Magic Bean, you'd run into everyone you had ever traveled with anywhere in the world.
I arranged tours for the next couple of days, bought a bus ticket, watched the hordes of tourists, drank coffee (that's the bean that's so magical, by the way), browsed at the book selections at Libri Mundi (new, in various languages) and Confederate Books (used, mostly in English) and dodged touts trying to sell me tablecloths on the street. I also walked over to Parque El Ejido, a large park at the southern end of the New City. There were the requisite groups of men playing soccer, mothers with children, elderly people reading newspapers on park benches and so on. Also inside the park is the Casa de la Cultura, which hosts several museums. I was too limited in time to go to them, but I've heard that the archaeological museum is worth a visit.
My major tourism goal for Quito itself was to see a bit of the Old City and to have my picture taken straddling the equator. You can purchase combined city/equator tours for anywhere from $17 to $30 - all of which turn out to be the exact same tour conducted by Metropolitan Touring. I paid $19 so felt that I'd done reasonably well. The tour left from the Hilton Colon and drove briefly through the New City and on to an overlook. Quito is long and narrow, nestled next to the foothills of the Pichincha volcano. The volcano is active, but the caldera faces in such a way that the city runs little risk of lava flow. Ash has, however, sometimes been a problem, even within the past few years. At any rate, there was a nice view, along with a small crafts market where a couple of other people bought sweaters.
Then we drove past the Parque El Ejido with the Case de la Cultura, the Palacio Legislativo (legislature building), the Parque Alameda which is the site of the oldest astronomical observatory in South America, and on to the Old City. The Old City is a UNESCO World Heritage site and there are many restrictions aimed at maintaining its architectural integrity. The architecture is of the typical Spanish colonial style, with many buildings having wrought iron balconies. We stopped first at the Plaza de la Indepencia. As is typical, there is a tall column/statue in the middle, the cathedral on one side and a government building on another side. That day there was also a crowd of demonstrators in front of the Palacio de Gobierno. Apparently, they were retirees protesting a cut in their pensions and demanding that the president come out. The police were erecting razor wire around the walkway under the balcony of the Palacio. At the same time, they helped us climb over a chain so we could take pictures of the ornately dressed presidential guards and peek in through the gate at the famous mural depicting Francisco de Orellano's descent of the Amazon!
After we left, we walked through a building that holds an art gallery and the children's library. There were elaborate pressed tin ceilings to look at there. But we were on to a far more interesting building - the Jesuit church of La Compania.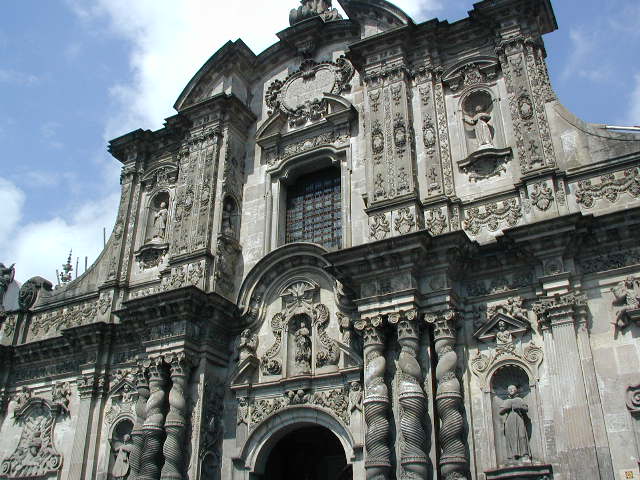 The construction of this church was begun in 1605 and took over 150 years to complete. The exterior is ornately carved, but the interior is even more striking. Flash photographs are not allowed and I have no idea how to turn off the flash on my digital camera so I'll have to attempt what will inevitably be an inadequate description. Imagine all of the gold leaf you've ever seen, collected in one place. Now triple the amount of gold and cover every single surface with it. The claim is that over seven tons of gold were used to gild the walls, altar and balconies. There's a mix of influences, from the Moorish arches favored in Spanish architecture of the period to elaborate sun symbols, intended to attract converts from the indigenous population. It's impossible not to gasp at the beauty.
Our final stop in the Old City was the Plaza and Monastery of San Francisco.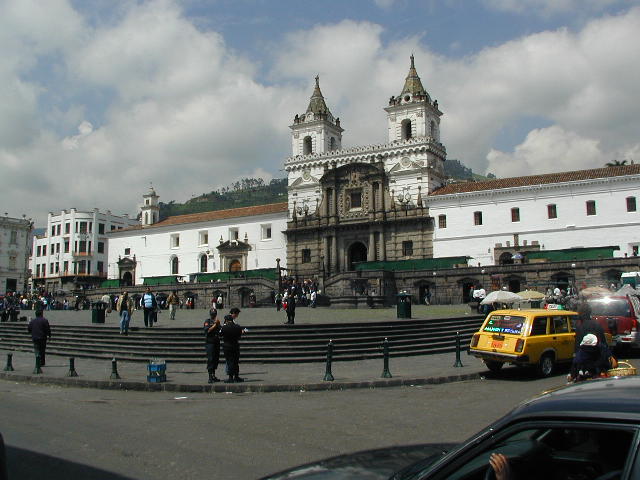 This is the oldest church in Ecuador, begun in 1534 and completed in 1604. While it isn't as ornate as La Compania, there is still plenty to gawk at. One detail I liked was the trompe l'oeuil staircase painted on one side of the entrance to match the real staircase on the other. The most famous thing to see, though, is the original statue of La Virgen de Quito, a large copy of which tops El Panecillo, a rounded hill that overlooks the Old City. By the way, El Panecillo is known to be a particularly dangerous place to walk to, with frequent muggings on the path to its top. One can take a taxi, though there are rumors that this is not entirely risk free, either.
We reboarded the bus and drove north, to La Mitad del Mundo ("the middle of the world") which is the obligatory tourist excursion. As we were passing the university, some students were throwing rocks. We soon saw riot police running towards them and, shortly afterwards, an armored vehicle showed up. I later learned that there were student demonstrations throughout the city, triggered by an increase in fuel prices. The police responded in full force, with water cannons and tear gas. Watching the news, I realized that the acrid fumes I'd smelled in Cuenca two days earlier were not from a fire after all. I should note that I never felt in any particular danger. But there is always potential for situations to deteriorate (and, in fact, later in the week, a student was shot by police in Cuenca) so it is best to follow the news and avoid the protests as far as possible.
At any rate, we got to La Mitad del Mundo safely enough. We walked up to the monument, where there's an elevator to the top. After looking at the view, we walked down through a museum devoted to the indigenous peoples of Ecuador. Then came the obligatory photos. I put mine on the index page so won't repeat it here. It's also quite entertaining to watch people kiss or shake hands across the line. By the way, the complex includes several restaurants and souvenir shops and a scale model of Quito, so you could occupy yourself for a few hours if you really wanted to. While the whole thing is touristy, it is also fun. I'll also note that while I had crossed the equator several times before by both air and sea, this was actually the first time in my life that I'd crossed it by land.
My other excursion from Quito was a tour to Saquisili with Safari Tours. We drove south from Quito, being entertained along the way by the extensive knowledge of the legendary Jean Brown, the owner of Safari Tours. Jean appears to know everything about Ecuador. For example, she pointed out an ancient burial mound that few people would even notice. She also pointed out an erupting volcano in the distance. (There were excellent views of several volcanoes along the way, by the way - especially Cotopaxi.) At some point we turned off onto a track and stopped near a couple of waterfalls, where we had a light breakfast of croissants and tea. Then we were on our way to Saquisili itself, where the Thursday market is regarded as one of the most important Indian markets in the country. Actually, there was one thing about Ecuador Jean didn't know. Namely, why the market day is Thursday. Other Indian markets are other days so there doesn't seem to be any particular pattern.
Our first stop in Saquisili was at the animal market at the edge of town. The dominant animals are cattle, sheep and pigs. Pigs go for about $80 each and cows or bulls can be a couple of hundred. There were also horses and goats for sale, but my favorite animals were the llamas.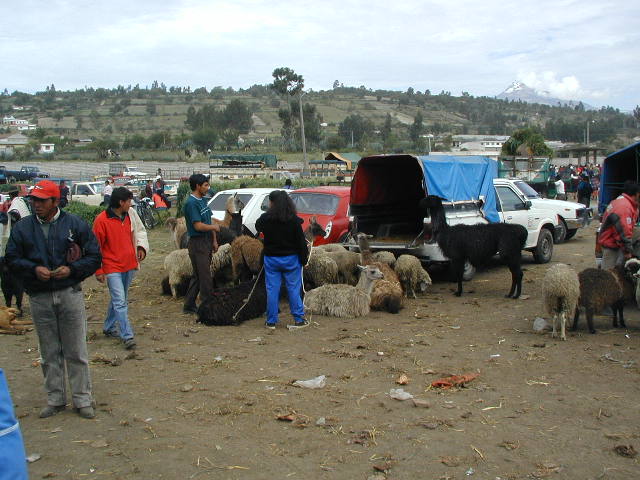 We dropped Jean off at the bus stop (she was going on to her country house) and continued to the main market. Think of the largest farmer's market you've ever seen and quadruple it. Don't forget to add a section for small food animals (mostly chickens, but also some guinea pigs) and pets (kittens and puppies - well, I hope they were being sold for pets and not food). Graft on a hardware store or two. Throw in the ultimate multi-family garage sale. Now triple the combined result and you might have something only a little bit smaller than the market at Saquisili. What makes it especially interesting is that, while there is a small souvenir section, the market is clearly not primarily tourist oriented. Instead, it's the major shopping and social event for Indians from a wide region. We wandered past stacks of several kinds of bananas, huge pods of guavas, sacks of grain (maize, rice, quinoa), spices (especially garlic and achiote), ropes, clothing, stolen goods, etc.. Our guide, Fabian, told us about some traditional foods (e.g. lupin beans, which combine with quinoa to make an excellent quality protein) and traditional medicine. There are shamen who use guinea pigs to diagnose illness, rubbing the animals over the patient, killing them and examining the organs in the belief that the same organ that is ailing in the patient will be diseased in the guinea pig. I was also interested in fruit juices (orange, apple, tamarind and alfalfa) which can be mixed with malta (dark beer) and eggs to make a stronger drink. There was a row of men with treadle sewing machines mending clothes and an area where women sharpened knives. We saw several transactions conducted by barter, rather than cash, by the way.
We had some free time to shop. I couldn't resist photographing (with her permission) a woman spinning in front of an assortment of weavings for sale.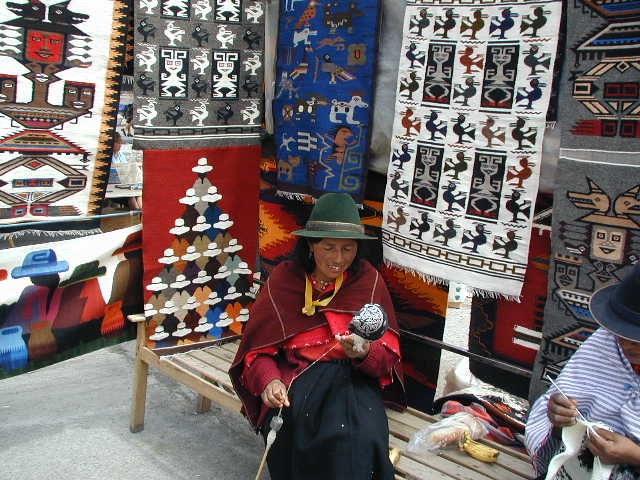 Which reminds me that there are, surprisingly, a few things one can't find for sale at Saquisili. I'd have loved to bring home some llama wool, but the only yarn I found was cotton that was dyed horribly bright colors. (Fabian said Otavalo would be the place to look for wool.) I did, however, succeed in buying a Panama hat, as well as a small ceramic pot.
On the way back to Quito, we stopped for a picnic lunch on the grounds of the Jesuit monastery of Tilipulo. The monastery was built in the 1700's and is being restored. It will eventually house a museum and a hotel. There are lovely gardens and, as we ate our lunch, we sat under a eucalyptus tree that was said to be over 150 years old and one of the first eucalyptus trees in the country. We continued on through Latacunga and stopped briefly in Pujili, a small village with a colonial main square and a restored church, currently being repaired from earthquake damage. We got back to Quito in the late afternoon - without encountering a single demonstration or protest.
Back to Previous Chapter | Back to Ecuador Index | On to Next Chapter | Xenophilia Home
---
Copyright 2002 Miriam H. Nadel

last updated 27 January 2002
Send comments to mhnadel@alum.mit.edu