Osaka, Hiroshima, Kurashiki and Kobe
---
Frommer's had led me to believe that the Osaka train station would be horribly confusing, but it actually has reasonably good signage and I had no trouble finding the tourist information center. I picked up a map, a sightseeing booklet (including suggested walking tours), and a brochure about the aquarium. I also asked for help locating a shop I had an address for, but it seems even the people in the tourist office can't make sense out of Japanese addresses and couldn't pinpoint it.
I left my bag in a coin locker and then took the subway to Osakako. It was fairly easy to find the aquarium. Admission is 2000 yen. You start out going through a tunnel-shaped tank, with fish all around you. Then you take an escalator to the top and wind your way down the spiraling levels. The theme is the Pacific Ring of Fire and the tanks, most of which span several floors, include Japan Forest, Aleutian Islands (with adorable otters), Monterey Bay (mostly seals and sea lions), Gulf of Panama, Ecuador Rain Forest, Antarctica, Tasman Sea (awesome Pacific white-sided dolphins), Great Barrier Reef, Pacific Ocean, Seto Inland Sea, Kelp Forest, Coast of Chile, and Cool Strait. The most colorful stuff is in the Great Barrier Reef and Cook Straits areas, while the weirdest is the porcupine fish in the Gulf of Panama tank. The biggest tank is the Pacific Ocean one and it has suitable big inhabitants, e.g. whale shark, bluefin tuna, scuba diver. This being Japan, instead of feeding the fish, the scuba diver was washing the walls of the tank. Towards the end, there's a Japan Deeps tank with huge and creepy spider crabs. There was also an exhibit of origami creatures. Finally, there were jellyfish. All in all, it was not too crowded on a weekday and worth a leisurely couple of hours.
After getting lunch at the shopping mall next to the aquarium, I took a leisurely walk around central Osaka. Basically, it's a big modern city with tall buildings. I retrieved my bag and set out for my hotel. Family Inn Fifty's Edobori is an amazing find. It's centrally located, clean, comfortable, and a single room is just 5000 yen a night (that's under USD 50), including continental breakfast (hard boiled eggs, various breads and pastries, juice, coffee). There's even free internet in their coffee shop. Best of all, the map on their website had such good directions that I didn't get lost finding it!
Osaka is good base for day trips to other, more interesting places. Hiroshima is roughly an hour and forty minutes on the bullet train. Unfortunately, the train route has a lot of tunnels, so there isn't much scenery along the way. After a stop at the tourist information office for maps and directions, I took the streetcar to the A-bomb dome.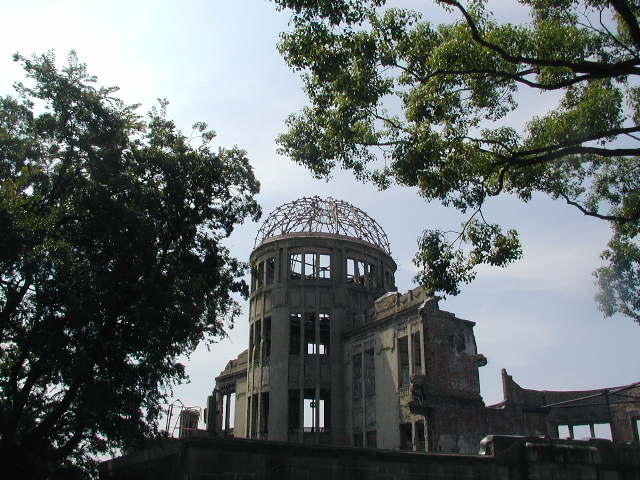 This is the ruins of the Prefectural Inductrial Promotion Hall. Most people assume it was the target of the bomb, but the actual target was the Aioi Bridge, a t-shaped bridge nearby. The detonation on 6 August 1945 at 8:15 a.m. was 600 meters above the city, somewhat east of the bridge. The A-bomb dome is at the northern end of Peace Park, which has a number of memorials. For example, there's a cenotaph in honor of the victims of the bomb.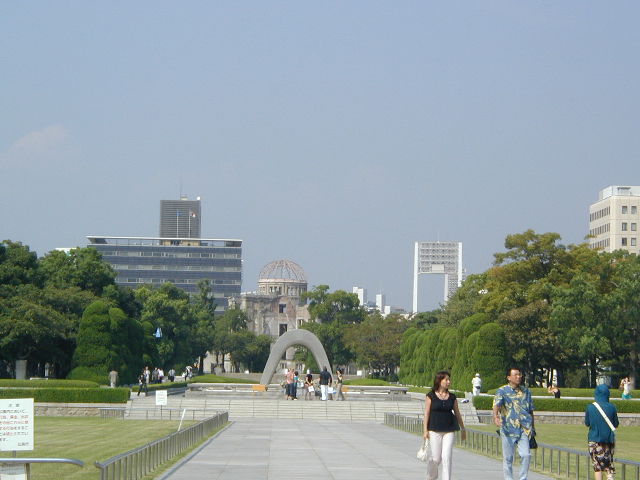 Another of the major memorials is the Children's Peace Monument. Sadako Sasaki died of leukemia at age 12, 10 years after the bomb. She believed that folding 1000 cranes would grant her wish to live. She actually folded 1300 before dying. Her story is the subject of several children's books and the inspiration for this sculpture of a girl lifting up a crane.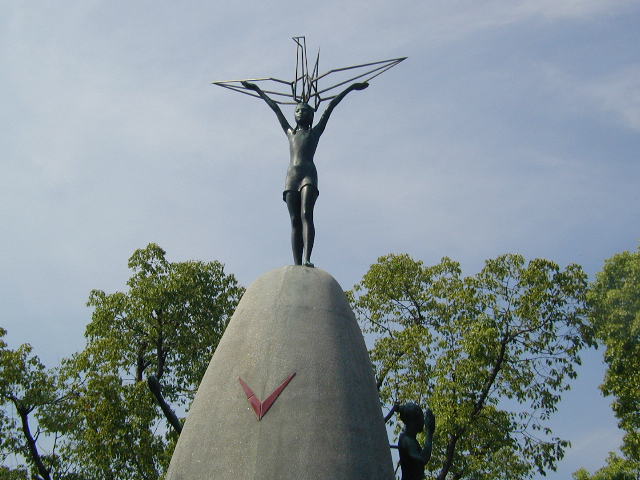 Peace Park also has two museums. The Hiroshima National Peace Memorial Hall for the Atomic Bomb Victims is built around a Hall of Remembrance, which shows where a number of former neighborhoods were. But the more interesting part of the museum is the first one as you enter, which exhibits excerpts from the memoirs of survivors. What I found striking was that very young students had been mobilized and schools had been turned into war factories. Beyond that, I was moved by a number of stories of people searching for relatives and finding them near death. One of the most dramatic had to do with a mother and her daughter who were unable to pull the other children in the family from a burning house and had to abandon them. The museum also has a number of computers where you insert your information pamphlet to read more testimony.
The really comprehensive museum is the Hiroshima Peace Memorial Museum. This costs 50 yen and is well worth it. You enter via the East Building, which has exhibits on Hiroshima before the war and then goes on to the build up to the war. What is somewhat unusual is that several of the exhibits admit that Japan was an aggressor, starting with the Sino-Japanese War and moving on to the Russo-Japanese War, the Manchurian invasion, the invasion of Nanking, and, finally, Pearl Harbor. There's a reasonably balanced presentation on the American decision to use the atomic bomb, including letters from politicians and scientists on both sides. One interesting claim is that Hiroshima was chosen as the site because, in addition to having several military targets, there were no POW camps there. The upper floor of the East Building, which deals with the nuclear age and nuclear proliferation, is not, however, balanced. I found myself irritated with what I consider unrealistic arguments for unilateral disarmament.
The West Building deals directly with the bombing of Hiroshima and displays things like burned clothing, charred rubble, and a stone with the shadow left where a person was sitting. I suspect that the latter is responsible for the belief we had as children that the bomb had actually vaporized people. There were vivid descriptions of the effects of the heat, shock waves and radiation. All in all, it took me roughly four hours to tour the Peace Park and museums.
I decided to walk back to the train station. What is striking is that Hiroshima is now a bustling modern city, with almost no evidence that it had been almost completely destroyed 60 years ago. The one exception is that its layout is more logical, with a grid of wide streets. I'd suggest that the bomb did some good for urban planning if I didn't fear that some lunatic would apply that to the mazelike patterns of Northern Virginia.
My other excursion from Osaka was to Kurashiki. This is not, perhaps, as well known a destination, but had been highly praised by Frommer's. You get there by taking the bullet train to Okayama, followed by a few stops on a local train. The heart of the city is the Bikan Historical Quarter, a short walk from the train station. There is a willow-lined canal, surrounded by old cotton warehouses. It's all very peaceful and totally charming.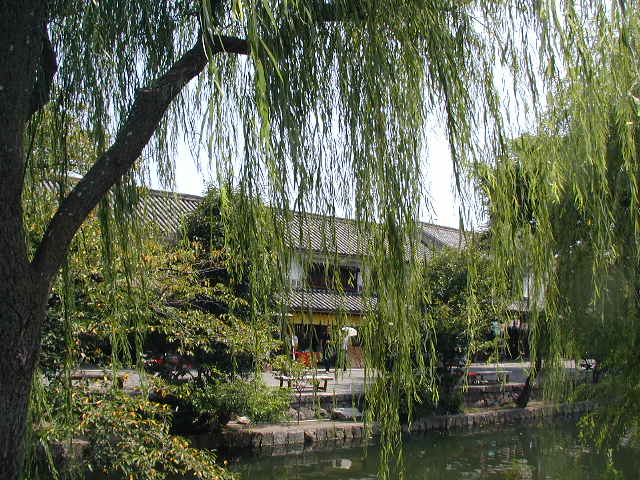 Should one need an actual tourist attraction to go to, there's the Ohara Museum of Art. This was the first museum of Western art in Japan and the collection is dominated by French art from the late 19th to early 20th centuries, including works by Monet and Gaugin. Picasso and Miro are repressented in the large modern art exhibit. The annex, which has large sculptures outside by such artists as Henry Moore, features modern Japanese art. There's quite a mix and I particularly liked several pieces by Saito Yoshihige. Finally, another gallery displays craft art (e.g. ceramics and textiles) and Asiatic art (e.g. Buddhist sculptures from China.)
While the Ohara is an excellent art museum, the real pleasure of Kurashiki is just wandering around its well-preserved historic area. There are lots of street artists, as well as shops and galleries to browse in. I even found something to buy for myself - a temari ball (a sort of embroidered thread ornament). And I came across this rather astonishing display of RCA Victor dogs on the roof of an antique store.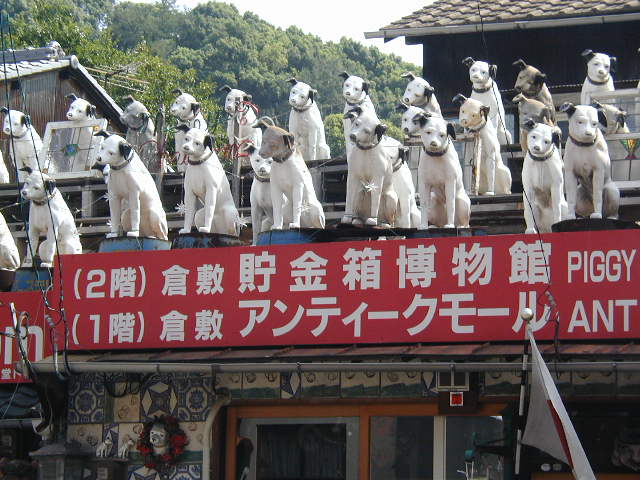 On the way back to Osaka, I got off the train in Kobe (at the Shin-Kobe station) and walked around the Kitano area of that city. Kobe is another city that has risen from rubble - in this case, from a devastating earthquake just a decade ago. My real purpose in stopping there, though, was its role as home to one of the two significant Jewish communities in Japan. (The other is Tokyo, which is also a far larger city.) I found the synagogue without much difficulty and photographed it. Then I meandered my way down to the Sannomiya train station and back to Osaka.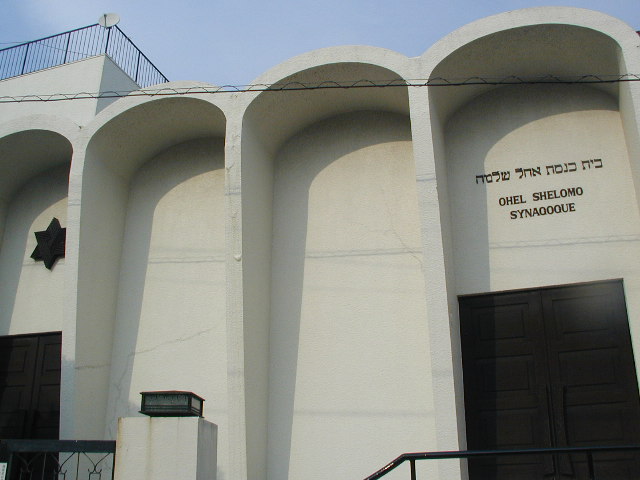 I didn't need to be at the airport until the late afternoon, so used my final day in Japan for a bit of shopping in Osaka. After leaving my backpack in a locker at the OCAT (Osaka City Air Terminal) bus station, I wandered through a maze of underground malls. I surfaced and went to Den-den Town, which is the electronics shopping district. This is full of CD/DVD stores and stores selling manga (comic books) and action figures, as well as computer and electronics stores. It's quite something to see even if, like me, you don't plan to buy anything. Eventually, I made my way back to OCAT, stopping for lunch along the way. The bus takes 45 minutes to Kansai International Airport (KIX), so I was in good time for my flight to Chicago. The flight was fine, though eleven and a half hours is inevitably tedious. The immigration and customs formalities in Chicago were quick and I had plenty of time for my connecting flight to Washington Dulles, where I treated myself to a taxi to get home.
While that ends the story of the trip, I have lots more to say about Japan. So keep reading for various odds and ends I couldn't figure out where to put in this.
---
Back to Previous Chapter | On to Next Chapter | Back to Index
Xenophilia Home
---
Copyright 2005 Miriam H. Nadel

last updated 27 September 2005
Send comments to mhnadel@alum.mit.edu