Kyoto and Nara
---
The shinkansen from Nagoya to Kyoto took only about 45 mintues. On arrival, it was easy enough to take the subway to Nijojo-mae. The signs were good enough that I exited the subway station by the correct exit, but my all too fallible sense of direction had me turn the wrong way once I was outside the station. Fortunately, it wasn't too hard to find somebody to set me straight and I was soon checked in at the International Hotel Kyoto, a.k.a. the Kyoto Kokusai Hotel. This is huge and has a very impressive lobby, with several stores and a few restaurants. But the room was nothing really special. Still, at the equivalent of about USD 130 a night, including breakfast, I couldn't complain. I should note that the breakfast was a reasonably extensive buffet, with both Western (eggs, toast, potatoes) and Japanese (rice, miso soup, fish, salads) offerings.
I saw a flyer at the concierge desk for a walking tour in English and decided that it sounded worth 2000 yen. Mr. Hajime Harooka, better known as Johnnie Hillwalker ("not Johnny Walker," he says) leads his tour three times a week, starting from Kyoto Station. There were about 30 people, mostly Americans, on the tour, which started with a short walk east to Higashi-Honganji, a large Buddhist temple.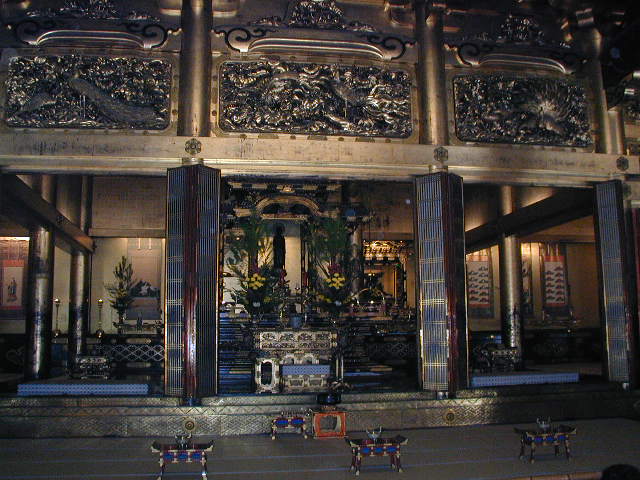 The most interesting thing about the temple is that the wood for it was transported using ropes braided from human hair cut off by followers. One of these hair ropes is on display and is quite impressive. While we were there, Johnnie talked about Japanese Buddhism and how it differs from Tibetan and Chinese Buddhism. There are short services in the temples, but mostly priests visit people in their homes once a month (on the death day of a major ancestor), read scriptures for ten minutes and collect donations. Japanese priests marry (while other Buddhist priests don't) and the donations go to support their families. Another difference is the belief that everyone goes to Nirvana when they die.
We continued on to a fan factory. Kyoto has a lot of small home factories making traditional crafts. The businesses are very specialized. For example, one makes the paper, another makes the bamboo frames for the fans, and a third one assembles the fans.
Our next stop was the Shosei-en Garden, which belongs to the Higashi-Honganji temple. It's pleasant to wander around and very pretty, especially the koi pond.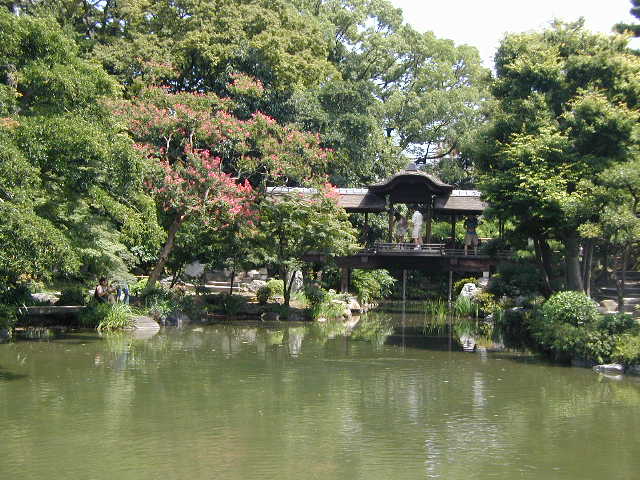 The other major religion in Japan is Shinto. We stopped at Ayako-tenmangu, a Shinto shrine. A few people made donations and were dressed in kimonos for photographs. Johnnie explained that the basic Shinto ritual is to toss some coins into the donation box, ring the bell, and clap twice to summon the spirits. Different shrines are for different things, e.g. better business, better health, etc..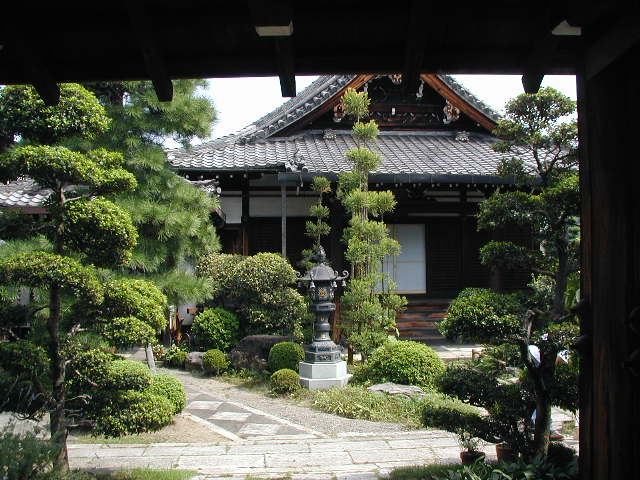 In general, the Japanese use the Shinto religion for birth and marriage ceremonies and Buddhism for funerals. So we continued on to another Buddhist temple where we went to the graveyard. The Japanese cremate their dead, so one monument serves for the ashes of the whole family. Painted boards are put up to commemorate death anniversaries.
Our walk took us through an old geisha zone. Johnnie said that there are five geisha houses left in Kyoto. Each one has a school, theatre, and office. Geishas continue to study traditional arts, mostly dance, until they retire or marry. They entertain at tea houses, which are more or less like private clubs, with membership passed down in a family. By the way, the geisha system was allegedly created by the shoguns to give people something to spend money on.
At our next stop, Johnnie took out traditional Japanese playing cards. These are used to play a matching game, with different cards having different point values. Each of us got a card as a souvenir. But the real reason for the stop was that we were in front of the original headquarters of Nintendo, which started out as a playing card company. That was one shrine that everyone had to photograph.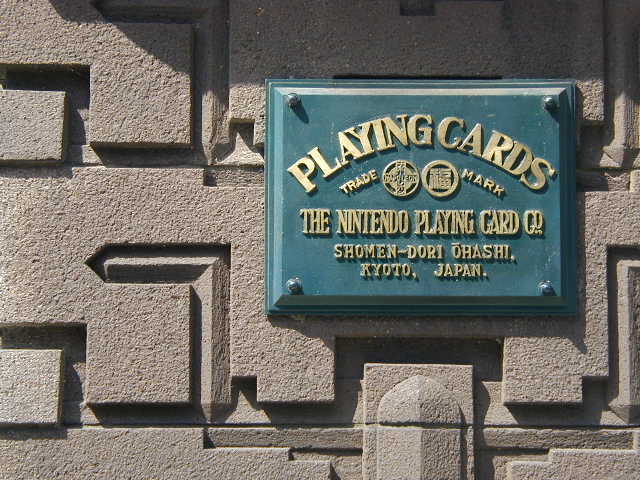 We didn't have a lunch stop, but we did each get a snack of inari sushi. We also went into a blissfully air-conditioned confectionary shop for tea and cookies (made from rice and filled with sweet bean paste). After watching rice candy being made, we went back out into the heat and on to another shrine. The Toyokuni shrine wasn't anything special, but next to it is a big bell, which Johnnie said is the heaviest in Japan. Finally, we saw a shrine of stone Buddhas. There are lots of small niches on the street holding a few of these, which are to bring good luck to the neighborhood.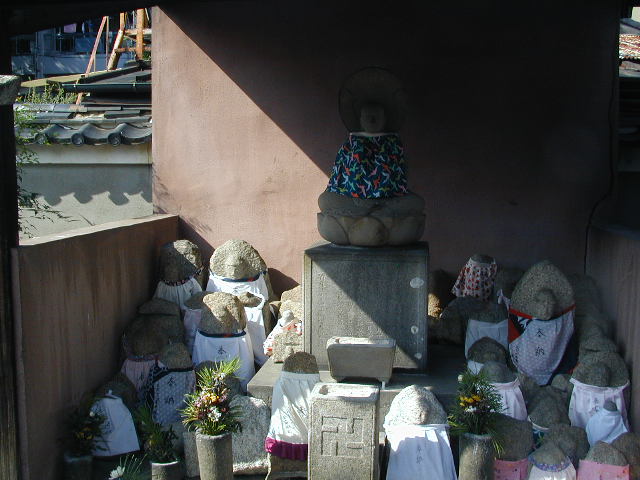 After the tour ended, I continued uphill to the Kiyomizu Temple. It's large and impressive, but temples just kind of blend together after a while.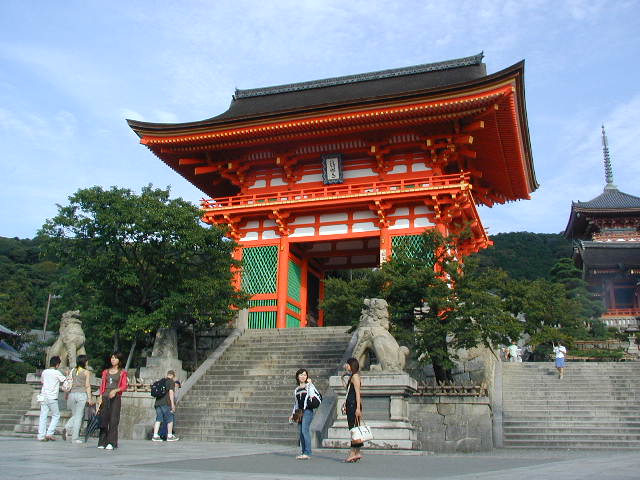 I pretty much just wandered around eastern Kyoto for a couple of hours at that point. I saw a woman dressed as a geisha. I suspect, however, that she was just a tourist who'd paid on the order of 8000 yen to be made up and dressed, rather than the real thing.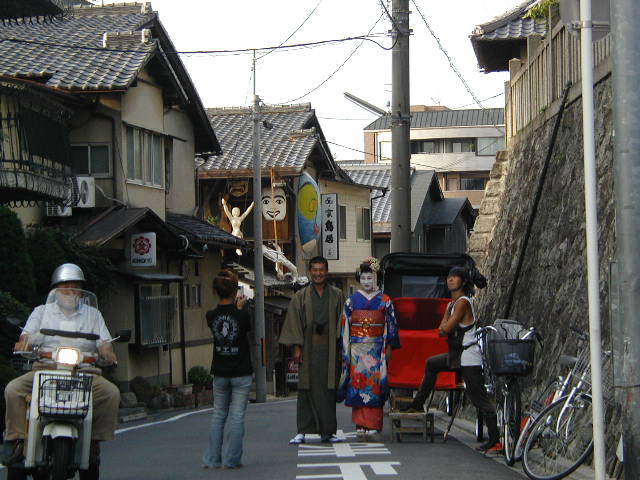 Kyoto is an excellent city for just meandering around and I did more of that the next day. I started by taking a bus to Ginkakuji, otherwise known as The Temple of the Silver Pavilion. The temple itself seemed to be closed (and was covered in scaffolding), but the paths through its gardens led up to a wonderful view over Kyoto.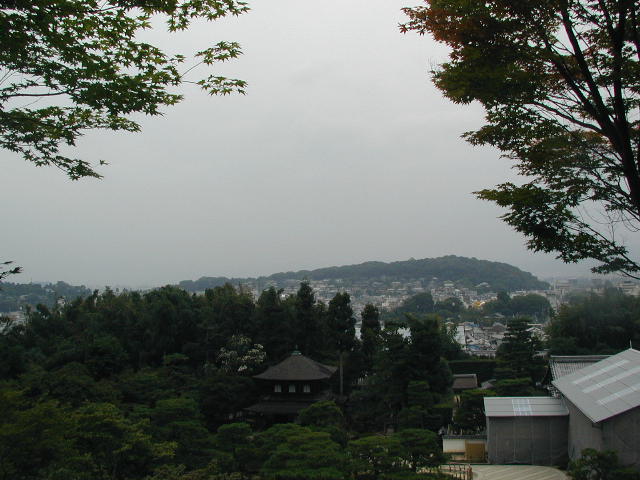 I walked down a short shopping street and turned onto the canal-side path called "The Path of Philosophy." This is a wonderfully peaceful stroll of about a mile. You're supposed to think deep thoughts, but all I contemplated was why such an otherwise nice place should have so bloody many mosquitos. Towards the end of the path you reach yet another temple, Nyakoji.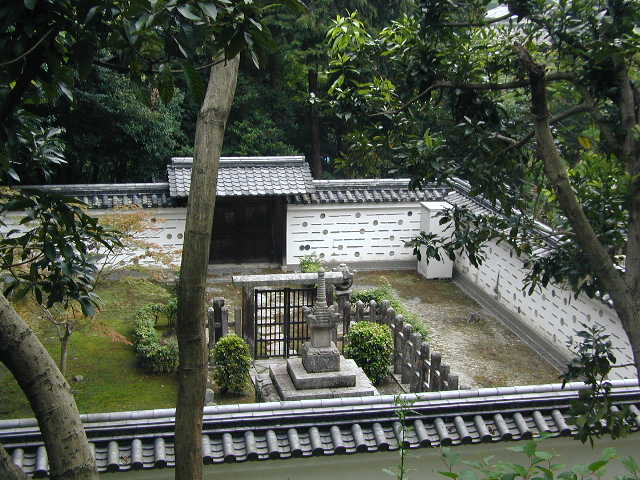 Just about then, it started raining, so my deep thoughts turned to going somewhere inside. Fortunately, it was a fairly short walk to the Kyoto International Exhibit Hall. My reason for going there was the Kyoto Museum of Traditional Crafts. The same complex also has a restaurant, which I stopped at before museum going. That was where I had the only bad meal of my trip - a strikingly bland tofu and mushroom dish, overly salty soup, and rice with some sort of odd sweet sesame stuff on it. The museum proved to be more to my taste, with extensive exhibits on everything from textile dying to landscape gardening, arrow making to confectionary molds. There is also a museum shop, which would be a good choice if one were looking for fairly high end gifts. Which I wasn't, but I do enjoy browsing.
The more conventional - and lower end - shopping stop is the Kyoto Handicraft Center. They offer various craft workshops (e.g. making a cloissone pin) but none of them really appealed to me. There are several stores of merchandise for sale, but all I found to buy were a couple of books of folktales. A few of the dolls were somewhat appealing, but too bulky for my limited luggage space. If, however, you want kimonos, t-shirts, woodblock prints, or jewelry, there are plenty of choices. They also have free shuttle service to hotels around Kyoto, which is convenient.
My final Kyoto sightseeing involved Nijo Castle. This was built by the Tokugawa shoguns, starting in 1603. The main part is Ninomaru Palace.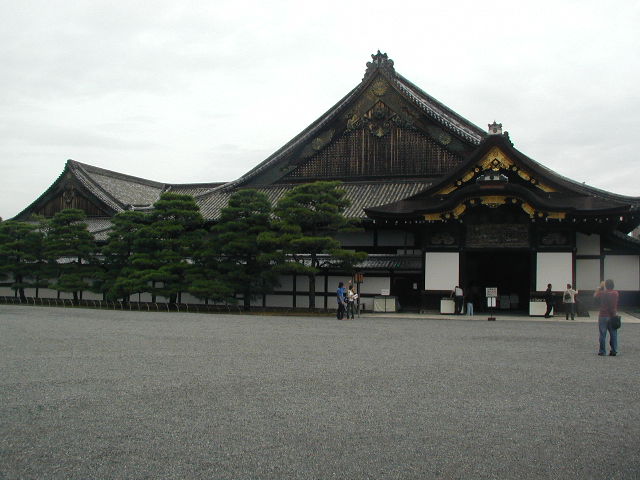 There are a number of waiting rooms and reception rooms and audience rooms, each with painted screens on sliding doors and walls. Tree and bird themes dominate in the paintings, many of which are quite striking. The most interesting things in the palace, though, are the "nightingale" floors. These are designed to squeak (more of a chirp) when stepped on even lightly and were designed as a security measure. Another security measure was that only female attendants were allowed in the shogun's living quarters.
I also took an excursion to Nara, which is not quite an hour by train from Kyoto. There's a helpful tourist information office at the train station, where the staff gave me a map and suggested a walking route to see the three World Heritage Sites in Nara Park. It was easy enough to follow their suggestion and stroll down Sanjodori Street to Sarusawa-Ike Pond, a pretty little pond full of turtles.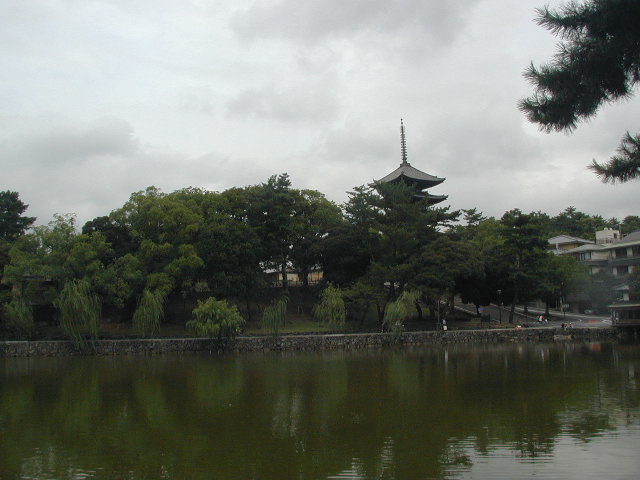 Kofukuji Temple, the first of the World Heritage Sites is just across the street and up some steps. It's famous for its five story pagoda, but didn't seem very different from any other Buddhist temple in Japan to me. Nara Park is also known for its free roaming deer and I saw several of those as I continued along, past the Nara Museum and a couple of gardens.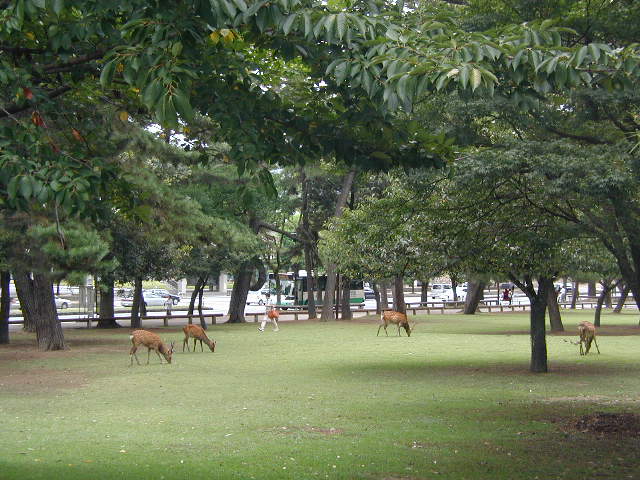 By the way, Nara is particularly tourist friendly, with signs in both Japanese and English throughout the central area, including distances (in fractions of kilometers) to the major sites. I turned onto the shopping street that leads up to Todaiji Temple. The main things for sale are: 1) deer kitsch (you name it, they have it, from antlers for kids to wear to toenail clippers with pictures of deer), 2) confectionary, and 3) deer food, which is, I suppose, a cross between the other two. Despite lots of people feeding the deer legitimate food, one decided the map I was holding looked appealing, snatched it from my hand, and began to chew. I managed to pull it away and rescue the piece that had the route I needed to follow, but I also found myself wondering what the Japanese word is for venison.
Anyway, the official entrance to Todaiji Temple is the Nandaimon Gate, which is said to be the largest temple gate in Japan. One continues up to the Daibutsuden, which is said to be largest wooden building in the world. What it's better known for, though, is the Vairocana Buddha, more commonly just called the Big Buddha. It's roughly 50 feet tall and qualifies as one of the most impressive statues I've ever seen.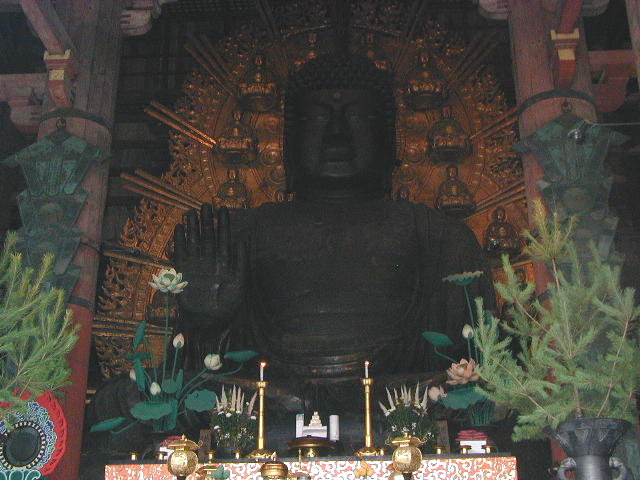 There are various other, less out-size statues surrounding it, but I can't say I know who the guardians and consorts are. There is also a desk where one can buy a fortune for 100 yen. Mine said that I'd have delayed good luck, e.g. that I'd wait a long time for a person I was waiting for. Being an impatient sort, I tied the fortune to a twig to nullify it.
I climbed up to Nigatsu-do Hall, which should have a nice view over all of Nara Park, but it was too overcast. I continued past the foot of Wakakusayna Hill and on to the final World Heritage Site in the park, Kasuga Taisha Shrine. This is a Shinto shrine which is notable primarily for the large number of lanterns surrounding it. I suspect it's more when the lanterns are lit. The other notable thing was that, unlike the other sites, there were no big tour groups there. That made the surrounding gardens nicely peaceful.
I walked back to the center of town and stopped in at the branch of the tourist information office there. In addition to replacing the map (since I like that sort of thing as a souvenir), I browsed their handicraft exhibit. Then it was back to the train station and back to Kyoto for one more night. In the morning, I was off to Osaka.
---
Back to Previous Chapter | On to Next Chapter | Back to Index
Xenophilia Home
---
Copyright 2005 Miriam H. Nadel

last updated 26 September 2005
Send comments to mhnadel@alum.mit.edu