Expo 2005 and Nagoya
---
The shinkansen or bullet train is sleek and modern, though not quite as luxurious in ordinary class as I had expected. It was still reasonably comfortable and fast, even though I was on one of the Kodata (local) trains rather than the Hikari express. By the way, the Japan rail pass is not valid for the very fastest Nozomi trains. The ride from Tokyo to Mikawa-Anjo was roughly two and a half hours. And then I was faced with the challenge of finding my hotel. I had foolishly assumed that a hotel with a web site in English and a name in English (Mikawa-Anjo City Hotel) might have a sign in English. After a consultation with a taxi driver who pointed out the building to me, I realized I should have just matched the characters on the printed out map to those on the side of the building.
The hotel proved to be adequate, probably comparable to a Day's Inn in the U.S. and comparably priced. (That is not, by the way, a compliment.) It did have a free internet terminal in the lobby, which was a plus. But the main reason for staying there was that it was the only hotel I'd been able to book online in Aichi prefecture with vacancies on the dates I wanted.
Just being in the same prefecture didn't mean that Mikawa-Anjo was actually convenient to the site for Expo 2005. The first morning, I took the Japan Rail Tokkaido Line to Okazaki, where I boarded the Aichi Loop Line (privately operated, so rail pass is not valid) to the Expo venue station. From there, it was a few minute ride on the Limimo to the actual site. The Limimo is a maglev train, which should be a cool experience, but it was so crowded that I couldn't enjoy the novelty of floating above the tracks. Since there was a long hot line to get through security and into Expo, it was roughly 2 hours door to door. I experimented on the way back and figured out that using the direct Expo shuttle bus to Nagoya station was slightly faster and, as you were guaranteed a seat and the bus was air conditioned, considerably more comfortable. So I took that route both ways the second day and was pleased that it worked well.
For those who haven't ever been to a World's Fair, I should explain that there are two general types of pavilions. Various countries set up pavilions to show off how great they are and to bolster tourism. The other type is the corporate pavilion, focused on future technology. In general, I focused on the former, but I won't go through every single country whose pavilion I visited. Instead, I'll mention various approaches that countries took towards their displays and a few of the more interesting pavilions.
The Korea pavilion was one of the most elaborate, with a number of art works (including some interactive ones, where you touched a screen and tree branches spread) and a three-D movie. Singapore took the multimedia concept even further. You got a plastic umbrella as you entered and, while you watched their video, got drenched by an indoor rain shower! Some of the pavilions were little more than giant shops. For example, the Yemen pavilion had a few musicians and a small restaurant (excellent coffee!), but was primarily a series of stalls selling silver. Many pavilions had some sort of crafts exhibits, with related shops. For example, here's a Tajik artist painting traditional designs onto a somewhat less traditional surface - the cell phone. Enough people were willing to pay 1000 yen for this that he was kept pretty busy.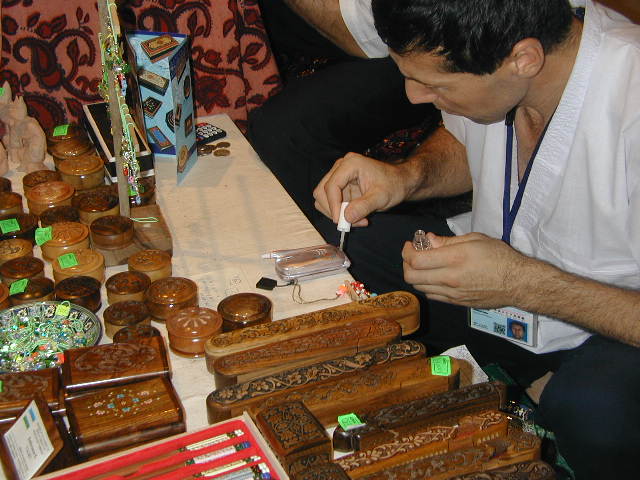 Entertainment was another frequent offering. I was particularly pleased that the Mongolia pavilian had musicians, including throat singers.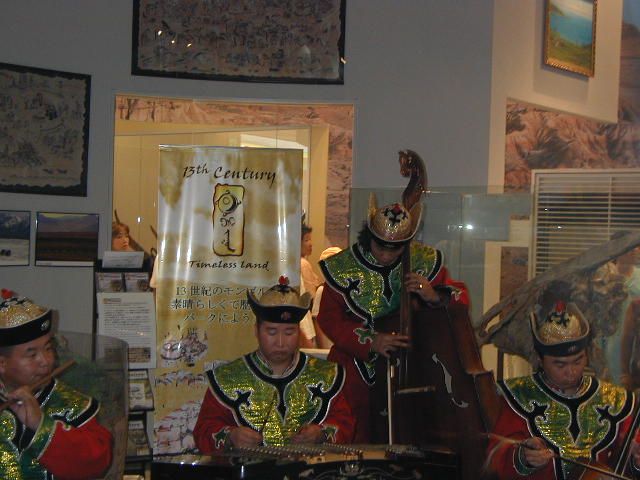 Some countries took the museum approach and brought along national treasures. For example, Ethiopia brought along the bones of Lucy, the oldest hominid.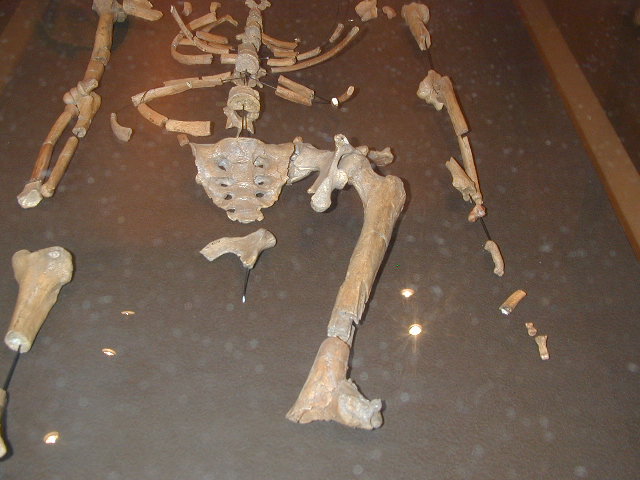 Each country had a national day at Expo, which was an excuse for special performances. One of the days I went was Guinea's national day, which seemed primarily to feature people dressed in traditional costume being interviewed by television crews.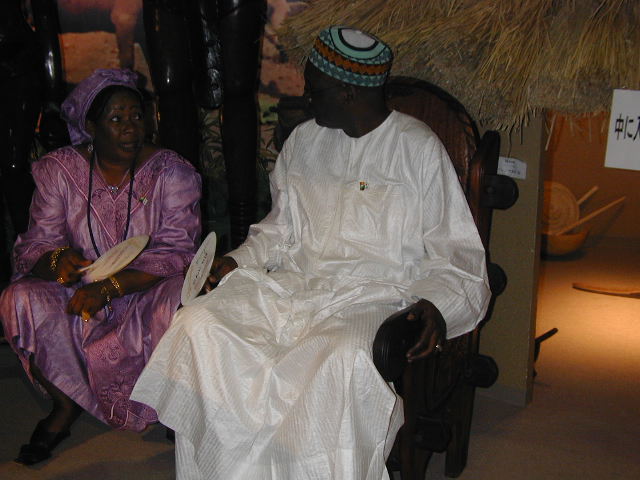 There were also outdoor stages in each of the areas, with hourly performances. For example, I enjoyed watching a group of Mexican dancers perform in the Americas area.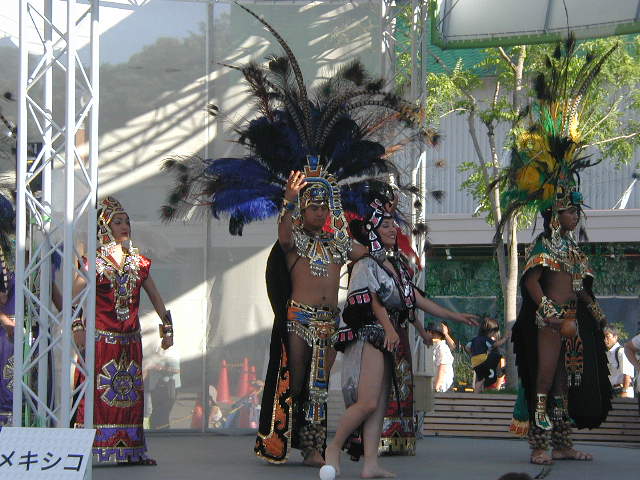 Somebody will inevitably ask me what the U.S. pavilion was like. It had a three part presentation. The first featured a statue of Ben Franklin, with an audio presentation about his life. (The presentation was in Japanese, but they had headsets with an English translation.) The second area took people into a theatre for a multimedia presentation, with the emphasis on how we're learning from nature to develop new technology. Finally, there were displays of some of the highlights of American technology, including a Mars Rover model. There were also live NASA photos on display on television screens (both from Mars and from the Cassini-Huygens mission).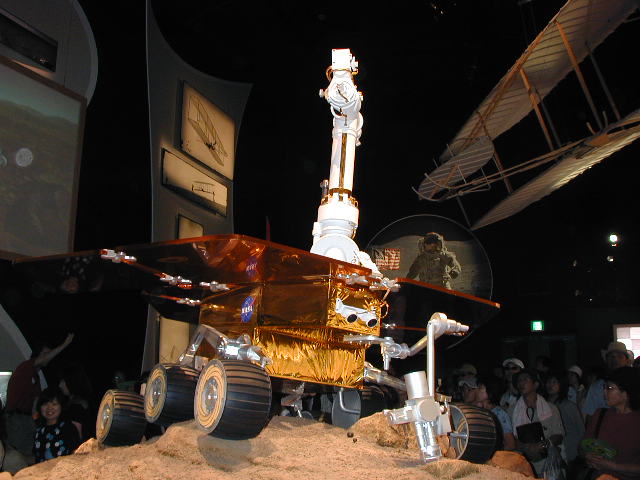 While I went through maybe 70% of the country pavilions, I didn't completely ignore the rest. I was particularly eager to see the frozen mammoth exhibit, so waited in line for 45 minutes. Alas, one just got conveyored past the mammoth for a minute or two, so it was rather a let down.
A somewhat better exhibit was that from the New Energy Development Organization or NEDO. That had video footage of research on carbon nanotubes, fuel cells, and robotics. There was also a three-D film in which two children spend their summer vacation with a giant robot. The pavilion came complete with its own giant robot.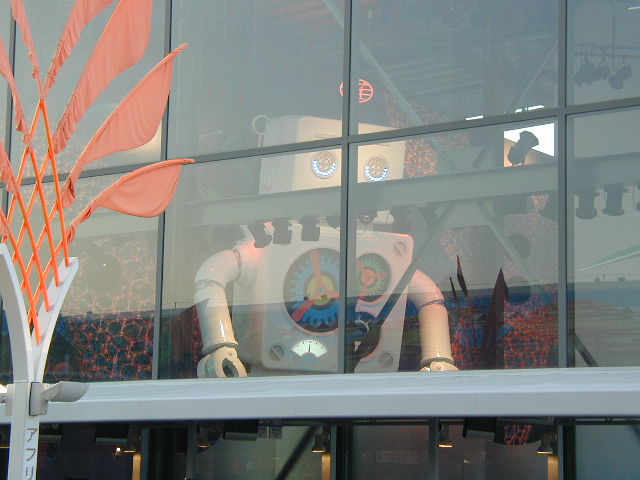 I did walk through the "bio-lung," a giant wall of vegetation, but just walked past the Global House (other than the mammoth part) and the Earth Tower.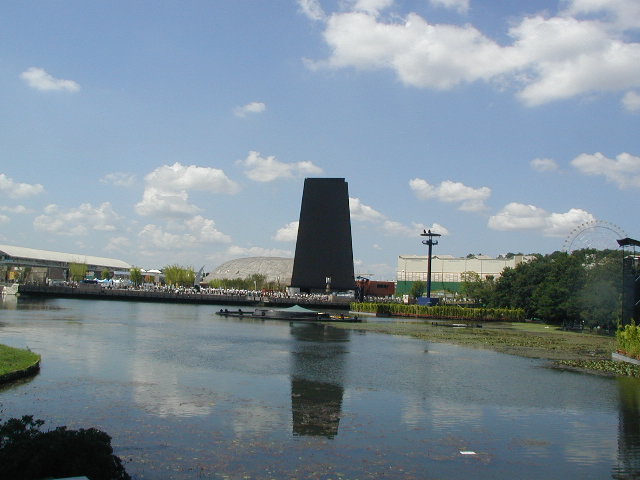 There were also several modes of transport, including trams, a pilotless bus system, and a gondola. The modernistic building in this photo is the Expo dome.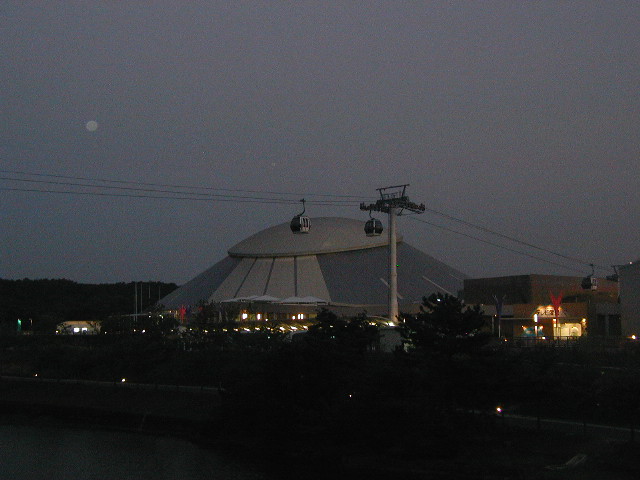 Two days was about the right amount of time to spend at Expo, though it would take four to see everything. Perhaps if the weather had been cooler or it had been less crowded I'd have enjoyed it more. But for every exhibit I found intriguing, there was just as much irritation with waiting on lines in the blazing sun. Some lines were just too long to deal with. I wasn't going to wait over two hours to get into the International Red Cross pavilion or over an hour to eat at Queen Alice Aqua, even if the latter was run by Iron Chef Yutaka Ishinabe. To quote a cartoon I saw somewhere later on, "it's not the heat, it's the humanity."
Before I left the area, I spent a half day in Nagoya. There was a minor annoyance there as it took me a while to find a luggage locker big enough for my backpack - which is not a terribly large bag and fit easily into the 300 yen lockers at other train stations. I finally discovered that the ones next to the intercity bus station were just a tad larger and stashed my bag for the day. Then I took the Meitetsu Line train one stop to the Sako station. It was a short walk to the Toyota Commemorative Museum of Industry and Technology, which proved to be well worth stopping in Nagoya for.
The museum is divided into two areas - textile machinery and automobiles. What's the connection? Well, Sakichi Toyoda invented an automatic loom and built up a business leveraging off various improvements in spinning and weaving machinery. His eldest son, Kiichiro, started the Japanese automobile industry. The overall museum theme is "being studious and creative" and there are lots of informative explanations (in English, as well as Japanese). But what makes the whole thing fun is the itneractive aspect. There are demonstrations and videos and buttons to push to operate machines. All in all, it was easy to spend over two hours and I didn't play with every single exhibit on offer.
The other major attraction of the western part of Nagoya is Noritake Garden, which is within easy walking distance of the Toyota Museum. The complex does include a garden, but there are also shops, a gallery, and a museum which explains the process of porcelain manufacturing. The musuem also has a gallery of Noritake porcelain, the most attractive of which is from the art deco era. But the most interesting exhibit was of hand-painted pattern books, which were used to show designs and take orders for the Western market. Overall, I spent maybe 45 minutes before walking back to the train station, retrieving my bag, and heading on to Kyoto.
---
Back to Previous Chapter | On to Next Chapter | Back to Index
Xenophilia Home
---
Copyright 2005 Miriam H. Nadel

last updated 20 September 2005
Send comments to mhnadel@alum.mit.edu