Tokyo and Yokohama
---
While my flight from Washington Dulles to Tokyo was direct and had a single flight number, it really involved changing planes in San Francisco. This sort of thing irritates me a bit, as it feels deceptive, but I knew that was the situation. The actual flights were fine, especially as my frequent flyer miles had let me do them business class. Actually, the first leg was on an Airbus 320 so it was nominally first class, but first class on a United Airbus is not all that luxurious. I slept most of that leg, since Super Shuttle had picked me up so early that I'd not gotten any real sleep the night before. (The early pickup was especially annoying as they got me to the airport a good 45 minutes before the check-in desks are even open. Oh, well, it's half the price of a taxi.)
On arrival at Narita Airport, there was about an hour wait at immigration. That gave me an opportunity to start a list of dumb or weird things in English written on t-shirts in Japan. The actual formalities were quick, after which I found an ATM to get some yen. The exchange rate is 113 yen to one U.S. dollar, but I found it easier to think of 100 yen as being about a dollar. Then I went to the Japan Rail office, exchanged my voucher for a rail pass, and got a ticket for the express train to Tokyo. It's about an hour to Tokyo Station. Once there, it was easy to follow the signs for the Yamanote line and take that one stop to Yurakucho Station.
Finding my hotel proved to be a bit harder. I had an address for the Hotel Monterey Ginza, but I hadn't known that Japanese addresses are, to put it bluntly, damn near useless. See, the address really only tells you where something is to within, say, a quarter mile and, more to the point, doesn't actually necessarily tell you what street something is on. In fact, so far as I could tell, 90% of the streets in Tokyo don't have any names. Eventually, I found somebody who spoke English and knew where the hotel was. Fortunately, the effort proved worthwhile, as the hotel was very nice. I should note that everybody always talks about how expensive Japan is, but I had found it fairly easy to find reasonably priced accomodations. In this case, a single room (with a bed that was roughly the size of what Americans would call a full-size bed) cost about USD 125 a night, which is less than I'd pay in a comparable location in most American cities.
My first morning, I took advantage of jet lag to go to the Tsukiji Fish Market. This was within easy walking distance of my hotel and it was interesting to see Tokyo waking up, so to speak. It was fairly easy to find my way, mostly because there were a fair number of signs in English. The market gets going in the wee hours and I got there a little before 6 a.m.. Which was fine timing to watch the tuna auctions. Men with hooks and flashlights inspect the huge fish, while an auctioneer rings a bell and shouts what I assumed were bids.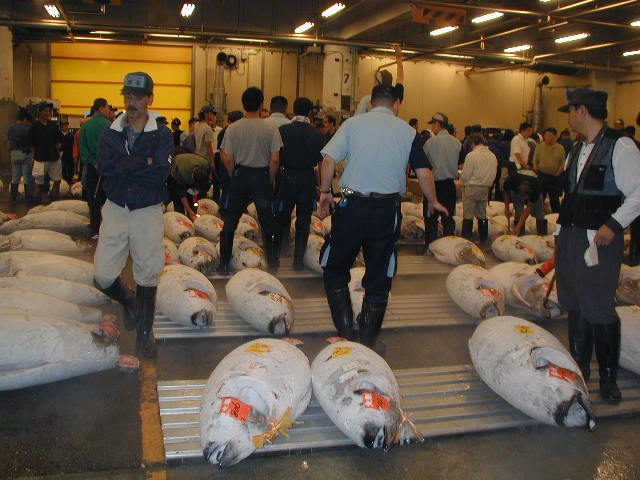 One can also wander aisles and aisles of retail offerings - pretty much everything that comes from the sea. I have to admit that I was a little disappointed in how many trucks and motorized carts there were inside the market. It was still fairly interesting, but just didn't feel all that exotic. I wandered back to the Ginza, passing a small shrine and the Kabuki Theatre on the way. Back at the hotel, I managed to take a brief nap, before going to the Japanese National Tourist Office where I collected free walking tour maps. I also ran a couple of other errands - buying my tickets for Expo, picking up a timetable for the bullet trains, and calling my mother's neighbors grandson to arrange to meet him for dinner.
Then I went over to Shinjuku to gawk at tall buildings. One of those tall buildings is the Tokyo Municipal Government (TMG) complex, which has a free observatory on the 45th floor. Allegedly, one can see to Mt. Fuji on a clear day, but there are as few clear days as there are street signs in Tokyo. The view was still worthwhile and, besides, it's free. The thing I found most surprising is that Tokyo does have large expanses of parks and gardens.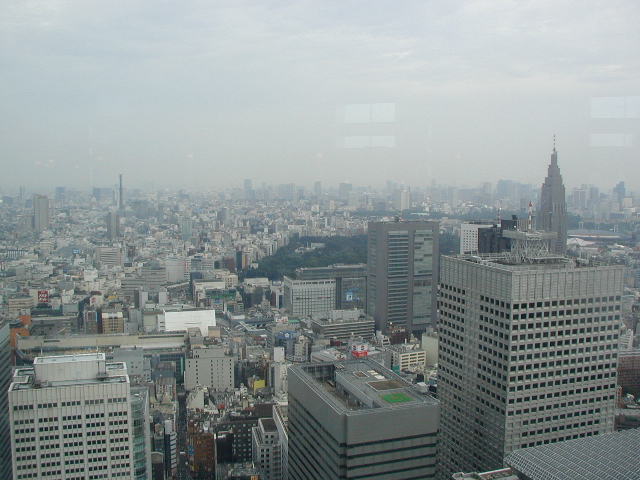 Most of my urban sightseeing tends to be somewhat random wandering around, but those walking maps from the tourist office were useful in providing a bit of context to that. The next morning, I set off to the Asakusa area. The main tourist attraction is the Sensoji Temple, which is said to be the oldest in Tokyo. One first goes through the Kaminariman gate.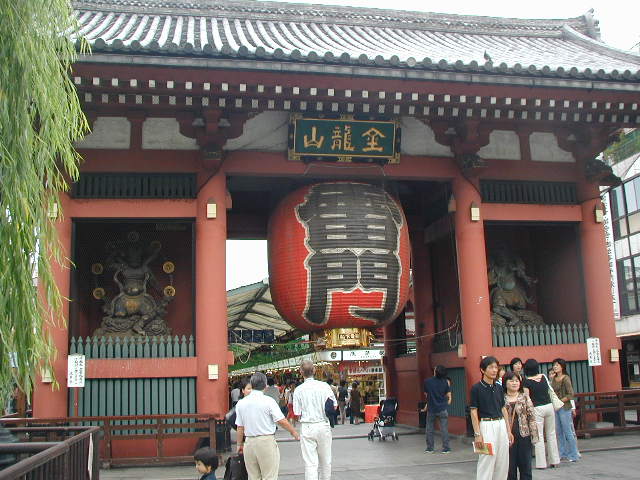 Then there's Nakamise Dori, which is a shopping street. In short, there is every sort of overpriced tacky souvenir one might possibly want. There are also a lot of shops selling sweets. The only thing I bought was a couple of fried dough balls filled with sweet bean paste, which I think of as a sort of Japanese doughnut. But I was interested in the variety of things on offer. For example, there were what I can only describe as doll boob confections.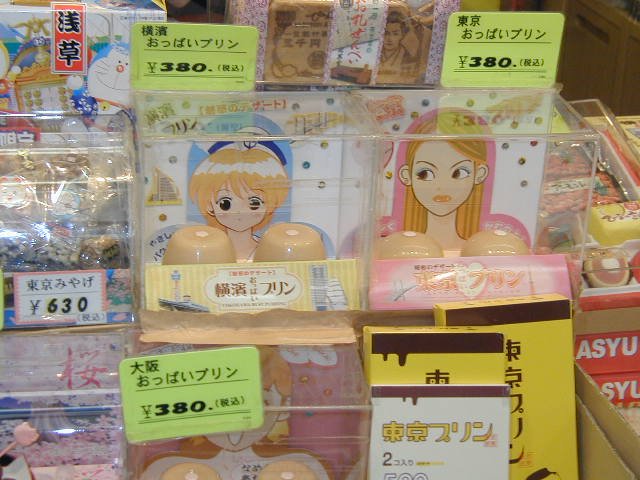 Eventually you get to the temple complex itself. A large courtyard has a big incense burner, where people smudge themselves with the smoke. Then there's a washing fountain, where people pour water over their hands. There are a number of structures and shrines and statues, including a five story pagoda.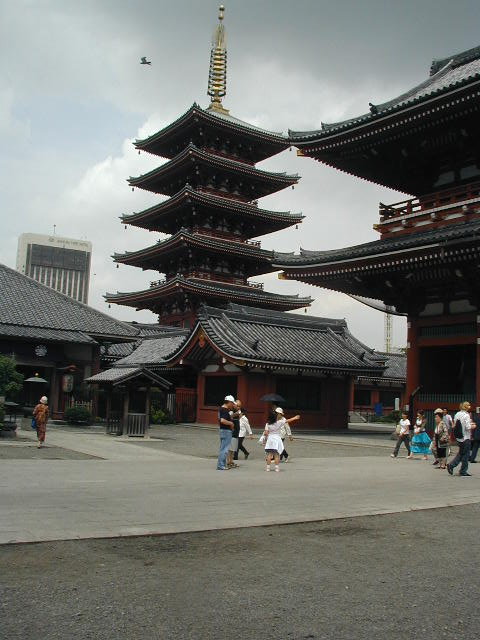 The actual temple had some sort of Buddhist service going on. To my uneducated senses, it was mostly chanting and monks walking around. You can also get your fortune told. To do that, you put 100 yen into a slot, which then lets you release a metal box full of wooden sticks. You shake that until a stick comes out. The stick has a symbol on its end and you match that to a wooden drawer containing your fortune (in both Japanese and English). I got a very good one, telling me that everything in my life would be great as long as I did right. But if you don't like the fortune you get, you can nullify it by tying it to a wire rack nearby.
After eating lunch, I took the subway to Ueno Park. The park is large and has a lot of monuments and museums and ponds and paths. Alas, it also has a lot of homeless people. My goal was the National Museum. This is huge, with several buildings. I focused on the Honkan, which holds the Japanese gallery. It's certainly a comprehensive collection of Japanese art. I have to admit that except for the textiles (e.g. kabuki costumes) and some of the modern art, it's not really to my taste. But, of course, one doesn't know that without going.
I had time for a bit of a rest before going off to meet Mike for dinner. He's the 19 year old grandson of my mother's neighbor and is studying in Tokyo for a year. We meandered around a bit before finding a restaurant that looked appealing to him. Our conversation was divided between home town gossip, my travel experiences, and his view of Japan. He was particularly negative about the rampant public drunkenness, which I'd already noticed on the subway. I have to admit that I had found it shocking to encounter men in business suits reeking of alcohol in the early evening. Another thing Mike confirmed was my view of Japanese addresses. He said that his host family gets their mail largely because the postman knows them, for example.
I had contemplated a day trip to Nikko the next day, but decided I didn't feel like spending two hours each way on the train to see another temple. Instead, I decided to check out a somewhat quirky museum. The Paper Museum is in Asukayama Park, next to the Oji train station. When I exited the station, there were no signs in English. I waved the brochure from the museum at the only person I saw, who pointed me to the right, along with a torrent of Japanese. A flight of steps led up to what was obviously a park, where there were more signs, all in Japanese. Fortunately, the park isn't too big and the first promising looking building I saw turned out to be the museum. The admission fee of 300 yen included extensive pamphlets in English, which translated the signs for the exhibits. You enter the museum on the second floor, which focuses on commercial paper, with wood pulping machines and so on. The more interesting material is on the top floor, which has a lot of information about handmade paper, including samples to touch. There was also a lovely display of Japanese paper dolls (three dimensional stuff, not like American paper dolls at all) and a special exhibit room displaying paper fans. The first floor has a "monument" exhibit of an ancient paper mill, which was pretty skippable. Finally, there's a tempting but pricy museum shop. Overall, I enjoyed the visit quite a bit.
Since I was already in quirky museum mode and it was nearing lunch time, I decided to take the train to Yokohama and check out the Shin-Yokohama Ramen Museum. This proved to be harder to find than it should have been. The problem was that, in addition to not having mastered the concept of useful addresses, the Japanese have not mastered the concept that maps should have a consistent orientation. So the map I saw when I exited the train station didn't give me any indication that I really needed to go left and through an underpass to get to the museum. I stopped in at a nearby convenience store to try to get directions and a clerk walked several blocks with me to get me pointed in the right direction.
In this case, the effort was not worthwhile. The museum does have moderately interesting displays about ramen making and ramen packages, but there's not enough to justify the 300 yen admission. There are a number of ramen shops in the building, but all of them were extremely crowded with long lines. I walked back to Shin-Yokohama station and ate a late lunch there instead.
Then I took the train to Kannai Station (also in Yokohama). The Doll Museum is, alas, closed for renovations, but I thought I might check out the Silk Museum. But, first, I thought I'd stop by Yokohama Stadium and see if I could get a ticket for that evening's baseball game. It turned out that the ticket office was opening in 20 minutes, so I just waited. The people at the ticket office don't speak English, but showed me a couple of tickets and pointed to where they were on a stadium map. I pointed to which one I wanted and 40,000 yen later, I had a front row seat on the 3rd base line to watch the Yokohama Bay Stars versus the Yomiuri Giants.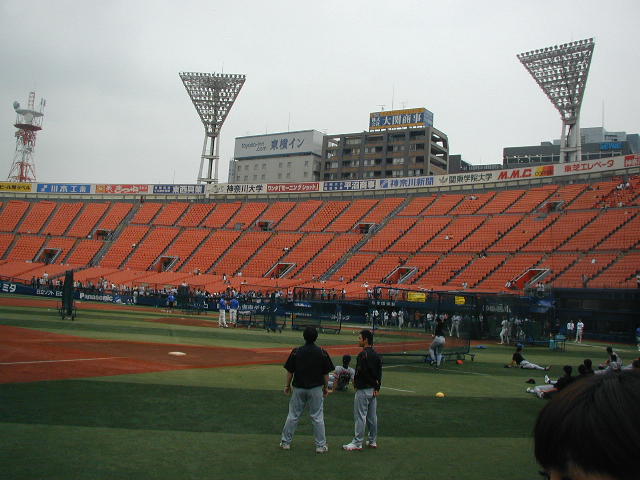 I suppose I could have gone off and done some normal sightseeing and then returned to the stadium, but watching batting practice also provided good opportunities for people watching. One thing I found interesting is the mix of English and Japanese at the stadium. For example, the Bay Stars have a theme song ("Be a Hero"), which is entirely in English. The pregame announcements about stuff like not smoking in the ballpark all are cartoons with English balloons. The team names on their uniforms are in English and the players names are in romanji, though the same names are written in Japanese on the scoreboard.
All in all, I had tremendous fun. I think a lot of what made it so enjoyable was seeing people letting down their hair. The Japanese tend to be very formal (which is one reason Westerners conclude that they're polite even when they're pushing and shoving on the subway trains). Going to a baseball game provided a rare opportunity to see people being more publicly emotional. As for the game, Scott Mullen pitched a shutout for the Giants. The real hero of the game was Hiroki Kokubo, who homered in three consecutive at-bats, accounting for 5 of the 7 runs the Giants scored. What's more notable is the cheering. I'd heard about the organized cheeering at games in Japan, but it's quite something to see and hear. Lots of trumpets and drums and thundersticks and flag waving. Imagine if you will half of the spectators at Fenway Park taking out kazoos and playing "Johnny Be Good" every time Damon comes up to bat and you might get an idea of what the cheering at Japanese baseball games is like. Oddly, the Japanese have not yet discovered giant foam fingers, so there's an obvious business opportunity for some enterprising soul.
My final day in Tokyo featured the initial rainbands of Typhoon Mawar. I decided that meant it was a good day to explore the underground shopping malls and department stores. The interesting part of that is the food halls in the department stores. There are hugely expensive gift items on offer, such as a 30,000 yen (almost USD300) packaged dragon fruit - something which sells for less than a dollar in its native Vietnam! But there are also lots of more reasonable items and samples on offer everywhere. I suppose somebody cheap and unethical could manage a fairly decent free meal that way. I opted for the restaurant floor and my usual method of pointing to a plastic model of a set lunch, instead. I made a brief foray outside to the post office to use an ATM, since I was going on to a less touristy area where I thought it might be harder to find one with a button to push for English guidance . And then it was time for the bullet train to Mikawa-Anjo.
---
On to Next Chapter | Back to Index | Xenophilia Home
---
Copyright 2005 Miriam H. Nadel

last updated 18 September 2005
Send comments to mhnadel@alum.mit.edu