C'est Si Bone: Antananarivo and Antsirabe
My South African Air flight from Washington to Johannesburg (via Dakar) was reasonably uncrowded and comfortable enough, at least as far as any long flight in coach can be. I stayed overnight at the pricy but convenient Intercontinental (a short walk from terminal 2). There were no issues with the flight to Antananarivo either. On arrival, I discovered that it was really pretty pointless to have gotten my visa in advance since the line for people who had done so was unattended and, hence, it actually took longer to get through immigration.
I was met by the driver / guide for the first leg of my trip, Liva. He watched my bag while I changed some money. Since the largest bill is 10,000 ariary and the exchange rate is roughly 1 USD = 1800 MGA, one ends up with quite a wad. By the way, the currency was changed a few years ago and Liva warned me that children will sometimes try to give you old Malagasy francs (which are worthless) in change.
We met with Brigitte from Boogie Pilgrim and drove around Antananarivo (the capital, also called Tana for short) which is hilly with crowded, narrow and twisty roads. The major tourist attraction is the Rova, the queen's palace, but it has been closed since an arson fire in 1995. It is allegedly going to reopen real soon now (i.e. they have been saying that for at least three years) and is covered with scaffolding. Being on the top of a high hill, the area does, however, provide a view over the sprawling city, showing Mahamasina Stadium and Lake Anasy.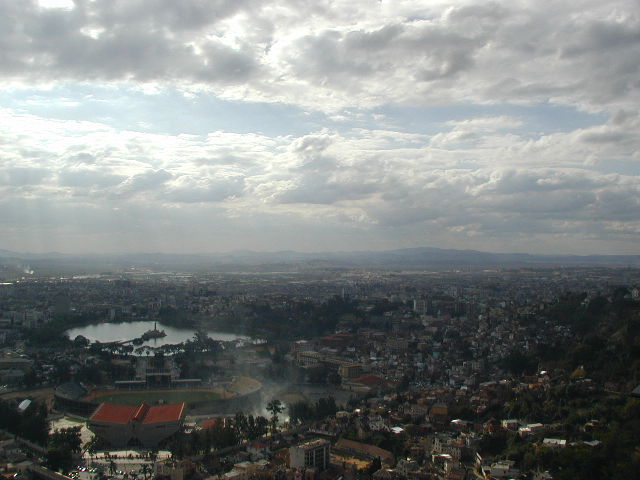 We continued on to the Irianja Guest House. Brigitte went over the vouchers for the rest of the trip with me. She was rather vague about the Fitimpoha and I should probably have asked more questions then, but I was pretty jet lagged. At any rate, the guest house had a comfortable room and offered a guided tour of their gardens, emphasizing medicinal uses of plants. Dinner was traditional Malagasy foods, which were not necessarily medicinal. There were supposed to be 7 dishes, but I actually counted more than that. The most notable was "varanga in tamarind sauce." Varanga is, essentially, zebu jerky. (Zebu are humped cattle and are very significant in Madagascar, as a symbol of wealth and tradition. They are sacrificed on ritual occasions and some of the meat is air dried for times of scarcity.) Other dishes included red and white rice, chicken with ginger, fish with vanilla, reviato (cassava leaves with coconut), and romazava (a sort of soup of greens, which is as close to a national dish as anything and is very tasty,) Dessert was koba, which is made with ground rice, peanuts and honey. It was all tasty, but there was way too much food and I fear I may have given offense by not eating enough!
In the morning, we headed south along RN7 (one of the major national roads) to Antsirabe. The scenery was attractive, full of terraced rice paddies. We stopped briefly at a raffia market, but it was way too early in the trip for me to even think of shopping. As we continued, we saw more and more things being carried by carts pulled by paired zebu. I was particularly amused by a zebu cart hauling the body of a Volkswagon Beetle!
Our next stop was outside Ambatolampy. All of the aluminum cooking pots in Madagascar are made in one village and the process was surprisingly interesting. The aluminum is recycled from things like engine blocks and melted over a charcoal fire, before being poured into a mold of mounded dirt. The pot maker sort of dances on it to make the metal fill the mold.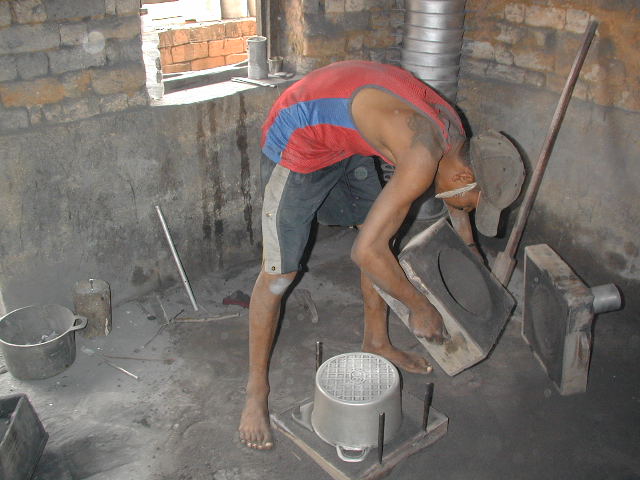 One other thing to note along the way is that there were several places where a large number of roadside stands sell one type of product. I already mentioned the raffia market. Other examples included toy trucks and this carrot market. Liva said he stocks up whenever he drives through there because a kilogram of carrots costs about MGA 100 there, versus MGA 500 in Tana.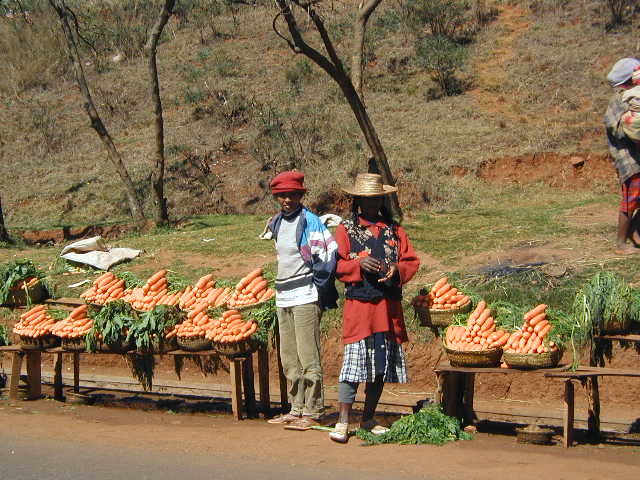 Eventually, we got to Antsirabe and did a quick loop around the town. The area is known for gems and minerals and there was an obligatory tour of a lapidary shop. The tour was of no use since the guide for it spoke only French, but did not seem particularly concerned that I couldn't understand him. On the plus side, he did not attempt to pressure me to buy anything.
In Antsirabe, I stayed at the Hotel Trianon. It was okay, but not really anything special. The really interesting place in town is the chateau-like Hotel des Thermes, but I gathered that is quite a bit pricier. (The thermal baths it is named for are possibly closed and none too sanitary if open.) There is a fair amount of very French architecture in Antsirabe, including the train station and a cathedral. Unfortunately, it's not easy to enjoy a walk around town because of the aggressive pousse-pousse (human-pulled rickshaw) drivers, who will follow you for ages calling out "push!" There are also lots of equally aggressive beggars, including children trying to sell you jewelry.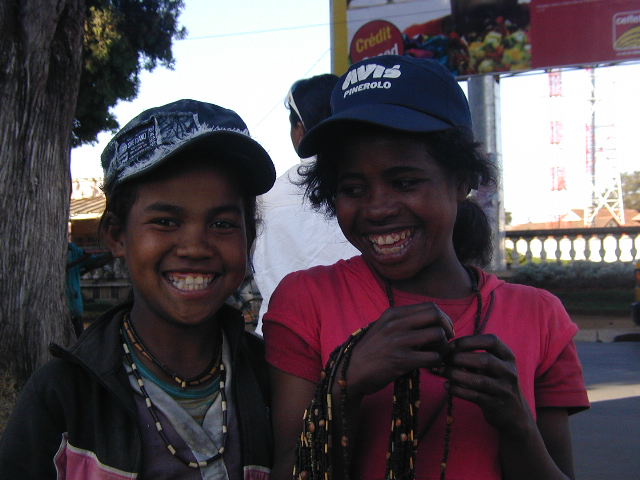 The next day was one of the highlights of the trip. Liva arranged with a friend for me to attend a famadihana. This is pronounced "fa-ma-dee-un" and is a ceremony in which corpses are disinterred, wrapped in new shrouds, and reburied. We drove to the village of Ambatoroka, about a half hour or so from Antsirabe. There was a lot of waiting around, but eventually we were invited to walk up the hill and see the tomb. Then we walked back down to the village and had lunch with the family, who were presented with a gift of money for the occasion. Then we left the house and listened to the musicians (who appeared to be paid primarily in alcohol) for a while. The instrumentation consisted of drums, trumpets and clarinets and, while I found it none too tuneful, it was eminently danceable. Much of the dancing had a lot of hand movement, with small side to side steps as the primary footwork.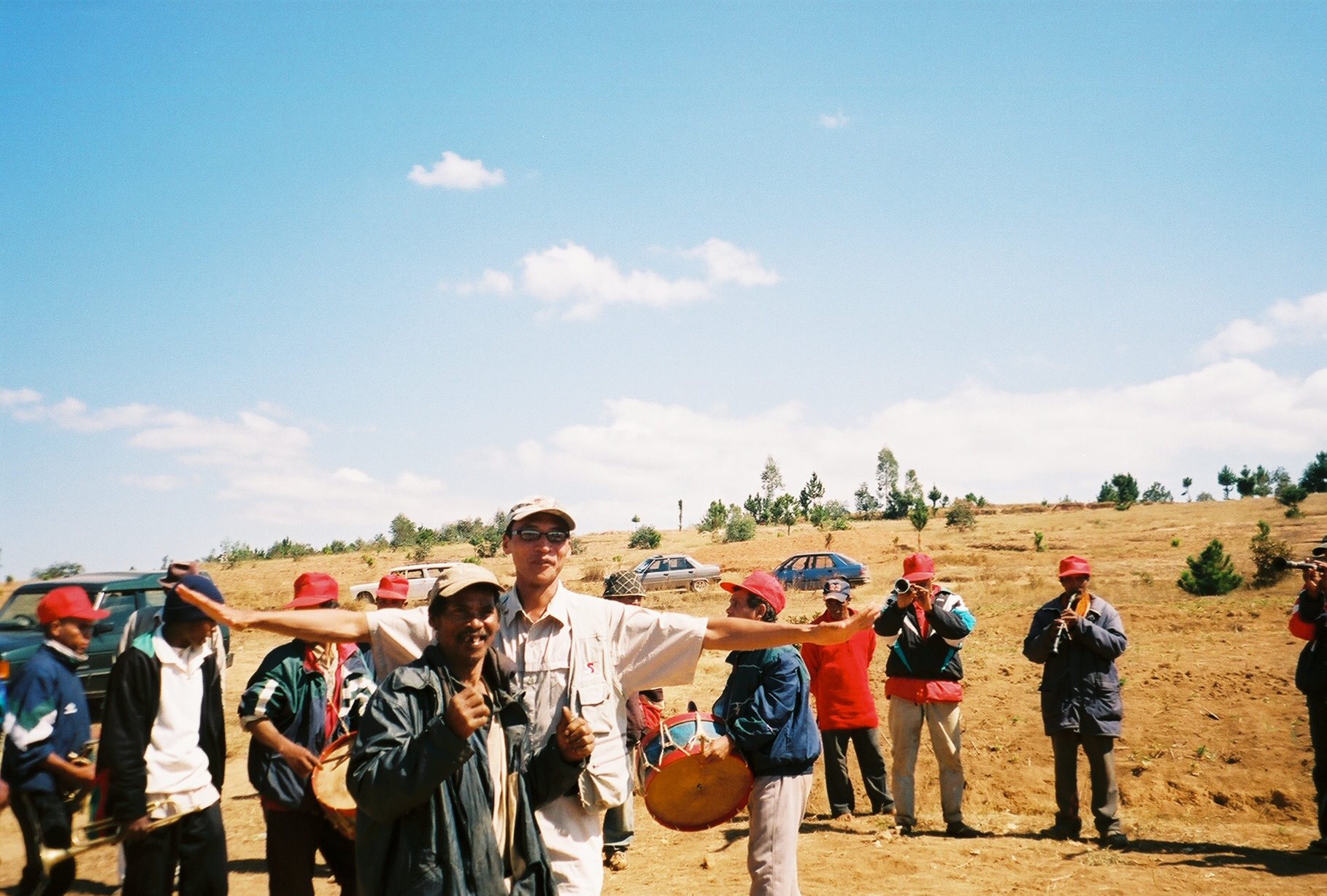 I was also invited to see a traditional Malagasy house. That consisted of a "cook room," combination bedroom / dining room, and a zebu pen. One could conclude that the zebu are treated better than many members of the family.
Eventually, there was a procession from house to house. The Malagasy flag was taken down from the house and carried while the musicians played and everybody crowded into the courtyard of the house to dance.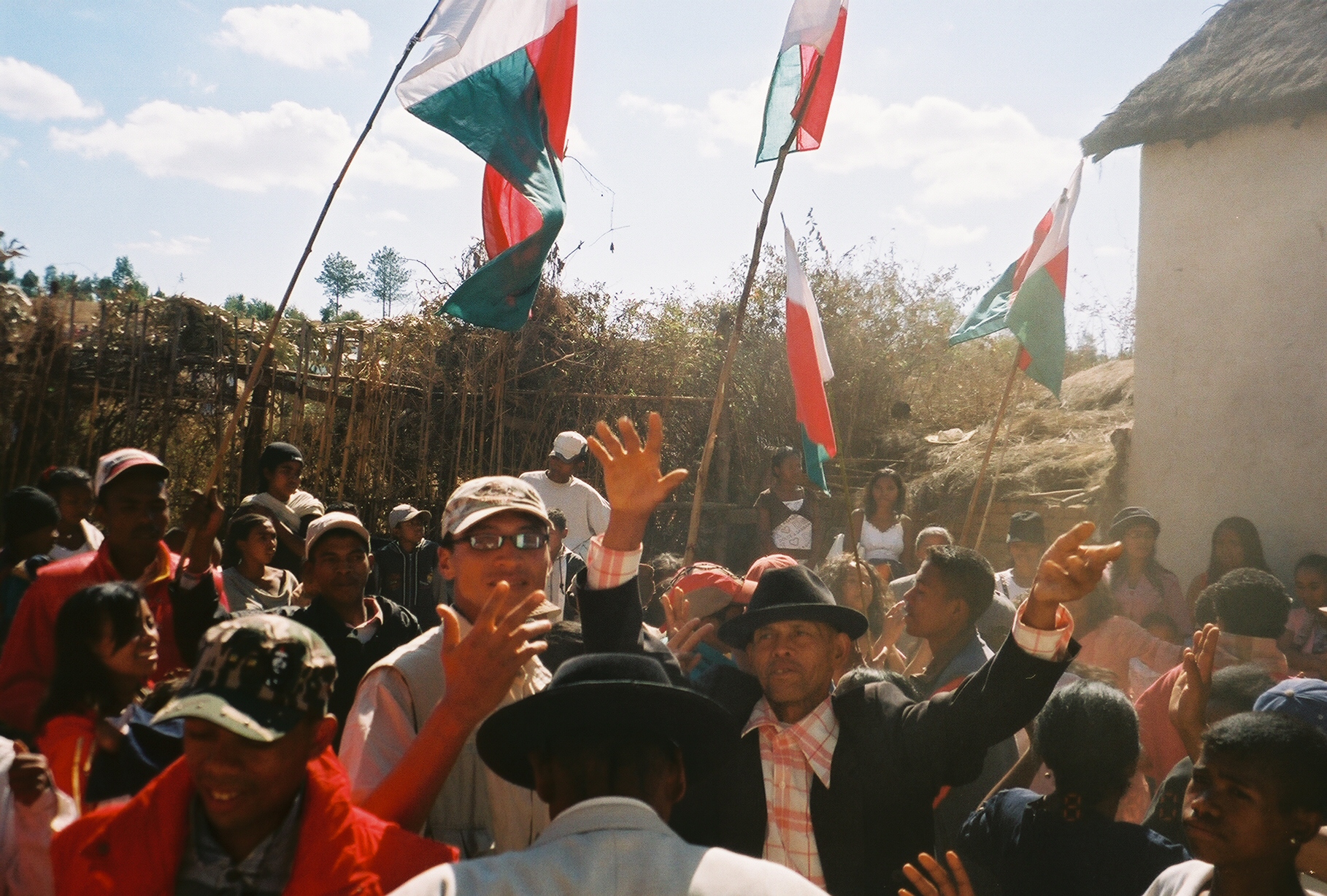 We followed the procession through the village, down the road, up through another village and to the tomb, collecting more and more people along the way. I'd guess that the crowd grew from under 40 at the first house to a few hundred. The president of the village (and a couple of other elders) stood on top of the tomb. The Malagasy national anthem was played, followed by a speech which Liva translated as, "this is a feast, drink a lot and have fun." Then the rocks holding the tomb closed were chipped away and it was opened. The bodies were wrapped in woven mats and carried off to one side of the tomb, where they were laid next to one another, with new cloths laid out over them. Much to my relief, the old shrouds are not removed.
In one case, a husband and wife were laid on top of one another and wrapped in a single shroud for the two of them. Apparently, if somebody is widowed and remarries, they will be wrapped up with their first spouse after they die.
There were claimed to be ten bodies in the tomb, but I think it was actually more than that. The whole wrapping process took quite some time, with music and dancing all the while. There were also vendors selling snack foods and beer. Eventually, the wrapping was complete and the rewrapped bodies were carried around the tomb several times before being returned to it. By the way, I found it interesting that the person's name was written on the outermost shroud.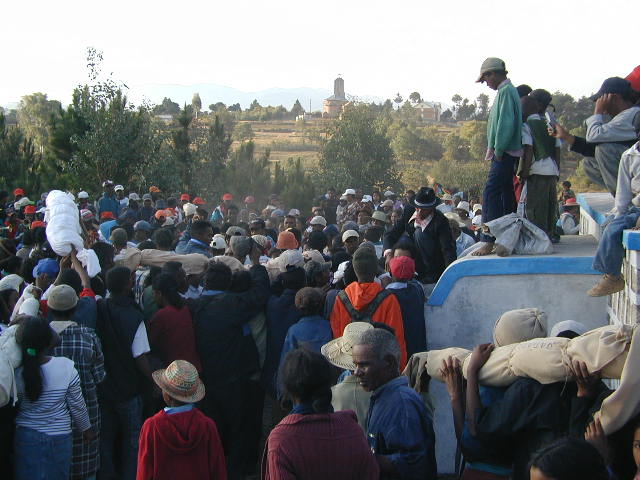 All in all, this was a fascinating event to attend. Everybody was very welcoming and I was truly made to feel like a part of the family. I was only on the third day of my trip and I already felt like I'd gotten my money's worth.
My final day in Antsirabe started with a visit to Lake Tritriva. This is about a half hour from Antsirabe and is, frankly, a total waste of time. It's up a steep hill and there is a roadblock at the top, forcing you to pay MGA 3000 admission. You are then immediately swarmed by local children trying to sell you polished stones. The lake itself is deep and volcanic and the water level is claimed to rise and fall seasonally, with it being highest during the dry season. There is a legend involving two lovers who, forbidden to marry, jumped into the lake turning into intertwined thorn trees which bleed when cut. However, the trees were swept away by Cyclone Gafilo in 2006, which makes rather a mockery of the "eternal love" aspect of the story if you ask me.
Going back towards town, we stopped at Lake Andraikiba, which was considerably more peaceful. There is a market there, but you have to go up to the stalls to shop, instead of being chased down by small children. Most of the stalls sell the same assortment of polished stones. For variety, some also sell unpolished stones.
Functional local markets are more to my taste and the Saturday market in Antsirabe is large and lively and decidedly untouristy. The goods range from clothing to shoes to hardware to school supplies. And, of course, food.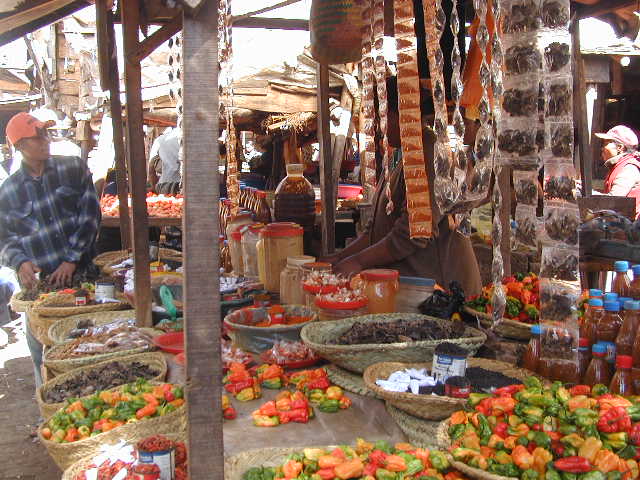 The next day would start my trip out of the highlands to the west of Madagascar. But that's the subject of another chapter.
[ Back to Previous Chapter | Back to Index | On to Next Chapter ]
---
---
Copyright 2008-2009 Miriam H. Nadel

last updated 10 August 2009
Send comments to mhnadel@alum.mit.edu