Many Lemurs: Down the Tsiribihina River
The journey from Antsirabe to Miandrivazo was roughly 4 1/2 hours. RN34 is a reasonably good road and the trip started out through more of the terraced agricultural landscape of the highlands. We stopped at one village for Liva to have some coffee (and a cigarette), while I used a reasonably clean public toilet and took a short stroll. Then things got mountainous (as opposed to merely hilly) and definitely deforested. At one point we were stopped by three policemen in military fatigues carrying automatic rifles. Liva said, "they live in this village, is it OK if we bring?" I didn't really think I could say no to men with serious weaponry. Liva also claimed the police were there "for the security of tourists." It seems far more likely that they're there to deal with cattle rustling, which is a serious problem in Madagascar. When we drove right through the next village, I got increasingly nervous and suspicious. It turned out that they really did just want a lift, but my imagination got quite a workout for a good 45 minutes.
We eventually arrived at Miandrivazo, where Liva left me at the Hotel Lakana, while he returned to Tana. The hotel was just adequate, but it was only for one night. It did, however, have an excellent restaurant with delicious tilapia and I was able to enjoy a lengthy conversation in fluent English with a Malawian man who was traveling the country teaching tobacco farming to the Malagasy people. I also met the guide for the next leg of my trip, which involved a descent of the Tsiribihina River. I am sorry to say that I never actually wrote down her name, but for some reason I think it might have been Jeanne, so I will use that for convenience. By the way, Tsiribihina is pronounced approximately "cheery bin," and I found myself humming the Yiddish song, "Chiribim Chiribom," for the next three days.
By the way, "Miandrivazo" means "the place where one waits for a wife." The story is that a king came there to do just that. It's really nothing more than a wide spot in the road, with a few hotels and restaurants and a marketplace, but no actual sites of specific interest.
The river descent was organized by a company called Espace Mada and started with a drive around town, collecting passengers from various hotels. In addition to me, there were two French couples and an Italian couple. I was relieved that the Italian man spoke excellent English (and very little French), while Jeanne's English was adequate.
We drove down a rough road for about two hours to get to the boat. This was a fair sized motorized barge, with a dining table and chairs on the lower deck and a few chairs on the upper deck. It was comfortable enough - especially compared to the pirogues which constitute a cheaper option but don't allow you to get up and walk around without disembarking. One of the French women was, however, shocked to discover that the boat had no toilet. (I had been warned of this by my guidebook.)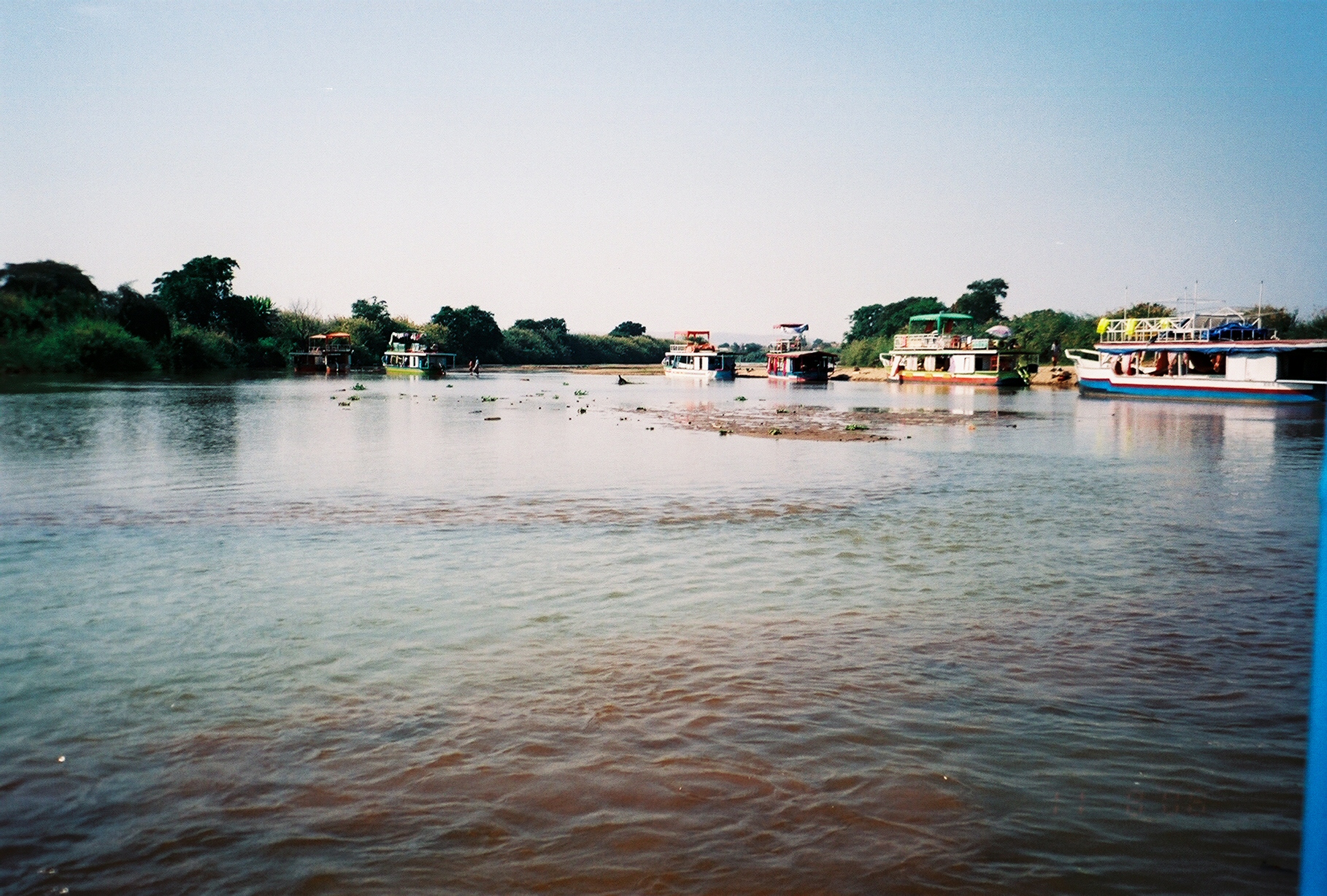 I should also note that the boat came with as many crew members as passengers. In addition to the captain and the boys (teenagers perhaps) who served as skippers to push the boat off of sandbars when necessary, there was a cook and his assistant. The boat also carried live poultry, but the chickens were not destined to survive the journey. At least we knew the food was fresh.
Anyway, the river was broad and slow moving, with villages scattered far apart on its banks. We saw several fishing pirogues and a few other motorized boats, but no other tourists. It was pleasant to see the rural life of the country at a reasonable pace.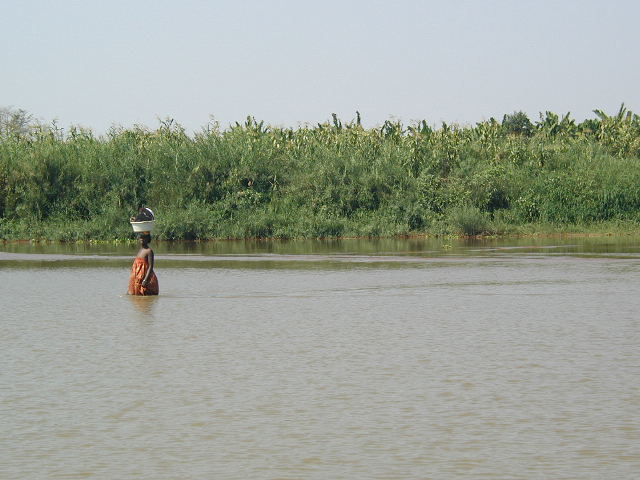 Later in the day, we entered a gorge surrounded by forest and we saw lemurs. First, there were sifakas, white lemurs which jump impressively from tree to tree. I was glad I had my binoculars as neither my digital nor film camera has adequate zoom to capture them. And they move far too quickly to have much hope of getting a decent photo anyway. According to Jeanne, they don't drink water and are monogamous. A bit further on, we saw brown lemurs, which were said to drink water and be polygamous. Obviously, water must be bad for lemur morals. While we were closer to the brown lemurs, I still failed to get a picture I consider worth letting other people see.
After continuing for a while, we stopped briefly to collect firewood, before continuing on to a place where one could hike up a steep slippery path to a waterfall. See - a river cruise in the developing world can have running water! We continued on a short ways to our campsite, described in the itinerary as "bivouac on sandy river bank." That was an inadequate description since the site featured a true luxury - namely, tents we didn't have to set up ourselves. They even had mats with bedding, so I needn't have lugged my sleeping bag along. A moonlit night, rum punch with lemon and ginger, a good meal (lentil soup, zebu steaks, and potatoes), and a soft (albeit sandy) bed - what more could one want? There was even a (squat) toilet.
There was a magical moment in the morning, too, as men came past in pirogues, chanting as they paddled. I wished I had a tape recorder with me. We returned to the waterfall and part of the group went for an early morning hike. Then we continued down the river, where we saw "many lemurs." Alas, that was just the translation of "Begidro," a village we stopped at and the only primates there were homo sapiens. People can be interesting enough and we enjoyed seeing the the life of an agricultural village of about 700 people.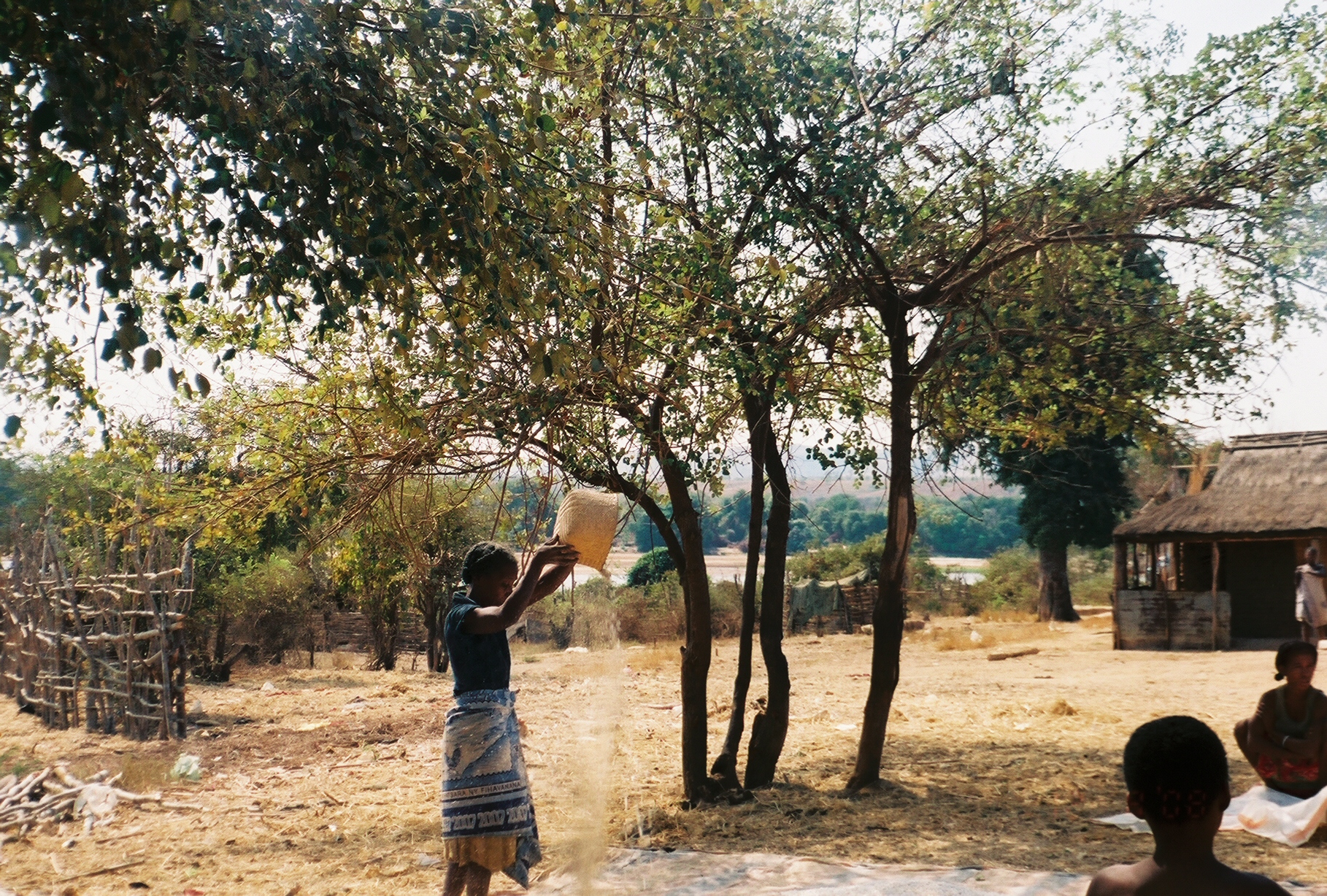 Continuing down the river brought scenery of cliffs with nesting birds - and a couple of very large crocodiles. Our second campsite proved as comfortable as the first. This one was close to a village and the children of the village visited with us. Having a digital camera with a built-in printer is an easy way to make yourself very popular with kids anywhere in the world. Note the two boys in this picture admiring the Polaroids I gave them!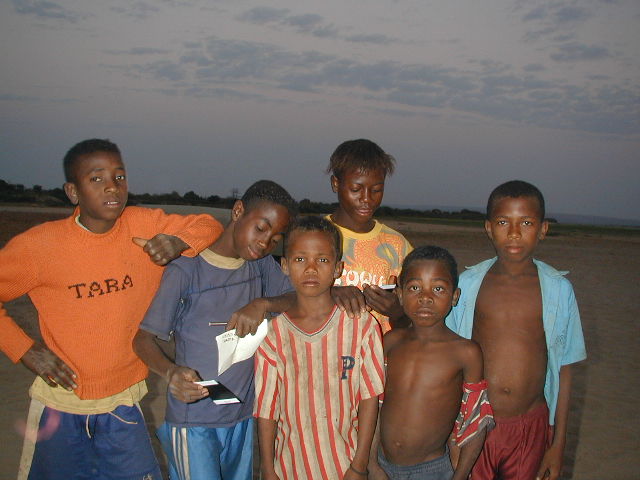 After dinner, the people of the village put on a little performance (music and dance) for us. In return, we presented them with gifts. I used the opportunity to distribute the school supplies I had brought along.
We traveled the rest of the way to Belo sur Tsiribihina the next day, eating lunch in the boat just after arriving. While waiting to disembark, I took a picture of a local ferry - three boats with a platform of boards - being loaded with vehicles and people. My itinerary said I was supposed to be met by a hotel employee with a zebu cart, but there was nobody there. I got a ride to the hotel with one of the couples from the boat. (To be fair, Jeanne was making several cell phone calls while we were waiting to dock and she could have arranged it this way.) Which takes us to the next chapter.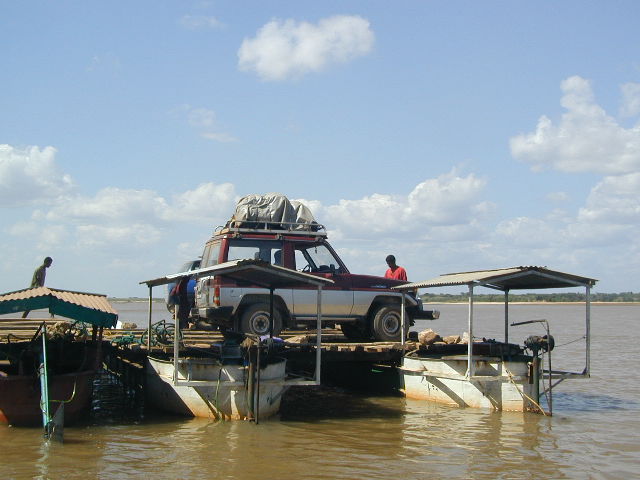 [ Back to Previous Chapter | Back to Index | On to Next Chapter ]
---
---
Copyright 2008-2009 Miriam H. Nadel

last updated 2 December 2008
Send comments to mhnadel@alum.mit.edu