Fitampoha Fiasco: Belo sur Tsiribihina and Morondova
---
I arrived at the Hotel du Menabe and quickly discovered that there was nobody at the hotel who spoke a word of English. Providing my voucher did eventually get me shown to a room, which may rank as the shabbiest hotel room I have ever seen in my life. What was wrong with it? Well, let's start with the lack of window screens, the floor that appeared not to have been washed in my lifetime, the single 15 watt lightbulb in the room (and what appeared to be a 5 watt lightbulb in the bathroom), the bucket of greyish water under the sink, the holes in the blanket. Need I go on? The kicker was the rooster feathers on the floor. The hotel was said to be the best in town, but I suspect that should really be interpreted as "only place in town with en suite rooms." Personally, I have no objection to walking down the hall to the bathroom if it nets me a room that doesn't seem likely to cause minor diseases.
I could put up with the squalor if there were hospitable service. But that also left a lot to be desired. Most hotels in Madagascar provide matches for lighting the mosquito coil (and a candle in the event of the inevitable night-time power outage). During the first power outage, I had to go down to the front desk and it took me nearly an hour before I could get matches from the front desk. (I did have a flashlight, but I didn't really want to run down the batteries by using it for hours.)
Still, I was determined to go to the Fitampoha. Phrasebook in hand, I asked the hotel desk staff, who suggested that there might be something happening in a day or two. I figured that a walk around Belo sur Tsiribihina might net me more information, so I set out down the main street. Which is not quite the only street. There are at least three others, one of which leads to a large and well-kept church and school complex.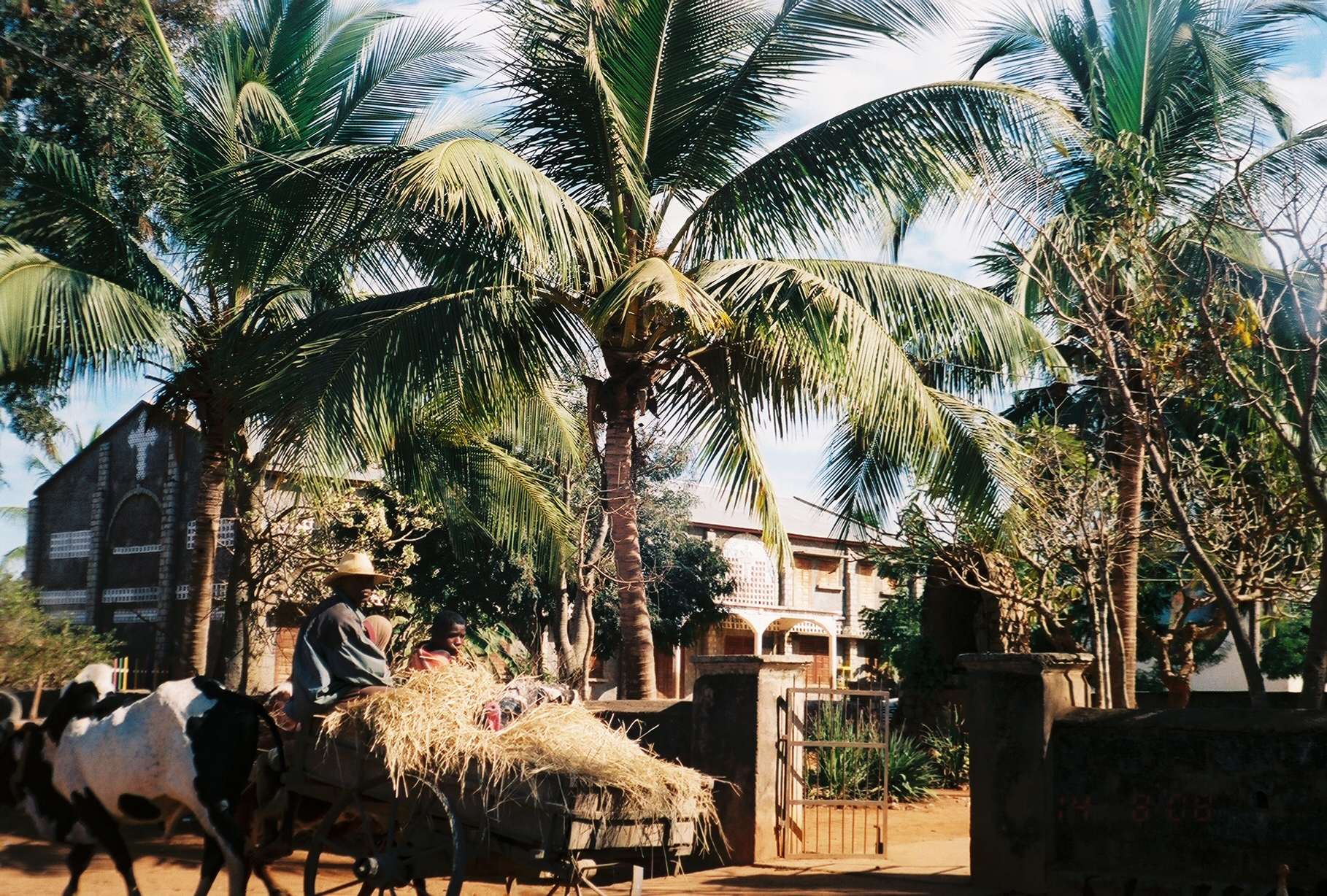 About all I saw relating to the Fitampoha were a few signs from a radio station affiliated with the university in Tolear and a couple of t-shirts (children's sizes only) in the marketplace. I did eventually find somebody who spoke enough English to tell me that things might start about 9 the next morning. I also found (and ate at) the Mad Zebu restaurant, which caters to tourists on their way to or from Tsingy de Bemaraha National Park. The food is very French and quite good, though a bit on the pricy side. When I returned to the hotel, a man came over and introduced himself in marginal English, telling me he would be driving me to Tsingy de Bemaraha in 10 days. It was only at that point that I realized that Boogie Pilgrim really never had any intention of providing any sort of guide during the Fitampoha, least of all an English speaking one.
In the morning, the person who had told me the festival would start at 9 a.m. told me it would start at 2 p.m. so I killed the day as best I could. Wandering around, I found a few local people did know just enough English to beg for money. Eventually, I went back to the hotel to get lunch. That actually netted me some information as there was an Australian couple there who were traveling with a Malagasy friend and his Japanese wife - and the Malagasy man had an actual schedule for the Fitampoha. After eating, we went over to a place that made photocopies and I, too, had an actual schedule. Which, by the way, claimed that the events would start at 4 p.m. The overall schedule was not particularly promising, as about half of it consisted of things like "day free for individual initatives," "visit to tomb in some other town for which no transportation is available," and "day when it is forbidden to do anything."
By the way, the service at the hotel restaurant was up to the rest of the standards of the hotel, i.e. not very good. The menu has about 8 dishes, but they really only have 1 or 2 of them at any given time - and it takes them a half hour or so after you order before they come back and tell you that. Let's just say that if you wanted to eat chicken, you'd do just as well to order an egg and wait for it to hatch.
I wasn't naive enough to believe times on printed schedules, so didn't drift over to the festival site (the Zomba, a sort of fenced hut where the royal relics were being stored) until about 4:30. There were some people hanging around, but nothing actually happening. At about 5, a zebu cart arrived with stereo speakers. By 6, everyone had drifted away, having realized that nothing was going to happen. To be fair, there was music and dancing much later (and, apparently, going on much of the night), but there were no lights so it's not like there was anything to actually see. The sound does, however, carry and add to the barking dog and crowing rooster cacophony.
I went back over the Zomba the next morning for what the schedule described as the opening ceremony. There was drumming and chanting and people running around wearing red headbands (presumably members of the royal family), with periodic speechifying in Malagasy. All of those were interrupted every now and then by a guy blowing a conch shell. Even this less than exciting activity happened inside the staked area, which severely limited how much us non-royals could see. By the way, one had to be barefoot to get anywhere at all close to the Zomba - a rather unpleasant prospect given the sanitary conditions of the field.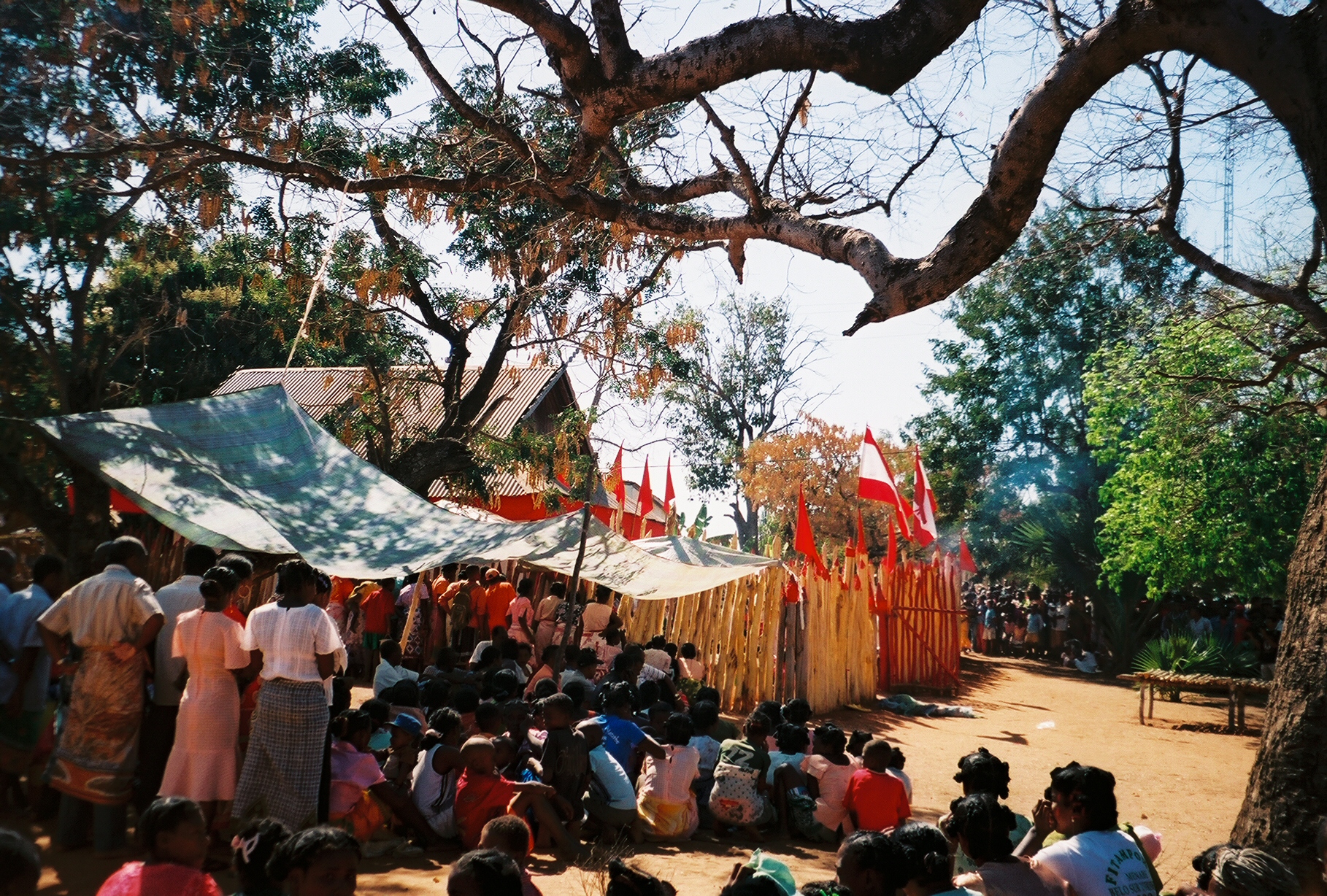 With a guide to explain what was going on, I would probably have still found it worthwhile to put up with the conditions. Without one, I was merely hot and bored and generally miserable. I went back to the hotel and telephoned Brigitte. She was not especially helpful and mostly emphasized that any deviations I made to the itinerary would be at my cost. I said something like, "that's what credit cards are for." Events later on would prove that was not the right thing to say. A man who actually spoke English overheard me begging to leave and arranged for me to ride to Morondava with two women from Reunion and helped arrange a room at the Baobab Hotel there.
There was another ordeal involved there, namely the ferry across the Tsiribihina River. That was hot and crowded and decidedly uncomfortable - but it was only an hour. The road was bad but not intolerably rough. And it did pass some of the most famous scenery of Madagascar. The first site along the way was the sacred baobab.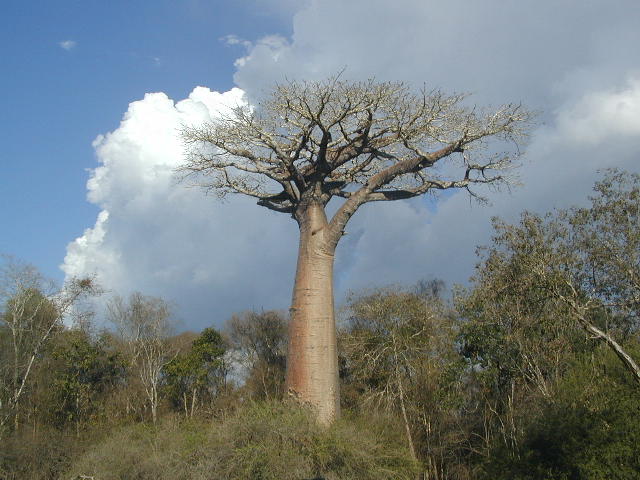 That was followed by "les baobabs amoreux," i.e. the amorous baobabs.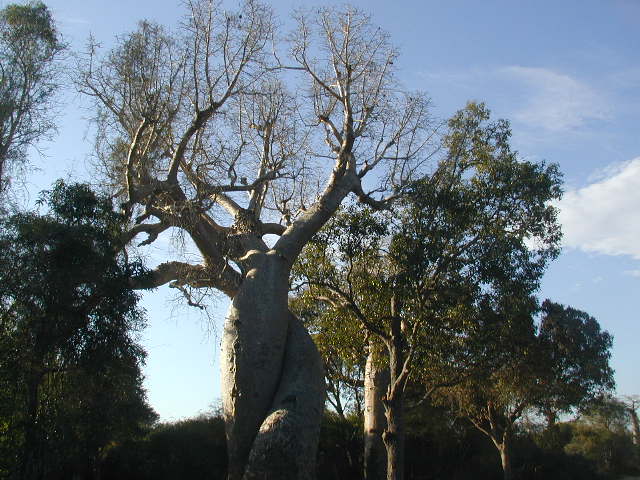 The obligatory site is, however, the Avenue of the Baobabs. We got out and walked down this, which would be far more scenic if it weren't for every other tourist in the country doing so at the same time. Rumor has it that they don't let you leave the country if you haven't taken this picture, a fate I was not about to chance at that point.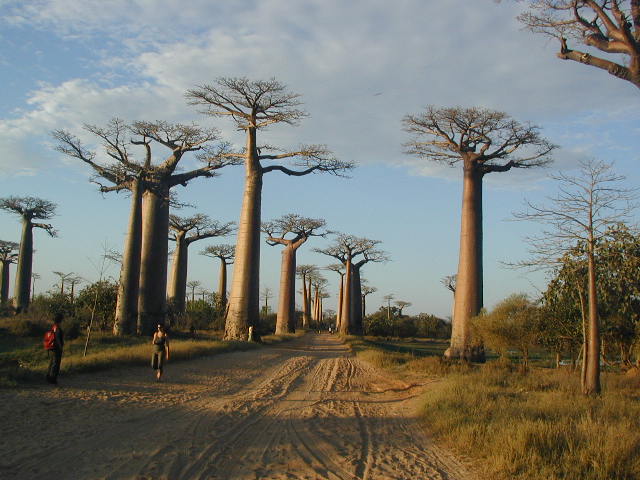 The Baobab Hotel was not especially quiet and the hot water in the shower was not especially hot, but it was clean, the bed was comfortable, and the staff was friendly, which put it miles above the Hotel du Menabe. It still was not really a place to hang out for a week until I could pick up with the rest of the itinerary, though.
Here is where having used frequent flyer miles was a problem. Had I paid for my plane ticket, I could probably have made a phone call or four to South African Air and paid a couple of hundred bucks and left. That wasn't an option with my United miles, which don't allow any changes after departure if you're on non-United metal. After thinking long and hard about it, I decided that the best thing to do was to try to salvage things by heading further south and hanging out somewhere that might actually have things to do, vs. hanging out for a week and being bored out of my skull. That meant that I'd miss seeing Tsingy de Bemaraha, but so be it.
At least Morondava had a couple of places with Internet access. (The fastest connection is at a hotel called Le Renala, but they only have 2 terminals.) Brigitte was less than helpful, as she promptly went on vacation, turning me over to one of her colleagues - who couldn't really speak English. Andy tried to help via email, but there was not a lot he could do. There are any number of things one can do in Morondava, e.g. excursions to Kirindy National Park, but one can't really do them if one is waiting for a travel agent to get back to them.
Three full days - and much frustration later - I got an email with a new itinerary, which would have me flying to Morombe in two days, followed by beach time, a flight back to Tana, and an excursion to the Boogie Pilgrim owned Bush House on the Canal des Pangalenes. I'd never heard of that area before, but I looked it up in my guidebook and it looked okay.
By the way, my decision to leave was vindicated when I ran into the Italian couple who'd been on the boat down the Tsiribihina with me. They'd passed through Belo sur Tsiribihina and attempted to go to one of the Fitampoha events. They couldn't, though - because they were wearing the wrong colors! By the time they'd changed clothes, the event was over.
I did have to kill one more day in Morondava, which also involved moving to the Morondava Beach Hotel, where Boogie Pilgrim had originally booked me. This proved to be shabby and unfriendly - and, given that the posted prices there were as high as at the Baobab - it did little to reassure me of Boogie Pilgrim's competence. By the way, the real class act of Morondava hotels is Chez Maggie and their rooms are also in the same price range. (I did eat a couple of meals there, by the way, and the restaurant is excellent. The restaurant at the Baobab was also quite good and there is also a good pizza place up the street.)
But I am ever optimistic and there was sun and sand ahead. Or at least in the next chapter.
[ Back to Previous Chapter | Back to Index | On to Next Chapter ]
---
Copyright 2008-2009 Miriam H. Nadel

last updated 27 JUne 2009
Send comments to mhnadel@alum.mit.edu