Cote d'Obscure: Ampasilavy, Salary Bay, and Ifaty
My flight from Morondava to Morombe was on a 19 seater plane, with only two other passengers aboard. There is absolutely no security for internal flights in Madagascar - no x-rays of baggage, no walk through metal detector, nothing at all. When we arrived, it turned out that all three of us were going to the same place - Laguna Blu. It took a little over 2 hours along a moderately bad road. The quality of the road is, however, inversely proportional to the quality of the scenery and the trip through the spiny forest was interesting, with lots of cacti and baobabs to look at. By the way, the owner told me that Boogie Pilgrim had only phoned him about the transfer the previous evening!
Laguna Blu is an Italian run resort between the villages of Andavadoaka and Ampasilava. The place is simply lovely, with a beach that must make the short list of most beautiful beaches in the world. My friend, Byron, takes a photo out of his hotel room window where ever he goes. I had a cottage, so this is really "out my cottage door" but I am still calling this photo "eat your heart out, Byron."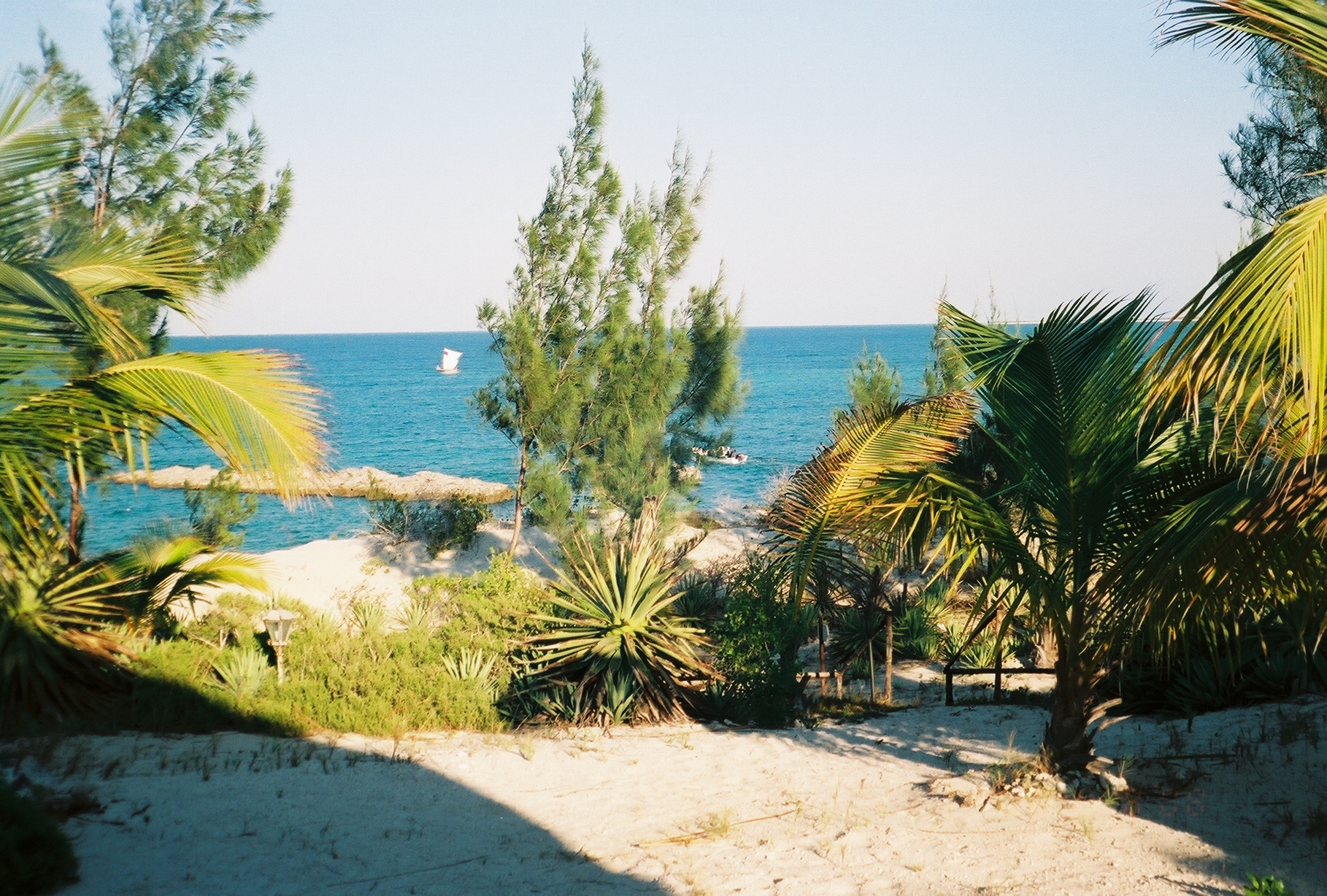 There was swimming and snorkeling at the beach, which was fine though a bit chilly in the morning. (And the afternoon is low tide, which puts a different sort of damper on things.) One can also walk to Ampasilava, which is about a kilometer stroll along the beach. The village was pretty much a set of wooden huts, but the fishing pirogues on the beach were nicely colorful.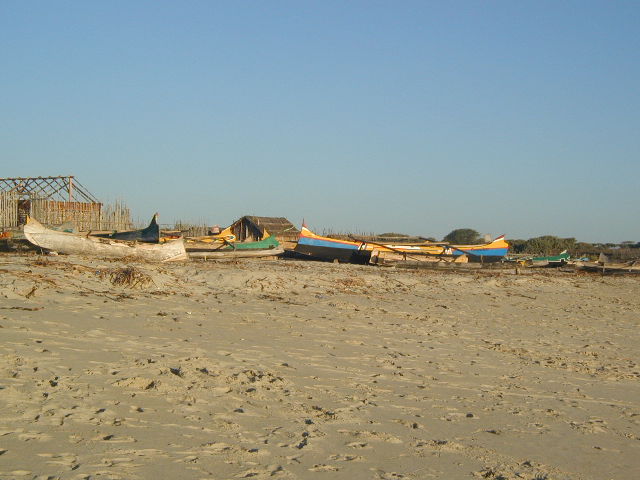 There is, however, a serpent in paradise. In this case, it took the form of particularly persistent begging children. They come up to the beach at Laguna Blu and not only ask for "un cadeau" (a gift) but will even grab at your pockets to see what you might give them. Three boys followed me all the way up to the village and, when they saw I was not going to give them anything, started drawing obscene pictures in the sand.
The resort also runs excursions to the spiny forest at a reasonable fee. One member of an Italian family translated into English for me - and it turned out she had gotten her doctorate at MIT! Small world, indeed. We saw a lot of cacti, baobabs and tamarinds. The baobabs in this region are particularly bizarre and impressive. Note that the white patterns on the baobabs are caused by a parasite.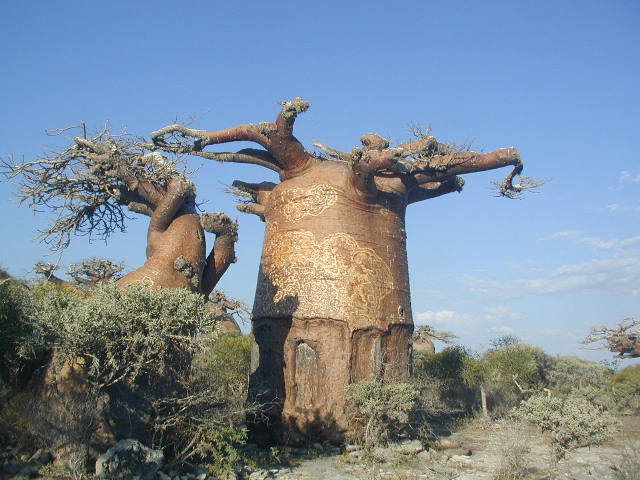 Here I'm trying to look thinner by standing next to a fat tree.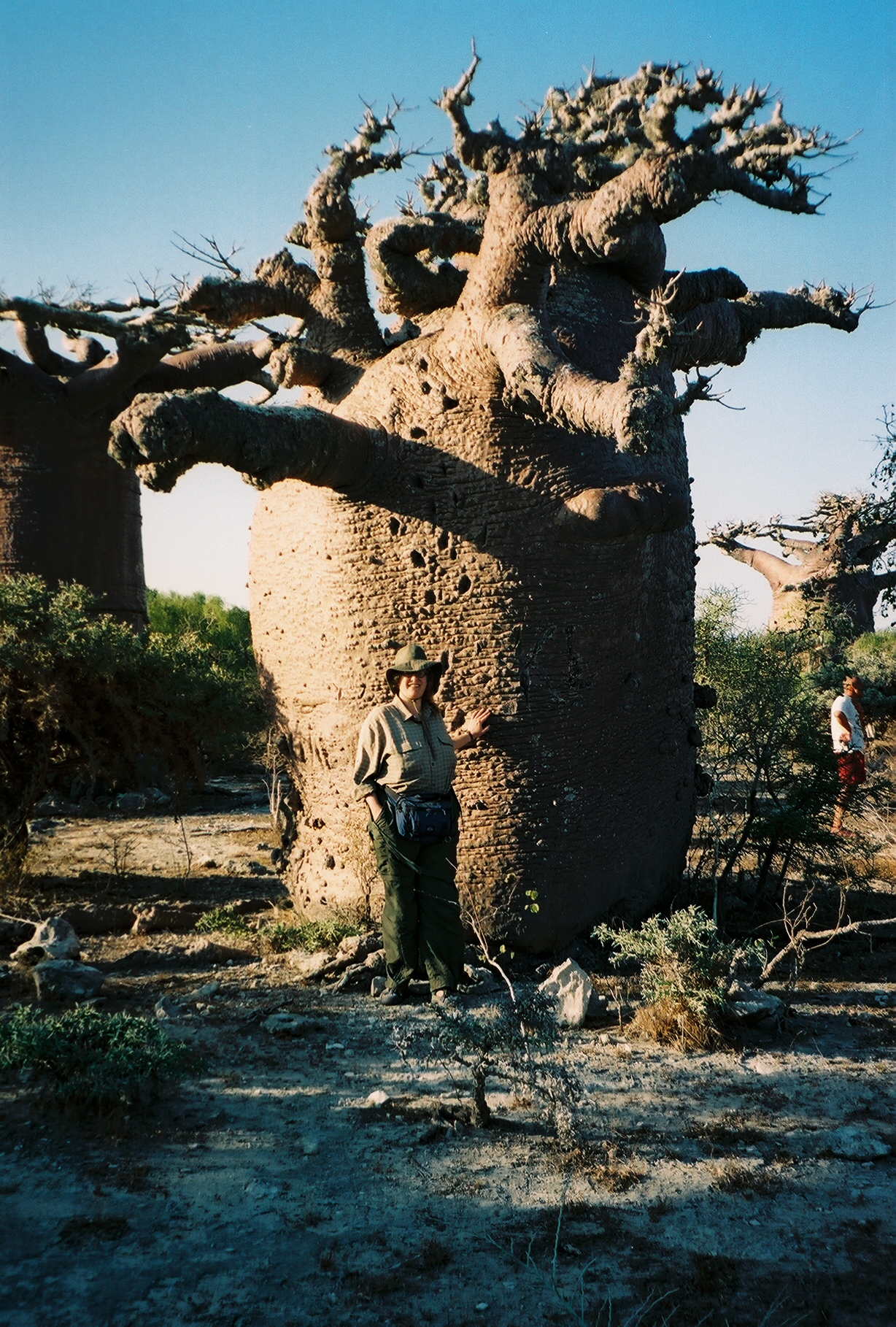 One particularly notable spot was a small lake where there are a baobab and tamarind together. We were not allowed to take photos there, as it is considered sacred. There is said to be a boa constrictor, which is the guardian of the dead, living in the lake. People pour out offerings of rum - a little to the tamarind, a little to the boa, and the rest to themselves - and the boa decides to whom to grant wishes. Baobabs are, apparently, teetotalers.
On the way back, we stopped at the hospital being built by a doctor from Bologna, who is one of the owners of Laguna Blu. He runs a clinic in the village now and the hospital will offer much needed services to the region. We got back in plenty of time for me to take a photograph of the small cove next to the main resort beach at sunset.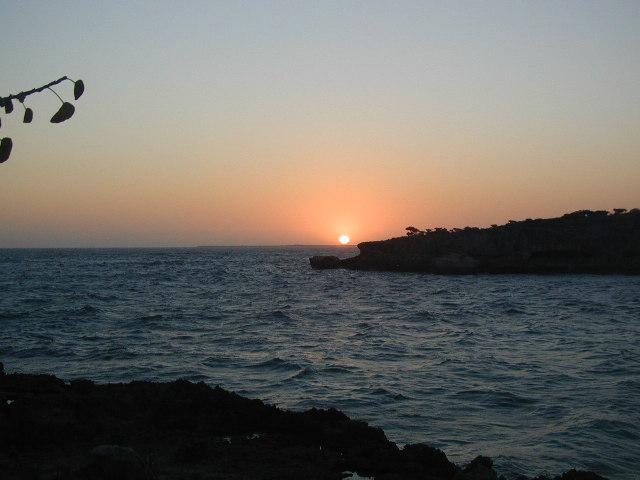 All in all, Laguna Blu was definitely a nice place, though it is really more a resort for Italian couples, not single Americans. After a couple of days there, I continued further south down the coast to Salary (along with a couple from Rome.) The drive was about 3 hours along a road that ranged from difficult to terrible. The scenery was largely more spiny forest, with a few areas of total emptiness and deforestation.
The Salary Bay Hotel offers bungalows up steep sand dunes from another spectacular beach.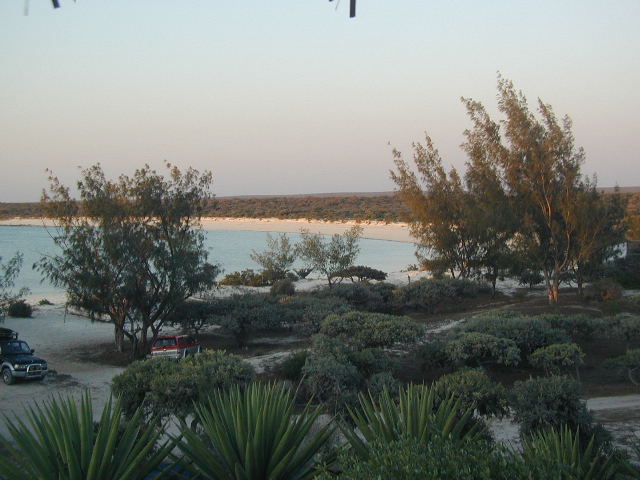 The arrangements were on a half-board basis, but it would really better to arrange full board since there isn't anywhere else nearby to eat. The food is superb, more or less modern French in style. But it is also relatively expensive (MGA 32,000 or roughly USD20) for lunch or dinner. That wasn't a problem per se, but it would have been nice for Boogie Pilgrim to have provided that information.
More of an issue was that the activities on offer are also pricy and credit cards are not accepted. Had Boogie Pilgrim provided enough information, I could have gotten money from an ATM in Morondava and then been willing to spend MGA 135,000 (about USD 90) to go whale watching. I settled for watching a video about whales (entirely in French, though the whales presumably speak whale instead). Aside from that, I pretty much lazed on the beach and read.
By the way, I got a message from Brigitte my last day in Salary. There was not, however, any way to respond to it since radio telephone service is available only sporadically and costs EUR 8 a minute. I figured things might be easier in my next destination, Ifaty. As it happens, I figured wrong.
Ifaty is probably the most popular beach destination on the southwest coast of Madagascar. The itinerary claimed it was a 7 hour trip from Salary and the people at the hotel claimed it was 4, but it's really only about 2 1/2. The road is, however, bad enough that it feels longer. At least the really slow, badly rutted sections offer views of sparkling turquoise water with white sand beaches, while we sped reasonably quickly past shabby villages and deforested wasteland. ("We" included a couple of members of the hotel staff who were going to Ifaty for supplies. You didn't think Boogie Pilgrim was actually going to provide the private transfer with English-speaking guide that I'd paid for, did you?)
Anyway, Ifaty is more commercial and less atractive than the other places I'd stayed at along the coast. I imagine that it all looks nicer had one not just come from the stunning (but significantly more remote) beaches further north. There are also vendors along the beach offering sarongs, hair braiding, and massages. I am suspicious of the legitimacy of the latter, though Madagascar is officially cracking down on sex tourism.
I stayed at Club Bamboo, which was just okay. There is power only from 6:30 p.m. to not quite midnight, which is inconvenient when it starts getting dark about 5 ish. I'm also a bit biased by the bout of food poisoning I got from their restaurant, which made for one pretty miserable night.
Both my guidebook and a guy I'd met in Morondava highly recommended an excursion to the Reniala Nature Reserve, which is particularly known for bird life. I booked a tour via the hotel. I assumed I would go by car to the park, where I would walk paths to see baobabs, birds and reptiles. My transportation proved to be a bit different.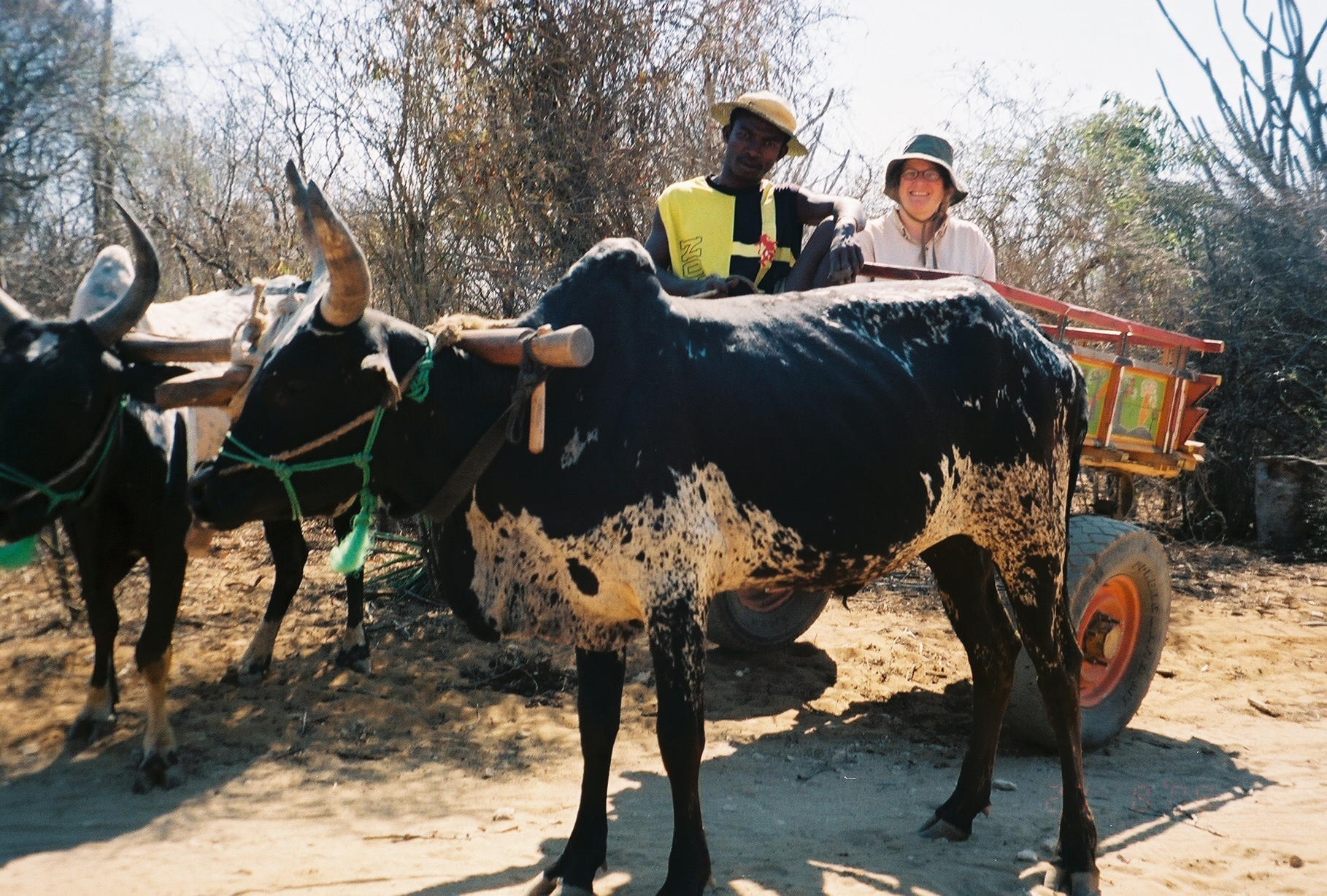 This is what I refer to as a "cultural experience" and it's about as uncomfortable as it looks. Let's just say that zebu carts don't come with shock absorbers. We passed a fairly large (but no less run-down) village and were then said to be in the forest, though there was no actual sign indicating that we were in a protected area. The baobabs there are less spectacular than those further north. Several of the other plants were said to be medicinal but, given the guide's minimal English, I didn't learn any specifics. One of them did smell nice, though. We did see a few birds but none of them were particularly spectacular. I'm sure that real birders would claim I was underappreciative of some rare indigenous species, but my taste in birds is large, weird, and/or colorful. Frankly, I found the whole Reniala Nature Reserve to be eminently skippable.
As nice as most of the beaches were, I am not really a "lie on the beach and do nothing" type of person and I was getting bored out of my skull, ready to actually do something. What that something would be turned out to be highly unexpected, as you will see if you read on.
[ Back to Previous Chapter | Back to Index | On to Next Chapter ]
---
---
Copyright 2008-2009 Miriam H. Nadel

last updated 10 August 2009
Send comments to mhnadel@alum.mit.edu