Lemur Rehab: Andasibe and Antananarivo
Getting back to Tana involved a flight from Tulear (also known as Toliar and about an hour and a half from Ifaty). This is one of the most popular air routes in Madagascar and Air Madagascar uses a 737 for it. There is still no security and no assigned seating. Liva and Brigitte were there to meet me at Tana and took me to the IC Hotel. The primary virtue of this hotel was its relative proximity to the airport. The room was comfortable enough, but it was very noisy and smelled from the nearby pig farm. They did have internet access, though, so when Brigitte began asking about payment for the changes, I showed her Andy's message (which she had been copied on) that I shouldn't pay them anything more. She indicated that we'd sort things out in time for my transfer in the morning.
When I got picked up in the morning, I thought I was going to Ankan'ny Nofy to stay at Bush House for a couple of days. Instead, we went to the Boogie Pilgrim office, where Brigitte demanded that I pay an additional EUR 1500! I refused and she fired off more emails to Andy. The time zone difference between Madagascar and the eastern United States meant that this was not going to get resolved quickly. Brigitte wanted me to stay for the night at a suburban hotel owned by one of the Boogie Pilgrim partners, but I insisted on booking a hotel in town, where I would have more flexibility.
In order to salvage a little bit of the day, I had Liva take me to Ambohimanga. This is a Unesco World Heritage site and was the fortress of the 18th-19th century Merina royals. Before touring the site, I had lunch and watched a group of traditional dancers.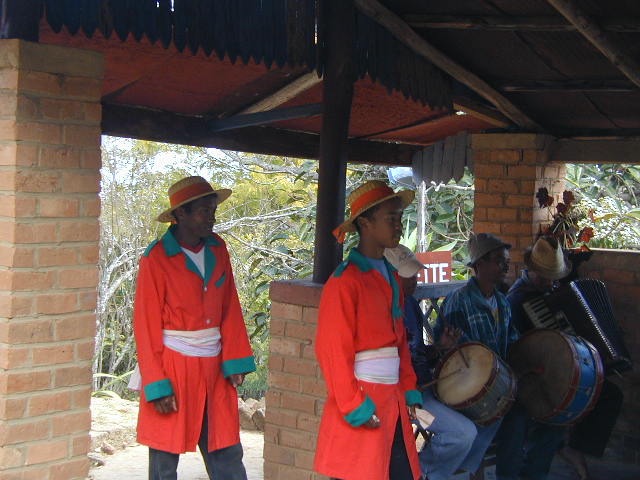 The compound itself includes a courtyard, which is still used for sacrifices of zebu on Independence Day. There was a simple one-roomed hut used by King Andrianamponimerina (1787-1810) and his 12 wives, as well as the later French-inspired summer houses of his successors. One can also see the algae-filled royal baths. Overall, it's worth an hour or so (plus driving time to and from the center of town).
Liva took me to the Karibotel Hotel, which is right on Avenue de l'Independence. There were various stores around, including a cybercafe next door and a supermarket , as well as more touristy offerings. At around 5 p.m., Brigitte showed up with a man she claimed was her finance director. They'd had an email from Andy saying that he didn't have EUR 1500 (and that it was absurd to ask for it, given that Boogie Pilgrim owns Bush House). They then demanded that I immediately give them EUR 510 or they'd have me arrested! I stood my ground and, of course, they didn't do anything except close the file on my trip. The end result was that I was left on my own to sort out my last 4 days in Madagascar. Andy did email me some advice (including a recommendation for a hotel and the name of a friend of his at another tour company). The latter might have been more helpful if people at travel companies in Madagascar worked on weekends.
But things worked out surprisingly well in the end. At about 7:30 a.m., I had a call from the front desk of the hotel that a man was there to see me. It turned out to be Liva. He said that he understood my issue was with Boogie Pilgrim, but suggested I could hire him directly (at MGA 120,000 a day plus gas). We settled on a 2 day trip to Andasibe and another day around Tana to go to the Lemur Park.
The drive along RN2 was hilly and green. We stopped for lunch at Manjakandriana, which has a reptile farm. One orders food and then takes a guided tour of the farm (essentially, a zoo) while waiting for lunch to cook. There is a fair amount to see, including fruit bats, geckos, frogs, and, of course, chameleons.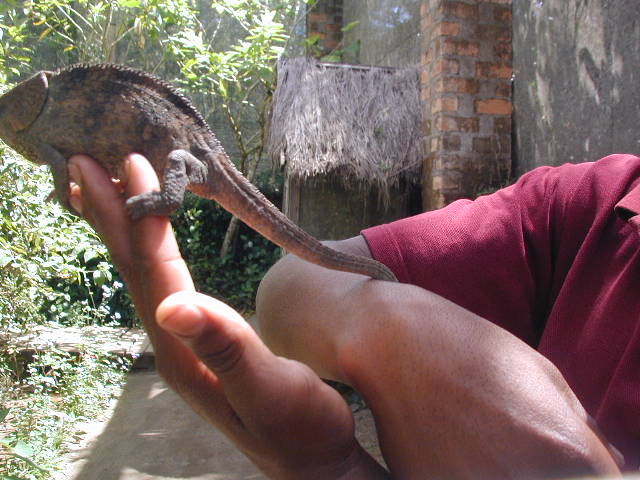 We continued east and stopped for the night at Hotel Feon'ny Ala. The hotel consists of a lot of bungalows on several terraces up the hillside. The numerous flights of stairs are good practice for the trails in the park.
There are two options to see Andasibe (also known by its former colonial name of Perinet). You can either go to the National Park itself or to a reserve across the street run by a local NGO called Association Mitsinjo. Following the recommendation of my guidebook, I opted for the latter. (I also figured that this was a good way to support local efforts at reforestation.)
There are lots of trees and birds and chameleons and so on, but the real draw of Andasibe is indri. Indri are the largest lemur species and are unique for their "singing." In fact, I first heard this from the hotel early in the morning and it is truly otherworldly. Hilary Bradt describes it as "an eerie wailing sound somewhere between the song of a whale and a police siren." I can't come up with a better description than that. I wish I'd had a tape recorder with me.
Seeing them required somewhat more effort. It helps that the guides are in touch with one another (via cell phone). I should also note that, while my guide was apologetic about his English, he actually spoke more fluently than anybody else I'd encountered in Madagascar! At any rate, the trails are well maintained, with handrails for the steeper sections of steps. It's still quite a steep climb, but I was rewarded with the sight of two indri - a baby on the chest of an adult. They're very cute, in a teddy bear like way.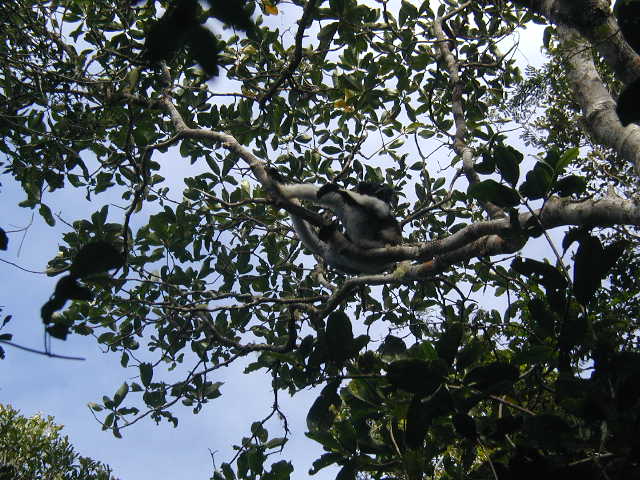 After descending, we walked around a lake with orchids. There was also time for a stroll through Andasibe Village, which has just a couple of thousand inhabitants, before the drive back to Tana. Back in Tana, I took Andy's recommendation and stayed at the Hotel Sakamanga. This is an excellent choice, with a good restaurant and a large collection of artifacts that makes it something of a museum piece. It's also very popular and, in fact, I ran into several people I'd met earlier in my travels during the three nights I spent there. Another plus was opportunities for conversations in English. For example, I had an interesting conversation with a Canadian sapphire miner over breakfast one morning. I was also glad to take advantage of their internet service and their library (which includes novels in English). All in all, it was an excellent place to stay.
Liva drove me to Lemur Park the next morning. The drive is about 45 minutes and not especially scenic. The park is a 4 hectare cage free reserve, built by a Japanese man. The lemurs there are primarily abandoned pets, so I found myself thinking of the park as lemur rehab. At any rate, one can get much closer to the lemurs than one can in the wild, so here are photos of the species I'd seen along the Tsiribihina River and not gotten good pictures of there. First, the brown lemur: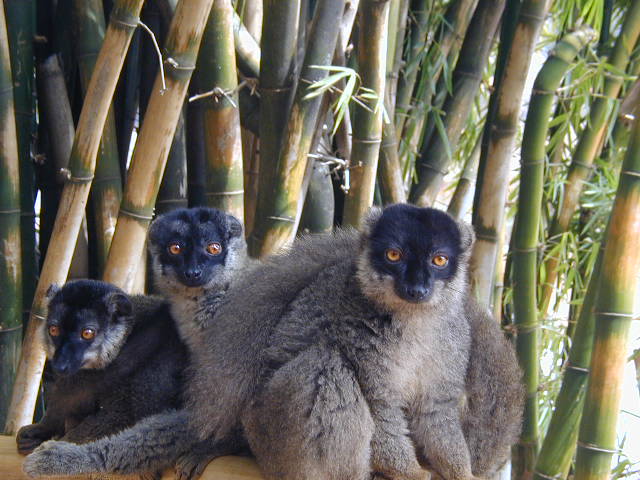 And then the sifaka: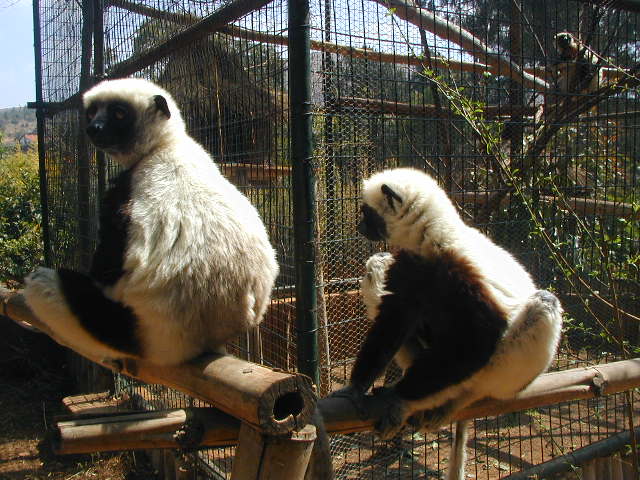 There are also several other species, including bamboo lemurs and black and white ruffled lemurs. Overall, it takes maybe an hour to see the park. Figuring in driving time, that means it's a good half day excursion from Tana.
I spent my final day in Madagascar just walking around Tana. Some of the highlights included the upscale Isoraka neighborhood, the park at Place de l'Independence, and the used book market. I also bought a couple of gifts, including chocolate (bought at the supermarket) to bring to the office. It would take a little longer than I anticipated to get it there, as you will learn if you read on.
[ Back to Previous Chapter | Back to Index | On to Next Chapter ]
---
---
Copyright 2008-2009 Miriam H. Nadel

last updated 5 July 2009
Send comments to mhnadel@alum.mit.edu