Maltese Days and Knights (Plus a Bit of Germany and England) - May 2001

Copyright 2001 Miriam H. Nadel

This travelogue covers my May 2001 trip to Malta, with a day in Frankfurt, Germany on the way over, and several days in England (mostly London) on the way back. The emphasis is on sightseeing in Malta. It isn't a strictly chronological account, since it made made more sense to group certain places together. There are also some graphic descriptions of how to eat well in London. Yes, it is possible.

Note that I quote prices in local currencies. The rough exchange rates at the time were:
1 U.S. dollar = 2.13 Deutschmark (abbreviated DEM)
2.21 U.S. dollars = 1 Maltese lira (abbreviated LM)
1.44 U.S. dollars = 1 British pound (abbreviated GBP)

An Introduction to Malta: Of Cannonballs, Kinnie, and Catacombs

Archaeological Disappointments

I went to Malta because of Ernest Shackleton. It's not as if the great Antarctic explorer had any particular connection to that moderately obscure Mediterranean archipelago, so this requires a bit of explanation. I'd run across a mention in an airline magazine that the Maritime Museum, in Greenwich, England, was having an exhibit on the race to the South Pole. Polar exploration is one of my minor obsessions so I thought this exhibit merited a trip to England. If I was going to go all the way to Europe, I might as well build a real vacation around the trip. So I started to think about where I might go that I hadn't been to before but would be interesting for a week or so. Malta sprang to mind.

Not that I really knew much about the country. I had read a trashy romance novel set in Valletta many years ago, so I had the vague notion that the Maltese capital was a city of steep streets, possibly with a bobsled run down one of them. A few years back, I'd met an English couple who'd retired to Malta and they told me that it had an interesting history that was largely ignored by the local population. Finally, I had once met somebody who was pictured on a Maltese stamp. (He's a retired diplomat; his wife taught me how to make bobbin lace. She's Swedish and was quite dismissive of Maltese lace, by the way.) This nebulous information was enough to catapult me into a call to the international reservations department of United Airlines. Umpty ump frequent flyer miles (and 80 some odd dollars worth of taxes) later, I had a plane ticket.

Actually, I had two plane tickets. The connections required me to fly to Frankfurt (via San Francisco, for reasons I'm still incapable of comprehending, but beggars can't be choosers) and return from London on United. I'd have to spend a night in Frankfurt before flying on to Malta on Lufthansa and connect via Frankfurt again on the way to London. The latter set of tickets created their own chaos as Lufthansa changed their schedule, necessitating United reissuing the tickets. This should have been simple enough, except that they'd changed the tickets to have me fly into Stanstead, rather than Heathrow. This is the psychological equivalent of flying to Las Vegas to get to Los Angeles and it took another three days, four people shouting advice to one another between ticket counters and a pay phone (the phones at the ticket counter itself being out of service) and another trip to a United ticket office to straighten it out.

Then it was time to really delve into the guide books. In the course of which, I learned better reasons to go to Malta. Namely, there's an intriguing mix of Renaissance art and architecture, lazy seaside villages, and important archaeological sites. For the details, read on.

My flight to Frankfurt was routine, but only because I had the foresight to get to LAX an hour early and request standby on an earlier shuttle flight to San Francisco than the one I was booked on. Connections between shuttle flights and international flights at SFO require more than 45 minutes, particularly since the new international terminal is roughly the same distance from the shuttle gates as it is from, say, San Jose. I should also note that I had a center seat, which wasn't dreadful as it was seat E and both D and F were unoccupied. However, it provided the opportunity to be ignored by the flight attendants coming down both aisles, each of whom decided I was the responsibility of the other side.

The immigration formalities at Frankfurt were among the quickest I've ever experienced and it wasn't long before I was getting cash out of an ATM and buying a one-day transit pass. The pass is a good deal at DEM 8.20, since a single ticket from the airport to town is DEM 6.10, meaning you need make only one more trip to get your money's worth. I had no difficulty finding my way to the Hotel Alexander Am Zoo, where I dropped off my bags and took a quick shower before setting out to sightsee.

My plan had been to go to a museum if the weather was bad and to walk around the city if the weather was good. It was sunny and reasonably warm, so a good long walk was in order. I took the U-bahn to Hauptwache and attempted to combine two walking routes suggested in Lonely Planet's Frankfurt guidebook. This basically meant meandering around the old city and across the Main River through Sachsenhausen. The view from the Eisener Steg pedestrian bridge afforded a particularly nice contrast between the (restored) timber buildings of the old city and the tall modern glass skyscrapers. All in all, despite it being a 1980's restoration (the original buildings were flattened in bombing raids in March 1944), I preferred the old city. The most famous landmark is Roemberberg square.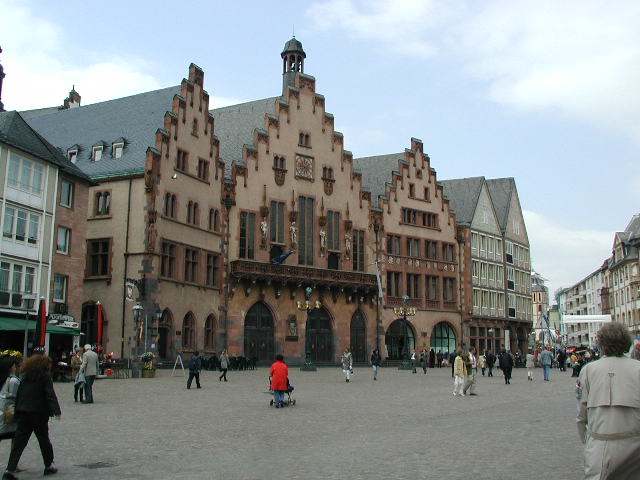 My theory of jet lag avoidance involves keeping moving as much as possible after an overnight flight, so my walk also included most of the other major landmarks of central Frankfurt - Paulsplatz, the Kaiserdom (where the coronations of Holy Roman Emperors were held for roughly two centuries), the Kleinmarkthall (a market, revealing for the quantities of sausage and cheese for sale), Fressgasse (translates roughly to "pig out street" - note that "fressen" is the verb used for animals eating, versus "essen" for humans), the Alte Oper and the new opera house (glaringly modern), and statues of Schiller and Goethe. The market at Konstablerwache was interesting for the antics of the merchants, who appear to put on quite a show as they call out taunts to one another. At least the local population, who presumably weren't trying to get by on four years of high school German some 25 years ago, seemed entertained.
I hoped my high school German was up to getting dinner. I settled on Fisch Franke which the guidebook described as offering fresh fish at low prices. The problem is that we had spent classes reading Kafka and Hesse, not learning the German words for various species of fish. I can't tell you what I ordered but I got a huge grilled trout-like whole fish and massive amounts of potatoes, along with a beer - all for DEM 23 (a bit over $10). It wasn't the most exciting meal of my life, but it was decent enough and certainly plentiful. I meandered back to the hotel, watched a little of CNN (having forgotten that they don't broadcast baseball scores outside North America) and collapsed into bed. The next morning, I retraced my steps back to the airport and flew off to Malta. But not before listing some random observations about Frankfurt, based entirely on one sleep-deprived day there. Namely:
Graffiti is tolerated and is, therefore, abundant.
Frankfurters are obsessed with recycling. Trash bins throughout the city are sorted for brown, green and clear glass, newspaper, mixed paper, etc. and collection bins for used clothing are also plentiful.
Every business is required to sell beer, regardless of what else they may sell. Binding is the most commonly available brand.
I once heard a joke about the guy who thought "Einbahnstrasse" was the longest street in Germany. It isn't that there are so many one-way streets. The real problem is that the signs for them are placed at eye level, where they are easy to see, while the signs with actual street names are hidden behind trees or at awkward heights.
Frankfurt is not, perhaps, a major destination in and of itself, but if you have to make a transit connection there, you can occupy a day without any real hardship.
But it was Malta that was the real focus of my trip and I was glad for a clear day (and a window seat) to get an overview of the archipelago from the air. We had a slight delay on landing as we waited for a bus to take us from the plane to the terminal. That was followed by walking over a mat soaked in disinfectant - the modern equivalent of the weeks in quarantine in the Lazzaretto that 19th century visitors complained of. The remaining formalities went smoothly enough and I changed some money (using machines that you feed banknotes of various currencies into) before taking a taxi to Valletta, where I'd booked a room at The British Hotel. It was a good thing I sprang for the taxi, as I'd never have been able to find the place on my own, largely because the main entrance is not on the street that their official address is on. At one point on the ride, I saw a large number of people gathered near an open square, obviously waiting for some important event. Had I left CNN on for longer the night before, it might not have taken me the rest of the day to figure out that roughly a third of the population of Malta was waiting to see the Pope.
I settled into my room, which was basic but comfortable, and excellent value at LM 13 (roughly $30) a night, including breakfast. Then I set out to orient myself by walking around Valletta. The thing you need to know about Valletta is that it is a city that makes the stairmaster redundant. You can't walk more than about three blocks without needing to climb a steep street (often with stairs cut into the sidewalk). Let's just say that next to Valletta, San Francisco looks flat. It does not, however, have a bobsled run down any of its streets and I was way too embarrassed to ask the tourist office whether it ever had. So much for travel planning based on trashy romance novels!
Even so, Valletta is a masterpiece of 16th century urban planning. The city was built in the late 1560's and several rules were applied, most of which have lived on. The city streets are perfectly straight (at least, they would be if you projected them onto a plane) and all of the buildings are tall without any front gardens or any projections besides narrow balconies. This serves to shade the streets and funnel air flow effectively, keeping the city relatively cool despite the latitude. (Remember that Malta is more or less due east of Tunisia.) Another original rule required statues on all corner buildings, but this hasn't held up so well. My afternoon meandering took me to Republic Square (the cafe-lined center of town) and up Triq ir-Repubblika (Republic Street) to the Sacra Infermeria. This was originally built as a hospital by the Knights of St. John, who ruled Malta from 1530-1798 and now functions as the Mediterranean Conference Center. I skipped the static display on the Knights Hospitallers but succumbed to The Malta Experience. This is an overpriced (LM 3) multimedia show, using headsets you can turn to whichever of ten languages you prefer. In roughly 45 minutes you get the entire history of Malta from the dinosaurs to the present. To be fair, had I not read the history sections of two guidebooks (Cadogan and Lonely Planet), I might have found it more worthwhile. I wrestled to stay awake through the presentation but more or less gave up when they failed to mention my favorite gruesome historical fact. Namely, that during the Great Siege of 1565, Grand Master Jean de la Vallette (after whom Valletta is named) beheaded Turkish prisoners and used their heads as cannonballs.
Anyway, I roused myself and walked along the Grand Harbor, around the World War II siege bell (no story as gruesome as the one above, but Malta was more or less continuously bombarded during the war - for example, 6700 tons of bombs were dropped on the island during six weeks of March and April 1942), back up and down hills to the Carmelite Church (with an impressive exterior dome and an only moderately interesting interior), past the Manoel Theatre, and to my first gawking glimpse into St. John's Co-Cathedral. I also made time to indulge in the national sport of all Mediterranean countries - namely, sitting in a sidewalk cafe with a cold drink.
Which brings me to the subject of Kinnie. The thing you need to know here is that the Maltese drink more soft drinks per capita than pretty much anybody else in the world. (Americans are the only other contenders and would almost certainly lose if we discounted Coke consumption in Atlanta.) While you can certainly get ordinary soft drinks in Malta (and even some extraordinary ones, like my beloved Schweppes bitter lemon), the thing to drink is Kinnie. For one thing, you can't get it anywhere else. It's made by the same local company that brews Cisk Lager and Hop Leaf Ale, both of which are reasonably drinkable. It is, however, non-alcoholic. It is supposedly made from bitter oranges and herbs. I was never quite able to decide whether or not I liked it, so I had to drink a glass or two every day in order to make up my mind. Of course, by the time I decided that I did indeed like it, I was ready to leave and head back to the Kinnie-free rest of the world.
The next morning I was ready to set off to the part of Malta I was most eager to see - namely, the walled city of Mdina. I bought a five day bus pass. At LM 4.50, one probably just breaks even at best, but it does save a lot of fumbling for change. The bus terminus in Valletta is a large semi-circular area, around the Triton Fountain just outside the city gate. There are tall numbered signs that tell you which bus stops where. That is, there are tall numbered signs for every bus except the one you're looking for. (There is an information kiosk to point you in the right general direction. There are also any number of fast food kiosks to sell you pastizzi - cheese-filled pastries - to distract you from the misery of waiting.) It quickly became apparent that Malta is where British buses go to die. Most of the buses were built around 1950. The last rites include painting them a bright orange and yellow and installing some sort of shrine near the driver's seat. No, I'm not joking - there are more virgins on the front dashboards of Maltese buses than there are on the beaches of a resort town like Bugibba. Every bus sounds like it is about to expire at any instant, but perhaps those shrines work, since the buses never do break down. It may not be the most comfortable form of transportation, but it's cheap and works well enough.
But I was talking about Mdina. Mdina is about a half-hour bus ride from Valletta and is known as "the Silent City." It was originally called "Melita" and was the capital under the Romans and the Arabs and the Normans - in other words, more or less until the Knights were given the island by Charles V of Aragon in 1530, after Suleiman the Magnificent kicked them out of Rhodes. The guidebooks disagree on naming. Some say that the name "Malta" is derived from "Melita" and means "honey." Others claim that the name "Malta" comes from "Malet," meaning "place of shelter." Everyone agrees that the name "Mdina" is Arabic and means "walled city." There's a larger town outside the walls and that's called Rabat (from an Arabic word for "moat") and that's where I actually started.
You see, I had a minor mission to fulfill. Someone on my Jewish genealogy email list had asked about a Hebrew tombstone in a museum and I figured it would be easy enough to track it down. Indeed, it was easy - the tombstone was right there on the first floor of the Roman Villa and Museum in Rabat and I jotted down the information about it (where it was found and the inscription) to email to him when I got home. As for the rest of the museum, it had the usual odds and ends that had been dug out of the site. The lower level of the villa was fairly intact, with an interesting floor and a moderately famous mosaic of a wide-mouthed woman. There's also a room full of artifacts from a Moslem cemetery.
After I left the museum, I walked up to the walled city of Mdina, entering via the Greek Gate. The Silent City proved not to be all that silent, as some men with jackhammers were tearing up one street and screaming schoolchildren filled Bastion Square. The noise level improved, though the crowds worsened, as I walked down Triq Villegaignon (the main street) to St. Paul's Square, the site of an impressive cathedral. St. Paul is closely associated with Malta, having been shipwrecked there on his way to stand trial in Rome, at least according to legend. St. Paul's Cathedral was designed by Lorenzo Gafa and built after a major earthquake in 1693, which more or less leveled the area. The site is alleged to have once held a villa belonging to Publius, the Roman governor whose father St. Paul healed, leading Publius to convert to Christianity. Whether or not the legends are true, the cathedral is grand.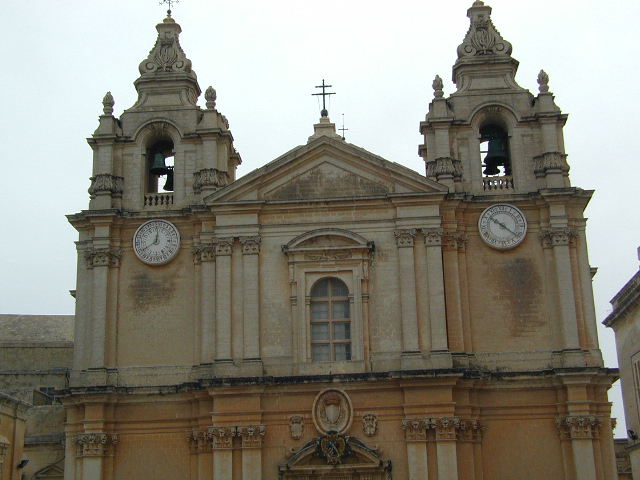 The Cathedral Museum is across the street and is also very impressive. There are gorgeous textiles (mostly vestments with gold and silver embroidery, but also some lace), music manuscripts, and a series of Duerer woodcuts that are probably the most famous item there. The most amazing exhibit, though, is a 15th century polyptich altarpiece of the life of St. Paul, which is simply a magnificent piece of artwork.
I had lunch at the Fontanella Tea Garden, overlooking the bastions. A large piece of delicious spinach and cheese pie, salad and a glass of Kinnie cost LM 1.60, or roughly $3.50. Then I bought some postcards and just meandered more around the city, admiring the architecture. I just looked in at the courtyard of the Palazzo Vilhena, skipping the Natural History Museum inside, so I can't confirm the uniformly bad guidebook reviews of it. I did go to The Mdina Experience, which was fairly informative and less dull than The Malta Experience had been - or, maybe, I was just better adjusted to the time zone. All in all, Mdina was everything I'd hoped it would be and I could easily have spent another day just hanging around there.
I exited via the main gate and went back to Rabat where I went to St. Paul's Grotto. The legend is that St. Paul lived in this cave for three months, though it's more likely he just preached from there. Local folklore also holds that the stone from the walls is an antidote to poison and that the cave will remain the same size regardless of how much stone is chiseled away. I didn't test the truth of either of these, though I can definitely assert that the low-ceiling of the grotto has no protective powers to keep people from bumping their heads. I skipped St. Paul's Catacombs, as the guidebooks had given a more favorable review to St. Agatha's Catacombs. I also skipped St. Catald's Catacombs on the grounds that I'd never heard of him. St. Agatha is associated with Malta because she is alleged to have fled there from Sicily in order to avoid an undesired marriage. She is immediately recognizable in pictures because her martyrdom (back in Sicily) involved having her breasts cut off with shears and she is usually depicted holding her breasts in her hands. The catacombs are only moderately less gruesome than the legend, since one sees various skulls and bits of skeletons in niches along the path. However, they are reasonably interesting for the wall frescoes in the crypt area. Above ground is a quirky little museum that has everything from ancient pottery to mineral samples to an Australian didgeridoo. There's nothing really essential there, but it was diverting enough for a half hour or so.
Observant readers will note that I made a reference above to the Maltese archipelago. Malta is just the main island of the nation, which includes the smaller islands of Gozo and Comino, as well as Cominotto, Filfla, and St. Paul's Island. The latter three are uninhabited specks of rock, while Comino is occupied only by a handful of farmers and a pricy resort hotel. Gozo, however, has one of the most important sites in the Republic of Malta - namely, the Ggantija temples, believed to be the oldest free-standing stone structures in the world. Gozo is also, incidentally, one of several Mediterranean islands that claims to be the Isle of Calypso, where the nymph kept Odysseus for seven years. Whether or not it's true, it makes for good advertising.
Anyway, getting to Ggantija from Valletta is time consuming, but not particularly difficult. First one bounces along in a bus to Cirkewwa, at the far western edge of Malta. Then, there's a ferry ride to the harbor of Mgarr on Gozo, where one gets a bus to Victoria, the capital of Gozo and the place from whence all other buses (including the relevant one, which goes to Xaghra) radiate. It was pouring rain when I got to Mgarr, however, so I cheated and haggled with a taxi driver to take me to Ggantija, wait for me, and take me on to Victoria. This ran me LM 6, versus the LM .30 that two buses would have run, but I figured it was worth it to avoid waiting for connections in the rain.
Anyway, Ggantija is one of those sites where you have to trust in the history to make it interesting. It just looks like a pile of rocks, with scaffolding here and there to hold it together. You can actually go inside two temples, each of them built in a trefoil (i.e. three lobed) shape that is unique to the Maltese islands. It's not horribly exciting, until you stop and think. When you realize that this was built in 3600 B.C.E. - about 500 years before the Pyramids in Egypt and 1000 years before Stonehenge - it suddenly becomes much more impressive.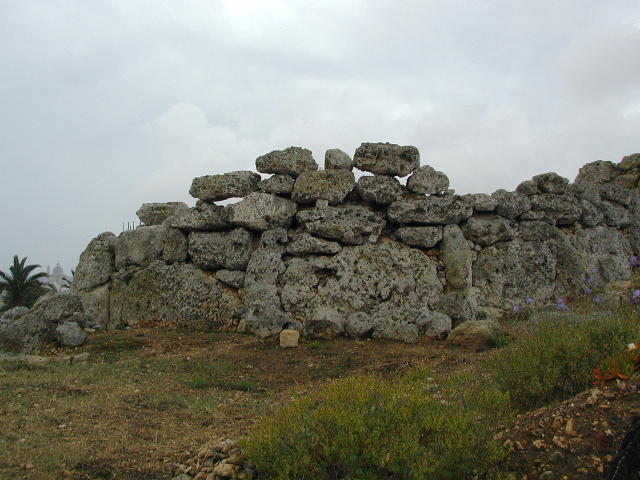 The other major site to see on Gozo is the Citadel, in Victoria. The Citadel is on the top of a high bluff and stands on a site originally used by the Romans. The current centerpiece of it is the Cathedral of the Assumption, designed by Lorenzo Gafa and built in 1697. The most amazing thing about the Cathedral is that it doesn't have a dome - but, from the inside, you'd swear it did. It's an immensely clever trompe l'ouil trick of perspective, painted by Antonio Manuele in 1739 when it became obvious that they were never going to raise enough money to put up a real dome. The other striking thing about the Cathedral (in common with other Maltese cathedrals) is the floor. Various important people were buried there and the floor is made up of beautiful, brightly painted tombstones.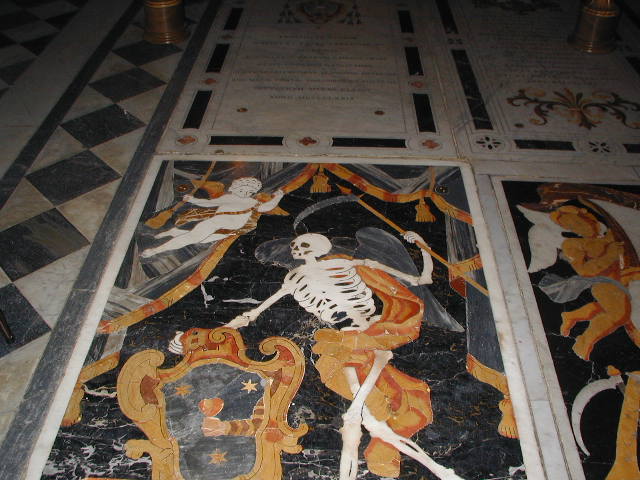 The rain had more or less stopped and I took advantage of this for a walk around the bastions, which afforded an excellent view over the whole island. There are also a few museums within the Citadel. The Cathedral Museum was closed and I wasn't particularly interested in the Natural History Museum. But I did spend some time at the Folklore Museum, which has a large collection of farm implements, fishing tools and kitchen items. The most interesting part of their collection was a case of traditional costumes. The Archaeological Museum was also worth a visit, with a small but impressive collection, divided between the neolithic (e.g. various artifacts found at Ggantija) and the Roman. Then I strolled over to the Crafts Centre, most of which is a glorified advertisement for Gozitan craftspeople. However, there's an upper floor, reached via a very narrow spiral staircase, where there's an excellent display on lace making and weaving.
Speaking of lace, despite the disdain of my Swedish instructor, Maltese lace has a good reputation and Gozo, in particular, is a center of lace making. As I meandered around the narrower back alleys of Victoria, I came across a woman sitting outside her house weaving away and stopped to chat. I ended up buying a few small pieces of lace for gifts. Alas, the craft is dying out, despite the efforts of the government to interest younger women in it. I did my part, purchasing some lace bobbins and a pattern book, too, before the tedious bus to ferry to bus trip back to Valletta. Along the way I was reminded that, while Ggantija may be the oldest structure on the planet, the seats on a Maltese bus must be of roughly the same vintage.
It isn't only Gozo that has Copper Age temples, though, and the next day I set off to see Hagar Qim, in the southern part of Malta. This was about a 45 minute ride from Valletta and, on the way, the bus passed the Blue Grotto, which is quite attractive. Anyway, Hagar Qim doesn't require imagination to be appreciated. The sheer size of the stones is magnificent in and of itself.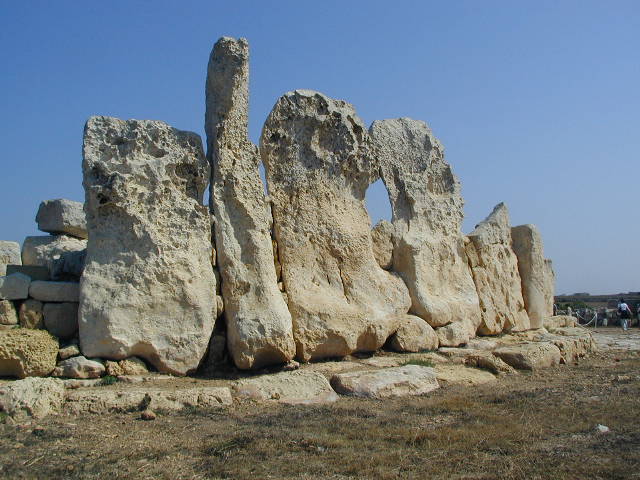 In addition to the main temples, which are different from others in Malta because they aren't in the trefoil shape, there are jumbled odds and ends of rocks from other temples. There's also another site nearby, called Mnajdra, which the guidebooks say is even more impressive. Unfortunately, I can't verify that, as it was closed while the archaeological authorities try to determine how best to restore the site after some vandalism in April. You can walk down the path to see the exterior, but you're limited to looking through a fence. The guards are excessively vigilant, padlocking the gate the instant anybody tried to even take a photo through it. Personally, I think their security dollars would be better spent in educating the local population to care about their heritage, but they didn't ask for my opinion.

The best temples in Malta - at least of the ones you can see - are at Tarxien, near the village of Paola. These are more recent, possibly as late as 2500 B.C.E. and show more elaborate details.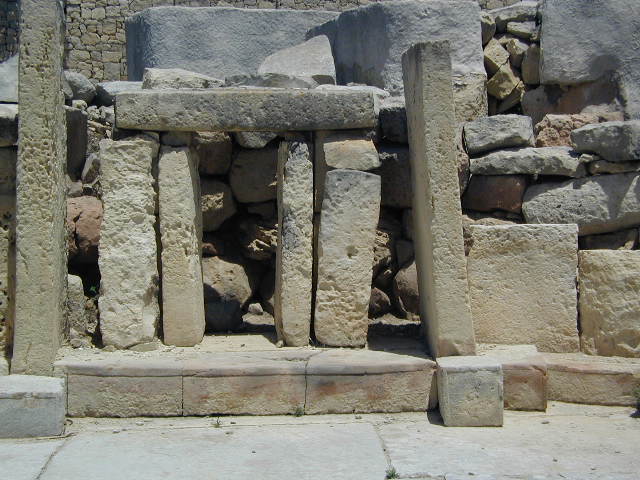 But what really makes them spectacular is that more of the artifacts have been left in place, rather than moved to museums. There are several columns with elaborately carved animals on them, for example. The most famous piece is the lower half of a statue of a fat female, believed to be a fertility goddess.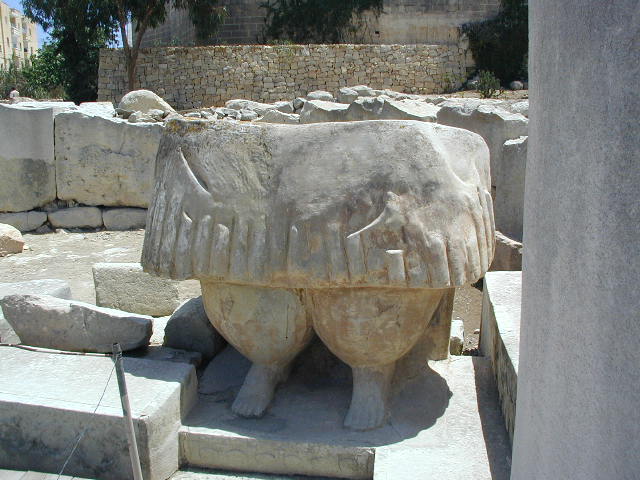 There are also the remnants of another, smaller temple towards the back. Then there's a collection of smooth spherical rocks, believed to have been used to move the heavy stones. One room inside the complex has a relief of two bulls carved into the rock, leading to the joke that the site was never a temple, but was actually a cattle market. What makes all of this particularly interesting is that it's more or less hemmed in by 20th century suburban development and one can't help wondering what else might be buried under the television in somebody's den. By the way, the guidebooks suggest that the Tarxien temples are inconspicuous and hard to find. It's true that I did have to consult the map to find Triq Hal Tarxien, but, once I was on that major road, it was easy to find the turn simply by looking for the huge sign that said "Neolithic Temples" and following the arrow. To be fair, the sign could have been painted after the books went to print.
I should note, however, that Paola offers another disappointment to the archaeologically inclined tourist. The most famous of all the ancient sites in Malta is called the Hypogeum at Hal Saflieni. It's about a five minute walk from the Tarxien temples and is described as a huge underground necropolis. It was closed to the public for several years, but has been reopened, so one would think that it would be possible for a tourist to see it. It's possible but unlikely. They require reservations, you see. Made in person at the site. Made at least 15 days in advance. Note that only a handful of tourists go to Malta for more than 7-10 days. I do understand the need to restrict tourism to preserve the site, but allowing telephone reservations and limiting the number of visitors would seem a more workable solution.
The other sightseeing I did of an archaeological bent was a visit to the National Museum of Archaeology in Valletta. The guidebooks insist that the renovations to the museum were scheduled to be completed in mid-2000. I think there was even a sign to that effect within the museum itself. Instead, just about half of the ground floor of the museum is actually open, which was a big disappointment. What's there is quite good, mind you, with very informative explanations of the exhibits. There are models of all of the major archaeological sites in the Maltese islands and a wide range of artifacts from the Copper Age temples. The best part of the collection definitely consists of the statuettes of fat female goddesses, most of them tiny ones (just inches tall) from Hagar Qim. The two most famous ones are the "Venus of Malta" and the "sleeping lady" and both are beautiful works of art, with magnificently realistic detail.
The history of Malta is, largely, a maritime one, starting with Phoenician colonists and continuing through the British navy. It's also become an increasingly popular stop on Mediterranean cruises, though the cruise ships only call in for a day, leaving five or so hours for their passengers to sightsee. I'll also mention that I was entirely stunned by the size of some of the ships I saw come in. My last morning, everyone at my hotel was out on the terrace at breakfast simply gawking as one of the most recent megaliners (the Millennium) came in to port.
I mention all this because one of the obligatory tourist activities is a boat trip of some sort. Captain Morgan Cruises is the major operator and they offer a wide variety, from all day cruises around all of Malta (including Gozo and Comino) to an assortment of booze cruises. I opted for the hour and a half harbor cruise. Starting in Sliema, a bland suburb across the Marsamxett Harbor from Valletta (and the location of the largest number of hotels, most of them oriented towards European package tourists), the boat wound around both the Marsamxett Harbor and the Grand Harbor on the other side of Valletta. I'd actually seen a lot of the Grand Harbor since my hotel overlooked it, but the boat trip offered a chance for a close up view of the Three Cities on the other side of it. They provide commentary in English, German and French. As is typical of these things, the commentary is not quite identical in all three languages, though the differences seemed to be limited to minor details, such as what actors had filmed movies at the Mediterranean Film Studios in Rinella.
I also spent some time exploring the Three Cities on my own, on foot. The "Three Cities" term actually came to the area with Napoleon, who captured Malta from the Knights of St. John in 1798. They're also called "the Cottonera" after the fortification lines that surround them. Or you can use their individual names, each of which has two versions - the original one from before the Great Siege of 1565 and the name given after the siege. The area offers a mix of history and modern dockyards. I spent most of my tourist time in Vittoriosa (meaning "victorious" - before the siege it was called Birgu), but the other two are Senglea (named after Grand Master Claude de la Sengle and originally called L'Isla) and Cospicua ("conspicuous" as in the conspicuous courage shown by the Knights during the siege and originally named Bormla). Vittoriosa was the city the Knights chose as their home when they came to Malta and there are many 16th century buildings there. The most important include some of the auberges (the residences of the Knights, each associated with a particular langue or nationality), Fort St. Angelo, the Inquisitor's Palace, and the Church of St. Lawrence, though the latter was more or less redesigned in 1681 by the ubiquitous Lorenzo Gafa. There's also a small museum in St. Joseph's Chapel that contains various odds and ends that belonged to Grand Master Jean de la Vallette.
Vittoriosa is also the location of the Maritime Museum, which is quite comprehensive. There are displays on everything from ancient merchant ships to Maltese fishing vessels to the British navy. The latter is decidedly the largest part of the museum, by the way. It wasn't really a subject I'd say I'm particularly excited about, but the museum is done well enough that it overcame my skepticism.
Another thing Malta is noted for is fishing villages and I spent a pleasant afternoon in Marsaxlokk. While there's a touristy outdoor market there, the real reason to make the excursion is just to stroll along the harbor, looking at the fishermen mending their nets. There's a characteristic fishing boat used in Malta, called a luzzu. Luzzus are brightly painted and always have the Eye of Osiris painted on either side of the prow. This symbol is, essentially, a good luck amulet and dates all the way back to the Phoenicians, who had adopted it from Egyptian mythology.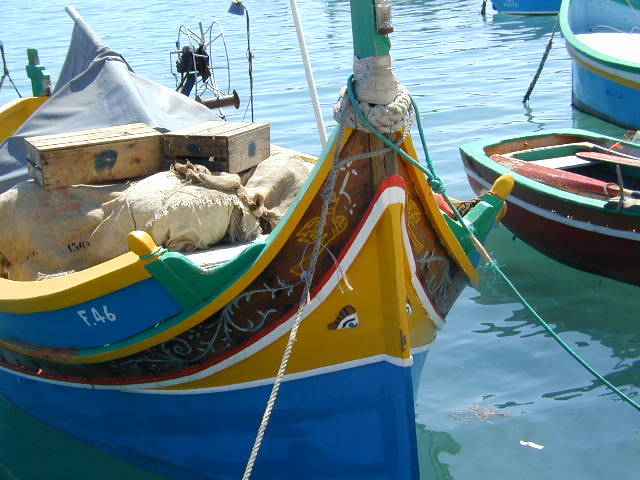 The other thing to do in Marsaxlokk is eat some of the catch. There are several open air cafes, all of them offering more or less the same fare. You can't really go wrong as long as you stick to simple grilled fish. For under LM 2.50, you can feast on a large plate of grilled fish, salad, and french fries, along with a glass of wine. Good food and watching the world go lazily by - what more could anyone want?
One of my personal rules for travel is that one must always go to local markets. The covered market in Valletta (off Triq il-Merkanti) was a disappointment, being entirely modernized with amenities like refrigeration. The daily street market in front was of more interest to local housewives searching for socks than to a traveler searching for local color. But, fortunately, the Sunday market in St. John's Ditch just outside the city gates made up for that. There was plenty of touristy junk for those who can't live without t-shirts and beach towels and pirated CDs. What interested me, however, was the section at the very edge of the market which specialized in caged birds. Apparently, trapping birds for sale is a big thing and it appeared that a green finch is considered a particularly romantic gift from a young man to his girlfriend.
Another personal rule is that local festivals are obligatory. The tourist office was advertising "Valletta Nights" - a weekend evening mix of late museum openings, street musicians, and parades. Looking around more carefully, though, I noticed the signs for the Festa of Saint Wistan. Now, those signs were in Malti only, but it doesn't take much in the way of linguistic skills to figure out times of parades and fireworks. (The actual festa was Sunday, but the partying starts five days earlier and gets particularly serious on the eve of the event.) The festa was actually quite similar to those one can go to in Italian neighborhoods in the northeastern U.S.. There are marching band parades, a procession carrying images of the saint being celebrated, fireworks, and a massive street party. The procession was particularly important in this case, since it enabled me to figure out that St. Wistan was a man. (I later learned that St. Wistan might be better known to most of us as St. Augustine.) It also enabled me to discover that the Maltese people throw real confetti, a practice that has died out in North America. I have to say that I was also impressed by the band clubs, which seemed to attract a fairly diverse section of the population. In other words, they weren't composed entirely of old men. Actually, the quality of the music was quite good. And, of course, street food tends to be both good and cheap.
A different sort of spectacle took place on Sunday morning at Fort Saint Elmo, at the very tip of Valletta. "In Guardia" is obviously a pageant staged for tourists. It claims to be a reenactment of military exercises the Knights of Saint John performed in the 16th century. There was commentary in English, German and French. But I can't tell you if the commentary differed between the languages, since the quality of the PA system was so poor, I could understand only half of the English. It was reasonably diverting and the costumes are certainly colorful enough.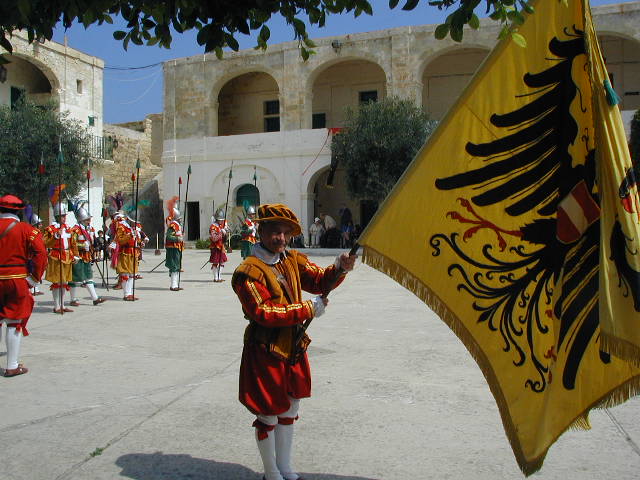 At any rate, you can't possibly sleep through the event, since it includes several cannon blasts. It's also worth some time to walk around the fort, either before or after the pageant. There are good views across both the Grand Harbor and Marsamxett Harbor from the bastions. Incidentally, the fort is now used as the police academy, but its biggest claim to fame was as a film location when it stood in for the Turkish prison in the movie "Midnight Express."
On the way back towards the center of town, I noticed a small toy museum. It isn't listed in the guidebooks, so may be fairly new. The collection spans three floors, but few items have labels and there was nothing particularly unusual or really rare. It's not really worth the LM 1 admission unless you're a toy fanatic, a child, or a traveler wishing to scoop the guidebook writers.
The Casa Rocca Piccola, however, is right across the street and is worth a visit. The house is still lived in by the de Piro family and the guided tour gives a chance to see something of what a 16th century palace was like. There are several very unusual items to see, as well, including a portable chapel (which folds up into a cabinet) and a knight's sedan chair. My personal favorite was a Maltese chess set. The king is the Grand Master. Since the Knights were monks and, hence, celibate, the chess set queen has no crown. You can also see the family's costume collection, which has some beautiful pieces, including very fine lace.
Another attraction that isn't in the guidebooks yet is The Great Siege of Malta, in the Cafe Premier complex at Republic Square. I admit I was skeptical of paying LM 3.50 for a multimedia presentation, but it turned out to be done very well. You get a CD player (in your choice of 13 languages) and, as you move along, the CD automatically plays a soundtrack corresponding to the room you're in. Some have static displays, while others have TV screens. You move from room to room, tracing the history of the Knights from the early days of the Hospital in Jerusalem, through their loss of Rhodes, the Turkish siege of Malta, their expulsion by Napoleon, and all the way to modern times. (Yes, the Sovereign Military Order of Malta, as they're now called, still exists, largely as a charitable organization.) It was far more effective and informative than I expected it to be and I was pleasantly surprised by such a blatantly touristy attraction.
The most important site associated with the Knights is the Grand Master's Palace in Valletta. You enter via Neptune's Courtyard, so-called because it has a large statue of Neptune in the center. Your options are to tour the armory, the state apartments, or both. I opted for both and started with the state apartments. You go upstairs and find yourself in a long hallway, lined with suits of armor, and decorated with paintings of naval battles and portraits of various Grand Masters.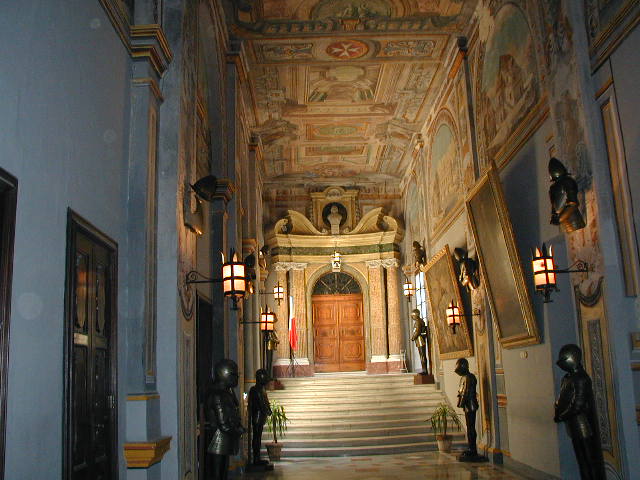 There are only a few rooms that are open to the public. (Incidentally, when Parliament is in session, the whole palace is closed.) There's general grandeur, but the reason to pay the LM 1 admission is to see the Council Chamber, also called the Tapestry Room. The ten Gobelin tapestries that give the room its nickname are officially called "Les Tenture des Indes" and are based on a series of paintings given to Louis XIV in 1679 by Prince John Moritz of Nassau. They depict exotic wildlife and scenes of the Caribbean jungles. Words can't do this artwork justice. They're incredibly beautiful. No photography is allowed in that room and they don't sell individual postcards of them, so I went to the effort of buying a book about them because I couldn't imagine going home without pictures.
As for the Palace Armoury, which costs another LM 1, it is divided into two large halls. The hall on the right is full of various pieces of armor. What impressed me the most was the workmanship that went into decorating pieces that were meant to be beaten up in use. The left hall focuses on weaponry and was of less interest to me. I did, however, note one item - a leather cannon, designed to be lightweight.
I mentioned briefly peeking in at Saint John's Co-Cathedral on my first day in Valletta, but it demanded a more thorough visit. Every inch is elaborately decorated and all you can do is gawk at the beauty. The Cathedral Museum is also essential, particularly as it holds the single most famous piece of art in Malta. I refer to Caravaggio's painting of "The Beheading of St. John." The painting lives up to its hype. It's a masterpiece of light and shadow and it's easy to understand why it's been called the most important painting of the 17th century. Caravaggio's "St. Jerome" hangs in the same hall and is, also, justly famous. Michelangelo Merisi da Caravaggio may have been a bad person (he was rumored to have murdered at least one man) and may have been expelled from the Knights, but he could paint like an angel. The museum also has various vestments, some nice illuminated manuscripts, and a famous set of Flemish tapestries (woven by Jodicos de Vos, largely from cartoons by Rubens).
When people have asked me to summarize Malta, I've been telling them that it's sort of like Southern Italy, but without the crime and with lower prices. The best reasons to go are to see some spectacular artwork and to explore the archaeological sites. I'll close off this part of the travelogue with a few random observations.
The best ice cream in Malta is the hazelnut gelato at Caffe Cordina in Valletta. It isn't quite as good as the tartuffo gelato at Tre Scalini on Piazza Navona in Rome, but neither is anything else, so it's quite good enough.
There are several internet cafes. The better of the two I tried was at the YMCA in Valletta, on Triq il-Merkanti, near the corner of Triq L'Arcisqof. The only downside is that it's up a particularly steep and narrow spiral staircase.
Sapienza's is the best bookstore in Valletta for serious literature and books about Malta. The bookstore in the Embassy Shopping Center has a wider selection of trashy novels for airplane reading, however.
Church bells in Malta ring according to a pattern that has no apparent relationship to the hour. It can be five in the evening and the bells of one church will ring once, the bells of another will ring seven times and the bells of yet another will ring 14 times ten minutes later.
The Maltese language is truly odd. Its original roots are Semitic, derived from the ancient Phoenician tongue, but it's had a certain amount of Italian influence. The hard part is remembering that the "q" is a glottal stop (what one guidebook described as the sound between the two t's in "bottle"). "Gh" is silent but lengthens the vowel before or after it. While the people speak Malti amongst themselves, English is almost universally understood and getting by in English (or, for that matter, German, French or Italian) is simple. There are also various letters with dots on top of them (this happens with h or g) and that affects the pronunciation. I didn't attempt the disacritical marks here, because most people won't have the right character set loaded into their computer. One example is with the place name "Ggantija" where the first "g" has a dot over it and is pronounced as a soft g sound, while the second undotted g has a hard g sound, resulting in "Dj-gantiya."
There does not appear to be anywhere to change money in the departures hall at Malta International Airport. That's important to know, since the Maltese lira is not a hard currency. I had just a few lira left, which I used to buy more film. I suggest changing your money back before leaving Valletta or, at the very minimum, strolling over to the arrivals hall.
My flight to London, via Frankfurt, was routine enough, despite a slight weather delay. Getting through formalities was no particular hassle, though the immigration guy did make me show my ticket home, probably because I was honest enough on the landing form to indicate that I was staying with a friend, instead of at a hotel. Robert met me at Heathrow and led me through buying a 7-day travelcard (good for zones 1 and 2, so requiring a supplement for Heathrow) at GBP 19.10. We headed off to his flat, then off to dinner at Los Molinos on Shepherd's Bush Road, a tapas bar we'd been to before. The calamari was particularly notable, as was the fried spinach cake, but we also enjoyed garlic bread, grilled salmon, a chickpea and spinach dish, chicken livers (well, he enjoyed them - I ignored them) and spicy potatoes (which he ignored as they turned out to be in a tomato sauce). For dessert, I had what was essentially a crepe with mango and Grand Marnier, while he had what amounted to creme brule. All very elegant and tasty, though not cheap. You simply have to accept that the numbers in England are the same as in the U.S. and ignore that the units are pounds, or you will be hopelessly frustrated with how expensive things are.
As I mentioned, my whole excuse for this trip was the polar exploration exhibit at the Maritime Museum in Greenwich, so that was my first order of business. The weather was very cooperative, as a rainy day is perfectly spent inside a museum. Greenwich is an easy twenty minutes or so by train from Charing Cross Station and the museum is maybe a ten minute walk from the train station. Admission is GBP 7.50 - see what I said about British prices above and resist the urge to do the conversion. At any rate, "South" was worth it. I can't say that I learned very much new, except that Lawrence Oates had written that he hated Scott, making his death all that much more tragic. But I was thrilled to see originals of so many photographs I've seen reproduced in books about Scott, Shackleton and Amundsen. Even better, the exhibit included Ponting's movie footage of Scott, Wilson, Bowers, and Petty Officer Evans demonstrating tent usage and cooking for sledging journeys. And there was one of the penguin eggs that Apsley Cherry-Garrard brought back from Cape Crozier during "the worst journey in the world." Throw in assorted recordings - Shackleton talking about turning back short of the pole during the Nimrod expedition, Leonard Hussey discussing life on Elephant Island while waiting for the rescue of the Endurance crew, Tyrggve Gan describing finding the bodies of Scott, Wilson and Bowers - and I was absolutely enthralled.
I did also explore some of the permanent exhibits in the museum. There's a lot of good general material on exploration, for example. My favorite bit of trivia there was that when the Portuguese explorers first arrived in China, the Chinese mistook their sunburnt faces for symptoms of severe constipation, and gave the Portuguese vast quantities of rhubarb (which has laxative effects) instead of the spices the explorers demanded. There was also a lot of material on Franklin's quest for the Northwest passage, though none of the explanatory plaques in that section bothered to mention that the Franklin party had to be criminally stupid to starve to death in a region where hundreds of Inuit lived off the land. The exhibit on Admiral Nelson also suffered from a mix of immense detail with blind hero worship. (I should note that "South" did not suffer from this defect. Despite the temptation to adhere to British tradition and treat Scott as a hero, whoever curated that exhibit left no doubt that he was ill-prepared and his death was due as much to his own poor decisions as to misfortune with the weather.)
I got back to London in time to pick up a pair of tickets to see "Chicago" and to have a browse around the National Gallery (free admission!) and a cup of coffee. Robert and I met at the theatre for a generally enjoyable, but imperfect, show. Denise Van Outen, apparently well known in England as a TV presenter, was an expressive Roxie, but Leigh Zimmerman was not quite up to the role of Velma. Afterwards, we had dinner at the Strand Tandoori, chosen entirely for proximity to the theatre. The meal was just okay - decent enough samosas and biryani - but nothing really special and the atmosphere was particularly marred by a rowdy group of men at the next table.
My other priority for sightseeing was an excursion to Salisbury. Despite a few previous trips to England, I'd never made it to Stonehenge before. (By the way, my backup excursion plan, had Stonehenge been closed because of the foot and mouth disease epidemic, was to go to Canterbury. That's now on the top of my day trip list for the next time I'm in London.) I thought Stonehenge would fit in particularly well this time, after seeing its older cousins (so to speak) in Malta. There was a minor complication in the form of a partial rail strike, but that really just meant fewer trains and having to change at Basingstoke. There's a bus that runs from the Salisbury train station to Stonehenge, so it's really quite easy to make the excursion on your own, at less than half the cost of a tour bus. Anyway, I found Stonehenge to be quite dramatic, largely because it's pretty much in the middle of nowhere, just rising out of the open plain.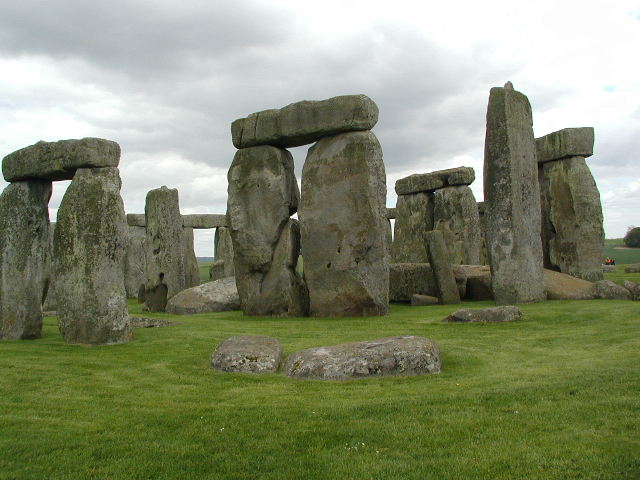 The admission price includes an audio tour, which helped tremendously in appreciating the site. You get a wand (sort of like a telephone handset) in your choice of several languages and press buttons corresponding to markers along the path. For example, on my own, I might not have noticed the mortise and tenon joints that hold the lintels onto the standing stones. They also had a lot of information on local legends about how Stonehenge was built, my favorite of which was that it was placed by Merlin. I did catch them in an error about the relative ages of Stonehenge and the pyramids; the latter are really about 500 years older. They also made a big deal about bluestone (which makes up the inner ring of stones) being warmer to the touch than the limestone of the outer ring. At the exit, there are samples of both to touch and the bluestone does, indeed, feel warmer. When I discussed this later with Robert, he pointed out that all that means is that the two types of rock differ in their thermal conductivity. You're actually heating the stone with your hand, so there's nothing all that mysterious going on.
After taking the bus back to Salisbury, I had enough time to take a look at the cathedral, which is reasonably grand, although little of it is original. It is most famous for having what is believed to be the oldest mechanical clock in the world, dating to the 14th century. The clock works via a system of gears which make it ring a bell for the hours.
Another of my personal travel rules is to take docent tours whenever they are offered and Salisbury Cathedral turned out to be the exception that proves the rule. While the guide did point out a few interesting things I would have missed on my own (e.g. the buttresses that had to be added to support the tower when the spire was added), she went on and on about minor historical figures. This was exacerbated by another woman on the tour who seemed to be personally acquainted with and enthralled by 500 year old gossip about everybody connected with anyone who ever knew Henry VIII. I made my excuses and escaped to the Chapter House. This is most famous for having one of the four surviving originals of the Magna Carta. But I found the 13th century wall frieze telling the story of Genesis to be more interesting.
On getting back to London, I took the tube to the Queen's Park station, where I met Robert and we walked over to a place called The Organic Cafe. It was down a somewhat scary semi-industrial block, with cars up on blocks here and there. But the food was very very good. Robert had salmon and potatoes, while I had bream with asparagus, mussels and pasta. For dessert, I had meringues with vanilla ice cream and marinated strawberries and Robert had a chocolate torte with ice cream and coffee syrup. The service was not nearly as good as the food, though. And the menu was oddly unhelpful. Robert was sure I was joking when I commented on the wine list description of one selection as "a wine for drinking with food." Even my imagination isn't quite that bizarre.
Another deficiency of my past trips to London was the V&A and that was easily remedied. When you approach such a huge museum, you can either try to see all (or most) of it superficially or just focus in on a few parts. I chose the latter and started with their current special exhibit on the Victorians. My favorite section had to do with travel and exploration and how the expansion of the British empire affected interest in other cultures. I also enjoyed early sound recordings, including some Gilbert and Sullivan.
Then I wandered around various textile related exhibits. The dress section had a special exhibit called "Curvaceous" which contrasted historical corsetry with modern fashions inspired by corsets and bustles and the like. All of which made me quite glad to be living in the age of Jockey for Her. Then I looked at Central Asian rugs (I really do have to go to Turkmenistan one of these days) and assorted embroidery and lace. There are racks and racks of samples you can pull out and look at, so you could probably spend a week and not see everything. I'll also mention that my only souvenir shopping in England was at the museum shop, where I bought a cross-stitch kit.
On past trips, I've enjoyed the walking tours offered by The Original London Walks. When I was looking at the brochure this time, Robert mentioned that he'd be interested in the Jack the Ripper walk. A lot of other people were, too, but there were two tour guides (plus one from another company), so it worked out fine. Our guide, Steve, was lively, entertaining and informative. We did have a minor letdown as the pub we were supposed to go in, The Ten Bells, was closed. Apparently, it had been sold recently and is open only sporadically until the new owners take over. Despite that, the tour was certainly worthwhile, even if we did end up deciding there wasn't enough evidence against any of the suspects.
Since we were already in the East End, we decided to try one of the many Indian restaurants in the area. We settled on a place called Cafe Shan, which proved to be quite good. The onion bhaji was excellent, as was a chick pea dish that came with it. We also got prawns with spinach, chicken tikka and a sort of vegetable fried rice. Our only disappointment was that they didn't have any gulab jamum, though it isn't as if we actually needed dessert.
My last actual day in London was spent getting together with an on-line acquaintance, who lives in California. Bev and her husband, Walt, were spending a few days in London after a river cruise and, after several rounds of telephone tag, we managed to make plans. We had a nice lunch and chat, after which I set off for a book browse on Charing Cross Road. Foyle's is the largest of the bookstores in the area, but I found it frustrating, as it is poorly organized and has unhelpful staff. Blackwell's remains my favorite, although their London branch is not as good as their flagship store in Oxford. I didn't find anything I couldn't live without, but did buy a couple of small gifts for Robert.
Our final dinner was at a kosher restaurant named Reuben's on Baker Street. We began with an order of deep fried mushrooms stuffed with spinach, which were a bit too weird for me. I had an excellent grilled tuna steak, Robert had chicken Kiev and we shared some broccoli and sauteed potatoes with onions. For dessert, Robert got lokshen kugel (noodle pudding) while I had some very good apple strudel. It may not be the most exotic meal I've ever had, but it was tasty and nicely nostalgic. (Or should I say noshtalgic?)
Then it was back to Heathrow and the long haul to Los Angeles. Having a bulkhead aisle seat on a 777 helps a lot with the latter. It was a good trip, overall, though I do admit to having been particularly glad to get back to American water pressure and the luxury of a shower that neither scalds nor freezes!
---
Copyright 2001 Miriam H. Nadel

last updated 5 August 2001
Send comments to mhnadel@alum.mit.edu