Puffin' Away in St. John's and Bay Bulls
My Air Canada routing to St. John's was via Toronto and left DCA at 6 a.m. which is, alas, too early to benefit from that airport's metro service. That meant an expensive and scary cab ride, but the flight went smoothly and was even slightly early. While the formalities in Toronto were quick, the airport still has some of the worst signage in North America. It has improved significantly in another respect, however, as there are now ATMs there which will accept U.S. ATM cards. I had no problem making my connection. The flight was fine and I enjoyed the view of Newfoundland from the air, with its scenery of steep cliffs, lots of lakes, and dense vegetation.
A taxi downtown cost CAD 20 and was a convenient way to reach the newish Courtyard by Marriott hotel. After settling in a bit, I set out to have lunch, arrange a whale and bird watching trip for the next day, and meander around the town. The War Memorial is just a couple of blocks from the hotel and includes steps leading down to Water Street.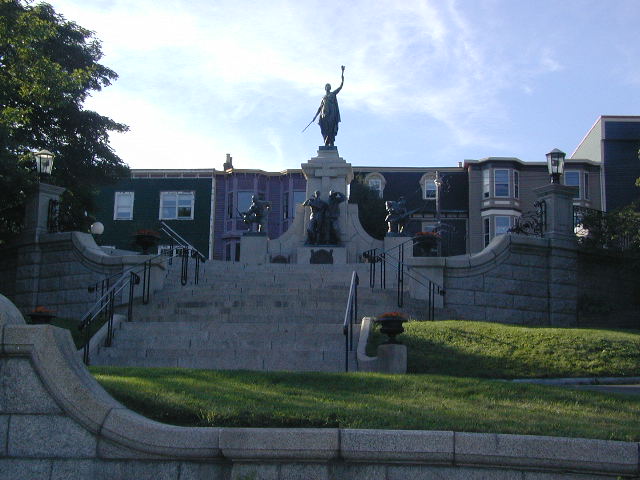 At the foot, you can cross to a small park which has statues of Newfoundland and Labrador retriever dogs.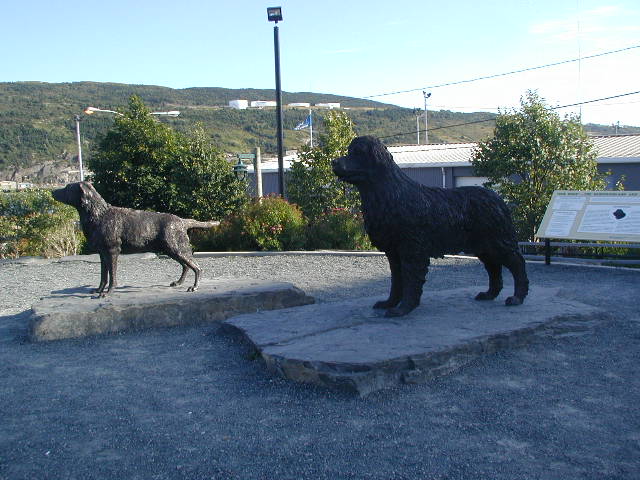 There are also plaques with historic information, but I have to admit I was too tired from the early start to the day to absorb much of what they said. The basic thing to know about the history of St. John's is that it is the oldest English-founded settlement in North America. The exact date is, however, a matter of dispute, but Sir Humphrey Gilbert officially claimed it for the British in 1583. The French, Portuguese and Dutch all had interests in the general vicinity and it wasn't really solidly established as a British possession until 1762.
Water Street is the main commercial street and is lined with shops and restaurants. It runs along the waterfront (d-uh) and leads to a touristy development called Pier 7. There are harbor cruises run from there, but I was too late for one and, frankly, probably wouldn't have been able to keep my eyes open anyway.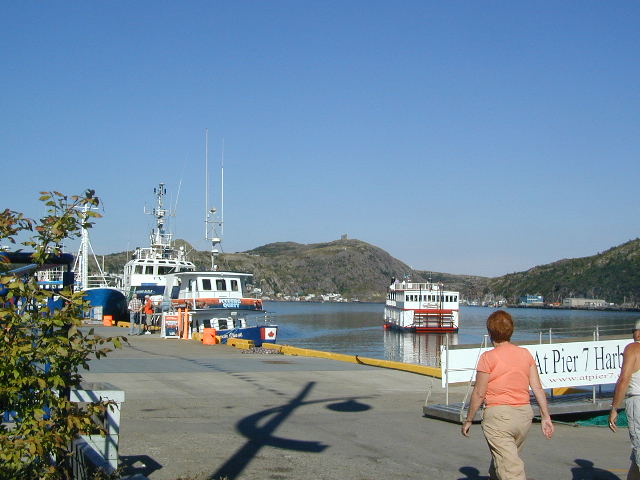 I was far more energetic after an early evening and was glad to have a warm sunny day for the whale and bird tour I'd booked through O'Brien's. Their tour included a shuttle ride from the hotel to board their boat at Bay Bulls. The ride was about a half hour and the driver pointed out land that was now for sale, with half acre sites going for under CAD 17,000. Since I'd just had a real estate offer of quite a bit more fall through, I was tempted, but it hardly met my key criterion of being close to a Washington metro station.
At Bay Bulls we boarded the boat, which carries about 60 passengers, for a trip out to Gull Island and the Witless Bay Ecological Reserve. Our guide went over the safety rules (standard stuff about keeping "one hand for the ship," facing the ladders while going up and down, and not climbing the crow's nest) and sang a song during the crossing. Despite the name, the birds we went to see were puffins, not gulls. And there were hundreds of them - on the island, in the water, and in the air.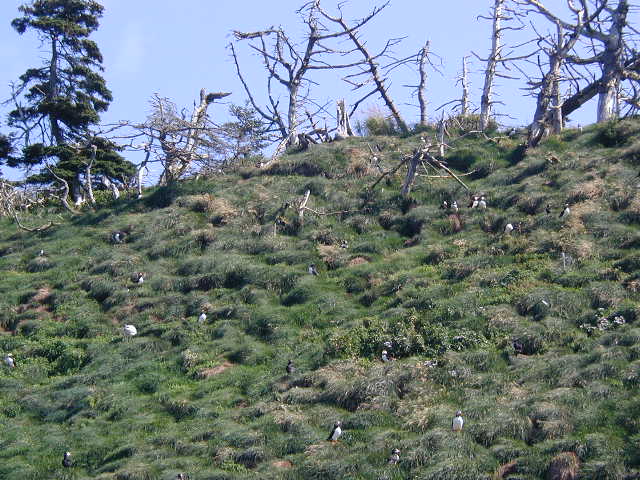 I later learned that the collective noun is "an improbability of puffins" and it is definitely apt. They don't fly especially well, for one thing. Our guide said, "They're like Air Canada. THey take off only under perfect conditions." But they are good divers and fish well for capelin (a.k.a. smelt). In fact, they fish so well that gulls mug them and steal their capelin catch. And, as the provincial symbol, puffins are locally beloved. In an amusing coincidence, Liberal MP Michael Ignatieff was quoted the next day in The Globe and Mail as praising puffins by saying, "They hide their excrement, they have good family values, they flap their wings very hard and they work like hell. This seems to me a symbol of what our party should be." He even had his facts more or less straight. Puffins do mate for life. And they build two room nests, burrowed into the rock, with one room a living room and the other a toilet. From my standpoint, however, the main thing about puffins is that they're adorably odd-looking.
We left the island when the captain announced that a humpback whale had been sighted. We had a bit of a wait, but we did eventually see Bob the Humpback surface. (Whales have distinctive markings so individuals can be identified. I took the crew's word for it that it was Bob, but for all I know it could have been Margarita.) We watched him dive and surface a few times. But I didn't get even attempt any photos because my experience with whales suggests that one mostly gets photos of places where whales were. All in all, it was an excellent tour and everyone disembarked fully satisfied.
Back in St John's, I napped and ate before heading over to the Newman Wine Vaults for a Friday evening storytelling performance by Dale Jarvis. The building is an interesting one, which had its origins as a storage facility for port wine. It was a cozy and intimate venue for storytelling, with about 50 people gathered to hear a mix of local and Celtic stories about faeries. I followed that by enjoying a little bit of the George Street night life. St. John's is alleged to have more pubs per capita than any other city in the world and George Street is a major concentration of them. It was considerably less raucous than I expected, running largely to music and beer, rather than heavier drinking. But perhaps that is because I chose not to undergo the "screeching in" ceremony of kissing a fish and drinking rotgut rum (known locally as "screech"), so did not become an honorary Newfie.
I'd clearly chosen the right day for my boat trip, since the next day's weather stared out dreary and only got worse. That meant it was a good day for museum going and I set out to the Johnson Geo Center. That entailed a steep climb part of the way up Signal Hill. There is an exhibit of local rocks outside the museum and I decided that one nicely polished slab of anorthosite would make an ideal top for a coffee table. Fortunately, I took the rest of the museum somewhat more seriously, perhaps because it charges a relatively pricy CAD 10.25 for admission. The museum is built into the hillside and the interior wall is exposed local rock, which is pretty cool. Most of the exhibits are the standard natural history museum geological ones, e.g. samples of minerals, explanations of plate tectonics, material on volcanoes and earthquakes. They're done well, but not unique.
There are, however, two special exhibit areas. The Exxon Mobil Oil and Gas Gallery has a lot of interactive exhibits about exploration and petroleum refining, as well as a large mock-up of the Hibernia Gravity Based Structure. The main thing to remember is that off-shore oil drilling is a major part of the Newfoundland economy and "the off-shore," as locals refer to is, is popular among Newfies for that reason.
But the biggest draw is probably the exhibit on The Titanic. This had a mix of text panels telling the ship's story, photos, artifacts, movie props, and video footage taken of the wreck. It was very informative. I hadn't known, for example, that the radio warnings about icebergs had not all been delivered to the bridge because the wireless operators (employed by Marconi, not White Star Lines) didn't want to interrupt the sending of passenger messages. Sending off the wrong sequence of distress rockets, which is why the California didn't try to save passengers, is also pretty egregious. And it's really callous that the White Star Line owners stopped the pay of surviving crew members at the moment of sinking.
All in all, the museum was a reasonable way to spend a few hours on a rainy day. The weather deteriorated further during my walk back down the hill to the hotel. That provided a good excuse to catch up on email (via free internet access at the hotel) before going off to the wilds of Labrador in the morning. It did clear up enough for me to treat myself to an elegant dinner at The Peppermill Restaurant (red pepper soup, followed by cod with chanterelle sauce and grilled vegetables). The food was excellent, but the service was sluggish and the price rather high. It was worth it, though, since who knew what would be available in Labrador? For the answer to that and other burning questions, read on.
[ Back to Index | On to Next Chapter ]
---
Copyright 2008 Miriam H. Nadel

last updated 7 February 2008
Send comments to mhnadel@alum.mit.edu