Ranging Through Northern Labrador
I had been skeptical about Provincial Airlines, but their service proved to be excellent. They even served food - a snack between St. John's and Deer Lake and sandwiches between Deer Lake and Goose Bay. By the way, Deer Lake is the gateway to Gros Morne National Park, which would be well worth exploring on a future trip. The one failing was that the airline folks assumed that everybody knew that Labrador time is a half hour earlier than the rest of Newfoundland. (The half hour is a peculiar Atlantic time zone, so it isn't Labrador being weird here.) I didn't discover the time zone change until late in the day when I noticed a store being open later than I expected it to be.
On arrival, I took a taxi to the Royal Inn. The town is now officially Goose Bay - Happy Valley and is best known as the location of a multi-national air force base. I believe the inn was actually in the Happy Valley area. Not that it matters, since the whole area was pretty dead on a Sunday. I walked around some and noted that the residential areas were well-kept enough, but the stretch along Hamilton River Road was filled with unattractive blocky industrial buildings. About all that was open was a supermarket / department store and a pharmacy. And a few restaurants, at one of which I had an adequate vegetarian pizza. I was glad to leave late the next morning via a taxi to the dock, which is on the shores of Lake Melville, a bit north of the main part of the town.
Monday - Day 1
The Provincial Ferry Service folks had suggested checking in three hours before departure. The process really took just a few minutes and there was no need to be that early. I paid for my ticket and settled into the four berth cabin. It was less cramped that I'd feared and even had its own toilet, though the showers were down the hall. (They proved to have plentiful hot water, by the way, which is nice in the chilly climate.) Before long, I was joined by Helga, a retired German woman who was making a fairly extensive tour of Newfoundland and Labrador. She had come up to Goose Bay on the Robert Bond and said that ship (which is a car ferry) was crowded and much less comfortable than the Northern Ranger. We had lunch at the ship's cafeteria and watched cargo being loaded before departure.
I should talk about the food on the ship at some point and this is as good as any. The cafeteria is open at fixed times, with each meal time just one hour, and has a somewhat limited menu. Breakfast (served from 8-9 a.m.) ran to stuff like fried eggs and toast, though there were delicious blueberry pancakes one morning. Lunch (served from noon-1 p.m.) usually featured some sort of soup and something like fish and chips or a hot sandwich of some sort. Dinner (served from 5-6 p.m.) was similar, but usually had an option of a platter of some sort, e.g. pepper steak with rice or turkey with mashed potatoes or the like. There were crackers and peanut butter for the taking. Packaged salads and sandwiches were also sold, as were tea and sodas and candy and so on. The cafeteria reopened for stuff like tea from about 8:30-10. Everything is a la carte and you can get by on CAD 10-15 a day. The food wasn't exciting, but it was adequate.
Most of the first day (Monday) was spent in the fairly sheltered waters of Lake Melville and the Hamilton Inlet. I settled into shipboard relaxation, alternating between time in the upstairs lounge where I read and worked puzzles (a kakuro book I'd brought with me) and sitting outside enjoying the fresh air and the scenery. And, of course, I chatted with other passengers. Besides Helga and me, there were just 3 other tourists. John and Wally from Montreal were retired high school science teachers on an ambitious trip which had included the trans-Labrador Highway. The final tourist was an 86 year old woman from Halifax who told me she intended to set foot on new land every year. However, the five of us were hardly the only passengers. The ship is cheaper than flying and, therefore, popular among the local, largely Inuit, population for visits to family and friends in the various coastal settlement. (There are no roads connecting the towns north of Goose Bay, so air or sea are the only options.)
Our first port call was at Rigolet, at about 8 in the evening. As we approached, an Inuit woman I was talking to on the deck pointed out various sites to me. Those included salmon huts, an old graveyard, and a mere glimpse of a minke whale. Minkes, known locally as grumpus, are among the fastest moving cetaceans, so attempts to take pictures of them are especially likely to result in photos of places that whales used to be.
Rigolet has a small museum, which was opened for our benefit. It's in the old Hudson Bay Company net loft. Each fisherman had a sort of locker upstairs there in which to store his gear. The exhibits include old photos, some info on town history, and a recreation of one of those lockers. One exhibit I liked was a carved wooden dog. It wasn't really particularly attractive, but the woman whose toy it had been was there and explained how her big brother had made it for her.
Allegedly, the crafts store next to the museum was going to open, but it was raining and we were only in port for an hour, so I decided to go back to the ship instead of waiting. Besides, I figured, it was too early in the trip to buy souvenirs. As far as I can tell, nobody else checked out the store, so I can't say what (if anything) I missed.
Tuesday - Day 2
The second day of the voyage (Tuesday) included three port calls. Our first stop was at Makkovik at about 8 in the morning. Since it was very cold and wet out, I didn't wander very far there before returning to the ship for my morning toast and coffee. In addition to the drizzle, the seas got rougher when we got to Kaipokok Bay and turned towards Postville, which we reached at about 12:30 p.m.. It was still too dreary out to walk around much, but the town looked attractive from the deck. We had quite a lot of cargo to unload there, so I had plenty of opportunity to watch a huge congregation of gulls off the port side stern of the ship. Somebody told me that there was probably a large school of fish swimming past. I hoped that might mean some whales, too, but didn't see any.
The seas got even rougher through the afternoon. About 7 p.m., we arrived in Hopedale. While it had stopped raining, it was still foggy and very windy. You can tell that strong winds must be common by the weathering of these rocks along the coast.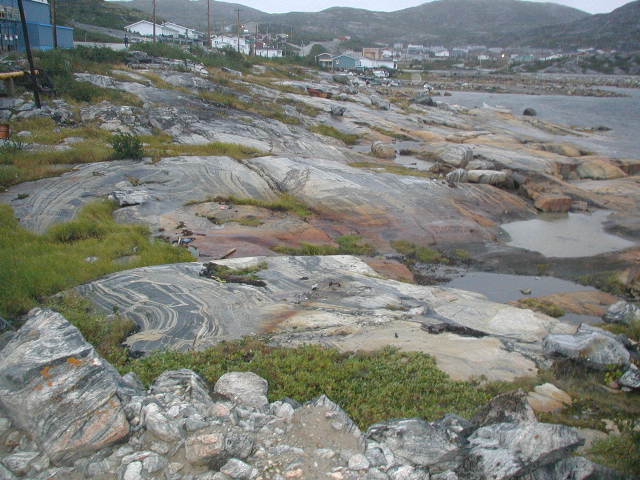 Helga and I decided to brave the weather and walk through the town to the Moravian Church, which allegedly had a museum. The museum was closed, but the walk gave us a good look at the town. There's a newish looking hotel and a community center for aboriginal teens. The houses look quite well kept, too. There was one gift and crafts shop, with carvings and dreamcatchers. There were also a few children trying to sell us similar wares. I figured that we'd be stopping there again on the way back, so didn't bother buying anything.
We returned to the ship and warmed up with some tea. The captain announced that the winds were too strong to go on, so we would be holding at Hopedale. A family from Nain told us that the ship normally goes part of the way and anchors for the rest of the night, so that we might not be very late as a result. The delay did no good for the Hopedale economy, however, since the gangplank wasn't lowered again.
Wednesday - Day 3
We starting moving again around 6 a.m. on Wednesday morning. The seas were still rough and I discovered that my accupressure bands are not actually 100% effective at preventing seasickness. The best cure is, of course, to lie down under a tree until it goes away. That wasn't feasible, so I limited myself to a cup of tea and fresh (but cold) air.
We docked at Natuashish at 10:30 a.m., it was much calmer and even fairly sunny out. Helga and I asked the crew how long we'd be there. We were assured it would be at least an hour, so we set off up the road (a bit of an uphill hike) to see the town. The scenery was fine, with a mix of boreal forest and lots of wildflowers. But there wasn't any town in site. After about 20 minutes, I gave up and turned back, while Helga continued a bit further. As I was nearing the dock, I heard the ship's whistle, which usually meant a half hour to departure. Somebody called out that the ship was leaving and I ran, calling out, "wait, we're coming." Fortunately, Helga had gotten a lift back and was close by. But they still had to lower the gangplank again for us! It hadn't been more than 50 minutes since we had docked, so it really wasn't as if we were late. By the way, we later heard that the town is 5 kilometers from the dock, so it's no wonder we never made it there.
The largest town in northern Labrador is Nain, with a population of over 1100. We arrived there at about 4 in the afternoon. There was quite a lot of cargo to handle there, so we were docked at Nain for over 3 hours.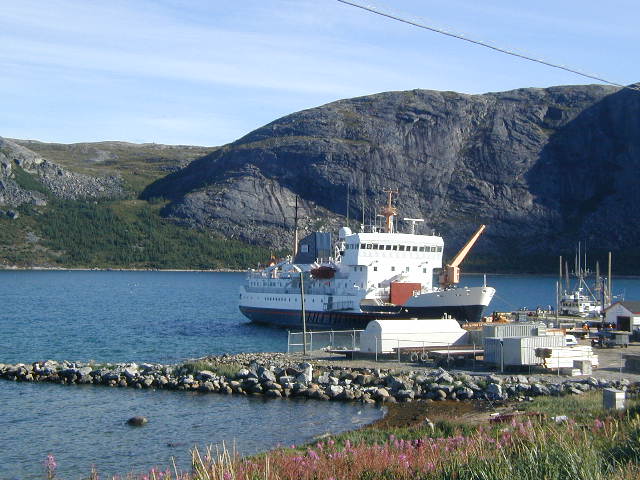 By the way, Nain is also the seat of government for Nunatsiavut, the regional ethnic government for the Labrador Inuit people.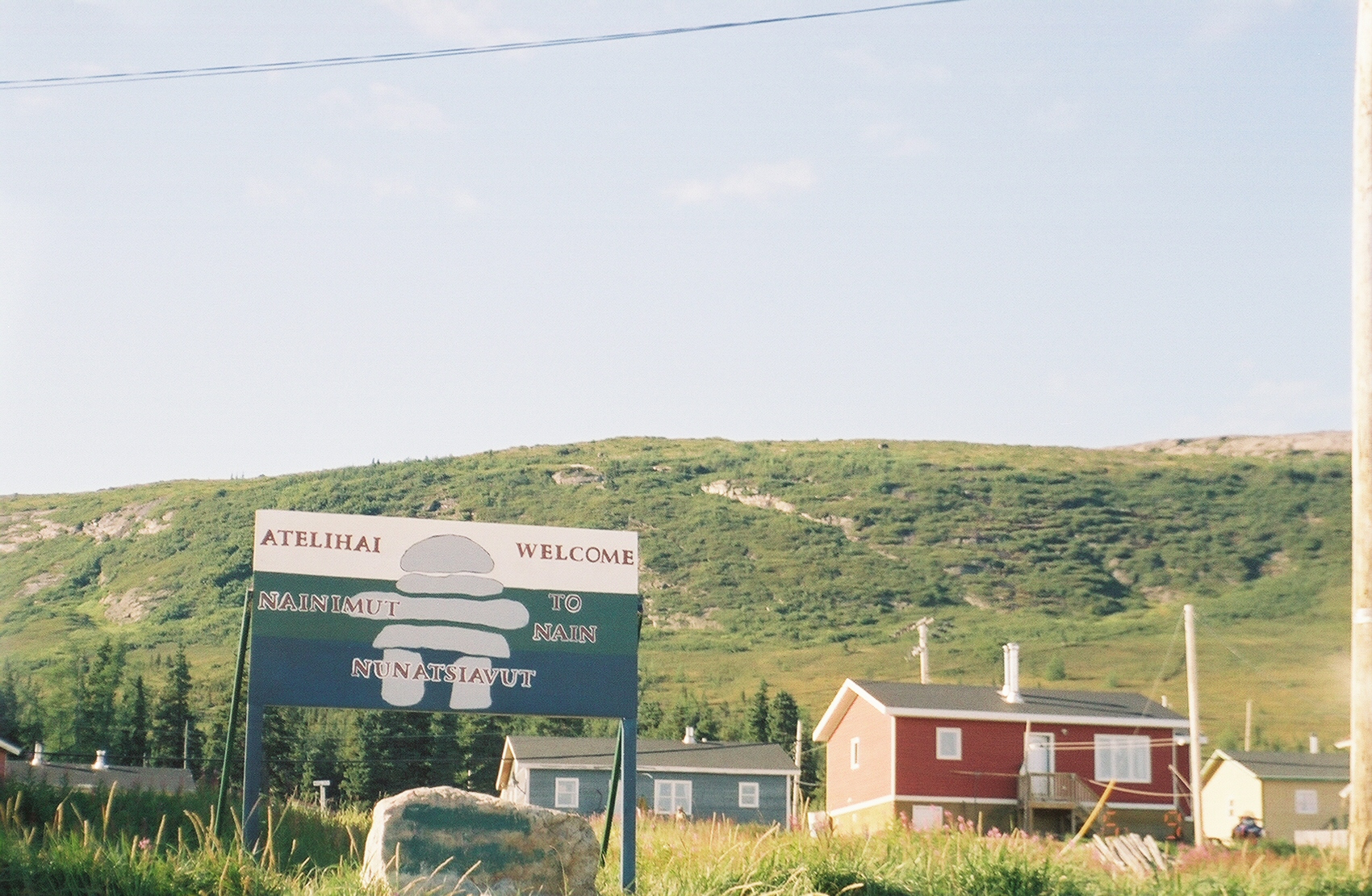 The Moravian church is one of the first buildings you see in town.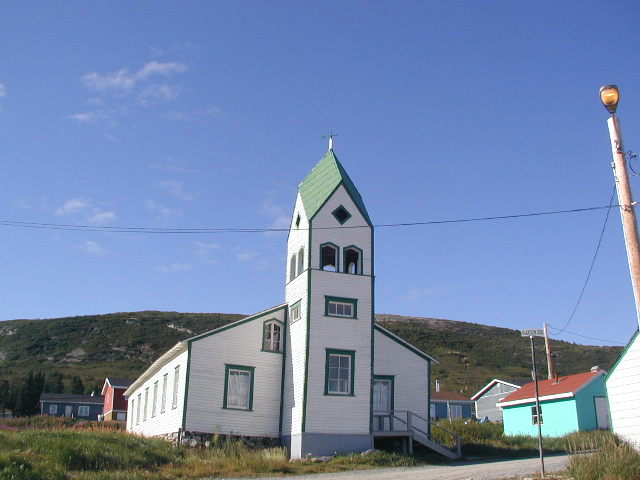 The interior was rather plain. There are plaques in the front dedicated to various missionaries who served there. The plaques are in both English and Inuttut, but the hymnals within the church seemed to be only in Inuttut. (I should probably explain that Inuttut is the local term for the Labrador dialect of the Inuit language. Because the Moravian missionaries from German devised a separate writing system for it, it is considered fairly distinctive from the western Inuktitut dialects spoken in other parts of Canada. It is an endangered language, with only about 500-600 native speakers, but it does appear that regional autonomy is contributing to something of a revival, and many signs within Nain were in both English and Inuttut. The only word of Inuttut I know is "nanuk", which means "polar bear." If you are really interested, I suggest you look at the Inuktitut Living Dictionary, which also includes dialect information.)
Nain has a handful of stores, including a hardware store and a couple of supermarkets. One of the supermarkets had a clothing section and a toy section, too. There had once been a museum, but it had burned down and not been rebuilt. There was no crafts store, but there were a few postcards (and one inukshuk) for sale at the church. Helga said there were notecards for sale at the post office, with pictures drawn by local children. So, overall, it's not like there are tourist attractions. One just has to enjoy wandering around, noting the sled dogs in a pen by the harbor, watching the fairly active helicopter traffic at the airstrip, and so on. The most interesting thing I noticed was a shed with a dedication which read "to my angatok and my grandfather." (An angatok is, essentially, a shaman. Oh, I guess I know two words of Inuttut.)
I had plenty of time to return to the ship and watch them handle cargo. It took about 2 hours for them to unload and another hour to load. Most of what they were loading seemed to be boxes of frozen fish, but they also had personal gear for residents, e.g. an all terrain vehicle.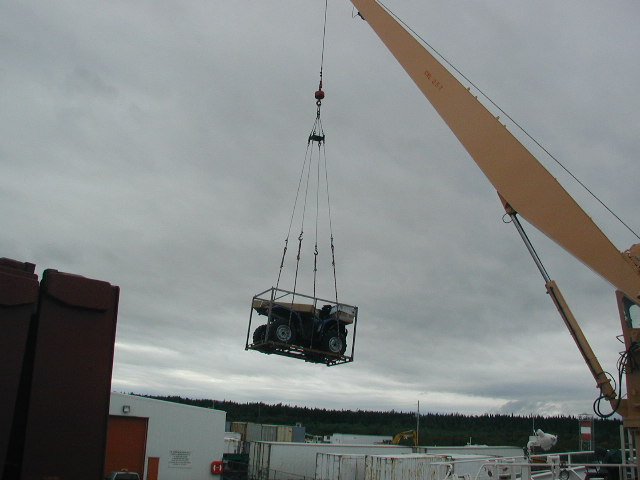 A few people boarded in Nain for the trip south. One of them hooked up a DVD player to the television in the lounge and put on a movie. I was amused to see that his choice of film was "Nanook of the North." While there may be questions now about just how accurate it is, it's still a good movie. And it's a lot shorter than Atanarjuat (The Fast Runner).
Thursday - Day 4
I was in bed when we returned to Natuashish, but I did hear the announcement when we stopped that we'd only be there for 20 minutes. We continued overnight back to Hopedale, arriving there at about 7:30 a.m. and staying until 9. Unfortunately, pretty much nothing was open. As John and Wally pointed out, tourists are pretty much another form of freight for the Northern Ranger and not the one around which schedules are made! Still, it was sunny and reasonably warm out, so it was nice to take a walk around the town.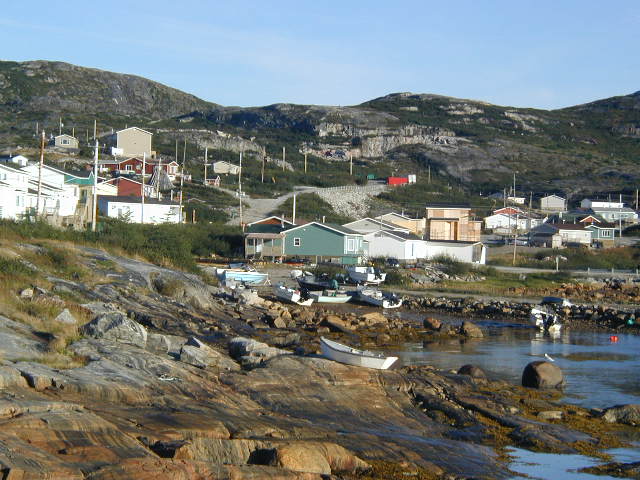 The day continued to be clear, though windy. That meant my spending a lot of time out on deck. There were some small icebergs off in the distance, but not close enough to be worth photographing. We got to Postville about 1:45 p.m. and had plenty of time to wander around the town.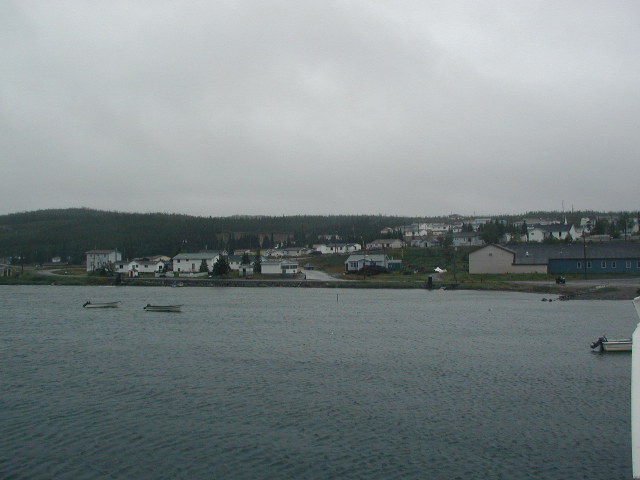 The church seemed to be closed, but a couple of stores were open. One was just a little shop in a corner of a community center, but the store at the top of the hill was better equipped. The most interesting part was reading the community bulletin board by the door. There were a lot of posters about domestic violence and abuse, which has been an ongoing problem in many native communities. Other posters advocated safe (i.e. sober) boating, stopping smoking, and registering gun ownership. There was also material about a proposed uranium mine and a sign-up list for people interested in scrapbooking. But my favorite notice was the one from a man with a polar bear for sale, described as "green, suitable for taxidermy."
A local woman told me that there used to be a crafts shop, but it had closed. Since the church was still closed, I meandered back to the harbor, where I photographed this wonderfully ramshackle wooden pier.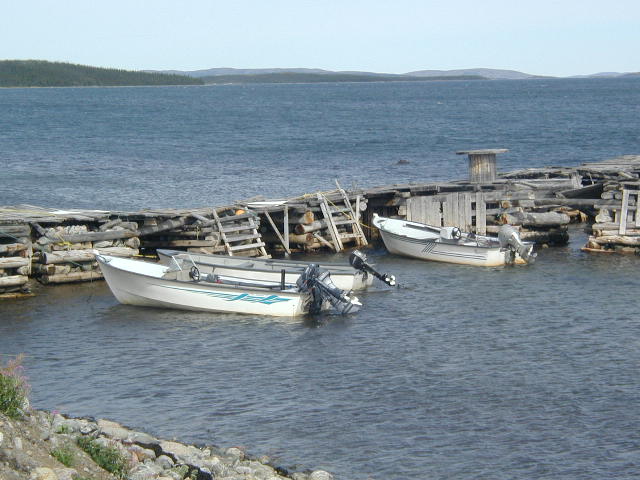 We left at about 3 p.m. and I napped during the journey on to Makkovik. When we docked there (about 6 p.m.) I finally managed to buy a sort of souvenir, in the form of a copy of "Them Days," a magazine about old Labrador. Walking around town, I noted that the garbage cans were rather elaborately decorated, apparently in an attempt to encourage their use. I also saw this Mill House from 1917.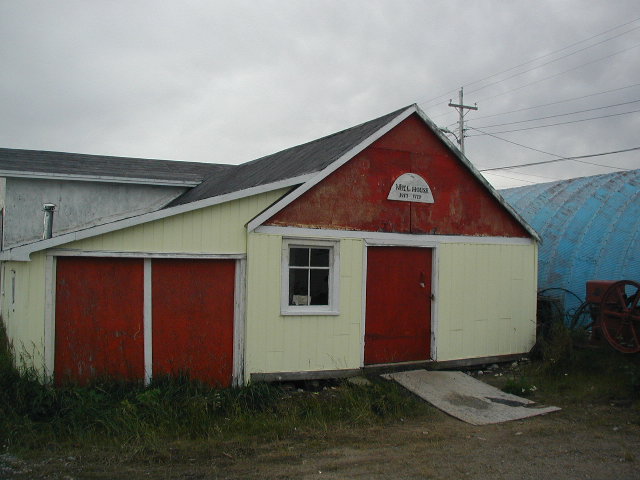 I was curious about what was in the other direction from the harbor. I passed a rocky beach and saw a few buildings. There was a sign reading "welcome to Hebron." It turns out that this was the original settlement, though Makkovik is now the larger town.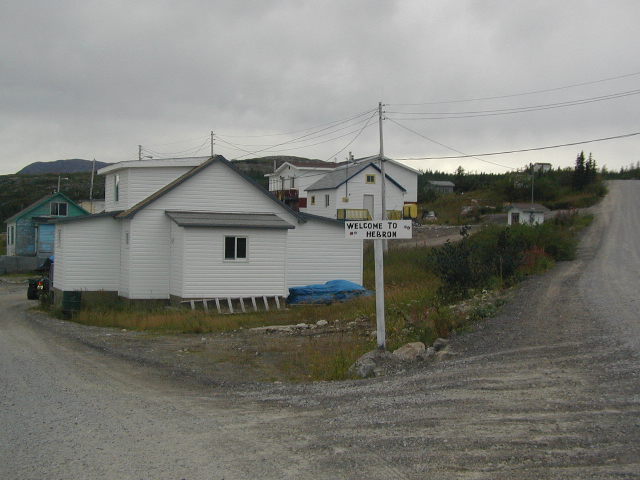 There was, again, some confusion about what time we were leaving. The announcement had said we'd be at Makkovik until 8:30 p.m., but the ships whistle blew at 7. Helga, who had gone up to the church (and its accompanying museum) hurried back, getting a ride to the ship, thinking we'd leave in a half-hour from the whistle. But, in the end, we really did have an 8:30 departure.
Friday - Day 5
We'd been cautioned that it might be a rough night. If it was, I slept right through any heavy seas and got up just before our arrival at Rigolet.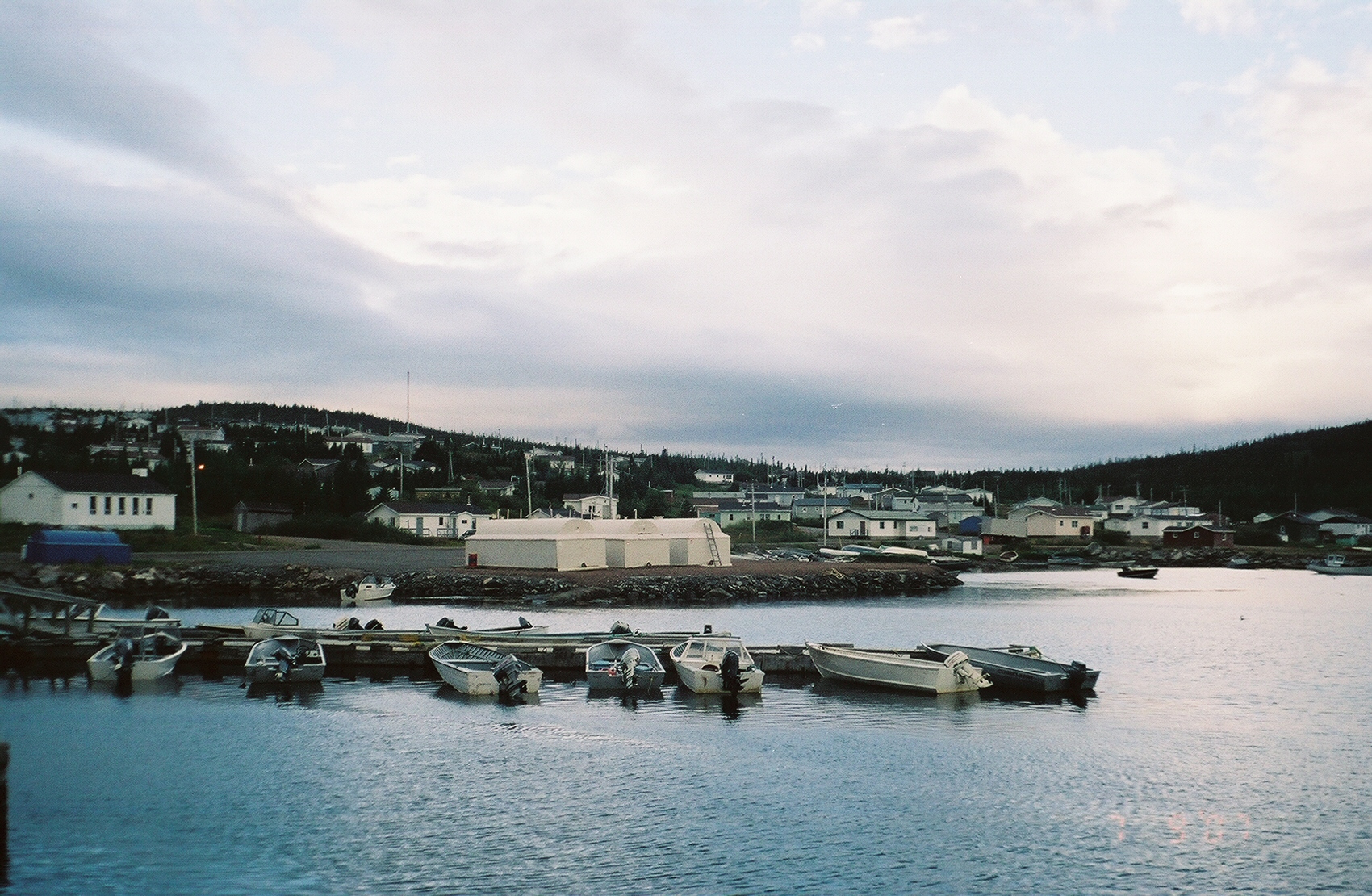 Of course, nothing was open in the early morning. I had hoped that the crafts shop might open, but no such luck. I realized I'd have to do any crafts shopping back in Goose Bay. At least I could walk around and photograph the picturesque harbor, with its brightly painted old boats and crumbling buildings.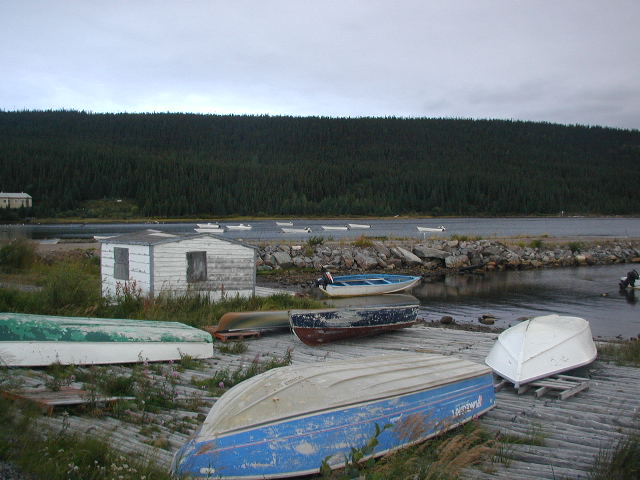 Wandering around town, I saw the local church and a sort of stone monument next to it. There is also a little park (called Heritage Park) which has concrete walkways, a few benches, and some explanatory signs about the history of the town. Louis Fornell was the first explorer in the region, in the mid-18th century. Other traders followed and, eventually, everything was bought by the Hudson Bay Company. They, of course, built the net loft which now serves as the museum we'd visited on the way north.
The trip back to Goose Bay took much of the day. I did see another minke whale not long after we left Rigolet. Beyond that, there was plenty of time to just relax and daydream.
We docked just after 4 p.m. and said goodbye to our fellow tourists. Helga and I shared a taxi to the heart of town, where she went to the tourist office to see about onward travel, while I checked into the Labrador Inn for the evening. After leaving my bags, I went across to the tourist office seeking internet access, but it had closed early. The crafts store next door was, however, open and I bought the obligatory doll for my collection.
The next morning was dreary (cold and drizzly) out, so I shelved my plans for a long walk and spent the morning reading. Then it was off to the airport and a flight back to St. John's, via Blanc Sablon (southern Labrador) and St. Anthony (back on the island of Newfoundland). The peculiarity is that the flight from Blanc Sablon to St. Anthony is only about 15 minutes. Provincial Airlines continued to offer excellent service, by the way. Back in St. John's, I retrieved my bag and took a taxi to the Delta Hotel. But that's a subject for the next chapter.
[ Back to Previous Chapter | Back to Index | On to Next Chapter ]
---
Copyright 2008 Miriam H. Nadel

last updated 15 February 2008
Send comments to mhnadel@alum.mit.edu