Back to St. John's and Conclusion
The Delta is a large and elegant hotel and is decidedly luxurious. Their business center is free to guests and was useful for catching up on email. I also had to check on how my beloved Red Sox were doing and was relieved to see things were well with them. About the only other thing I did that day was return to George Street for dinner and music, not necessarily in that order. It was still less raucous than I expected for a Saturday night, but maybe I just don't stay out late enough.
For my final day in St. John's, I thought it made sense to take a tour that would capture the highlights of the city. I used McCarthy's Party but there are at least a few other companies offering similar trips. There was only one other person along, an elderly man from Salt Lake City. We started out going to Signal Hill. On the way up, the guide pointed out Dead Man's Lake. The story is that the gibbet was on the hill above there and the bodies of the people who were executed were put in barrels and rolled down the hill into the lake.
Signal Hill is noted as the site to which Marconi sent his first successful trans-Atlantic wireless message. (Marconi was in Cornwall.) The weather was good, so the top of the hill provided an excellent view over all of St. John's.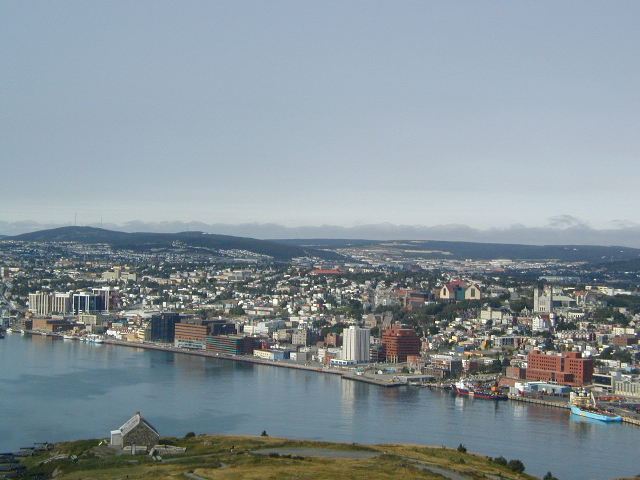 From that vantage point, it's also obvious why the entrance to St. John's Harbor is called "the Narrows."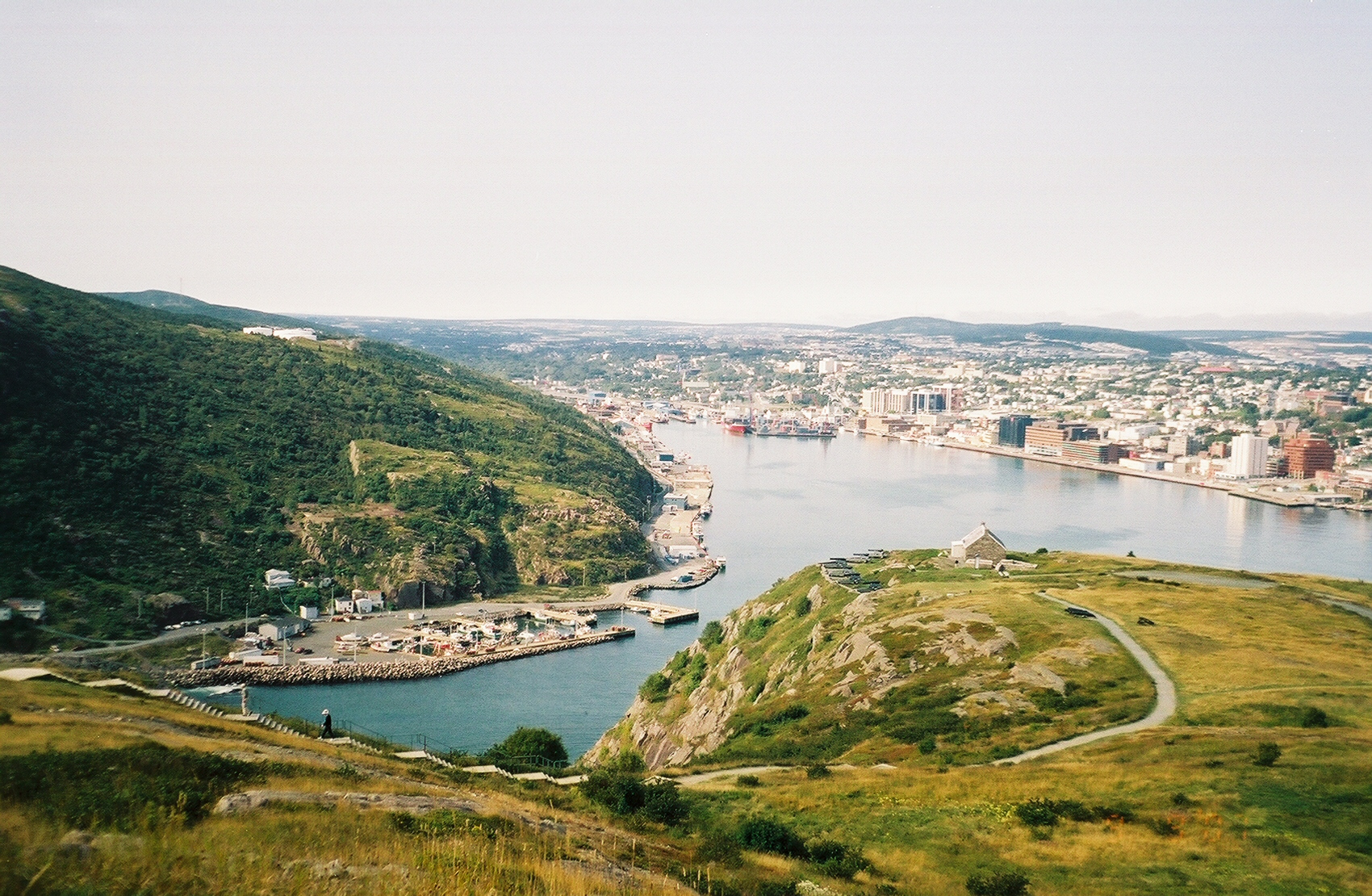 The actual wireless station was in Cabot Tower. The tower has a fairly extensive interpretive center, including an explanation of the reflection of radio waves by the ionosphere.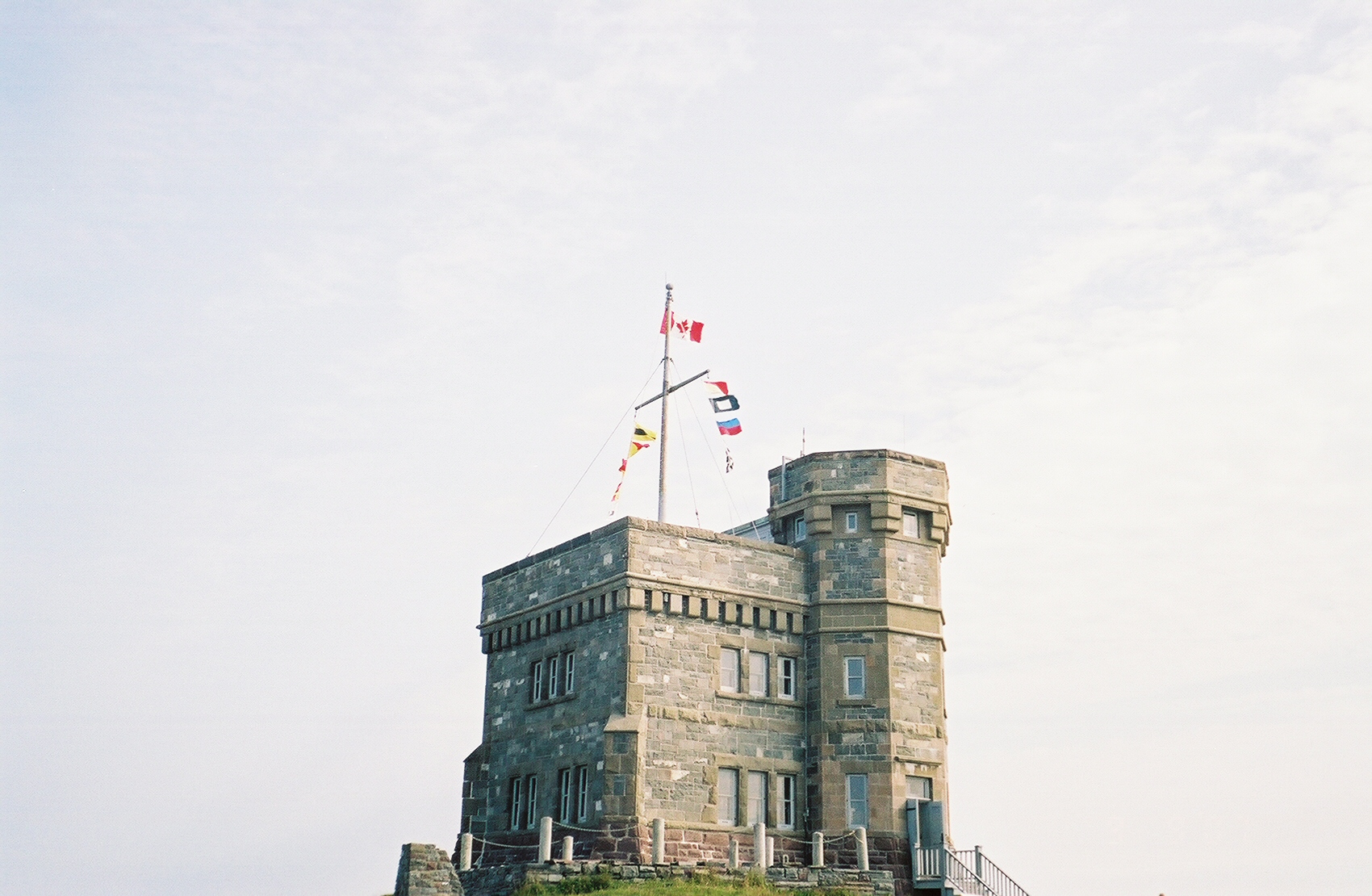 We continued on to Quidi Vidi. This is a cute little fishing village and the locals are fighting hard to keep it from overdevelopment. The name is actually Portuguese in origin, but local legend attributes it to a prostitute named Kitty. Another interesting story about the village involves the owner of a local pub who bought the wooden platform used when the Pope visited. She then had the wood chopped up - and made into swizzle sticks!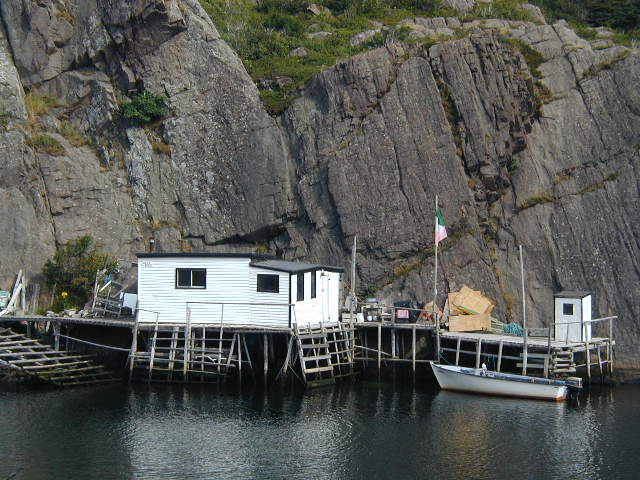 We drove around Fort Pepperell, a former American army base which is now a suburban apartment complex called Pleasantville, and on to Government House, the residence of the Lieutenant Governor. The building is reasonably grand, but the grounds are more impressive, with a lot of flower beds and a greenhouse. We also drove past Colonial House, which was the seat of government under the British, and on to the Basilica of St.John, an ornate Roman Catholic Church. Finally, we visited the campus of Memorial University of Newfoundland, which is large but not particularly distinctive.
What we didn't visit, however, leading to my disappointment, was Cape Spear, the easternmost point in North America. This was listed on the brochure and I never got a good explanation of the omission.
I filled in the rest of my final day by following some walking tours obtained from the tourist office early in my trip. Most of that involved tracing the perimeter of the great fire of 1892, which destroyed much of the city. I'm fairly sure I walked nearly every street in downtown St. John's at some point. Which provides a good work-out, since the town rises steeply from the waterfront. That is, by the way, one of two ways in which it reminds me of San Francisco. The other is the brightly colored houses.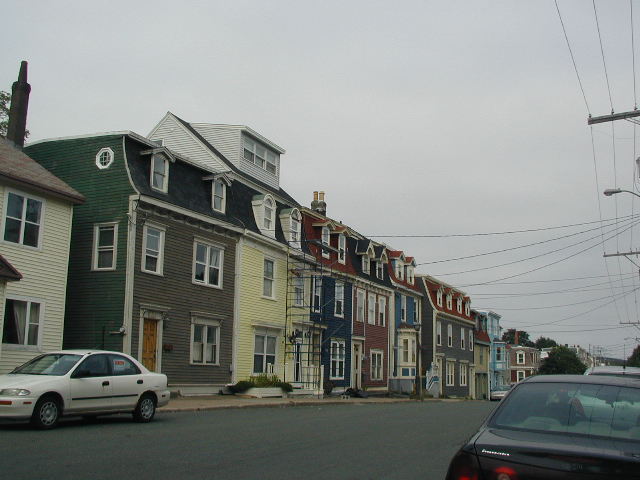 Finally, I did need one more souvenir of Newfoundland. I wanted a CD of local music. The difficulty was that I wanted just one CD and I wanted something that would be hard to obtain at home. I finally settled on one of Newfoundland drinking songs as being the most fun.
Conclusion
My flight home was early in the morning and routed me via Montreal. We arrived at gate 52 and there was no indication of where to go for connections to the U.S. so I chose a direction at random. Of course, I chose wrong and got yelled out by a guard who insisted there were signs. I went back in the other direction and noted that the nearest sign was at gate 34. So Montreal is now up there with Toronto on my list of airports with inadequate signage. Fortunately, I had plenty of time to make my connection and had no issues with either U.S. Immigration and Customs or with security. We were on time back to DCA and I took the metro home, ending my northern sojourn.
Here are some final observations / advice:
St. John's is an interesting enough city for a few days. Three days was sufficient there. The definite highlight was the whale and bird watching trip out of Bay Bulls.

Goose Bay - Happy Valley is, essentially, a transit point and has little inherent interest. I have been told that Northwest River, just to the north, has a few sites worth seeing. At least it has a museum. So it might be worth renting a car and driving up there for a half day if your travel schedule permits.

I enjoyed the trip to Nain and back on the M/V Northern Ranger, but I wouldn't necessarily recommend it to most people. You have to be fairly capable of entertaining yourself. If you're content to sit on a bench or a coil of rope and watch birds (and maybe an iceberg and a rare whale) it can be very relaxing. But the port calls are designed around cargo needs, not around tourism. Rigolet seemed to be the only town we called at that is making any significant effort at developing a tourist industry and even that is very limited. Still, I enjoyed the insights into local culture and learning about the issues of the Inuit communities.

Going earlier in the summer would probably have meant more whale sightings. Later into the autumn would mean seeing more icebergs. Early September yielded just a few of each. It's a difficult trade.

The two things I should have brought and didn't were gloves and binoculars. I had plenty of layers of clothing, but had to stick my hands in my pockets to keep warm when temperatures dropped to 40 Fahrenheit or so. And the binoculars might have meant seeing more whales.

I should have taken advantage of opportunities to buy crafts when they were offered. Assuming things would be open when we returned to towns was a significant mistake. I'm not a big enough shopper for this to be critical, but it's worth mentioning.

There's lots more of Newfoundland and Labrador that I didn't see. It's worth considering a longer trip if you can manage the time. Four to six weeks would be ideal. I figure I'll just have to go back some time.
[ Back to Previous Chapter | Back to Index]
---
Copyright 2008 Miriam H. Nadel

last updated 11 February 2008
Send comments to mhnadel@alum.mit.edu