Chiloe: Penguins and Wooden Churches
The flight to Puerto Montt in the morning was short (under two hours) and comfortable. The Puerto Montt airport has a counter selling tickets both for official taxis and for a bus to the central bus terminal. I took the latter. The terminal was crowded and a bit chaotic but manageable. There are several bus companies serving any given destination, but the counters for those going in the same direction tend to be next to one another. I bought a ticket on Cruz del Sur to Ancud.
The bus was reasonably comfortable. Seats are assigned and there aren't any goats or chickens. It took about an hour to Pargua, where the bus drove onto the ferry to Chiloe. The ferry is a flat barge-like thing with lots of big trucks on it, so it's not particularly attractive. It was still good to get out and get some air during the half-hour, though it was rather cold. When we arrived at the other end (the small town of Chacao), I noticed a lot of water birds. They looked like swans, but had black necks. I later learned that Isla Grande de Chiloe is famous for its black-necked swans, so that must have been what they were.
Ancud was less than an hour further. Once there, I took a taxi to Hostal Mundo Nuevo, where I had reserved a dorm bed. The fares are written on the taxi windows, by the way, so you can be reasonably confident that you're not being overcharged. I checked in, left my bag, and arranged to take a tour to the penguin colony later that afternoon before setting out to see Ancud.
Central Ancud is pretty small and seeing it doesn't take long. There is a typical Plaza de Armas (with a church at one end), a crafts market, and a small museum. Even someone as compulsive as I am would be hard-pressed to spend more than 20 minutes or so at the museum. There are lots of native implements, a few displays about local architecture and some panels talking about naval warfare in the main section. Downstairs, there's a nice display of Chilote textiles. ("Chilote" is the term used for people from Chiloe, by the way.) Then there's a courtyard with a ship and the skeleton of a whale. There are also several artisan shops in the courtyard, primarily selling woolen goods.
The penguin colony was the major reason I'd come to Chiloe to begin with. The ride there (in a minibus with four other people, plus our driver/guide) took over an hour. The roads are rough but it is scenic with rolling hills, deep green valleys, lakes and channels.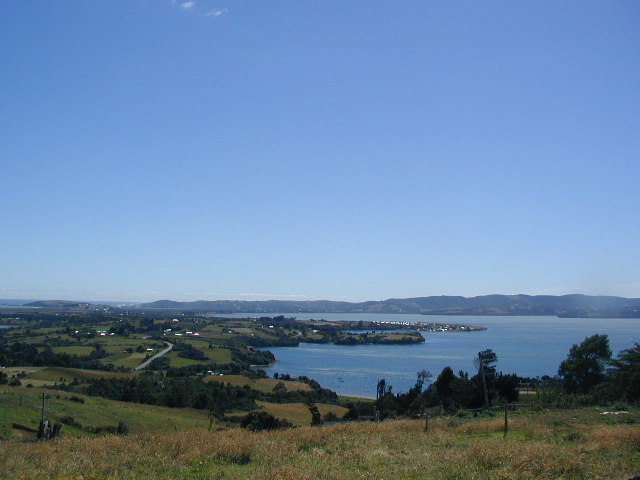 Eventually we got to Pinguinera Punihuil, where three off-shore islands provide breeding grounds for both Magellanic and Humboldt penguins. The Otway Foundation, a group of German volunteers, monitors the islands and provides tours to them in Zodiacs. But first you have to put on proper penguin-watching attire. Waders and a life jacket aren't really my favorite fashion statement, but one does what one must.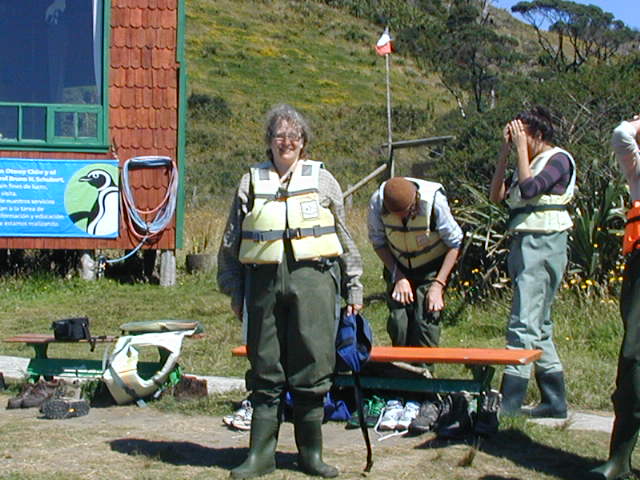 The penguins, of course, wear their formal black and white human-watching attire.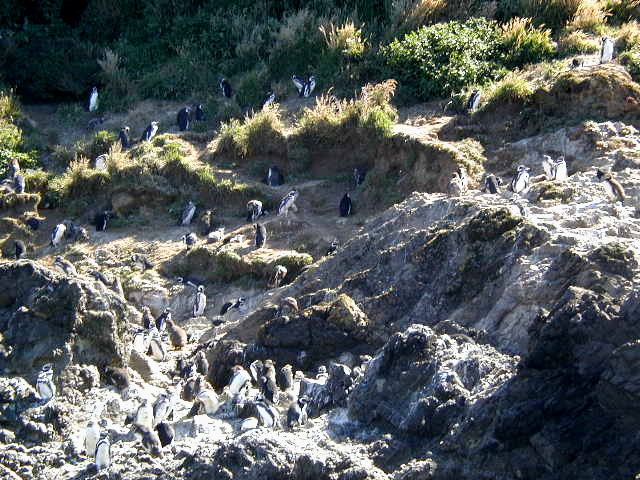 There were quite a lot of penguins, but I think all were Magellanic. I certainly couldn't specifically identify any Humboldt penguins among them, nor did the guide point any out. We also saw several pelicans, red-legged cormorants and one sea lion. All in all, it was a very enjoyable excursion.
Back in town, I rested for a while before setting out for dinner. I should note that the local cuisine is distinctive. It isn't surprising that an island should offer lots of seafood (and Chiloe is the second largest island in South America, behind Tierra del Fuego). But I had not anticipated the thin broth-like salsa, with a lot of cilantro, that accompanied the bread. You can get excellent salmon or cordova (sea bass). I'm sure that the congrio (eel) is also excellent if that's the sort of thing you eat. The most famous local specialty is curanto. Lonely Planet describes this as a stew of meat and seafood, but my understanding is that it's really more of a clambake sort of deal. Clams and mussels are put at the bottom of the pot, with meats, chicken, sausage, potatoes, other vegetables and a sort of cornmeal dumpling cooked on top. The folks from the hostel who tried it confirmed my impression that one serving of curanto should be enough food for two to three people for the whole day. At CLP 5000 (vs. the roughly CLP 3000 for a plate of cordova and potatoes) it's good value, too. I'll also point out the German influence in the region (true throughout the entire Lake Region, not just Chiloe) means that there is good beer and that beer appears to be more popular than wine.
Chiloe is famous for its wooden churches, which are a UNESCO World Heritage site, and I set out the next day on a tour to see them. The tour guide spoke only a little English and I could understand only enough of his Spanish to get an idea of the subject of what he was saying, not any of the details. But he did have a couple of books in English to describe the churches and folklore, so it was only partially frustrating.
Before we left Ancud, the guide pointed out where the train station used to be. The train connected Ancud and Castro but the tracks were destroyed by an earthquake and tsunami in 1960. I've read that this quake was the largest ever recorded, measuring somewhere between 8.6 and 9.5 on the Richter scale, but that's a pretty wide range and I've also read that one in Alaska was larger.
We continued on to Dalcahue, where we took a ferry to Isla Quinchao and drove to the town of Achao. Once there, we toured Iglesia Santa Maria de Loreto, a Jesuit church from the 19th century. This is the oldest of the wooden churches and was built using wooden pegs instead of nails. The basic design involves three levels, to represent the trinity. The tower also functioned as a landmark for sailors.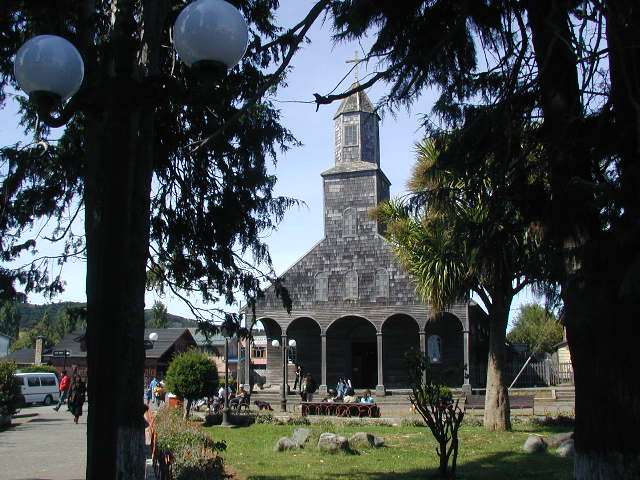 We continued on to Curaco de Velez. This town does not have an important church, but it's plaza has a statue of a Chilean naval hero at one end and his mausoleum at the other. I never caught his name but he apparently did something important in the War of the Pacific.
The ferry brought us back to Dalcahue, where we looked at their church. That was followed by free time for lunch and crafts shopping, before continuing on to Nercon and another church. This one was particularly interesting inside, as you could walk through a dimly lit walkway on the second level to see the construction. It also had a park with shrubs in front, rather than the more usual paved plaza.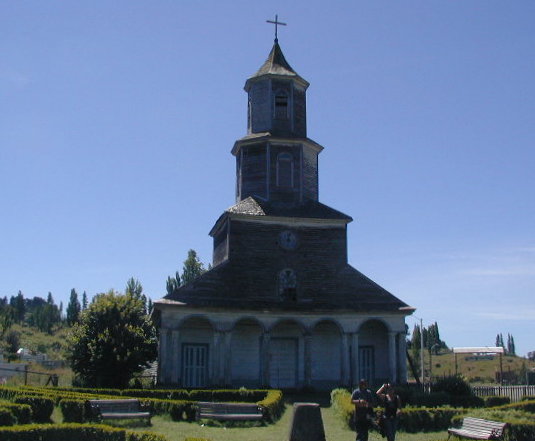 We were supposed to see the church in Chonchi, but it was closed for electrical repairs. So we went to Vilupulli instead. The towns were starting to blend together but this one was notable for our stroll down to a beach which was far more attractive from a distance. It's not that it looked terrible up close, but there are salmon farms and they smell.
Our final stops were in Castro, which is the administrative capital of Chiloe. The first of these was to photograph the famous palafitos, wooden houses built on stilts over the lagoon.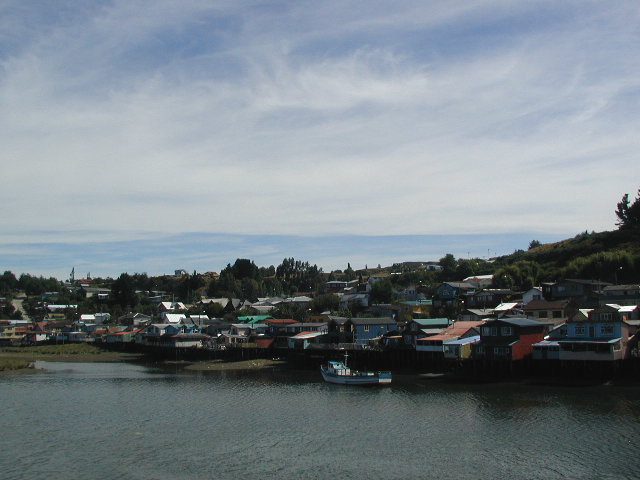 We continued on to the Plaza de Armas and the church (Iglesia San Francisco de Castro). Next door to the church, in what I assume was once the rectory, there was a large crafts market. I saw a painting I liked and contemplated some hand spun wool, but ended up buying a far smaller piece of art, in the form of a few chocolate truffles. Our final stop was at the Feria Artesnal, an even larger crafts market. That had even more of the same and my only purchase was of some Barbie clothes for a friend's collection. Then came the long drive back to Ancud. All in all, the tour went from 9:15 a.m. to 8 p.m., making it a tiring day. I chatted with some young Americans who had arrived at the hostel before getting dinner and collapsing. Only to be awakened by an earthquake! It was not a moderate one (about 4.5) and centered about 100 miles to the east, somewhere in Argentina, but it was enough to be a subject of breakfast conversation in the morning.
The return to Puerto Montt was another straightforward bus ride. I made the dubious decision to walk to the Holiday Inn Express there, thinking that it wouldn't be far from the terminal. The problem was that the hotel website said to go to the Paseo del Mar shopping center and take the elevator to the 11th floor. When I got to Mall Paseo del Mar, it turned out to be only four stories tall. It turns out that the hotel was really in another shopping center (Mall Costanera) a bit further along. It wasn't really a long walk, but feeling lost is never my favorite experience. To add to the frustration, when I got to the hotel, the electricity was out and I had to wait for it to come back before I could take the elevator up to the lobby and check in.
Fortunately, things turned out fine. The room was very nice and there was even a business center in the lobby with free internet access. After freshening up a bit and checking email, I went out to walk around the city. The center is really too modern to be of much interest. The major attraction is Angelmo, which has a large crafts market (and some seafood restaurants). There wasn't really anything special, though, and I concluded that Puerto Montt is of little interest as anything but a transit hub.
[ Back to Previous Chapter | Back to Index | On to Next Chapter ]
---
Copyright 2007 Miriam H. Nadel

last updated 19 February 2007
Send comments to mhnadel@alum.mit.edu