Back to Santiago, the Trip Home and Concluding Remarks
The flight back to Santiago and shuttle to the Hotel Orly were all fine. Not a lot is open in Santiago on Sundays, so walking in the park is about it for tourist activity. If you don't want to settle for fast food, there's a small restaurant strip with aggressive touts on Avenida Suecia (maybe four or so blocks from the Orly).
The first part of my final day in Chile was spent taking the Human Rights Tour given by Carolina of Chip Travel. We started out at the Moneda Palace, which is where the President of Chile works. Congress, however, meets in Valparaiso. We looked at several statues of former presidents, including Allende's. Salvador Allende was the first Marxist ever to be democratically elected and the Chilean economy pretty much collapsed during his time in office. He was overthrown in a coup on 11 September 1973 and committed suicide.
We stayed at the palace to watch the changing of the guard. This involves all of the usual sort of pomp complete with men on horseback, a military band, and so on.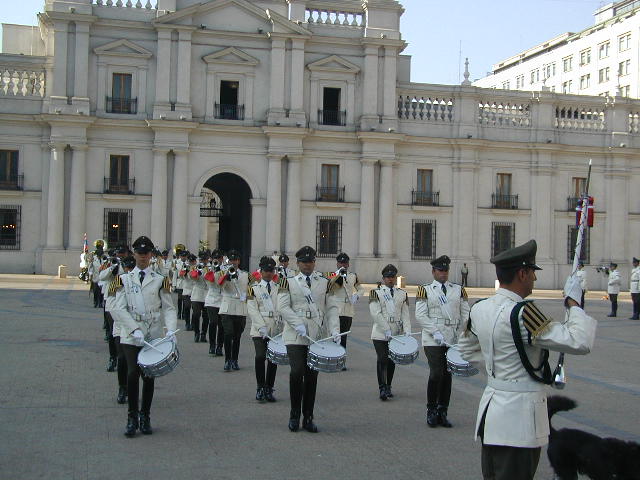 We walked around various government buildings, such as the Ministry of External Affairs which was formerly a five star hotel, before returning to the car. Our next stop was at the General Cemetery. This is the largest cemetery in South America and includes mausoleums of most of Chile's presidents. Allende's is in the shape of the number eleven because of the coup having taken place on September 11th. We climbed part way up the mausoleum of the Italian society, where we could get a view over the entire grounds. Some tombs attract people looking for a blessing. For example, there's La Ormelita, who people pray to for success in love. It's all very impressive.
And what was the human rights connection? There's a large monument to the disappeared. After General Pinochet took over, his political enemies were systematically repressed, tortured, and murdered. In addition to those who were executed, many simply disappeared. It is generally believed now that their bodies were simply dumped in the Pacific. There's a monument listing people who were executed on the right and those who disappeared on the left. For the ones who were executed, their ages at the time of death are given and it is particularly horrifying to realize that entire families, including young children, were killed.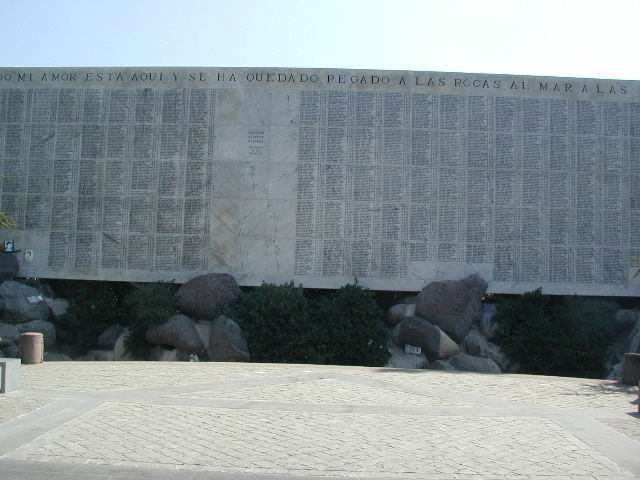 Our final stop was at Villa Grimaldi. This property was used as a prison and place of torture during the early years of Pinochet's regime (from 1973-1978) and is now a peace park. 4500 people were tortured there, 18 politically executed and 226 disappeared. The entrance has a plaque explaining the site and concluding "never again in Chile."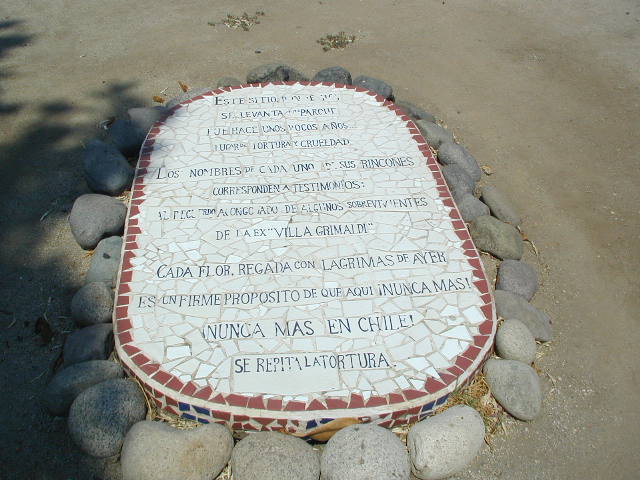 There's a rebuilt tower with cells in it. The cells are small enough that they'd be cramped for a single person, but each held four. There are also several drawings by survivors, showing life in the prison, including the electrified bedframes used for torture. All in all, it's a horrifying and moving site.
The most interesting thing to me is that Pincohet is not universally reviled in Chile. Nobody defends the violence and torture, but I got the impression many people would not have objected highly to imprisonment or exile of the defeated leftists. The recovery of the economy under his 17 year reign won him a lot of supporters. It will be interesting to see if his death (just a couple of months ago) changes any attitudes. At any rate, the tour was a good way to get some insight into a piece of history that I felt I didn't know enough about.
After the tour, I decided I really should do some shopping. My friend, Tim, had advised me that the best place to buy crafts is Pueblocito Los Dominicos. I took the metro to Escuela Militar and a taxi from there, This crafts village does, indeed, have an excellent selection and I bought various odds and ends for myself and for gifts. I still had time to kill before going to the airport, so decided to walk back to the metro, which is probably a couple of miles. I'll note that the metro is being extended, so Los Domincos will be easier to reach in the future.
The trip home was pretty routine. I took advantage of American Airlines having sent me an Ambassador's Club pass to enjoy a bit of luxury before boarding. The flight was okay and immigration and customs at Miami was faster than they usually are there. I still have nothing good to say about that airport, though. The short hop up to Washington was crowded and I arrived in the early stages of what became a major storm. From the 85 degree heat of Santiago to snow and ice was a bit of a shock.
Which leads me to my major recommendation about travel to Chile. Namely, go in February, but go for the whole month! Seriously, there really is a lot to see there. I was favorably impressed by the friendliness of the people (even given my limited Spanish) and the ease of travel. There's not quite as much culture shock as I would have preferred, but the scenery is often spectacular. I expect I will go back and see other parts of the country in the future.
[ Back to Previous Chapter | Back to Index ]
---
Copyright 2007 Miriam H. Nadel

last updated 5 March 2007
Send comments to mhnadel@alum.mit.edu