The Mighty Mekong
Our flight from Dalat to Saigon was on another noisy turboprop. I should note that one usually does hear the city called "Saigon" rather than "Ho Chi Minh City," though you see HCMC on signs. My understanding is that "Saigon" refers to the central area (i.e. District 1). I found it easiest to think of the distinction as being like the difference between, say, referring to "San Francisco" versus "the Bay Area." On arrival, we had a tedious, trafficky drive to our hotel, the Bong Sen Annex. In the evening, we took a taxi to a restaurant and bar called Allez-Boo. Their green curry was delicious, assuming one likes reasonably spicy fare. There was a TV new crew at the bar, filming for New Year's eve. After eating, we browsed the shops on Duong De Tham, which run largely to the standard backpacker mix of souvenirs and pirated CDs. After taking a taxi back, Glenda and I decided to get some coffee. Two places near our hotel had cafe signs, but appeared to be fronts for brothels, as they were filled entirely with young women dressed in very skimpy clothing. We finally found the respectable pricy Cafe de l'Opera around the block. Admittedly VND 35,000 (just over USD 2) for an iced capuccino is less than half what the evil empire (i.e. Starbucks) gets, but coffee in Vietnam usually runs about VND 5,000. It was still a pleasant spot for people watching and I found the mix very interesting. Attire ranged from the tradional ao dai (a tight-fitting top with long front and back pieces, worn over trousers) to elaborate beaded dresses. Seeing women in all that finery climbing onto motorbikes was a particular reminder that even as modern a city as Saigon is still very foreign.
In the morning, we out our bags into storage and set out with just overnight gear for our trip to the Mekong Delta. My summary of the first part (by minibus) is that Saigon is crowded. Once we were on the highway and not stuck in traffic, I kept drifting off to sleep so I don't have anything more insightful to say about that. We stopped at a restaurant in Mytho to use the toilets and drink coffee (iced coffee with condensed milk at VND 3,500, to highlight my point about the prices in Saigon). The place also had some snakes in glass tanks and a few monkeys in cages. Eventually we got to Can Tho, where we boarded our boat. It was about noon, so we ate the sandwiches we had bought in Saigon from the excellent bakery next to the hotel.
Our boat trip started with a couple of handicraft villages. At the first place, we saw how rice paper is made. A mixture of fine ground rice and water gets spread on a piece of cotton to steam. After it is cooked, it's dried on bamboo mats.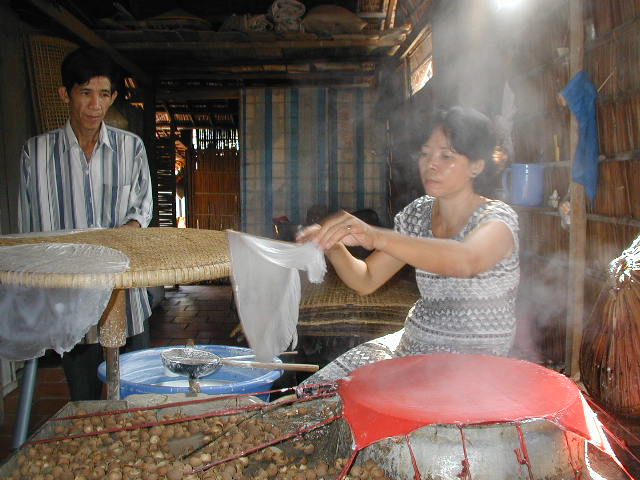 After that, we saw people making toffee-like coconut candy. Then came puffed rice making. Sand is poured into a big wok and the rice is thrown in. It puffs like popcorn. This gets mixed with a sort of caramel (coconut milk, sugar and ginger) and pressed into bars. The end result tastes sort of like cracker jack. A similar snack is made with corn and more ginger. We sampled all of these, with tea, before moving on.
Back in the boat, we drifted along the river and assorted canals, past the Cai Be floating market. The fruit sellers hang samples from bamboo poles so you know what they have. Later on, we stopped at a fruit orchard. There was a bonsai garden to look at, but we preferred staying out of the heat in the living room, drinking tea and sampling pomelo, longan, rambutan, and jackfruit. Longan is probably the most popular crop in the Mekong - or maybe it was just that it was in season. All of the fruit was delicious, but the rambutan (which is basically like a large lychee with hair) was the highlight for me as I hadn't had it in a good five years.
Our next stop was at a village where they make tofu. The tofu is fermented, sometimes with chili oil. Frankly, I found the smell off-putting and was glad when we left to walk through the village for a look at other traditional occupations. I was suprised to see a young woman working as a blacksmith. She worked together with an old man, but she was doing all the hard hammering. Other activities we saw included knife-making, thatch weaving for roofs, and coffin making. Then we returned to the boat and went on to our homestay.
This was definitely the least luxurious accomodations we had, with our group sharing a large room with mosquito-netted camp beds. There were only cold-water showers, but there were (to my surprise) Western toilets. I used our free time before dinner to catch up on my journal. As for dinner, it startd with elephant ear fish, served standing up between celery stalks. That's a traditional presentation and the idea is that the fish resembles a boat, which shouldn't capsize. It's rolled up in rice paper with herbs and dipped in fish sauce. The fish was followed by extremely good spring rolls. Then came soup with carrot and some sort of squash. Finally, there were prawns, grilled beef, and rice. Afterwards, our host and local guide (who also served as translator) joined us for conversation. We also each had a shot of rice wine, which is tolerable if you drink it in one gulp.
Even with earplugs, it was too noisy to sleep well. Boats just go up and down the river at all hours. I suppose the locals are used to it and there is something to be said for having your bread and other groceries delivered to your dock in time for breakfast. We got an early start to the day and, as we weren't making all those village stops, the trip back was faster. We arrived back in Saigon around 11:30 a.m..
Miss Saigon
After settling in, Glenda and I set out for lunch, ending up at Restaurant 13 (or possibly Restaurant 19 - they're more or less next to each other and I didn't write down which right away) on Doung Ngo Duc Ke. We had a tasty sour soup with chicken and bitter melon salad. After eating, we meandered back through various shops before returning to the hotel to meet the group at 2 in the afternoon.
Our sightseeing began with the War Remnants Museum. It was certainly interesting, though I can't say it was enjoyable. One major exhibit had to do with news photographers killed in the war. Other displays included airplanes, tanks, and bombs. Then there was a room devoted to landmines, which are a lingering problem. There are replicas of the "tiger cages" that political prisoners were kept in. And there's a huge area devoted to war crimes, with a lot of material on the My Lai massacre and on Agent Orange.
After we left the museum, we had a cyclo tour. We started out going to Notre Dame Cathedral, which is very obviously French in style.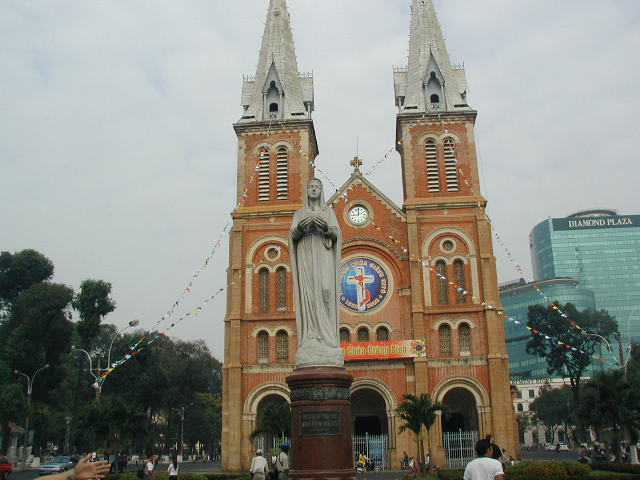 Another dramatic French-style building is the post office, built around 1890. Note the picture of Ho Chi Minh on the far wall.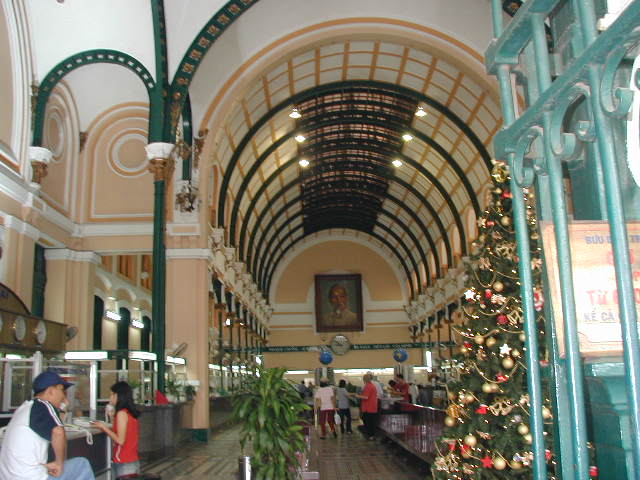 The Chinese women had some arrangements they needed to confirm for their onward travel, so Mike suggested that the cyclos take Glenda and me around the opera house and back to Duong De Tham. He paid them, but when we arrived, they tried demanding more money. We just walked off down the street. Then we stopped in a cafe and walked back to our hotel. This was maybe a 20 minute walk, but we managed to make it take quite a bit longer by shopping along the way. My only purchase was at a used bookstore, where I picked up a trashy novel for airplane reading. I'll also note that we found Saigon fairly easy to get around. While there's a lot of traffic, the streets are broader, so crossing them seems less stressful. And there are a few tall buildings here and there, which make visible landmarks.
Our final dinner was at Vietnam House. We were seated on the second floor, with traditional music playing. Fortunately, it was playing softly. We started with lotus root salad with shrimp and meat, eaten on rice crackers. Then came deep fried stuffed crab claws with plum sauce, followed by five-spice chicken. Next came clam soup, shrimp fried rice, and squid with garlic. Dessert was ice cream. Once again, I was impressed with both the quality and variety of Vietnamese food.
My flight wasn't until the late afternoon, so I had time for a bit more sightseeing the next day. My priority was seeing Reunification Palace, which had been the seat of the south Vietnamese government when the country was divided.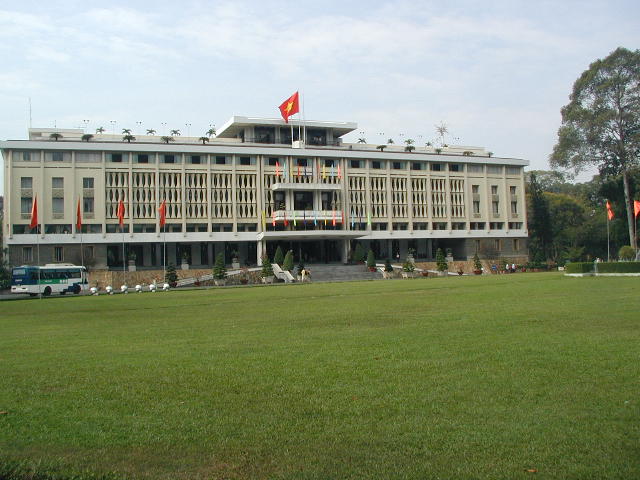 Admission is VND 15,000 and it's worth paying another VND 5,000 for a descriptive brochure, which is available in several languages. As I went in, a guided tour in English was starting, so I joined it. The guide spoke good English and was quite informative. You see various public rooms, e.g. where international visitors were received. At the library, we were amused to see a book on hospitality management since the guide had already mentioned that the former vice president runs a restaurant in California. From the top floor, you can look out at the helipad and see the circles marking where the building was bombed in 1975.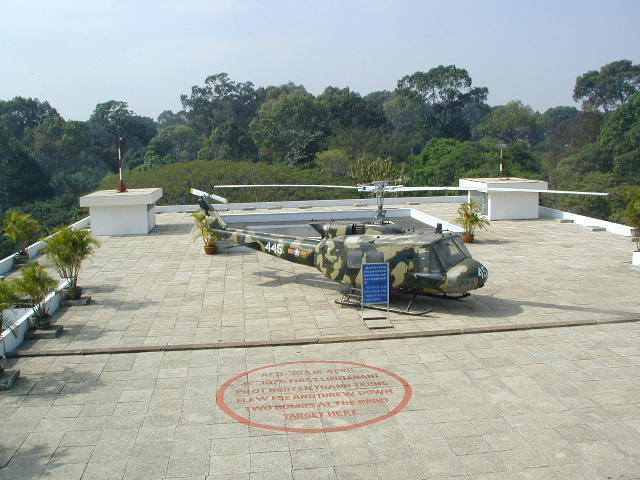 In the basement, you can see the command post, radio room, and the staircase used by the president to escape from the residential quarters to the bomb shelter. At the end of the tour, there's a video about the history, which is decidedly one-sided, with repeated references to the "American imperialists." If this sort of thing bothers you, it would be easy to skip the video.
I did a final bit of shopping (a doll for my collection and some coffee) before returning to the hotel, collecting my bag, and heading for the airport. The airport is reasonably well organized and it was easy to pay my USD 12 departure tax and check in for the first leg of my trip home. I was, again, glad for access to the business class lounge, which provided cold drinks - and some final dragon fruit. And then it was off to Singapore.
Getting Home
Singapore Airlines lived up to their excellent reputation for service and the two hour flight to Singapore was very comfortable. The Singapore airport is also something to behold. After checking in for my remaining flights, I wandered around a bit. The airport has various entertainment lounges, as well as the usual shopping. There are even several gardens, including a very pleasant one full of orchids. The entertainment included a "Flight of Fantasy" stage show to celebrate the first century of flight. The idea is to feature different destinations you can reach from Singapore . When I was there, the featured destination was the U.S.A., which was represented by Las Vegas showgirls and an Elvis impersonator. I'm found this terribly funny, but I'm not convinced it was intended to be.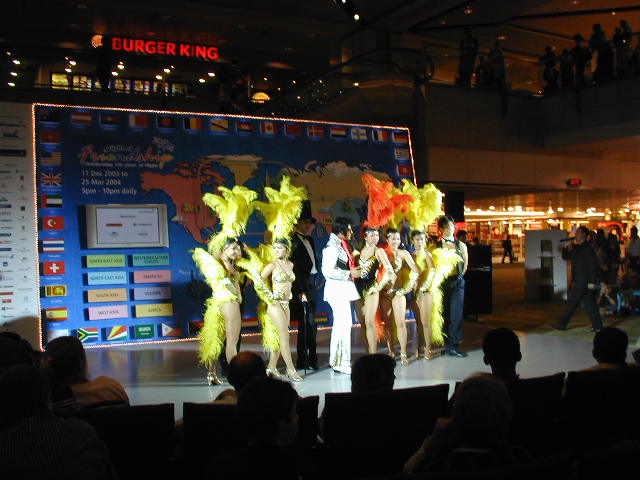 After that, I retreated to the business class lounge, where I took advantage of free internet access. I'll also note that they had a particularly wide range of snacks available, including hot items like Shanghai dumplings and little pizzas. Then came a tedious flight to Frankfurt, with much less impressive service on the part of Lufthansa. Frankfurt is not the ideal airport for a six hour layover, so I was especially glad for access to United's Red Carpet Club. That's also about the only smoke-free area in the airport, since the Germans seem to believe that smoke will somehow know to stay within little rope barriers. I did manage to buy another book for the flight, but even the shopping selection was fairly dreary.
My final flight was fine and immigration at Dulles Airport was fast and efficient. There was, however, a surprisingly long wait for the checked baggage. When I got my bag, I discovered that the Germans had cut off the locks. This is particularly annoying because I had been led to believe that the Vietnamese wouldn't have let me check an unlocked bag. Even more annoyingly, unlike American security, they don't even bother with closing things with cable ties. As far as I could tell, they hadn't actually opened the main compartment of my bag at all, but they disassembled the flashlight I had in the outer pocket so thoroughly that it took me half an hour to get it back together again. My rant on why this unlocked bag thing is absurd and the proper thing to do is to inspect things in the presence of the owner is availabe on demand. Once I had my bag in hand, everything else was quick. I treated myself to a taxi home (the absurdity of taxi fares from Dulles Airport being another rantworthy subject) and collapsed.
Closing Remarks
Usually when people ask me how a particular trip was, I'm stumped to come up with a short answer. In this case, though, it was easy. Vietnam was tasty.
Seriously, the food was certainly one of the highlights of the trip, particularly the cooking lesson in Hoi An. I was particularly impressed with the variety of dishes. And that variety stretches to other aspects of the trip. The changes in scenery and in the general feel of places throughout such a relatively small country surprised and pleased me. I felt that there was a good balance of included activities and free time. Of course, it helped to have such a small group and such a helpful and personable tour leader. This was, however, one of Intrepid's more upscale tours, so keep that in mind should you browse their offerings.
I'll also note that it would be reasonably easy to travel independently in Vietnam, though two weeks would be pressing it if one needed to spend time arranging accomodations and transportation. An additional week and/or skipping Dalat would make sense in that case. I also expect that the tourist infrastructure will only continue to improve.
[ Back to Previous Chapter | Back to Index ]
---
Copyright 2004 Miriam H. Nadel

last updated 18 January 2004
Send comments to mhnadel@alum.mit.edu