Nha Trang: Mud, Mud, Glorious Mud
From Hoi An, we went by minibus to the airport in Danang and flew to Nha Trang. The flight was about an hour on a noisy turboprop. On arrival, we took cyclos to our hotel - with two more cyclos for our bags! Our afternoon was free. Glenda and I had lunch at the Nha Trang Sailing Club, which is pretty much a tourist hangout. There's lots of Western food on offer, but I stuck to the stir fried vegetables with rice. Then we walked along the beach, which was pleasant despite high surf and wind.
At 4:30, we set out for a cyclo tour. We wound around the river and through a crowded market place, along fairly bad washed-out roads. Our first stop was along the river, in an area that was relatively undeveloped. Supposedly, all of Nha Trang looked like this just a few years ago.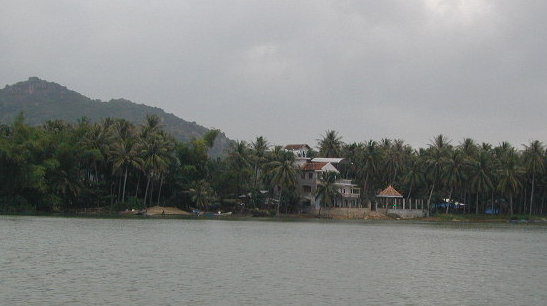 Our next stop was at a pottery place, where the pots for cooking over hot coals are made. We were told that they make fifty pots a day and that the pots are dried in the kiln for three days. Finally, we stopped at a rice paddy, where we watched a man plowing. The rice has to be cut down and replanted after three months or the roots rot. By the way, we heard some sort of broadcast over speakers in the countryside. I asked Mike about it and he said that they broadcast news and weather and new regulations.
Eventually, we got to the Lac Canh restaurant. The gimmick there is that you cook the food yourself - on a grill over coals in one of those clay pots. We had tuna steaks, squid, prawns, and beef. There were also rice, vegetables, and a sort of prawn dumpling filled with mushrooms. Everything was very good, especially when dipped in a mixture of lime and chilis.
The next day featured a boat trip on the South China Sea. There are a number of companies running these trips, many of them focused largely on drinking and partying. We set out for Tri Nguyen Island in the more sedate hands of Papa Long. The tricky part was getting from our boat to the island. This involved transferring to a "basket boat."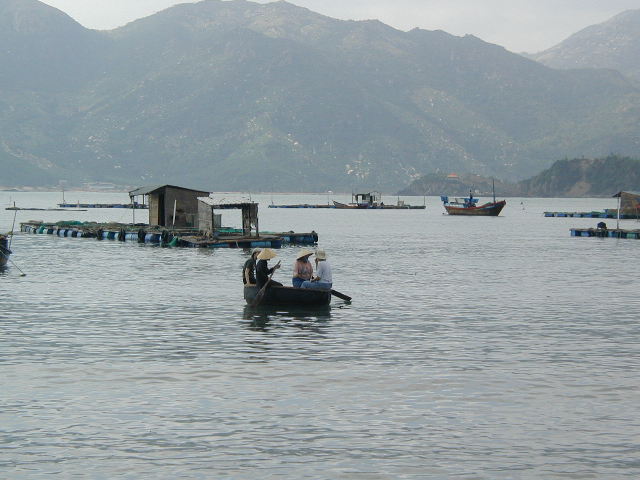 My first reaction was something like "you expect me to get into that?" but it wasn't really too bad. You sit on the side of the boat and sort of slide down into the basket, which you can then sit on the edge of. At the island, the basket was pulled onto the beach and we could just step out. As we walked around the village, our guide showed us how the boats are made. They're woven from bamboo and then covered with tar. We also walked past a couple of schools and saw a girl making nets. There were a few big houses, some belonging to successful fishermen, while others had money from relatives overseas. Other people run a lobster farm or sell something, including one woman who makes volleyball nets.

Eventually, we got to the aquarium. Admission is VND 20,000 and worth it. The building is designed to resemble a ship and is on multiple levels. There are tanks of bright coral reef fish, seahorses, sea urchins, and lionfish and stonefish. On the lower levels, there are big tanks with grouper, snapper, reef sharks, morays, sea turtles, and other things I forgot to note. We also saw three outside tanks, including one with a sea turtle that is alleged to be 100 years old.

We returned to our boat via a nearby dock, not by basket boat. We moved over to a swimming and snorkeling area and anchored. While I might have enjoyed snorkeling, the weather was a bit too chilly and we all opted just to relax. While anchored, we had lunch, which was quite a feast - mackerel, prawns, crabs, tofu, green beans, and particularly notable bread. The French legacy means good bread is widely available in Vietnam, but the Nha Trang version is unique, tasting somewhat like the hot pretzels you can buy on the street in New York. There was also fruit (pineapple, bananas, and watermelon) for dessert.

Back in Nha Trang, the rest of our day was free. Glenda and I opted to go to Thap Ba Hot Spring Center for mud baths and Mike negotiated with cyclo drivers to take us there and back for VND 50,000. It was a fairly long ride - across the Cai River, past the Po Nagar Cham Towers, and up a twisty road. Twice, the drivers had us get off and walk up hills.

The mud bath costs VND 50,000. Actually, there are various options, some of which cost quite a bit more, but we figured that the basics were good enough. You change into your swimsuit (they provide one if you don't have your own; they also provide towels) and put your things into a locker. You shower and then get into the mud bath. There's a sort of bucket for you to pour the muddy water over your body. After that, you shower off, then go and soak in a hot tub. The final step is a high pressure spray you walk through. Then you can use the swimming pool and waterfall all you want. All in all, it was an incredibly relaxing way to spend the afternoon.

We returned to the hotel, paid the cyclo drivers, and did a few errands (e.g. checking email). In the evening, we had dinner at Thuy Dong, a seafood restaurant on the beach. We started with soup, then had a whole grouper, steamed with ginger, plus vegetables and rice. Since we were already having a decadent day, we figured we might as well treat ourselves to ice cream, too. I couldn't resist trying the durian flavor. Durian fruit is notorious for its odor, but the ice cream was quite mild tasting. I'm not sure that eating it in that form counts as having tried it, though. The only downside of the meal was the price - VND 238,000 for the two of us. Admittedly, that's only about USD 8 for something that would cost quite a bit more at home, but we'd gotten used to Vietnamese prices.
Crazy About Dalat
We went from Nha Trang to Dalat by minibus. The first part of the journey was through agricultural scenery - rice paddies and vegetable fields, with hills irising the background. Late in the morning, we stopped at the Po Klong Garai Cham towers. The site, at the top of a cactus-covered hillside, dates from the 13th century. They're really pretty much your basic Hindu temples.
We had a picnic lunch at the foot of the hill - baguettes, cheese, hard boiled eggs, cucumbers, onions, and tomatoes. That was followed by a feast of tropical fruit. There were tamarinds, cherimoyas (a.k.a. custard apples), mangoes, and something that was new to me which Mike said was called "breast milk" or "wet nurse." The latter is a green fruit, roughly the size and shape of an apple, with sweet white flesh. You eat the flesh with a spoon and it gives off a milky fluid when squeezed. A bit of research when I got home identified this as being a green variety of the star apple or caimito. There is, apparently, a more common purple variety, and the reason that you eat it with a spoon is that the skin has an unpleasant latex in it. It was quite nice, though the cherimoyas were the real luxury for me since they're my favorite tropical fruit and they're way too expensive here to buy except as a rare treat.
Back in the bus, we continued over what I think was the Ngoan Muc pass.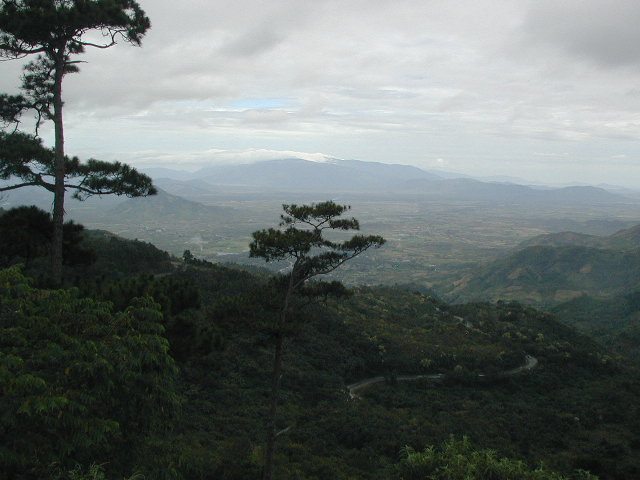 Just outside Dalat, near Trai Mat village, we stopped at the gaudy Linh Phuoc pagoda. There are two temples there - a new seven story tall one, and an older one with a huge gilded Buddha.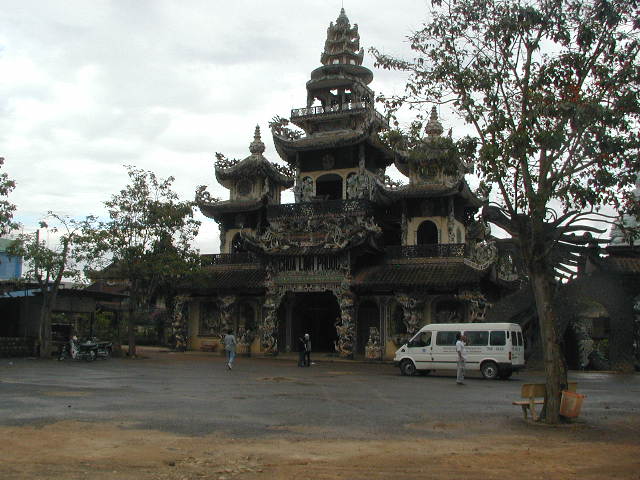 Finally, we got to Dalat, where we checked into our hotel, an old French villa on Tran Hung Dao. After settling in, we went by taxi to the center of town. The taxi driver took a scenic route down, presumably to raise the price. The Chinese women shopped, while Glenda and I got coffee at Cafe Tung, which Lonely Planet says was a hangout of Saigonese intellectuals in the 1950's. It was nicely atmospheric, with French music and excellent coffee. I've been neglectful in writing about Vietnamese coffee, which is a true delight. It's very strong, prepared in an aluminum drop pot that takes forever, and usually mixed with a bit of sweetened condensed milk. I normally drink my coffee black, but I make an exception in this case. If you don't like strong coffee, you can get them to bring extra hot water. One oddity is that you may be served (free) cups of tea to accompany your coffee. We also looked at lovely embroideries at the artist market before meeting the taxi to go back (more directly this time) to the hotel.
Dinner that night was at a restaurant called Trong Dong, which the itinerary said is regarded by many as the best in Vietnam. It was certainly an excellent meal. We started with shrimp grilled on sugar cane, eaten in rice paper with carambola and green banana. Next was a sort of shrimp salad with green papaya and shallots, eaten on rice crackers. That was followed by venison with onion, served with a sort of pappadum-like flat bread with black sesame seeds. Then came rice, fish in tamarind sauce, chicken with ginger, and mixed vegetables. Dessert was fruit - banana, watermelon, pineapple, and dragon fruit.
We were only in Dalat one night, so the next day involved intensive sightseeing. Our first stop was at Bao Dai's Summer Palace. Bao Dai was the last emperor and this villa was built in 1933. There was supposed to be a guide, but there had been a death in the family. Mike claimed that there were signs in English, but the only ones we saw were along the lines of "no entry" and "don't sit here." Basically, the house is 1930's art deco decor, with the most interesting thing being pictures of the family. There was also a large engraved glass map of Vietnam in one room. The nicest part was the gardens surrounding the villa.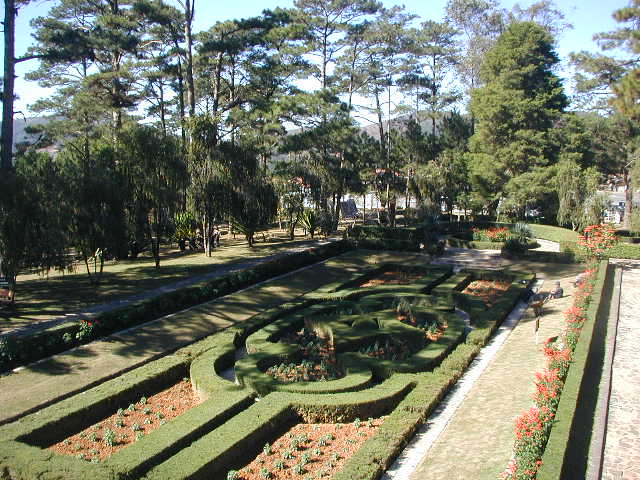 Our next stop was the Hang Nga Guesthouse, known locally as the "Crazy House." The architect, Hang Nga, is the daughter of Truong Chinh, who was Ho Chi Minh's successor. The house is very weird, with a sort of fantasy treehouse theme. For example, many of the steps are designed to look like tree stumps. There are also several rooms with animal themes. By the way, this is an actual guesthouse, with rooms going for roughly USD 40.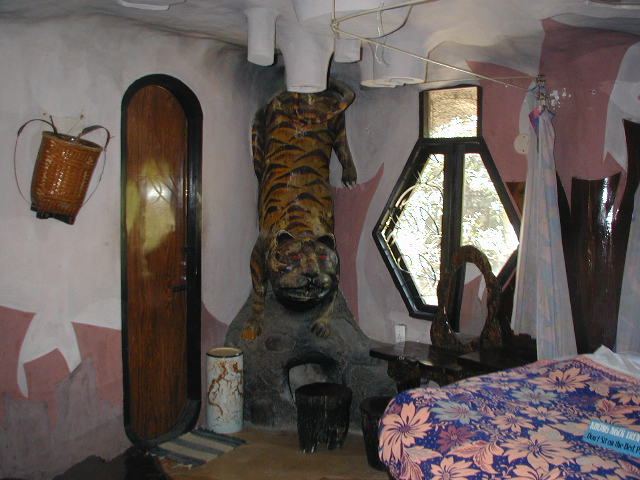 Another famous place in Dalat is the Lam Ty Ni Pagoda, home of Vien Thuc, the mad monk.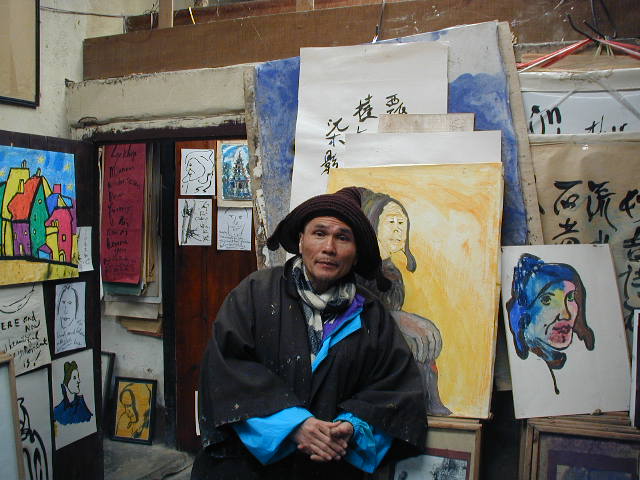 You walk through the pagoda to the back garden, where room after room is filled with Mr. Thuc's paintings. A lot of them are just sayings about peace and love and zen and such, with a few bits of scenery mixed in. It's hard to know just what to make of this, but he is famous and popular. He is also widely believed to be the richest man in Dalat.
We returned to the center of Dalat and wandered around the markets. As is typical, clothes and souvenirs are upstairs, with food downstairs. There are rows and rows of dried fruit, sweets, and coffee. Fruits and vegetables fill another area. The most interesting part was the fish section, with frogs in big pans with a screened lid. There's a sort of food court on an upper level of one of the market buildings and we had lunch there - a bowl of pho and a cup of coffee for VND 10,000.
There was supposed to be a gondola ride next, but it wasn't operating. Given my feelings about heights, I have to admit that I was relieved rather than disappointed. Instead, we drove around to the temple that's at the far end of the gondola cables. I never caught the name of this temple, but I gathered it is modern, built with money from overseas. It was ostentatious, with huge gardens including some unusual topiary.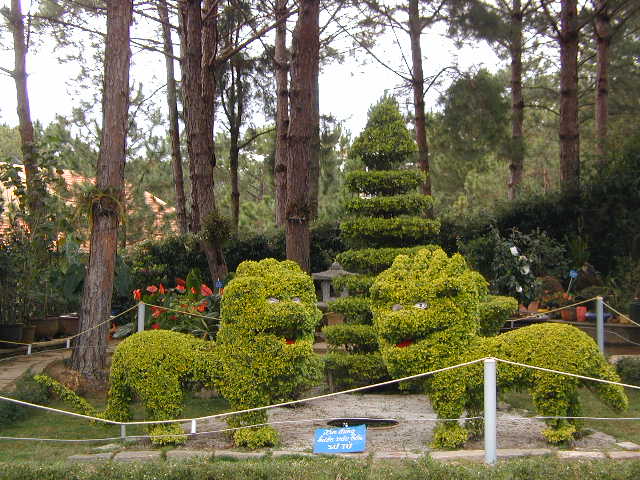 On the way to the airport, we stopped at the Chicken Village. This is an ethnic minority village - Koho and Chill - and gets its name from a giant concrete statue of a chicken.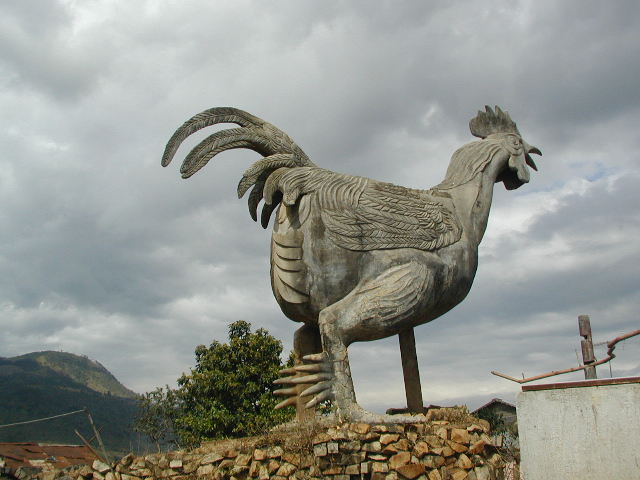 We had a weaving demo and shopped before walking around the village. It's an agricultural community and obviously very poor, making me glad that I had bought a weaving. Our guide explained that the chicken statue was erected in 1975 in honor of an old story involving a young woman who wanted to marry a man against the wishes of their families. She mentioned that Koho society is matrilineal, but it isn't entirely clear how that plays into this. At any rate, they finally decided she could marry him if she could find a special chicken in the forest. She died looking and, when the man came after her, he also died. It's not a very satisfying story, but I'll just assume it lost something in the translation.
[ Back to Previous Chapter | Back to Index | On to Next Chapter ]
---
Copyright 2004 Miriam H. Nadel

last updated 18 January 2004
Send comments to mhnadel@alum.mit.edu