Hue, the Royal Way
One of the particularly appealing aspects of our itinerary was the time saved by flying between major cities. Rather than lumbering along on an overnight train, our journey from Hanoi to Hue involved about an hour on an Airbus 320. The flight seems to be quite popular with tourists, by the way, and I had the odd coincidence of running into a woman I'd met in Washington, D.C. while picking up my visa at the embassy. We traveled by minibus to our hotel, Guesthouse 5 Le Loi, which was somewhat shabby but comfortable enough. Then we set out by cyclo for lunch.
There are three restaurants with extraordinarily similar names right next to one another. I think the one we ate at was Lac Thanh, but it could just as easily have been Lac Thien or Lac Thuan. And don't think that having a deaf-mute owner is actually an identifying characteristic, since restaurants can copy the sign language aspect as well as they can copy the lettering on their signs. Wherever we were, we ate a sort of shrimp and meat omelette and grilled beef, both eaten in rice paper with lettuce, herbs, carambola (a.k.a. star fruit - I tend to know tropical fruits by Latin American names and it was oddly identified as "fig" on the menu) and green banana. This is all dipped in peanut sauce to make a very tasty snack. After eating, we went to the sprawling and crowded Dong Ba market. We were advised to be on guard against pickpockets there. My only unusual encounter was the opportunity to try a fruit I'd never tasted before. I'd heard that mangosteens are delicious and was glad to find that to be true. What I hadn't been warned about, however, is the difficulty of removing mangosteen stains from clothing.
We returned to the hotel (again by cyclo) and had free time until dinner. Glenda and I decided to go for a walk. We figured that Hue, being much smaller than Hanoi, was fairly foolproof. That might be true if you stick to places within sight of the Perfume River. By the way, the river got that name from the flower petals thrown into it once upon a time. The modern day river suffers from other fragrances. At any rate, we turned inland, managed to get lost (though we found the reasonably dramatic Hue Cathedral in the process) and had to retrace our way for about a half-hour to get back to the hotel. We still made it back in plenty of time for what had been billed as a "dinner cruise." I had visions of a big party boat sort of thing. Instead, we were on a small barge-like craft, decorated with a dragon head and tail. I can't say it was much of a cruise as we seemed to more or less just pull out into the middle of the Perfume River, but it's not like anything was lit up at night to see either. The food was reasonably good, though actually one of the lesser meals on the trip. We started with banana flower salad, which turned out to be quite a common dish. This version included squid and shrimp and, like all of the others we would have, was eaten on rice crackers. Then came soup with shrimp and sausage, to which one mixes in chilis, lemon, and tamarind pulp to taste. That was followed by skewered meat grilled on sugar cane, calamari with a dipping sauce, fried rice, and a tofu and vegetable stir-fry. Dessert was fruit salad, with the odd addition of tomato. There was also a woman on the boat who wanted to lay out merchandise for sale. Mike stopped her, but she was quite persistent.
Our major sightseeing in Hue was the next day. Hue was the imperial capital under the Nguyen dynasty, founded in the 19th century. Construction of the Citadel was started in 1804. The main gate is U-shaped and divided into five parts. The emperor was the only person who could use the middle gate. The mandarins used the gates to either side and the outermost gates (on the sides of the U) were for soldiers, horses, and elephants. By the way, admission was included in our tour, but is VND 55,000 if you go on your own.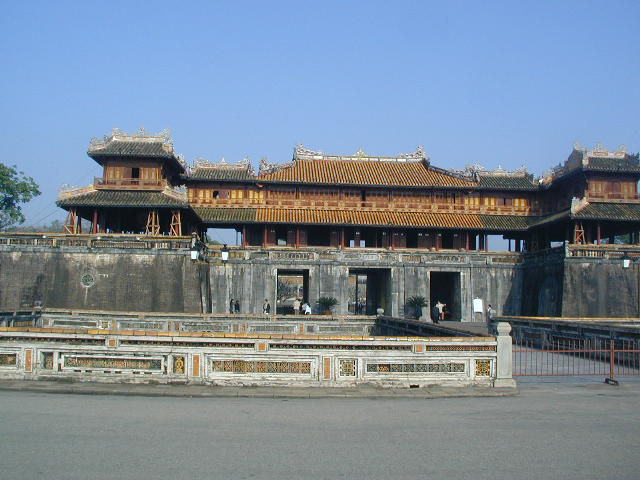 Much of the interior was destroyed during the 1968 Tet offensive but parts are restored. The main palace inside, the Thai Hoa Palace, is ornately decorated in red lacquer and gold. Further in, there are the halls of the mandarins on either end - military mandarins on one side and civil on the other. These halls were where the mandarins dressed in their ceremonial robes for royal functions. One of them had a small museum with elaborately embroidered robes on display. After looking around the museum, we continued on to the royal library.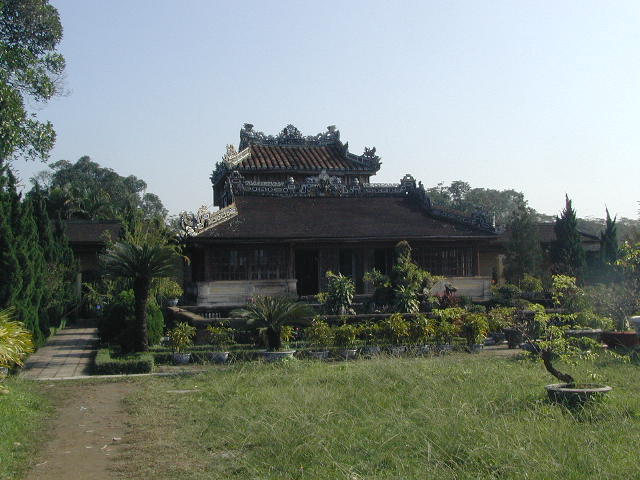 Beyond that, there were pavilions used by concubines. The back of the citadel had nothing to see, but overlooked the remains of the moat. Walking back to the main part, we turned down a side path to the Mieu Pagoda. It is being restored so one can't go in. Outside, there are nine dynastic urns, symbolizing the Nguyen dynasty. There were actually 13 emperors in the dynasty and I can't say I quite followed the explanation of why there are only nine urns. The urns are ornate, but also show some bullet damage.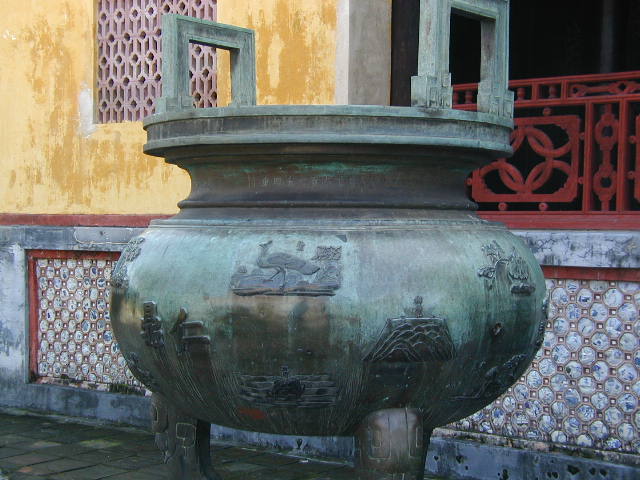 We continued on to the Thien Mu ("Fairy Woman") pagoda. This is the oldest pagoda in Hue and the legend is that a fiary woman appeared to the people telling them to construct it. We stopped to photograph boats on the Perfume River before we walked up to the pagoda.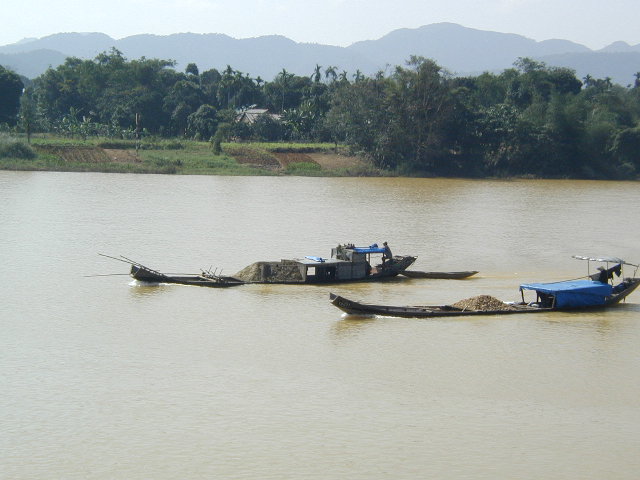 We climbed a flight of stairs to the main octagonal tower. While the pagoda was originally built in the 11th century, the present tower dates back only to 1844.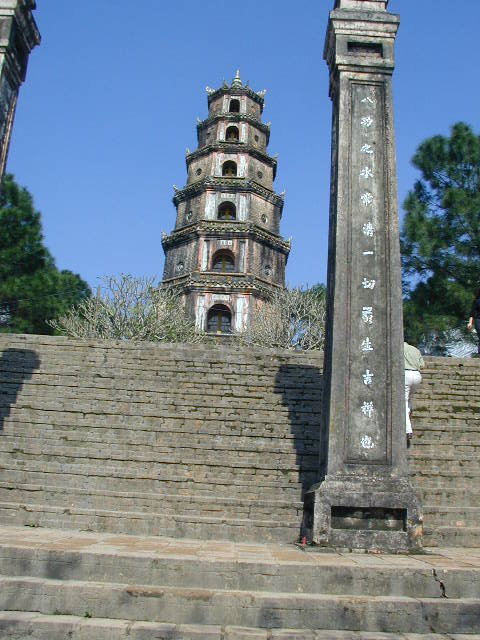 The main sanctuary is open only on the first and fifteenth days of the lunar month. But we could see the large laughing Buddha outside and peek through the doors to see three more Buddhas inside. Then we walked over to see the famous relic kept at the pagoda - an Austin car used by a monk to drive to Saigon in 1963, where he burned himself to death protesting Ngo Dinh Diem's regime.
We had lunch at a nunnery. It isn't clear to me just what (if anything) distinguished this from being just another pagoda, since quite a lot of the pagodas throughout Vietnam have monks and/or nuns in residence. The meal was strictly vegetarian, though some of the dishes were designed to resemble meat. The food included spring rolls, vegetarian chicken, vegetarian fish cakes, some sort of vegetable in a leaf that looked like (but did not taste like) nori, a mushroom dish, some sort of green bean dish, banana flower salad with rice crackers, and potato chips. Everything was tasty and was accompanied by refreshing lemonade. The Vietnamese actually called it lemon juice, but it is sweetened and diluted with water, so I assume this is due to the linguistic confusion of British English using the term "lemonade" to refer to carbonated lemon-lime soft drinks like Sprite. After we ate, the little boys studying at the pagoda tried to show us how they make paper ornaments for Tet, but their glue was too old and wouldn't stick.
Our next stop was the tomb of Thieu Tri, the third emperor. Apparently a lot of people in the area were Catholic, while Thieu Tri was Buddhist, so his tomb was looted and is not well preserved. In consequence, admission is lower than for most of the royal tombs - VND 22,000 each, but they charged Mike extra for the bus. We walked down a steep and slippery hillside to go to the actual burial area. The caretaker unlocked the enclosure, but asked extra money to do so. Mike protested at first, but eventually gave him another VND 10,000, telling us that he'd never been inside before. Not that there's anything to see, as nobody knows where the actual burial was within the enclosure. We walked around to a stele and an honor courtyard full of statues of mandarins lined up. All in all, between it being particularly hot out and things being so poorly preserved, I was disappointed in this site.
Our final stop was at the tomb of Khai Dinh, the next to last emperor. (Bao Dai was the last emperor and he abdicated to Ho Chi Minh's government in 1945.) This involved climbing up a total of 127 steps, but they are on several levels so you only climb about 30 at a time. The whole thing is a very grand concrete structure, built around 1920. By the way, the emperors had their tombs built during their lifetimes and used them as vacation spots. What makes the climb worthwhile is the elaborate mosaics in the main building, made out of broken porcelain. The whole thing is gaudy, but it's quite something to see.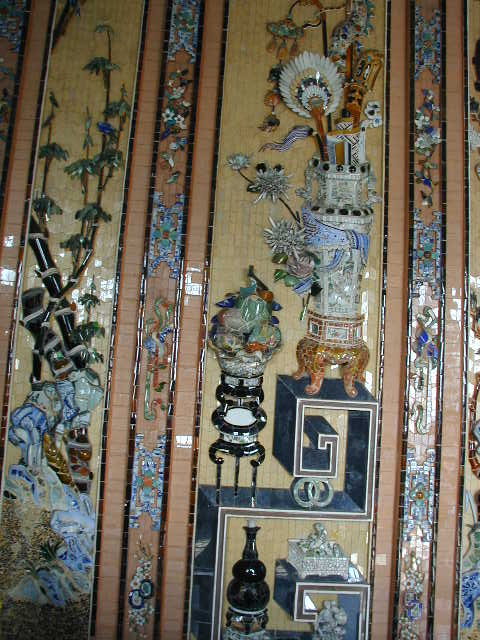 In the evening, we set out for a restaurant called The Ngu Ha Garden. This was somewhat out of the way, but quite an experience. First, we had a cooking demo. The actual dish being prepared was a sort of pancake, filled with meat and vegetables. But it was transformed into a phoenix by decorations. The pancake filling was arranged to form the right colors to make tail feathers when sliced, while the head and neck were carved out of a carrot. We all had a go at making neck feathers on the carrot, using a special chisel-like tool.
Then we dressed in royal robes and ridiculous headdresses and were led upstairs to our royal feast. The emperors apparently demanded meals of 50 courses, served by 50 servants. In our case, there were supposed to be twelve courses, but I only counted nine, which was still more than enough food. We started with the "phoenix." Then came soup, spring rolls, banana flower salad, prawns, omelets with rice paper and peanut sauce, chicken cooked in leaves, and rice. Green tea probably doesn't count as a course, but banana pancakes for dessert do. The food was good, but the really impressive part was the elaborate presentation. I was sorry not to have brought my camera with me.
Back at the hotel, we stopped in a Christmas (eve) party, where we drank truly dreadful Vietnamese brandy (akin to slivovitz) and danced a little to overly amplified Europop. Certain things just don't work across cultures, but this is the trend of the future.
Hoi An: Ruins, Cooking Class, and Tailoring
Getting from Hue to Hoi An took a few hours in a minibus. The drive south along Highway 1 is fairly scenic and the road is surprisingly good, though very twisty. The dramatic scenery is at the Hai Van pass, which peaks at 496 meters. We spent longer than planned at the summit, due to a problem with the bus. Fortunately, the driver decided that the problem was just a cylinder not firing and we didn't have to wait for repairs.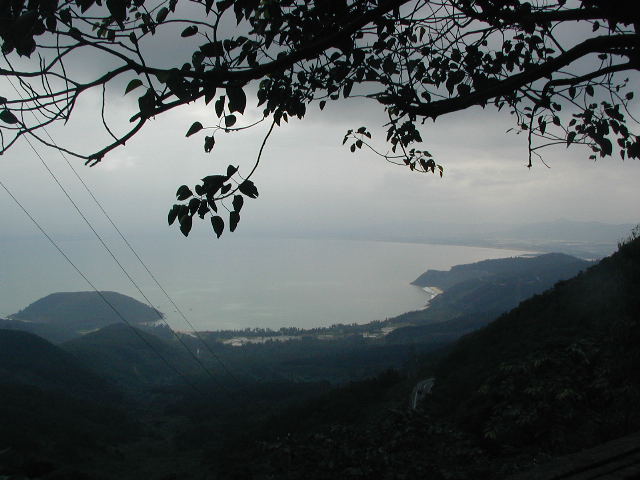 We also stopped near Danang for Mike to give money to another Intrepid tour leader. The place we stopped (Non Nuoc, I think) was filled with huge marble sculptures, shop after shop of them. There were also small ones which might make nice souvenirs, but there were so many that I didn't see how one could ever make a choice. Then it was on to Hoi An, where we checked into the Hoi An hotel and set off to have lunch at Thang Long restaurant. The local specialty is "white rose," a sort of steamed dumpling with shrimp. There are also tasty fried wontons. After eating, we strolled around with Mike pointing out various shops and cafes.
Later in the afternoon, we had a walking tour of heritage buildings. Hoi An was a major trading port from the 17th through 19th centuries and is now a UNESCO world heritage site. The heritage tour system involves a ticket with various categories of sites. You choose one from column A, one from column B, etc. Our guide threw in a lot of interesting odds and ends along the way. For example, he pointed out the "eyes" of the house, round wooden symbols hung over the door. These are believed to be derived from the eyes painted on boats to look for fish. The latter are, by the way, quite similar to the eye of Osiris painted on boats in Malta.
Our first stop was the Quan Cong Temple. One feature, common to all the local buildings, was a courtyard to serve as a natural air conditioner. The main feature I noted was a large figure of a red horse, that one is supposed to touch for strength. After looking around the temple, we went next to the Assembly Hall of the Fujian Chinese Congregation.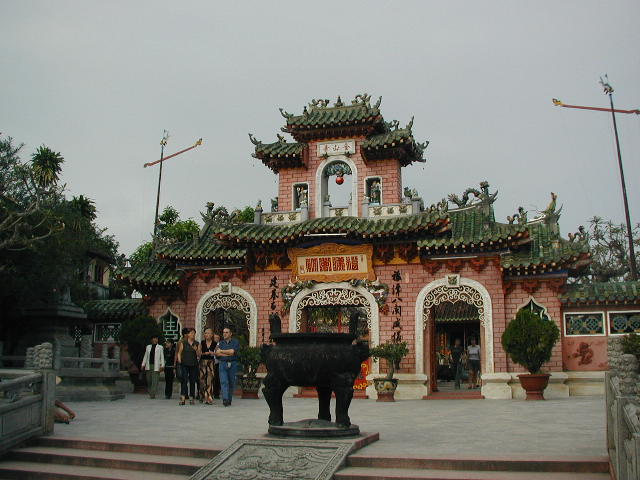 This is a large and impressive building, consistent with the prominence of ethnic Chinese people in Hoi An. Our guide talked mostly about yin and yang symbols. The key thing I noted was that the male is always on the left and female on the right as you face out from inside the building. In the case of the two statues of lions, one of them had cubs so it was pretty easy to tell which was the female. In the back of the hall, there's a temple with three altars. The middle one represents the heads of the families that left Fujian for Vietnam. On one side, the altar has statues of twelve midwives which teach babies the skills they need for their first year, e.g. smiling, sucking, etc.. Finally, the other altar is to the god of prosperity.
We visited the Museum of Trade Ceramics which, frankly, I didn't find particularly interesting. Then there was the Old House of Quan Thang, the most notable feature of which was wooden shutters that work by sliding back and forth in grooves. This was followed by a stop at a crafts workshop - embroidery, wood carving, silk weaving, and mat making. Finally, we went to the Japanese Covered Bridge, but it was too dark to see much by then.
Dinner was at The Mermaid Restaurant and started with a delicious curry soup containing potatoes, carrots and taro. That was followed by cao lao (noodles with bean sprouts, greens, and sliced pork - another local specialty). There were very tasty greens (possibly morning glory leaves) and the justly well-known fish grilled in banana leaf. And, of course, fruit for dessert. After eating, we went to Treet's Cafe for Christmas drinks. The reason for going there is that their happy hour lasts until 9 p.m., making it remarkably cheap. Despite the prices (two gin and tonics for VND 16,000), the atmosphere is still much more cafe than bar.
Most of our time in Hoi An was on our own and I'd had Mike book a tour to the My Son ruins for me. There was some confusion in getting picked up, which had me thinking back to the Hanoi to Halong Bay fiasco. One guy came in with a piece of paper, but he was looking for somebody with a different room number, and seemed quite content to leave without anybody at all. After I asked at the hotel desk, they made a call and another person came. I had been led to believe that I would have just minibus transportation to and from My Son. Instead, I was on a huge bus with an English-speaking guide. I didn't mind, since at least I was getting to go.
There were pickups at a number of hotels, followed by an hour drive. Once there, the guide collected our admission fees (VND 50,000) and we walked over a bridge to a shuttle bus area. Then we walked a kilometer or so to the actual ruins. My Son is one of the major sites of a Hindu kingdom called the Kingdom of Champa that flourished in Vietnam up to the 15th century. Hinduism was apparently brought to the region by Javanese traders, but the Indian influence is obvious. Much of the site was badly damaged during the wars (both French and American), so there are bomb craters and one is advised not to wander off the marked paths as there could still be landmines. Despite which, there is still a lot to see. The temples are divided into several groups and we started with Group F. Basically, these are 8th century temples to Shiva.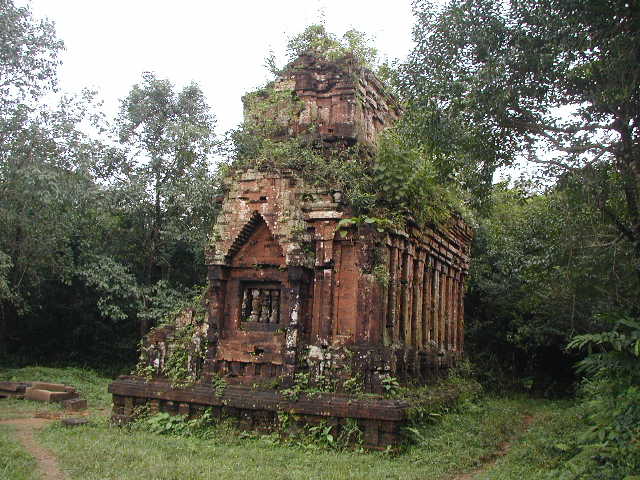 We also visited Group G, which was more recent (12th century) but smaller and less interesting. The most impressive part was groups B, C and D, (8th through 11th century) where you can actually go into a few of the temples. The ornamentation is remarkably detailed.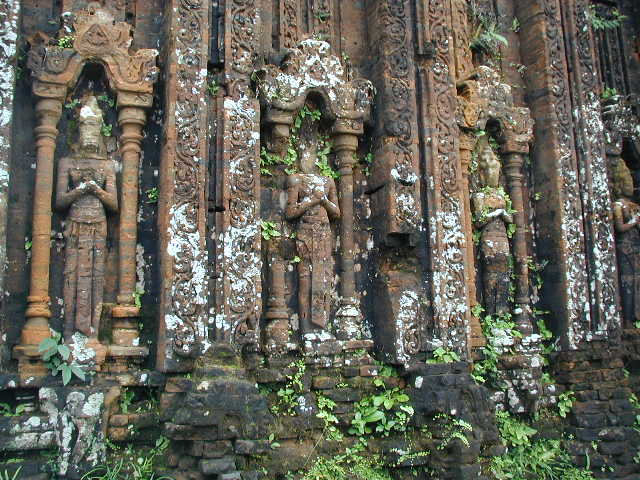 I'lll note that the guide wasn't really particularly informative. If you had no exposure to Hindu mythology, you might have learned something, but wandering on your own would be entirely adequate. There was plenty of time to just look around and take photos anyway, before the hike back to the shuttle bus. By the way, it had rained overnight and was overcast, so it wasn't terribly hot. The downside of that was that the paths were a bit slippery in places.
The guide said there were two options for the return and some people were booked to go back part of the way by boat. I hadn't heard about this before and, when I found out it was just an extra USD 2 (including lunch), figured it was a good idea. The lunch was just OK - fried spring rolls, rice with meat and vegetables, a banana and a bottle of water. But the boat ride was pleasant enough. There was a stop along the way at Thanh Ha Pottery Village (admission VND 15,000). You can see men digging clay and women working pottery wheels with their feet and, at the end, everyone gets a little ceramic whistle as a gift. There was also an option to go to a carpentry village, but only a few people wanted to go, so there was a precarious middle of the river exchange between boats. Back at the dock in Hoi An, I tried to pay for the tour, but the guide thought it had been paid at the hotel. (He did take the extra for the boat, though.) Later on, at the hotel, they thought Mike had paid. Eventually, Mike left an envelope with my money (VND 60,000). All most confusing, but it seemed to work out.
I walked back to the hotel and rested for a while. Then, Glenda and I set out for dinner. We ended up at U-2 Bar, where we ate excellent tiger prawns in lemon juice and chicken with chilis. That was followed by some more of the biggest tourist attraction of Hoi An - namely, shopping.
Our final morning in Hoi An involved a cooking lesson. Mike had told us to meet him at The Mermaid Restaurant at 9 a.m.. He overestimated our ability to find any given place a second time. Fortunately, it's a well-known restaurant and it was easy to ask directions. The Chinese women never made it, though, and after waiting a while, we decided to go ahead and just leave them a message on where to go. Miss Vy's Cooking School started with a market tour, which mostly involved tasting various herbs. We moved on to the Cargo Club Restaurant for the actual class. The set-up upstairs was very well organized for the lesson. It was all hands on - Miss Vy demonstrated and we followed. We made fish in banana leaf, chicken with kaffir lime, fried spring rolls, banana flower salad, and green papapa salad. We even made little banana leaf brushes to use for brushing egg white onto rice paper for the spring rolls. Then we went out onto the balcony and feasted! I particularly liked the green papaya salad and the chicken. Later on, Mike gave us recipe booklets and graters for shredding green papaya. All in all, this was one of the highlights of the trip.
Amazingly, we still had energy left for more shopping. Hoi An is filled with tailor shops and I thought it would be fun to have something made. It would probably have been best to have started on this the first afternoon, but they work quickly and it was still feasible. I mostly wanted the experience, but figured I should get something that I could actually use, and settled on the idea of a grey linen jacket. One shop had been recommended as more upscale, but they were surprisingly unhelpful and I couldn't find a fabric I liked. Later on, we were walking past another shop and I saw a jacket I liked displayed in the front. They did have linen in just the right color and I ended up ordering a skirt, as well. Total price for both pieces was USD 30! I paid a deposit and was told to come back at 7 in the evening. When I did come back, just the skirt was ready.
Glenda and I went to have dinner at Hoi An Han Sen, a restaurant on the riverfront. The food was fusiony, with Turkish and Swedish items on the menu! We stuck to more Vietnamese fare, with delicious duck salad and skewered seafood. The jacket ended up being delivered to the hotel at about eleven at night. Fortunately, it came out beautiful. It was well worth the experience, but leaving things to the last minute really was not a great strategy.
[ Back to Previous Chapter | Back to Index | On to Next Chapter ]
---
Copyright 2004 Miriam H. Nadel

last updated 15 January 2004
Send comments to mhnadel@alum.mit.edu