Introduction: Why and How
Unlike most of my trips, the why and how of my trip to Vietnam are closely related. I was thumbing through one of the brochures from Adventure Center, a travel agency I've used several times in the past, vaguely contemplating Laos or Sri Lanka or, well, somewhere. Suddenly, I noticed "Vietnam Gourmet Traveller." Anybody who knows me, knows I'm a bit of a foodie. And I've certainly enjoyed many a meal at Nam's Red Door in San Pedro, California (a hole in the wall, but a marvel of fresh and simple cooking) and Queen Bee in Arlington, Virginia, not to mention the pho place down the street from where I work. Reading through the dossier, it sounded like a good mix of normal tourist attractions, visits to markets, cooking demonstrations, and free time. Going over Christmas would make for an efficient use of my all too limited vacation time. And, while this isn't the sort of destination I'd normally consider an organized tour for, that would make a fairly brief trip (2 weeks) more efficient. I quickly put down a deposit.
It all got more complicated when Far and Wide, which had purchased Adventure Center a while back, went bankrupt. Adventure Center has since been sold off and is back in operation, but I had to rebook the trip directly with Intrepid. I'm still wrestling with my credit card company over the deposit, but that's another story. The rest of my arrangements involved finding reasonably priced travel insurance (an Intrepid requirement - well, they don't require the reasonably priced part, but I do). I ended up using STA, the old "student travel" (and general budget travel) stalwart. Then came the matter of plane tickets.
This is where being the queen of frequent flyer miles pays off. I ended up with tickets that sent me from Washington to Paris on United and Paris to Bangkok to Hanoi on Thai Air. My return was Ho Chi Minh City (abbreviated HCMC in the rest of this travelogue, though I'll refer to it just as often as Saigon) to Singapore on Singapore Air, Singapore to Frankfurt on Lufthansa, and Frankfurt to Washington on United. The key was that I was able to do this all business class. When you're talking 30 or so hours of travel time, including lengthy layovers in two of the dreariest airports in Europe, that makes a huge difference. I did have to get into Hanoi a day early, but that wasn't a big deal. I figured it would even help with jet lag and all.
Finally, there was a visa to obtain. One of the great advantages of living in the Washington, D.C. area is easy access to embassies. I downloaded the application form from the embassy website and telephoned for info on opening hours and fees. The normal fee is USD 65, but you can get expedited processing (2 days versus 5) by paying USD 85. One trip over to drop things off (passport, application form, photo, fee) and another a week later to pick up my stamped passport and I was ready to go.
It only takes one overnight flight to quickly appreciate the real merits of business class. This has less to do with the in-flight amenities, as with the precious "access to arrivals lounge" card that United gave me on check-in. There, in the vast bleakness of CDG, one can go to the Red Carpet Club and be led to the intense luxury of a shower! Followed by curling up in a comfortable armchair with a cup of coffee and perhaps a croissant, even the prospect of another umpty ump hours of flying time holds few horrors. That said, Thai Air was rather disappointing, largely because they managed to serve surprisingly bland curried salmon for supper and to show the only one of their three movies I hadn't already seen precisely when I was sound asleep. My layover in Bangkok was too brief to even bother with the business class lounge there. I overheard one Aussie woman telling another that she was joining an Intrepid tour in Hanoi and went over to see if she was on mine. She wasn't, but the three of us decided to share a taxi into town from the airport.
The formalities at Hanoi were straightforward and, after changing money at the airport bank, we negotiated a taxi fare of USD15 for the three of us. The going rate to the city center (a 45 minute or so ride) is USD10-12, but we were going to different hotels, so it seemed fair enough. I was dropped off first, at the Thien Thai Hotel, which proved to be a reasonably comfortable mid-range place. My first order of business was setting out to walk around the area. This proved frustrating as motorbikes are parked on every sidewalk, forcing one to walk in the streets, dodging more motorbikes. I was still fascinated by peeking in at alleys and courtyards, looking at women selling fruit from pans suspended from long poles, and just absorbing the general foreignness. I wandered down to Ho Tay (West Lake) and circled Truc Bach Lake, noting the swan boats on the latter. Just like Boston! I'm sure there were some actual sites to see, but I was more focused on the women riding bikes, wearing conical hats, with scarves tied around their faces for protection from the sun and dust. I saw some men putting on a cock fight. And I quickly figured out that pretty much every man who calls out "hello" to a Westerner is really trying a come-on for a ride on a motorbike taxi. At any rate, a good long meander, punctuated by stops for coffee, was a reasonable way to fill in a long afternoon and recover a bit from the flights.
The tour didn't actually start until evening of my second day, so that was free time, too. I walked past the Citadel (on a street that was only opened to the public in 2001) and made my way to the Temple of Literature. This complex (admission VND 5000) was once the National University and dates from roughly the 11th century , though much of it is later. It consists of five courtyards. The middle one is the most impressive, with the so-called "doctor's stelae." These are stones that record information about the men who got their doctorates in each triennial exam. Each stone rests on the back of a stone tortoise and the tortoises differ from one another. It's all quite a bit more impressive than my paper diploma, though I doubt I can persuade the University of California to follow suit! Other courtyards contain temples - one with stautes of Confucius and Chu Van Am, another with statues of various scholars I never heard of. There's a little signage in English, but not a lot. There was also a performance of Vietnamese folk music going on, which proved to be similar to Chinese music and decidedly pentatonic. Finally, there are souvenir shops, which proved useful as I bought a couple of postcards to make up for having left my camera at the hotel.
I continued on to the old city and Hoan Kiem Lake. First, I went to the Ngoc Son Temple (Temple of the Jade Mountain). Admission is VND 2000 and the major reason to go is the quiet of the island in the middle of the lake. The upper part has what seems to be a working temple, with incense burning and women chanting, while the lower level is more museum-ish. By the way, the Hoan Kiem Lake is also referred to as the Lake of the Restored Sword. The legend has to do with a magic sword that Emperor Le Loi used to chase the Chinese out of Vietnam in the 15th century. He returned it to the gods by giving it to a magic turtle that rose from the lake. It's one of the more peaceful places in Hanoi, except for some rather persistent children selling postcards.
After a break for lunch, I went to the Women's Museum. The lower floors are interesting, but somewhat disturbing. Everything is all about women heroes of the revolution fighting the American aggression, mixed in with some traditional women warrior stories for good measure. The third floor gets into the various ethnic groups of Vietnam and has examples of baskets and conical straw hats used by each group. The real gem (and the main reason to go to the museum) is the top floor, with costumes of the ethnic minorities. There is, by the way, reasonably good signage in English. Overall, it's worth about an hour and the VND 10,000 admission.
I spent the rest of the afternoon meandering my way back to the hotel, via the old city. The streets are narrow and twisty and I found it impossible to ever find any given street again except by sheer luck. There are alleged to be 36 streets, with the names of the guilds that traditionally inhabited them, e.g. leather, silk, salt, etc.. In practice, there are concentrations of particular types of merchandise, but cheap clothing and cafes get mixed in everywhere. I suspect there are more than the official 36 streets and every single one of them could also be called "the street of too many parked motorbikes." I did eventually figure out that these sidewalk spots are official motorbike parking areas and people pay fees to attendants who watch over their bikes. I eventually made it to the Dong Xuan market at the north end of the old city. This was disappointing as it was even more crowded than everything else in Hanoi and had nothing really unusual.
In the evening, I met the rest of my tour group. There were only five of us total, plus our tour leader. I'll refer to three of the group as the Chinese women., as they spoke Chinese amongst themselves These were two sisters and their niece, who actually live in Sydney, Australia. Since they were together, I ended up spending much of my time with the other solo traveller - Glenda, from Brisbane, Australia. Fortunately, we got along quite well. Our tour leader, Mike, was from New Zealand but is married to a Vietnamese woman and lives in Hanoi. We often had local guides, but Mike organized things. And his ability to speak Vietnamese helped quite a lot.
Our first dinner was at Club Opera. We started with fried spring rolls, followed by corn and crab soup. Then came a sort of rice pancake with greens and pork. Next were tiger prawns. Then came sea bass with vegetables, chicken in lemon sauce, and eggplant, with rice accompanying the final three. I should note that rice usually showed up towards the end of meals, presumably because it's considered "filler" as in China. Dessert was fruit - watermelon, papaya, and dragon fruit. The latter is a spiky, magenta fruit that is served peeled and sliced. The interior is crisp and white with little black seeds. It's a bit bland, but has a nice texture and is quite refreshing. All in all, a nice meal, followed by a stroll past the opera house and the Hilton Hotel, down to the lake, before returning to the hotel.
The next day was our big sightseeing day and started with breakfast at KOTO. On the way over, a mystery was solved for me. I had noticed numbers in boxes on the sidewalk the day before. These proved to be badminton courts, all in full use at 7 in the morning! As for KOTO, this is rather a famous place. The name means "Know One, Teach One." Jimmy Pham, a Vietnamese-Australian (and Mike's one-time roommate), founded it as project to get children off the streets. In addition to the cafe, there's now a bigger training operation that provides chefs for many of the fancier restaurants around town. The food was decent, too.
After eating, we set off to sightsee with our local guide - Mike's wife, Ha. She started out with a good explanation of how to get across streets in Vietnam. You can't wait for a break in traffic, since there hasn't been a break in traffic since there's been traffic. You do have to make sure there's nothing particularly large (trucks, cars) coming. But, if it's just motorbikes, you step out into the street slowly and confidently and they sort of weave their way around you. The slow part is the part that's counterintuitive to Westerners, of course, but it really does work better.
Anyway, we walked to Ho Chi Minh's mausoleum. You can't bring in anything - no cameras, no bags, not even bottles of water - so Mike and Ha held all our stuff. First, you go through a metal detector. Then you get on line to file through, two by two, past the embalmed body. By the way, Ho supposedly wanted to be cremated, rather than venerated in this manner. After leaving the building, we rejoined Mike and Ha and our bags and took photos from the outside.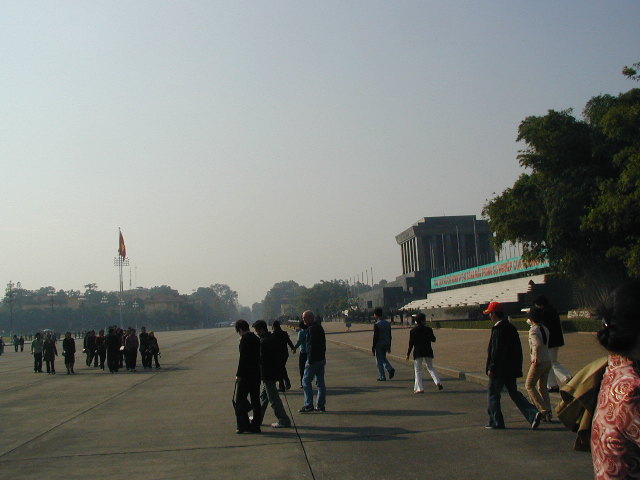 We moved on past the grandeur of the Presidential Palace, which is used only for state visits.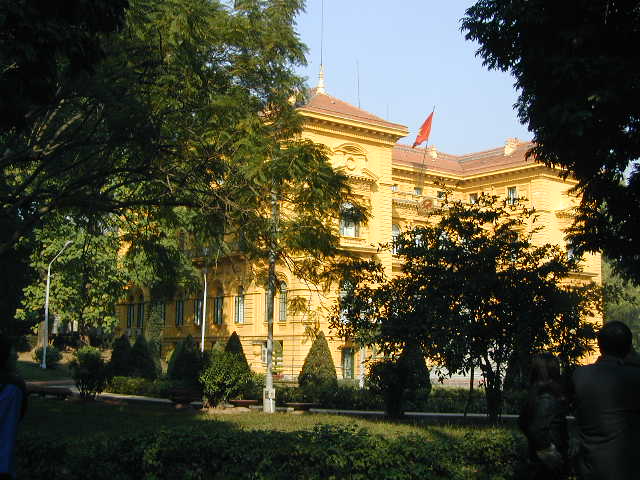 Then we passed "Mango Alley" (basically, a grove of mango trees) and glanced at a house Ho Chi Minh lived in early on, where two cars and a few simple rooms were dislayed. This was followed by Ho Chi Minh's stilt house, built in a style used by ethnic minoriites in nearby areas. It's just a few rooms, very minimally furnished. It's also pretty doubtful that he ever lived there, since it would have been an easy and obvious target. Finally, there was the Ho Chi Minh Museum. This is strange and symbolic, with things like a montage of pictures of Madame Curie and various movie stars to represent the changing times that Ho grew up in. World War II is oddly conjoined with the Spanish Civil War and represented by a lot of modern abstract art. Without a guide, one might be led to believe that Ho Chi Minh painted "Guernica." In between all of this, there were various mentions of American aggression. While the actual examples were accurate (e.g. the Gulf of Tonkin incident), it still made me uncomfortable.
We moved on to the old city for lunch at a pho shop. The noodle soup was tasty, but the setting left something to be desired. Tables are low and short plastic stools are de rigeur, making things less than comfortable for any moderately tall Westerner. After eating, we wandered around the market a bit, followed by more meandering around the old city on our own. Glenda and I managed to find ourselves on completely different sets of streets than either of us had been on previously, but did make it back to the hotel eventually.
In the evening, we went to the Water Puppet Theater. Water puppets allegedly developed in flooded rice paddies. The gimmick is that the mechanisms controlling them are hidden by the water. The accompanying music is the standard Vietnamese folk stuff and the most interesting instrument used is a sort of one-stringed guitar thing that can produce a surprising range of sounds. The puppets are surprisingly entertaining with lots of fire breathing dragons jumping around, rice growing, people on boats fighting, etc.. By the way, our first class seats cost VND 40,000, which includes a cassette of the music - something that's likely to prove useful for revenge the next time the guys in my office start playing Toby Keith! There's an additional fee of USD 1 or VND 10,000 to take photos. While I did get a few decent photos, I found that taking pictures was distracting, as were the flashes going off here and there, so I'm not convinced this is all that good an idea.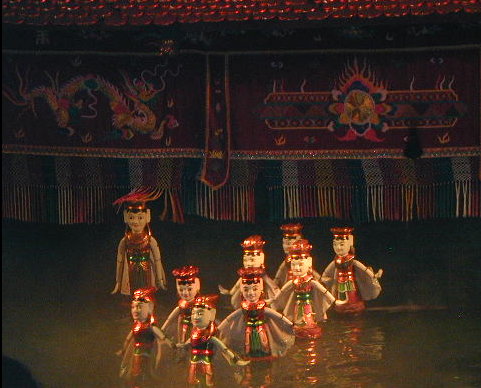 After the water puppets, we moved on to dinner at Restaurant Bohemia. Ha taught us how to make fresh spring rolls, i.e. the cold ones, as opposed to the fried ones. You use thicker rice paper for these, with a filling of egg, carrot, lettuce, cucumber, herbs, pineapple, and prawn, all rolled up tightly. The dipping sauce is made of vinegar, chilis, garlic, sugar and water, with nuoc mam (fish sauce, made from salted fermented fish) added to taste at the end. We also had fried spring rolls, a beef and vegetable dish, a Czech style pork dish (apparently to justify the connection to Bohemia), a vegetable that was alleged to be pumpkin stems (by which I think squash was meant, rather than what an American would call pumpkin), and a delicious stewed fish with ginger, garlic and galanga. Dessert was watermelon.
The day ended with a cyclo tour of Hanoi. A cyclo (pronounced "sick-lo" by the way) is a sort of pedaled vehicle. The driver sits on a bicycle seat behind the passenger, who has a cushioned seat that reminded me somewhat of a baby stroller. They're surprisingly comfortable - certainly a lot better than my memories of the bicycle rickshaws in India - and less scary in the Hanoi traffic than one might think. I'll still admit to some psychological discomfort with the concept of somebody pedaling me around, particularly as I'm far from small, but you also see cyclos being used for, say, furniture delivery!
Our final day in Hanoi was also free and Mike had booked a tour to Halong Bay for Glenda and me. We were dutifully in the hotel lobby at oh-dark-thirty, but nobody came. I tried inquiring at the hotel desk, but the clerks didn't speak much English. After an hour, we finally called Mike, who talked to the hotel desk and thought he'd sorted things out. We waited more. Finally, Mike called someone and found out they'd left for Halong Bay without us. It was all quite odd, especially since he had talked to them the previous night to confirm. But there wasn't much we could do and it's not like we had put down any money, so we just figured we'd try to make the most of it and find something else to do. Stopping in at various travel cafes, we kept getting told it was too late to do anything that day. It seems that pretty much all the day trips from Hanoi leave by 8:30 a.m., which is further evidence that Vietnam tends to be an "early to rise" place. Finally, Kim Cafe was able to set us up on a handicraft village trip in the afternoon. We killed the morning drinking coffee and browsing at shops. We also stopped by Saint Joseph Cathedral, but it seemed to be closed, with a sung mass being celebrated at an area outside. We stopped to rest and chat by the lake and had a very odd encounter. A boy came over to sell postcards and, when we refused, started insulting us, telling us how ugly we both were. He kept coming back to pester us, in between annoying other people. As far as I can tell, he was trying to get us upset to make us lose face. It was very strange, but he wasn't actually threatening and he did eventually give up.
We returned to Kim Cafe - only to be told that our tour would be delayed due to a car problem. I think it was just a flat tire, but after the morning's experience, we were certainly concerned! When we did go, it was a slow, crowded drive to Van Phuc. This is a silk village just outside Hanoi. You pass various shops, then get to the houses, which also serve as weaving workshops. The looms are noisy mechanical ones, with a punch card system for patterns, and flying shuttles. Our guide showed us silk cocoons, explaining that they're boiled to kill the silkworms before the thread is unwound. The worms are eaten or put in a sort of rice wine! After wandering around past the workshops (which also included some spinning, also mechanized), we went onto the Community Hall and around the outside of the pagoda. I'm not sure that USD 18 each for the tour was great value, but it was reasonably interesting and was, at least, something to do. And the guide did try to be helpful and informative, commenting on a lot of aspects of Vietnamese life, not just the silk trade. For example, he explained that houses are narrow so that inheritances can be divided among sons with each having property facing the street. That's desirable because it means you can run a business from your house. We saw someone wearing a white head scarf and he explained that meant there had been a death in the family. There are two burials. The first is in a wood coffin. After three years, that's dug up and the bones are put in a smaller, brick coffin to be reburied.
When we got back to Hanoi, we contemplated what to do for dinner. We were vaguely thinking of a well-known restaurant called Seasons of Hanoi and decided to head that way, but stop elsewhere if we saw something else that looked promising on the way. I noticed a place that just said "fish restaurant" and we thought it looked worth a try. When we went in, we were ushered upstairs and given a card explaining that there was only one item on the menu. Basically, you get fish in a skillet over coals. The waiter mixed in herbs and showed us how to eat it. You take noodles, herbs, peanuts, and fish, and mix with the sauce (a blend of vinegar and nuoc mam, like the dipping sauce for spring rolls). It was delicious and quite reasonable at VND 60,000. As we left, we noted the Vietnamese name for the place was "Cha Ca La Vong." On my way home, I was reading a travel magazine (Arthur Frommer's Budget Travel, I think) in an airport lounge and there was one of those "ten places to see before you die" articles. One of the places they listed was Cha Ca La Vong! One can apparently stumble on a peak experience by sheer luck.
[Vietnam Index | On to Next Chapter ]
---
Copyright 2004 Miriam H. Nadel

last updated 15 January 2004
Send comments to mhnadel@alum.mit.edu