The End of the Trip and a Few Concluding Remarks
I was in the first group to fly back to Mount Hagen from the Karawari airstrip. On arrival, we were whisked off to the Highlander Hotel to hang out and have lunch. I also took advantage of their internet access to clean out some spam from my mail box and send a quick "I'm OK" note to a couple of people. I haven't said much about the food along the way, which was fine but nothing exciting, but one of my notes here reminds me of a peculiarity I should mention. Namely, whenever chicken was served, it was only the drumsticks. I still haven't figured out what they do with the rest of the birds.
The rest of the group showed up and had their lunch. We bade farewell to one woman who was staying on and returned to the Mount Hagen airport. Our flight to Port Moresby was delayed and there was some risk that we were going to have to stay overnight in Mount Hagen as they can't take off from there after dark. Fortunately, we got out in time, so only one couple had to rearrange their onward travel. We returned to the Airways Motel, where we ate a farewell dinner.
A few of us with afternoon flights were able to take a tour of Port Moresby in the morning. The city isn't particularly attractive (it's been described as "Canberra in the tropics"), but the museum is worth a visit. The collection covers ethnography, culture, geography, history, flora and fauna. The artifacts displayed are very high quality, but it helped to have seen things beforehand in their native settings, so to speak. I will use this an excuse to mention two types of artefacts we saw that I didn't discuss earlier. A kamanggabi (sometimes translated as "cult hook") is a tall stick, carved with several sharp projections, a masklike head, and a foot. It is believed to house a spirit and was used for good luck in hunting. A man would dance with the kamanggabi and let it fall. The hunting party would then go in the direction indicated by the kamanggabi. There is also a smaller version called a yipwon. The other really interesting item is a skull rack. These were (obviously) used to display captured skulls. I had contemplated buying one and labeling it with the names of various people I need to deal with at work, but decided that wasn't a very good idea.
The other highlight of the museum was the courtyard, which had various birds and animals. The crowned pigeon was particularly interesting and the tree kangaroo is, indeed, as adorable in person as on film.
We continued on to the Parliament building.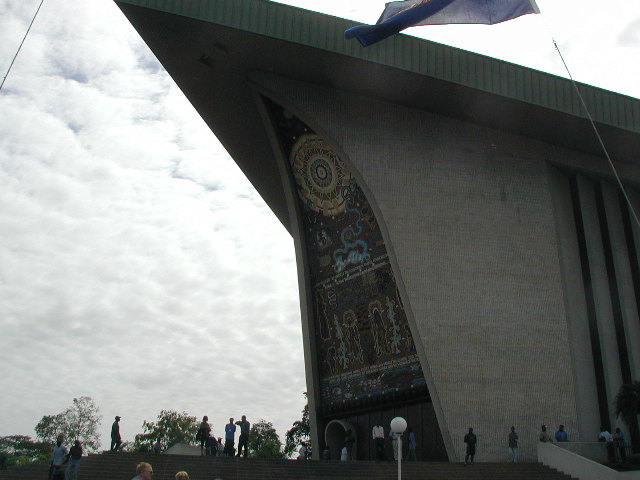 There was supposed to be a session in progress and we were told we wouldn't normally have been allowed in wearing t-shirts but that there are exceptions for overseas tourists. In the end, we just glanced into the legislative chambers as the session hadn't started yet. We had a final shopping opportunity at PNG Arts (a mediocre assortment and far pricier than the Sepik villages), before returning to the hotel and going on to the aiport. I should note that there's a PGK 30 departure tax. We had been forewarned, so everybody had saved kina to pay this with. I had some kina left, but far fewer than I'd expected and took advantage of the bank being open to change them back to U.S. dollars. The exchange rate at the airport might be lousy, but it saved the extra commission of having to change money twice.
My trip home was fine, but tedious. Qantas routed me from Port Moresby through Brisbane to Sydney. The quarantine inspection is particularly rigorous when coming from PNG to Australia, but Carolyn had given us good advice on what to carry and what to ship, so I had no difficulties. I stayed overnight at the Sydney Airport Hilton and continued on to Los Angeles (still on Qantas). Again, there were no problems with Immigration and Customs, though the line was longer than I'd previously experienced at LAX. I later realized that was because I usually fly into LAX on United, which has their own Customs area at their terminal, so is less busy than Bradley International. It also helps that I know LAX well, since the signage for the shuttle bus between terminals is marginal. I took advantage of a three hour layover to call my mother and my brother, before boarding my United flight back to Dulles. I was happy to arrive and collapse into a taxi home, until I remembered that I still had to unpack 200 some odd boxes. It really is not a good idea to go on vacation immediately after moving, but that's how it worked out.
And it was well worth returning to chaos to have had the chance to experience such an interesting part of the world. I wouldn't recommend Papua New Guinea to everyone, as the travel infrastructure is still not very developed there. Trans Niugini Tours was decidedly the high end of PNG travel, but the low end is not particulary safe and there's really no middle. That means that people either have to have very good local contacts (unlikely in the casual traveler) or spend a lot of money. And, of course, transportation is non-trivial. Many of the places we went to (including the capital, Port Moresby) can be reached only by air or by ship. The wilderness lodges involve flights in small planes, which also increases the cost. (And, of course, that deters people who are afraid of flying.) Obviously, some flexibility is required, as is the right attitude.
If you're willing to look at things like having your helicopter commandeered by the police as a good story and not something to panic over, PNG can be a very rewarding destination. The people are colorful and quite friendly to tourists. For example, the Mount Hagen Show measured up to my high expectations for spectacle. There are birds to watch and orchids to see, for those who are into that sort of thing. And there's wonderful art to buy. The country is in something of a transitional stage between traditional and modern cultures and that's always interesting to watch. As for Trans Niugini Tours, I thought their arrangements were quite good. In particular, their predeparture brochure was frank about what to expect, even when some of that information might deter potential customers. My only regret is that I didn't have time to get to a few more destinations (e.g. the coastal region around Madang, the Trobriand islands, maybe Samarai) within PNG.
Back to Last Chapter | Back to PNG Index | Xenophilia Home
---
Copyright 2002 Miriam H. Nadel

last updated 29 September 2002
Send comments to mhnadel@alum.mit.edu