Karawari and the Sepik Spirit: Sago and Shopping
On arrival at the Karawari airstrip, we walked through the village to the river. We had to negotiate crude steps cut into the muddy riverbank to board the jetboat to the lodge. The change in climate from the highlands was immediate and we were quickly drenched with sweat. From the lodge dock, it was a short jeep ride to the main building of Karawari Lodge, where we enjoyed cold towels and electric fans and had lunch while waiting for the other half of our group to arrive. When they did, we heard that Carolyn had had her sunglasses stolen off her face while they were sitting in the bus waiting for the plane at the Tari airstrip. By the way, the Karawari jeep is unique. It was painted by local people using the designs they traditionally use for the bark paintings that decorate their spirit houses.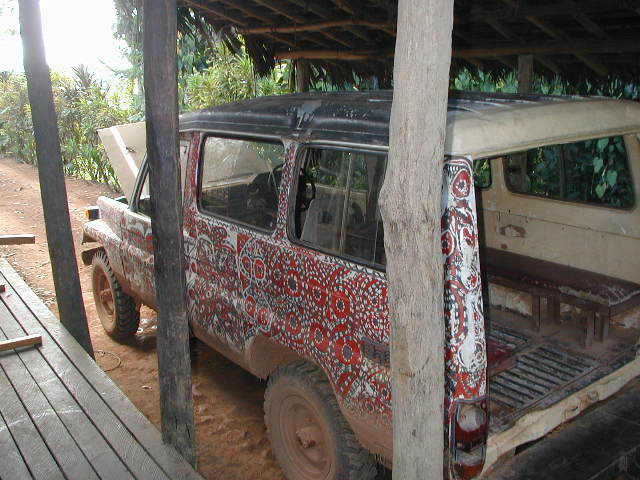 Karawari Lodge was the least luxurious of the places we stayed. For example, the generator is turned off at about eleven each night. I thought it was perfectly charming and quite comfortable, but I also have a thing for ceiling fans and mosquito netting. They also light citronella coils at night. I should note that the Trans Niugini Tours brochure was very clear about what to expect. So if you're the sort of person who wants air conditioning in the jungle, you should have known better.
Anyway, our first afternoon's touring was a jetboat trip down the Karawari to Yimas Lakes. It was nice and cool as long as we were moving fast, but the air was thick and steamy every time we slowed down. And we had to slow down frequently to keep from swamping dugout canoes. While we passed several villages, we didn't visit any that afternoon. The main focus was scenery. We saw a lot of birds - egrets, pied herons, white terns, and whistling kites. I restrained myself from singing "egrets, I've had a few" but couldn't stop myself from thinking it.
Our local guide, Chris, talked about the fish in the river. Local fish include catfish, wrasse, and rainbow fish, while the introduced species include tilapia. When we got to Yimas lake, he told us about how an American named MacGregor had routed the Japanese there during World War II. Out of 100 Japanese soldiers, only one survived his machine gun attack. The dead are believed to have been eaten by crocodiles. At the lodge, there's the skull of a large crocodile on the bar, and Chris claimed that when it had been killed, it had a watch and a shoe in its stomach.
We spent the next day visiting a few villages on the Karawari. We were supposed to go first to Kundiman village, but a child had died overnight and they asked us to come later in the day. Carolyn said that Kundiman is a Roman Catholic village and, when a child dies, they have a Catholic lay leader say a burial mass. But they also perform traditional ancestor worship rituals. A canoe is cut in half to be used as a coffin. The mother of the child has her hair tied in string, sort of like dreadlocks, and doesn't cut her hair for a full year. She also has to stay alone for three weeks.
Our first stop was at Manjamai, where we went into a house. The houses are built on stilts and, generally, they're entered using steep ladders. If you're as terrified of heights as I am, the really tough part is going back down. Fortunately, the guides were all very helpful. Inside the house, I was interested by a health department poster, encouraging condom use. I saw AIDS prevention posters here and there throughout PNG, though I was never able to get much of a sense of how much of a problem AIDS is there and how effective the posters are.
We went on to Koomei, where women demonstrated traditional fishing methods. They use a sort of woven creel.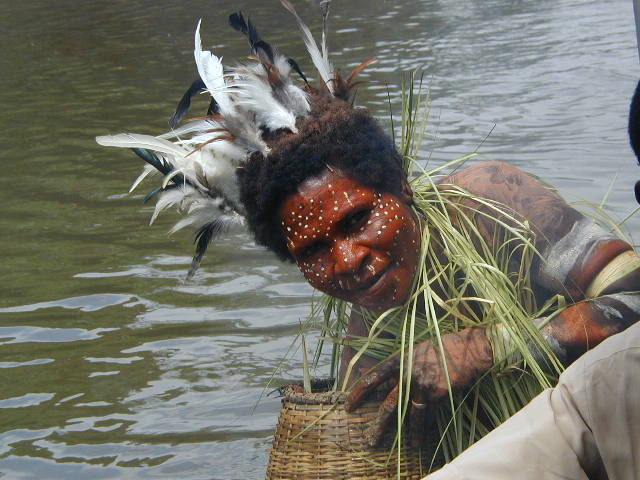 While fishing, the women were "attacked" by warriors. Then we went up to the village, where they performed a dance for us, dancing around "blood stones" outside the men's house. By the way, in the Sepik region, a men's house is used for storing treasures and for discussing issues, but the men and women live together in family groups. That is, the men's house takes the place of a haus tambaran or spirit house. A few villages we went to later on did have a haus tambaran, but missionaries have often burned them down. The blood stones are always outside the spirit house. In the days of headhunting, the victim's throat was cut out and the blood poured on the blood stones to appease the spirits and make them friendly to the headhunters.
It's also worth noting that the costumes and makeup used in this region are completely different from those of the Huli and other highland groups. Some of the painted faces really resembled masks.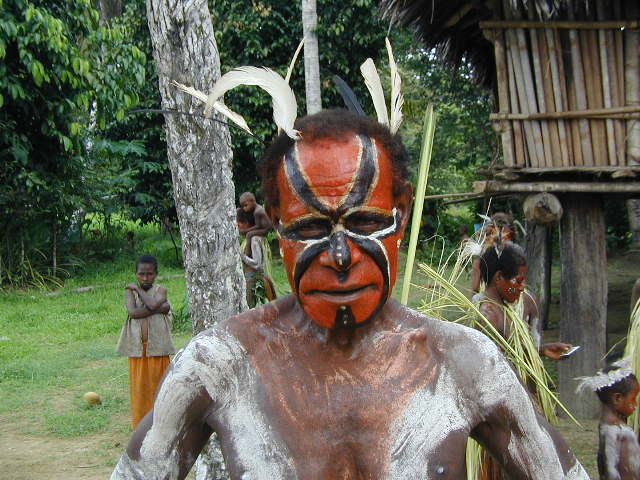 After lunch, we were able to go to Kundiman village, where we saw a demonstration of how sago is processed. Sago is a sort of palm tree and when the tree matures, it is full of starch. Men chop it down, split the trunks and pound the pulp.
Women put the pulp in bags and use coconut shell ladles to collect water into the woven bags. The bag is squeezed, releasing a starchy liquid into a canoe. The starch is dried into a surprisingly fine flour, somewhat like arrowroot in texture. It's cooked into pancakes by pounding it into a pan, without any binder - no oil, not even water. The result looks like a tortilla and is eaten with fish and vegetables. We tasted a little and it was a bit bland, but not bad. Sago is also made into a sort of thick porridge that looked horribly glutinous to me. Carolyn said that it isn't very nutritious and really just provides calories. And it's pretty obvious looking at the local children that malnutrition is rampant. At any rate, despite the interesting cooking demonstration, I wouldn't expect to see a sago challenge on Iron Chef any time soon.
Our final stop for the day was at Amongabi 2. Amongabi1 is nearby and bigger, but missionaries there won't let people carve artefacts. In general, the Catholic missionaries are more liberal about local traditions. I've read that this is because many of the early Catholic missionaries in New Guinea were Irish and they felt that their local culture had been suppressed. So they were more likely to allow any practices that they didn't consider directly counter to Christianity. At Amongabi, there is a haus tambaran, which is filled with shields and with bark paintings. Men played the sacred flutes for us, which had a haunting sound. Both men and women danced, but only men are allowed to play the flutes.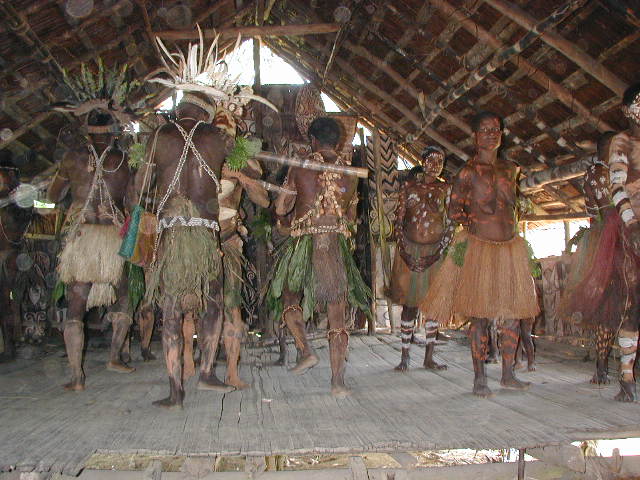 I haven't mentioned that there was a small market set up at each village. Our major shopping frenzy, however, was in the next few days, which we spent on the Sepik Spirit. We got to the ship by flying to Timbunke. It should have been a brief venture to get us all shuttled over, as the flight was only about ten minutes. However, the fuel pump at Karawari was broken and the extra trip back and forth for the second group meant that the pilot wouldn't have been able to make it back to Mount Hagen if he'd shuttled us over. So he had to go back to Mount Hagen to refuel. That meant that those of us on the second flight had to wait two hours at Karawari. When we did get to Timbunke, we had a short walk to the jetboat, with the luxury of a dock and a ganglank with a handrail. It was just a few minutes to the ship. We left our shoes on racks outside before going into the lounge for a brief orientation to the shipboard routine, followed by lunch.
I should note that the Sepik Spirit was quite comfortable but is hardly what, say, my mother would call a cruise ship. There are just ten double cabins. Only about 240 people a year travel on the ship, which was designed by Bob Bates, who (with his wife, Pam) owns Trans Niugini Tours. I think we were all particularly glad that his design included air conditioning. We used a jetboat to transfer between the ship and the various villages we visited.
Our first excursion was back to Timbunke village. We walked through the modern mission, which has a government health clinic, to the older village. It's a largish village, with about 1000 people. The people in this area are Iatmal, which is one of the larger language groups. Anyway, we went to the men's house, where we heard sacred flutes being played. We also looked at various artefacts, including garamut drums. These are slit gong drums, played by beating a stick against the sides of a central slit. One was carved with a figure of a woman riding a crocodile. Another was pointed out as having notches carved into it, representing captured heads from the head hunting days. The rafters had a figure of a woman with legs spread as for childbirth. Men are symbolically reborn as they leave the men's house at the end of initiation rituals.
Inside the men's house, there are separate areas for each clan. All use the orator's chair, which is touched with a leaf when one wishes to speak in a debate. After the eerie flute playing, we went outside to see girls weaving baskets of grass. A small basket takes one day to make. One design had the letters "P.S." woven in, which stands for "Pikanini Sepik" ("child of the Sepik). The weaving was fine, but the grasses were dyed rather garish, synthetic colors. However, bilums in this area were done in natural colors and I purchase a medium sized one for PGK 20. By the way, while I'd read that bargaining wasn't common in PNG, we were told to ask if there was a second price. Nobody seemed offended by this and, since the first price had been PGK 35, it obviously paid off.
We had a lecture each evening before dinner. Our first lecture was by Augus, who is from Manjamai, a village on the Karawari that we'd already visited. He told us that the Sepik is over 1000 kilometers long and there are about 200 languages spoken along it. People believe in water spirits, land spirits, and tree spirits. Water spirits use crocodiles to travel from place to place. When a person dies, their body is dug up a couple of years later. An insect found in the center of the skull is believed to contain the person's spirit and is taken back to the village. Magic words and ginger are used to transfer the spirit from the insect into a mask or carving of the person.
We also watched videos after dinner. "Papua New Guinea - A Land Apart" was a two part BBC documentary, focusing largely on wildlife. It did include some material about the highlands culture and about the Sepik, including a demonstration of sago preparation. I decided that tree kangaroos are simply adorable. Copper mines are far less attractive, but I suppose it's rather arrogant for me to object to economic development on aesthetic grounds.
It rained heavily overnight and, as it was still raining in the morning, we watched a video before our village visits. "Voices of the Forest" was primarily about birds of paradise, but did have some material about the peoples of PNG. The rain let up enough for us to visit Kaminabit 1. (I should explain that villages often spin off new branches when they get large. This can also happen if some of the people convert to a different church. Therefore, it's fairly common to have numbers after the village name.) After the obligatory shopping spree, we visited a house where women demonstrated their traditional occupations - weaving baskets, making bilums, making penis gourds, and cooking.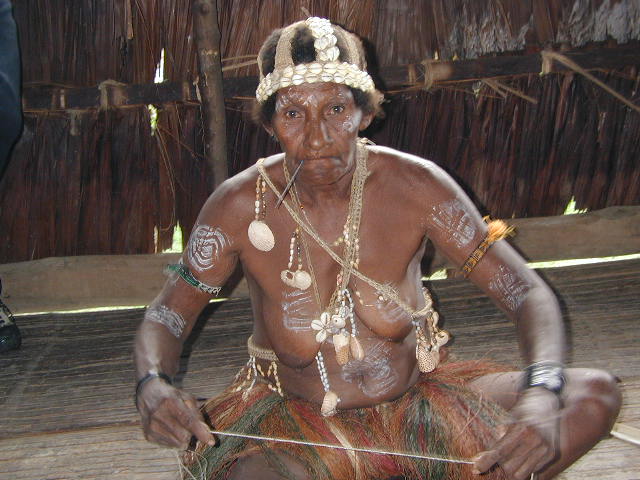 Then we went over to the school, where the children sang for us. The national anthem was followed by their Pledge of Allegiance and another song about PNG. They also sang, "If You're Happy and You Know it, Clap Your Hands" and did a traditional dance. Then they made us sing. Carolyn chose "You Are My Sunshine" and we made fools of ourselves singing, after which we each had to introduce ourselves and tell where we're from and what we do. After a brief visit to the classrooms, we made our way back to the ship.
After lunch, we went on to Kaminabit 2. My prize purchase there was a woven crocodile. We went on to the house of the man who'd carved all the decoration for the Sepik Spirit. The shopping trophy went to the couple who purchased a very large, beautiful, and expensive garamut drum. Next, we went to an enclosure where men played the sacred flutes and did a dance. Note the large penis gourd being worn by one of the men.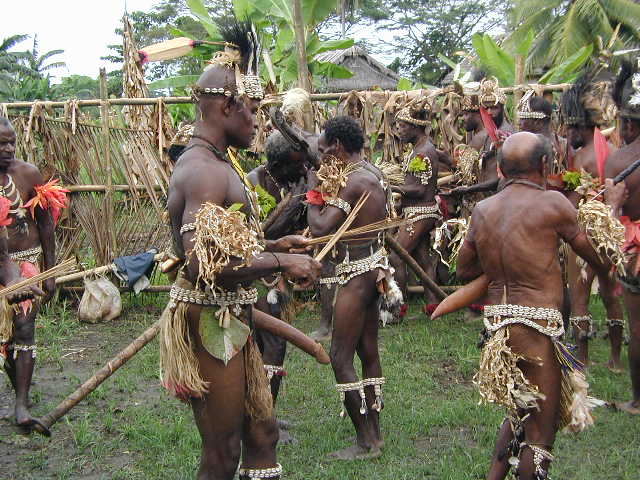 The jetboat took us on to Palimbei. The village itself was about two kilometers from the river. The walk was quite pleasant, although the first part was along a cliff edge and one section was a bit muddy. Palimbei has two spirit houses and we went to both. The first had a few nice artefacts, including one carving of a vulture eating a corpse. There was also a plaque awarded to a carver by Stanford University where he'd had an exhibit.
The second spirit house was more interesting, as it was more intact. It was also nicely set off by posts from an old spirit house that had been destroyed by bombs in World War II. The lower floor had the usual array of men sitting around on benches. But we were also able to go upstairs, where we saw a very impressive orator's chair and the two finial figures of women in childbirth positions at each end, representing the rebirth of men as children of the crocodile after initiation. The highlight was two men playing garamut drums for us. There's a remarkable range of different beatings for such a simple instrument and I wished I'd had a tape recorder with me. On the walk back to the jetboat, we were accompanied by several local children. One boy was rather annoying, asking for pens and, when I said I had none, trying to get me to buy a bilum from him. This is, fortunately, the exception in PNG, unlike most of the developing world, but I fear that will change for the worse.
The evening's lecture was about initiation and was mostly a repeat of things I'd already learned. Skin cutting is done to release the mother's blood. The cuts resemble crocodile scales and the boys emerge "reborn" as "sons of crocodiles." One topic of interest was how different clans interact. The boys don't all learn the same things, as certain knowledge is reserved for specific clans and the boys are instructed by their mother's male relatives. Within the men's hosue, the clans visit, but when a person is at the area of another clan, he has to bow low in respect.
There was more rain the next morning, but it cleared up quickly and our visit to Mindimbit was not delayed much. We went first to the school and looked at a classroom. Then we went to a carving demonstration.
The workshop is impressively busy, but it's hard to see how it pays off given how low the prices are for the finished work. For example, a large orator's chair goes for only about PGK 300. One can easily spend three times that on shipping it home. I don't have the room for one, so wasn't really tempted there, but I did buy a garamut drum. By the way, one guy in our group noticed a bowl in the shape of a crocodile and dubbed it a "croc pot."
At Mindimbit 2 we went to a woman's cooking demonstration. The sago cooking was similar to what we'd seen earlier (pancakes and porridge), but there was also smoked fish.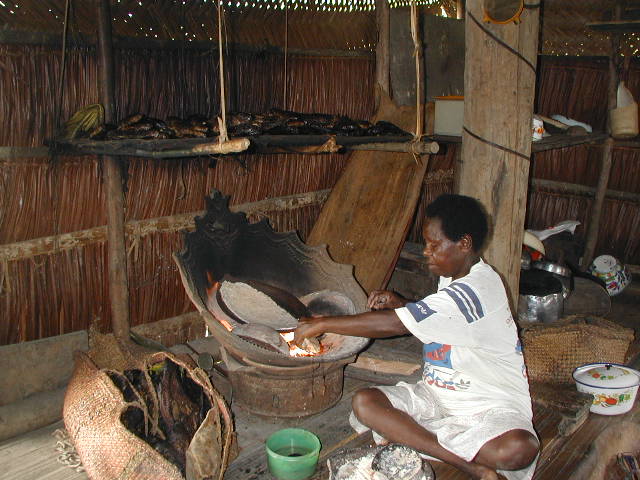 After lunch, we went to Mameri, which is on the Krosmeri River. Krosmeri means "angry woman" but nobody knew the story behind the name. The local children sang for us, accompanied by a man playing guitar. Mameri is a Seventh Day Adventist village and all of the songs were Christian hymns. The children wore flower headdresses and, during one song, took them off and presented them to us.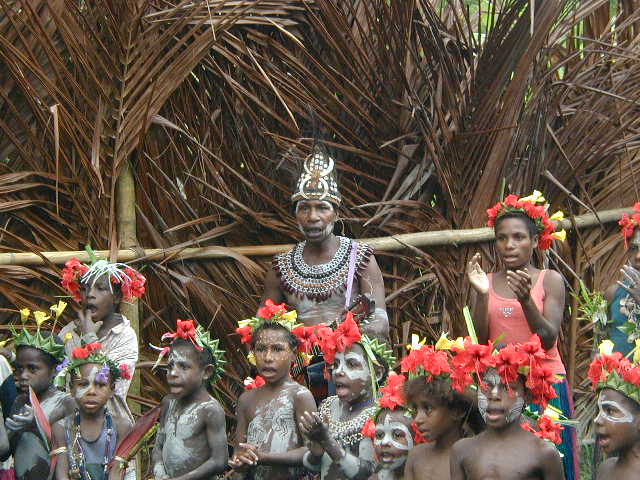 There was an afternoon birding excursion (by jetboat) but I decided that I needed a nap more. I got up for the evening lecture, which was about the Blackwater Lakes, our next destination. The villages we'd visited so far were all of Iatmul people, while the tribe in the Blackwater Lakes is the Kabriman. One difference is that skin cutting is particularly popular in the Blackwater area and is done to girls, as well as boys, although girls are cut only on the back. Iatmul boys stay in the spirit house only a couple of weeks for initiation, but boys from Blackwater stay for months. We also heard about arranged marriages, which are settled while the children are still very young and follow strict family and clan relationships.
The evening video was "Joe Leahy's Neighbors." Joe Leahy was the son of Michael Leahy and a Jiga woman. (In case, you've forgotten, Michael Leahy was one of the Leahy brothers, Australian prospectors who were the first white men to reach the interior of New Guinea.) The gist of the story is that Joe is perceived as a white man by his neighbors, with whom he enters into a coffee growing venture. He is already successful in the coffee business and his deal has him getting 60% of the profits. The ending was an anti-climax, but there is apparently another video that tells the rest of the (true) story. Namely, the local people turn on Joe and murder him.
Our final village visits were in the Blackwater Lakes region. The scenery was quite different than on the Sepik River itself, with less dense vegetation, bluer water, big floating islands of vegetation, and hills off in the distance. Our first stop was at Kabriman, which has a large, new haus tambaran.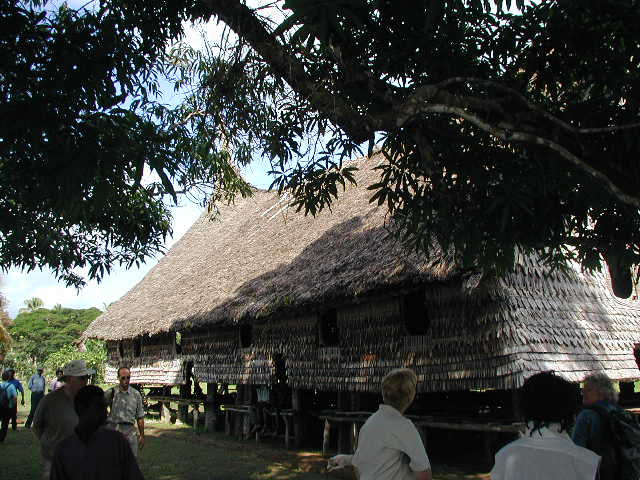 Downstairs, there were the usual artefacts for sale. We had to take off our shoes to go upstairs, but it was worth it. There were very nice carvings and some amazing gable masks that still need to be erected to finish the spirit house. The blood stones will also be relocated from the site of the original spirit house to the front of the new one.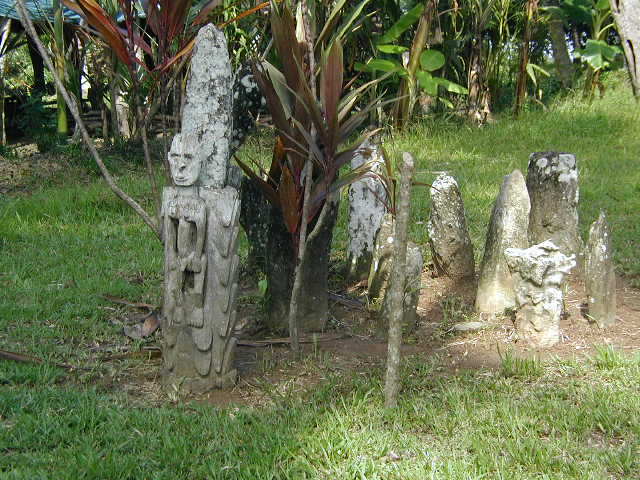 Then we went on to a house where six women demonstrated the girls' initiation dance. The shell jewelry they wore was particularly ornate. By the way, the women introduced themselves with names like Lucy, Maria, Ursula, etc.. We were told that these were their Catholic names and they would never tell anyone their names in their own language, as that would give other people power over them.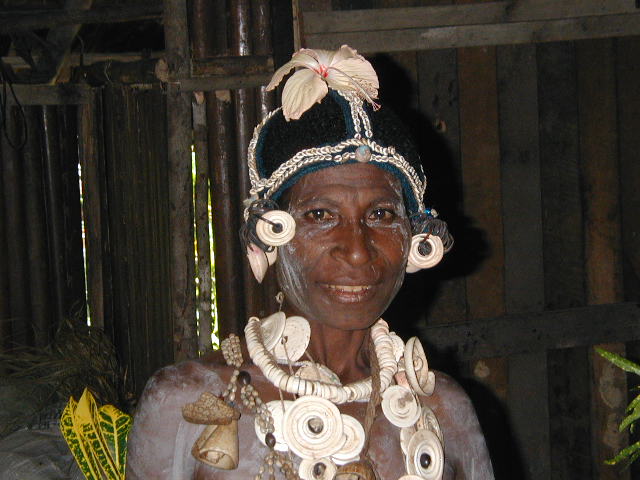 We returned to the jetboat and went on to the village of Kraimbit. The spirit house there had a beautifully carved pole in front of it. As we were walking around the village, we noticed chicks painted bright pink. This was explained as a way to scare off predators, e.g. kites. We thought we were shopped out, but Kraimbit was the one place we visited that had bark paintings for sale and several of us (myself included) bought them. At PGK 5, it's really hard to resist. We also saw a man's initiation dance there. Note the skin cutting in the shape of crocodile scales on the man's chest in this photo .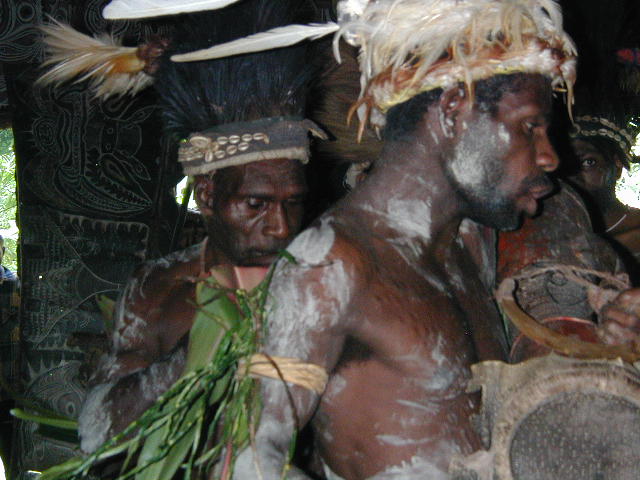 Part of our afternoon was spent arranging for our goods to be shipped home. I carried a few things with me, but shipped most of my purchases. After dinner, we watched a final video. "Yumi Yet" is Pidgin for something like "it's up to us" and was about PNG independence. The most amusing moments were cross-cultural ones. For example, there was a radio announcer who said "MPs can bring their wives to the ceremony. MPs with more than one wife can bring only one of them." At another point, they were discussing proper dress for the ceremony as white shirts and ties, business suits for men, with comparable attire for women, while showing men in "ass grass" and women with bare breasts and grass skirts. We wouldn't see any more people in traditional costume, but we weren't quite done with PNG yet.
Back to Last Chapter | Back to PNG Index | On to Next Chapter | Xenophilia Home
---
Copyright 2002 Miriam H. Nadel

last updated 29 September 2002
Send comments to mhnadel@alum.mit.edu